Are you also looking for the best soundbar to boost your home theater system? Look no further!
So, whether you are a movie buff, a music lover, or just looking to enhance your TV's audio, we've got you covered with the soundbars of top-tier brands, including Sony, Samsung, TCL, and others.
In this article, we will examine the top soundbars on the market and explain why they might be the perfect addition to your entertainment setup.
Read on to find out which soundbar is right for you!
List of the Best Soundbars in 2023
1. SAMSUNG HW-Q990B/ZA 11.1.4ch Soundbar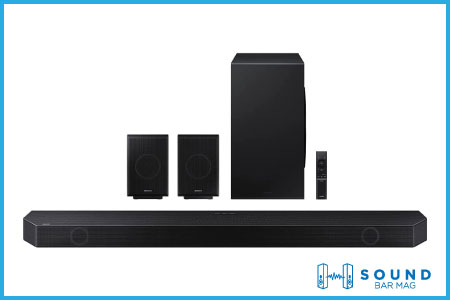 Samsung HW-Q990B/ZA is a high-end soundbar with an unparalleled audio experience featuring an 11.1.4 speaker system. It creates cinematic vibes with multiple speakers, the loudest subwoofer, and advanced technological frameworks.
It makes a complete entertainment setup with Dolby Atmos, DTS, Q-Symphony, Spacefit, and other audio technologies, making the sound output more enriching, spacious, and engaging for the end user.
The soundbar houses 11 channels, four up-firing speakers, and a powerful built-in subwoofer to flood your space with thrilling, accurate, loud, and shaking sound output.
Also, this is it if you are looking for a soundbar with rear speakers to expand the soundstage for gaming sessions, movie nights, and festivities. You can place the speakers anywhere and enjoy the high-resolution and bold audio output.
Moreover, one of the standout features of the bar is its Adaptive sound technology, which automatically adjusts the audio settings to match the content you're watching.
This Samsung TV soundbar also surprises you with its sleek and modern design. It features a minimalist look that would complement any home theater or entertainment setup at home or in cinema rooms.
Besides, when looking for the best soundbar, we always opt for Bluetooth and WiFi technology, which makes the device flexible with other devices. You can quickly pair the bar with smartphones or the internet and start the party.
It is also a terrific gaming soundbar with a personalized Game Pro Mode that enables the up-firing speakers and boosts the gaming experience and 3D surround sound that envelops you in action.
Additionally, if you prefer hands-free navigation and are willing to invest in a soundbar with Alexa or Google voice control, this all-rounder Samsung soundbar will make usage exciting and easy.
Overall, Samsung HW-Q99B/ZA is a top-of-the-line soundbar that offers a truly immersive audio experience. With its 11.1.4 channel system, Atmos and DTS formats, this sounder is designed to satisfy music freaks at all costs.
Benefits
• Apadtive sound
• Audio format technologies
• Surround sound 3D experience
• Perfectly synchronized sound
• Auto-room calibrating sound
• AirPlay2 and Alexa support
• Wireless pairing

Drawbacks
Configuration with TV needs special skills

SAMSUNG HW-Q990B/ZA Verdict
With a Samsung HW-Q990B/ZA, you can enjoy wireless music streaming, loud and engaging sound quality, and thundering bass while navigating through your voice. This 48-inch TV soundbar is an ideal choice for sound-sensitive content.
2. Sony S100F 2.0ch Soundbar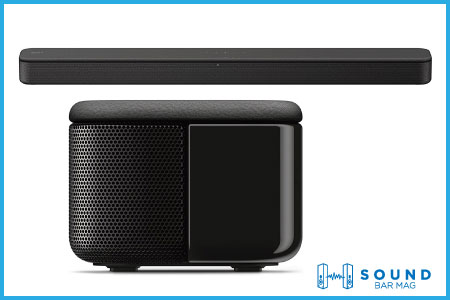 When the budget is tight, and one cannot compromise on their music-listening routines, we suggest checking out this stunning addition to the Sony soundbar product line. From unboxing to checking the last function it offers, it never stopped surprising us.
The Sony S100F 2.0ch soundbar is a great option for those looking for a budget-friendly soundbar with decent audio quality. Despite being an entry-level and limited-channel soundbar, its power output is surprisingly high.
It has a sleek and minimalist design in black, but the easy setup and wireless connectivity with smart devices make it stand in the spotlight. The compact design easily slides anywhere, especially under the TV.
So, if you're on the hunt for a small soundbar, this can be a perfect choice. Besides, Bluetooth allows us to stream music, podcasts, or eBooks without messing with cables.
However, we liked the audio quality over HDMI ARC, especially when connected to the TV. It perfectly synchronizes audio and video, making it a top-tier Sony TV soundbar.
Another highlighting feature that we admire is the voice enhancement function. Although it doesn't have a center channel to clarify lyrics, this function makes the dialogues understandable, especially for hearing-impaired individuals.
At Last, the theater-like sound is incomplete without a pinch of a bass, and this soundbar knows that pretty well. Even though it is a soundbar without a subwoofer, the bass reflex speaker gives you the joy of deep bass with lower lows.
Hence, we recommend this compact apartment soundbar with 120W power output to enjoy high-definition, clear, and loud audio output, no matter what you stream.
Benefits
• Minimalist design
• Voice enhancement
• Bass reflex speaker
• Loudest soundbar for the size
• Wireless pairing
• Multiple wired connectivities

Drawbacks
Lack of 3D surround sound

Sony S100F Verdict
Sony S100F is a space-saving 2.0ch soundbar with clear dialogues, 120W power output, and HDMI ARC for terrific device synchronization. It delivers room-filling sound with S-Force Pro and would never hurt your budget.
3. Sony HT-S350 Soundbar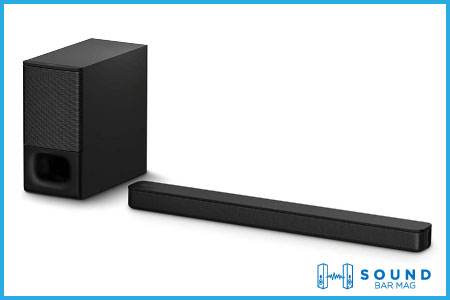 One can never disappoint after the Sony soundbar purchase. Therefore, we can blindly trust its massive product line of bars featuring different channel configurations and features.
When we got our hands on the Sony HT-S350 Soundbar, commonly known as the entry-level 2.1 channel system soundbar, we were blown away by its terrific capabilities to turn your place into a theater.
The 2.1 channel configuration ensures a rich and immersive audio experience, with the clear and powerful sound of up to 320W total power. The wireless subwoofer is solid and delivers punchy sound to match the premium sound.
The wireless subwoofer is a game-changer, providing deep and powerful bass output that truly brings movies and music to life. This is the intuitive surround sound subwoofer we have tested so far, making the music more enjoyable.
Also, the subwoofer doesn't need a sweet spot to perform at its full potential, and the heart-pounding and shattering bass makes it a dreamy home theater subwoofer, even at this tight budget.
Moreover, the bar has an appealing look, and the compelling body in black is always ready to slide under the TV or mount on the wall. The creative look of a grill at the front with loud power makes it perfect for large rooms.
Another standout feature of the bar is the virtual surround sound technology, which really enhances the overall listening experience, making it feel like you're in the movie theater.
The 7 sound modes are also a great addition, allowing you to customize the audio to suit your preferences and make your own mini cinema at home. It also lets you customize the audio for premium listening for a movie, music, news, and other content.
After digging deep into the features, we found a voice enhancement feature that works pretty well, making it much easier to hear dialogues in movies or TV shows. It is also pretty valuable to watch the news or sports channels.
For connectivity purposes, the soundbar features Bluetooth and HDMI ARC, making it super convenient to pair with a wide range of devices, giving you your favorite playlists at the fingers.
The 320W total power output is also impressive, providing plenty of volume for a large room. So, overall, we are satisfied with the Sony HT-S350 Soundbar with wireless subwoofer. It has greatly enhanced our movie and movie-watching experience.
Benefits
• Optimized audio quality
• High power output
• Virtual surround sound
• Deep and powerful bass
• Seven sound modes
• Clear cut dialogues

Drawbacks
• Lack of center channel
• No HDMI input, only output

Sony HT-S350 Verdict
Sony HT-S350 is an all-in-one soundbar with a wireless subwoofer, high power output, clear audio quality, and wireless connectivity options. Its user-friendly profile with different sound modes allows you to customize audio according to your preferences.
4. Polk Audio Signa S2 Ultra-Slim TV Sound Bar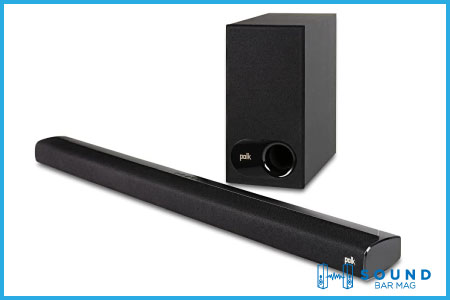 Polk Audio Signa S2 is a great choice and one of the best music soundbars we have come across, featuring high-end functions, a wireless subwoofer, and Bluetooth technology to make music listening easier than ever.
We loved the slim and catchy look of the bar, featuring a Polk Audio logo at the front side and the grilled texture all along. The rear side is all plain back, with a connectivity ports hub.
Moreover, the soundbar is not heavy, and the minimalist design makes it a great choice for the bedroom soundbar. Installation and setup is also a walk in the park with one power cable.
Also, the wireless connection technology makes it compatible with all smart devices, especially smartphones. But the HDMI cable can help you get the best audio results with perfect synchronization, allowing you to pair it with your Apple TV.
Moreover, the bar features multiple full-range channels with separate tweeters for rich, exclusive, and stunning sound performance. The audio is powerful enough to provide you with cinematic audio listening.
We also got a chance to watch news using this soundbar, and the voice adjustment technology helped clarify the dialogues and make them understandable despite the heavy background noise.
But Dolby Digital is a real deal-breaker, willing to eliminate the sound delays while maximizing clarity for the luxurious movie-watching, gaming, and music-listening experience.
Internet connectivity is another spotlight feature for audiophiles, giving you full access to online music-streaming platforms, like Pandora, Spotify, Amazon Music, TuneIn, etc. and enjoy a cable-free listening experience at home.
Hence, considering all the features and attractive solid profile, we recommend this soundbar pairing with LG TV and enjoy hands-free navigation with the LG TV app.
Also, sliding or mounting the soundbar under the 55-inch TV is not a bad idea. The ultra-slim and appealing look will enhance the overall room décor.
Benefits
• Ultra-slim soundbar
• Terrific and clear sound
• Voice adjust tech
• Compatible with 4K HDR TV
• HDMI ARC and Aux support
• Premium mid notes
• Deep bass with subwoofer

Polk Audio Signa S2 Verdict
Polk Audio Signa S2 is a great choice for a soundbar because it offers a high-quality, unparalleled audio experience at an affordable price. It used advanced technology to clear the audio and make the sound output more powerful, accurate, and pleasing.
5. Bose Solo 5 TV Soundbar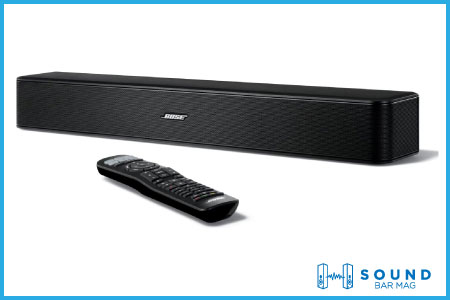 If you are looking for a handy yet powerful soundbar that is versatile enough to work with different devices, your journey should end with the Bose Solo 5. It is an incredible PC soundbar, as the flexible body fits anywhere.
The soundbar is designed to boost your TV speakers because the built-in speakers are powerful enough to deliver bold, loud, and clear sound, much better than the built-in speakers.
Moreover, the setup is extremely convenient with a power cable. The universal remote help with navigation and the multiple input ports at the back encourages wide compatibility with other devices.
Even though the sound is clear and relaxing, the dialogue mode function makes it easier to understand the lyrics or content you are playing on the receiver.
Though it is an entry-level soundbar, the multiple full-range speakers inside the body creates stunning musical vibes with advanced sound effects that wouldn't deliver less than a home theater experience.
It also features Bluetooth connectivity that allows you to use the soundbar with smart devices, like smartphones and catch up on your favorite playlists on Spotify and podcasts.
You can also make it the soundbar for the projector, as the handy profile and wireless connection technology make it handy enough to use in different locations. Besides, you'll get an Analog and Aux connection for wired pairing.
Additionally, even if it is a single unit, you can discover the dramatic bass with a single button push. It may not give you the thundering and shattering bass that the wireless subwoofer usually offers, but it can give you an idea for enjoying the content.
Hence, the Bose Solo 5 is an excellent soundbar for its versatile, affordable, and loud audio output qualities. We highly recommend the Solo 5 to anyone in need of an upgrade to their TV audio experience.
However, it doesn't have any advanced audio technologies, and the affordable price and flexible structure justify every bit of it. So, we recommend pairing the bar with a 32-inch TV and upgrading its sound system.
Benefits
• Clear dialogues
• Universal remote
• Quick setup
• Flexible body
• Bluetooth streaming
• Budget-friendly
• Rich sound effects

Drawbacks
Lack of audio format technologies

Bose Solo 5 Verdict
Discover the depth of music and TV audio with the Bose Solo 5, specially designed to unleash the TV-watching experience. The clear dialogue, loud audio output, and sound effects envelop you in action and provide value for money.
6. YAMAHA SR-B20A Sound Bar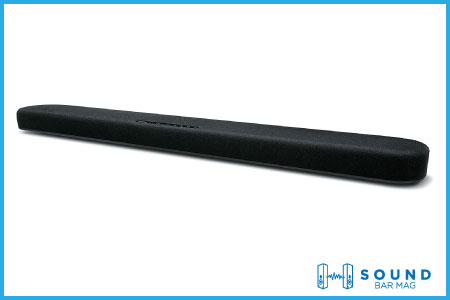 One can never go wrong with the Yamaha soundbars or subwoofers. From appearance to performance, Yamaha has the potential to attract customers and make them loyal to its products. And this unit is no exception in doing that.
The Yamaha SR-B20A soundbar came on time and was well-packed. The profile was handy, and the setup didn't take much time with a single power cord. Since it powered on in no time, we didn't waste much time connecting it to our receiver.
We tested the bar with different TVs and found it worked great with the Hisense TV over HDMI and Bluetooth. HDMI could synchronize the video and audio, and the bar quickly followed the commands to reproduce sound in brilliant quality.
HDMI also supports 4K pass-through, so you can count on the bar for streaming Netflix and high-resolution content with perfectly synchronized audio quality.
Bluetooth connectivity also gave us room to pair it with smartphones, play playlists, and make it a plug-and-play device in our daily routine. Also, the navigation is quick and smart with the user-friendly remote control and App.
Additionally, the soundbar is packed with different functions, but the different sound modes for automatic sound customization stay at the top. The audio quality reflexes over a single button and makes it optimized according to the content.
Also, the DTS: X support makes the sound output more powerful, room-filling, and enriching to keep you hooked, and it works fascinatingly with heavy music and gaming.
Apart from 3D surround sound, the soundbar may not have an external subwoofer, but it throws crispy and thrilling bass with the built-in subwoofer. So, if you're not fond of heavy music, this soundbar with bass can deliver low notes for enjoyment.
Benefits
• Wide vocal frequency range
• 3D surround sound
• Different sound modes
• Clear dialogues
• Reasonable bass
• Bluetooth connection
• HDMI with 4K pass-through

YAMAHA SR-B20A Verdict
The Yamaha SR-B20A is a compact and versatile one-unit soundbar that delivers profound and immersive audio. It features DTS Virtual: X for surround sound delivery, and the sleek design fits any home décor. The remote and App helps with navigation.
7. Bose Smart Soundbar 900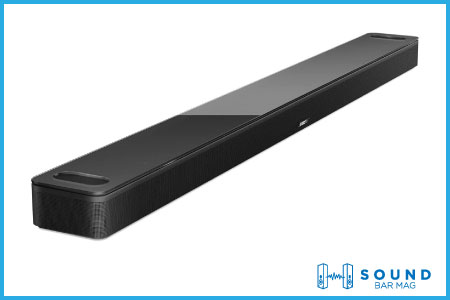 If you are looking for a soundbar to mount under your 65-inch TV, we recommend none other than Bose New 900 smart soundbar, featuring all the advanced technologies with constant updates to make your digital experience premium.
It has a stylish appearance with two shades, and when placed near the TV, it will quickly enhance its appearance, so we recommend making it go with the TCL smart TV to upgrade its built-in speakers.
Also, Bose Solo 900 is a vibrant and terrific update to the 7.1 soundbars by making room for the nine speakers, including the two custom-made up-firing speakers smartly arranged in a cabinet.
It is a perfect addition to the home theater systems with lots of built-in speakers, separate tweeters, and a heart-pounding bass that almost shatters the windows after breaking in.
The up-firing speakers make it feel like the sound is coming from every direction, and the center channels polish the lyrics by isolating them through the background noises.
Moreover, the Dolby Atmos adds an extra dimension to the sound and makes it more powerful, upscale, and lifting, which takes your entertainment experience to new heights. It makes the bar perfect for a diversity of usage.
Navigation is no more a hassle with the built-in Alexa and Google Assistants. The voice control system is pretty smart and up-to-date, and we can safely say that we haven't seen a responsive Google soundbar than this unit.
Wireless music streaming with Bluetooth and WiFi also takes entertainment to the next level. AirPlay2 support also gives you the freedom of cable-free catch-up to your favorite podcasts, eBooks, and music.
 Hence, this smart soundbar is ready to roll your digital streaming experience and upscale the movie theater feel with perfectly projecting sound, hands-free navigation, wireless pairing, and many speakers.
Benefits
• Lifelike sound
• Voice control system
• Built-in microphone
• Multi-directional sound output
• Multiple connectivity sources
• Multi-room feature

Bose Smart Soundbar 900 Verdict
Bose New 900 is an ideal smart soundbar with terrific features, an appealing design, and mind-blowing sound production capability. It brings the theater experience to the home and can go pretty well with all TV sizes.
8. Klipsch Cinema 400 Sound Bar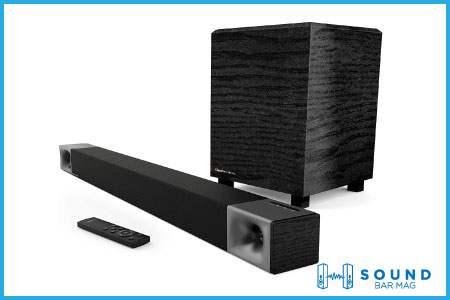 Klipsch Cinema soundbars are known for their high-quality sound reproduction and accurate soundstage. The horn-loaded tweeters provide clear and detailed highs, and its use of powerful woofers delivers deep bass performance.
Thus the Cinema 400 soundbar made no exception and kept up with the reputation of the brand with 2.1 system speakers and a wireless subwoofer for thrilling bass delivery.
The soundbar is easy to set up with a power cord and remote. HDMI and optical digital let you quickly connect it with other devices to set the soundstage for unlimited entertainment.
The HDMI connection makes it compatible with TVs, DVD players, Playstations, projectors, etc. We have tested the performance with the known Sharp TV and can safely assume it was better than its built-in speakers.
Despite the presence of only dual full-range drivers, the soundbar performs pretty surprisingly, with a total power output of 400W. It fills the room with bold, neat, and surround sound that hits with balanced notes.
Moreover, the 8-inch wireless subwoofer is enough to charge the beast and push the bar to reproduce the high-resolution yet balanced sound with perfect mids and highs. The subwoofer takes care of the lower lows for the deep bass.
We have also noticed the virtualized surround sound, thanks to the 5,1 Decoding that has successfully maximized the clarity while fighting the sound delays to avoid distractions.
Hence, we highly recommend this versatile, top-tier, and affordable combination of soundbar and subwoofer if you are planning to give your entertainment setup and valuable upgrade.
Benefits
• Horn-loaded tweeters
• Clear and detailed sound
• Dialogue-enhancement mode
• HDMI ARC pass-through
• Excellent construction

Klipsch Cinema 400 Verdict
Klipsch Cinema 400 is a 40″ 2.1 soundbar with a wireless subwoofer designed to upgrade your TV speakers and enhance your audio listening taste with accurate, crisp, natural, and realistic sound quality. Despite being entry-level, it gives a cinematic experience.
9. Sonos Beam (Gen 2)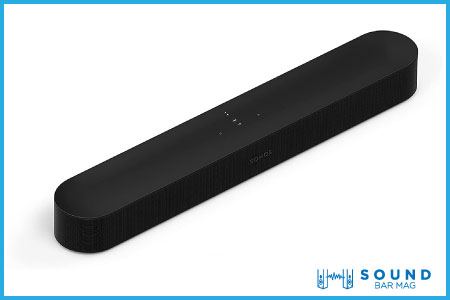 Sonos Beam (2nd Generation) is an impressive 5.0 soundbar, a reasonable and obvious upgrade to the 3.1 channel soundbars. The height channels deliver multi-directional sound and make the mid and upper notes hit you from every direction.
The soundbar is compact and easy to set up with only two cables and the smart Trueplay tuning. The flexible profile makes it perfect for any living room, gym, office, and other places.
Also, the sound delivery is shocking, with a wide frequency response range and high power output. It fills the room with quality sound in no time and ensures you hear the crisp audio that truly engages you.
We loved the soundstage is wide and detailed, with a perfect balance between the lows, mids, and highs. The dialogue is always clear and understandable, perfect for movies, shows, podcasts, and eBooks streaming.
Another highlighting feature of the Sonos Beam is its integration with other Sonos products. We have other Sonos speakers around our facility, and the Beam can connect with them seamlessly to create a surround sound experience.
You don't have to connect the bar to other devices to test its capabilities; the WiFi can take your experience digital and allow you to stream directly through online platforms.
Navigation is seamless with the TV remote, Apple AirPlay2, Sonos App, and your voice. The Sonos has a built-in voice control assistant system, which makes it easy to control the settings, volume, and other functions with your voice.
Overall, we are very pleased with the performance of the famous Sonos Beam with its 5.0 channel system backed by Atmos. Its universal compatibility makes it perfect for any TV or other device.
So, if you have been looking for an upgraded speaker system for your Philips TV, this is it. You won't be disappointed investing in this beast.
Benefits
• 3D surround sound
• WiFi support
• Navigation with Alexa and Google
• Smart tuning with Trueplay
• Controls with universal remote
• Compact and travel-friendly

Drawbacks
Limited wired connections

Sonos Beam (Gen 2) Verdict
Sonos Beam gen 2 is a top-notch soundbar with 5.0 channels, almost similar to the 5.1 system, designed to deliver 3D surround sound with Atmos and WiFi support. Once you set up, it effortlessly enriches your entertainment experience while navigating through your voice.
10. Sonos Arc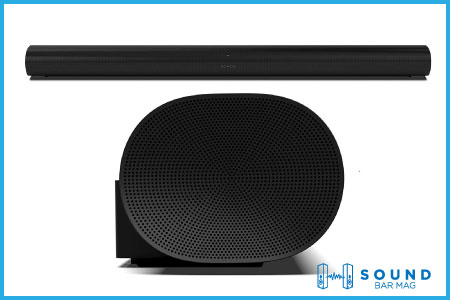 The market is filled with smart soundbars, but you won't find an alternative to Sonos Arc in terms of compelling performance, loud audio quality, and appealing design. We have seen soundbars in black finishing, but this unit in white looks adorable.
The fascinating body looks spectacular when you mount it under the TV. The connectivity ports are also easy to reach, so it may not cause cable clutter to ruin the décor.
Also, the elongated shape of up to 45 inches may look great under the 70-inch TV, so you must try it. Besides, the HDMI, optical digital, and wireless connections greatly support expanding the soundstage.
Controlling and navigating the smart soundbar is not a problem anymore, especially with the built-in Alexa. You can give commands to check the latest news and weather, browse content, set alarms, and much more without relying on the remote.
And when we turned it on to examine the performance, we were not surprised because less than that would be a disappointment. All the built-in drivers worked together to deliver vivid, unparalleled, and realistic sound.
It surely brings entertainment to life and would be valuable to your home theater system because the loud, balanced, and detailed sound makes rounds to digital transformation.
You can pair the soundbar with the TV having awful sound output because the wide compatibility won't stop you enjoying your favorite TV content. We took it in for our Toshiba TV, and it worked great.
The built-in woofer also gives a joy of thumpy and deep bass that would be more than enough for regular music streaming. The lyrics' clarity remains intact when hearing the contact at extreme listening levels, so that's a plus point.
Moreover, the smart soundbar has a Trueplay tuning function that optimizes the sound according to the room's aesthetics. The Dolby Atmos ensures the 3D surround sound that delivers immersive listening with shows, games, and music.
Benefits
• 3D sound with Atmos
• Optimized sound
• Attractive, elongated shape
• Boosting bass
• Clear dialogues
• Voice navigation

Drawbacks
• Lack of microphone
• A little expensive

Sonos Arc Verdict
Sonos Arc is a premium all-in-one soundbar with detailed sound performance, thumpy bass, and 3D surround sound capability to bring life to the entertainment. It can upgrade the TV speakers or become a part of a home theater with impressive smart specs.
11. JBL Bar 9.1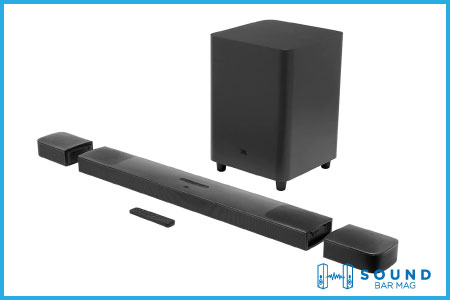 At last, we have another high-demanding soundbar from JBL with all the features one would want against the hefty amount they pay. It is made for audiophiles considering the wide frequency response range and external sub for bass.
JBL Bar 5.1 is a great soundbar and subwoofer combo that completes the entertainment setup with an 820W peak soundbar and 300W power of a 10-inches subwoofer.
It gets insanely loud without compromising the clarity of the lyrics/dialogues. The soundbar is ideal for gamers as the gunshots, explosives, and other sounds hit rightly and give you a sense of victory to boost enthusiasm.
Moreover, the 9.1 system includes height and surround sound channels that deliver multidirectional sound that hits the listers from every direction. The mids and highs are absolute bliss to listen to.
The smart soundbar also comes with Dolby digital decoding, DTS and Dolby Atmos to upscale the audio output, making it more appealing to the ears so you won't imagine streaming digital media without it.
Additionally, connectivity and setup are a breeze with WiFi, Bluetooth, optical digital, and HDMI with 4K pass-through and Dolby Vision. The remote control helps with the connection switch and navigation.
But the Built-in Chromecast takes you to the online world, so you catch up on your favorite soundtracks without any cable clutter.
So, upgrade your movie-watching, gaming, and music-listening experience by making this smart and compelling soundbar a part of your life.
Benefits
• Hassle-free setup
• Detachable surround speakers
• Punchy and precise bass
• WiFi and Chromecast
• Crisp and realistic sound
• 820W peak power output

Drawbacks
No auto-calibration facility

JBL Bar 9.1 Verdict
JBL Bar 9.1 is a top-of-the-line soundbar with smart features, high power output, an external subwoofer, and advanced audio format technologies. The sound delivery is fascinating, with excellent clarity and detailing to keep the listener hooked.
Points to Keep in Mind While Buying the Best Soundbar (Buying Guide)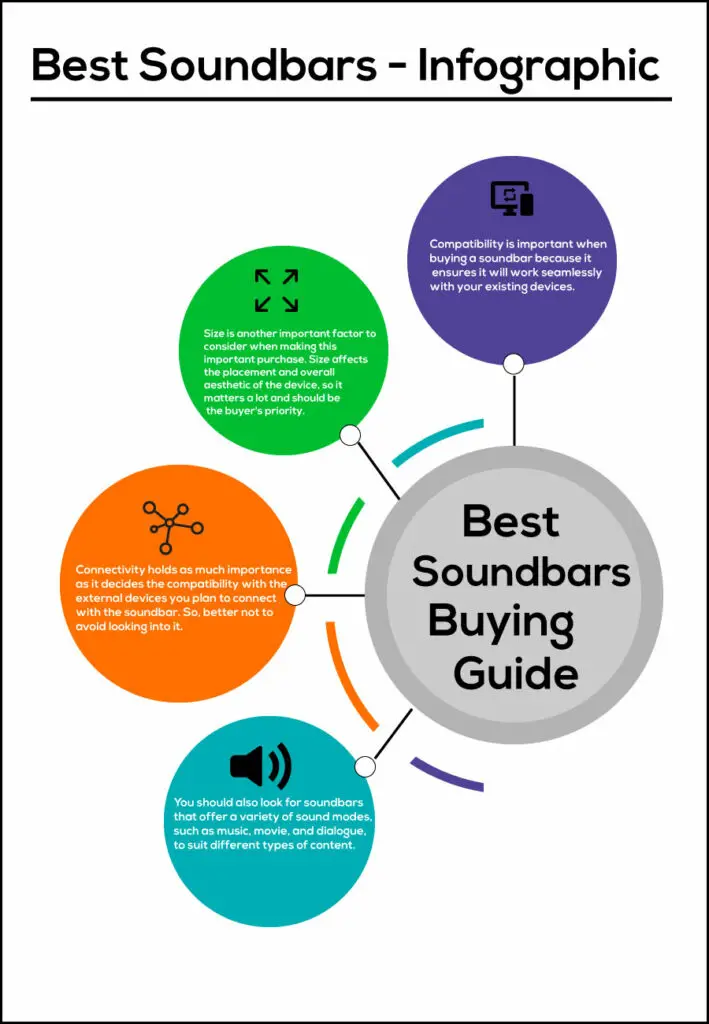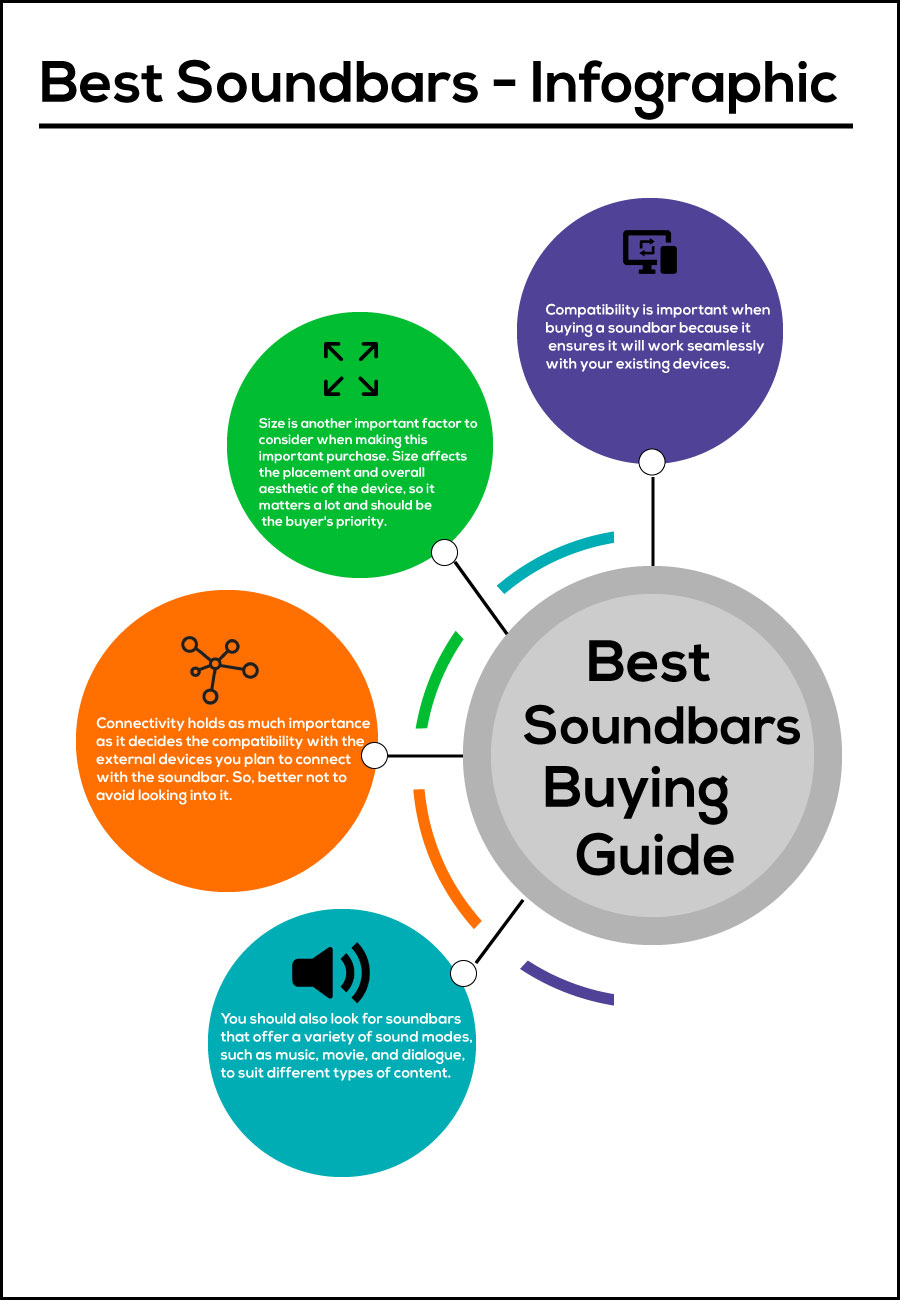 Are you tired of your TV's lackluster sound and ready to upgrade to a soundbar?
Look no further!
We've put together the ultimate soundbar buying guide to help you find the perfect one for your home entertainment needs.
Whether you're considering an affordable option or a top-of-the-line soundbar with all the bells and whistles, we've got you covered.
So, sit back, relax, and let's get into the huge world of soundbars together.
Compatibility
Compatibility is important when buying a soundbar because it ensures it will work seamlessly with your existing devices.
One of the most important compatibility considerations is the connection between the soundbar and your TV. Ensure that the soundbar has the appropriate inputs and outputs to connect to your TV.
For example, if your TV has HDMI, you'll want to look for a soundbar with an HDMI input or an HDMI ARC (Audio Return Channel) to connect it directly to your TV. For example, Vizio TVs offer a wide variety of connectivity sources and are flexible enough for multiple usage.
Another compatibility consideration is the audio format supported by the soundbar. Some soundbars support high-resolution audio formats such as Dolby Atmos, DTS:X and others, which can provide an enhanced audio experience.
However, these formats are only supported by specific devices, so it's essential to ensure that your other devices also support these formats to get the most out of your soundbar.
So, compatibility is important because it ensures that the soundbar will work seamlessly with your existing devices and provide an optimal audio experience.
Soundbar Size
Size is another important factor to consider when making this important purchase. Size affects the placement and overall aesthetic of the device, so it matters a lot and should be the buyer's priority.
When it comes to placement, you'll want to ensure that the soundbar will fit in the space you have designated for it, whether on a TV stand, mounted on the wall, or placed on a shelf.
The size of the soundbar can also affect how it will look in the room and whether it will complement or clash with the other furniture and decor. For example, the 75-inch soundbar needs a dedicated space to fit and a wall to mount while expanding the soundstage.
Additionally, some soundbars come with a separate subwoofer which may also take up space, and you need to consider the room size, layout and overall aesthetic.
Moreover, if you're planning to place the soundbar on a TV stand, you'll want to make sure that it will fit in the space and not be too large or too small. You can find various soundbar sizes, but the highest ones are 82 inches.
If you're planning to mount the soundbar on the wall, you'll want to make sure that it will fit within the space and that the mounting hardware is compatible with the soundbar.
Connectivity
Connectivity holds as much importance as it decides the compatibility with the external devices you plan to connect with the soundbar. So, better not to avoid looking into it.
And when evaluating connectivity options, you should look for a soundbar that offers a variety of inputs and outputs, such as HDMI, Bluetooth, and optical.
HDMI connectivity is important because it allows you to connect the bar directly to your TV, which can provide better audio quality and a more seamless setup.
Some soundbars also come with HDMI ARC (Audio Return Channel), allowing the audio to be sent back to the soundbar through the same HDMI cable. This is ideal if you have a TV with built-in smart features and want to control the soundbar with your TV remote.
Bluetooth connectivity is useful because it allows you to wirelessly connect the soundbar to other devices, such as smartphones and tablets, and stream music or other audio content.
Optical connectivity is also helpful, as it allows you to connect the soundbar to other devices with an optical output, such as a cable box or a streaming device.
Additionally, some soundbars also have WiFi connectivity, allowing them to connect to the internet and use streaming services like Spotify, Apple Music, etc.
Sound Quality
Sound quality is one of the most important factors when buying a soundbar. When evaluating sound quality, you should look for a soundbar that has a good balance of bass, treble, and mids and that can produce a clear and detailed soundstage.
You should also look for soundbars that offer a variety of sound modes, such as music, movie, and dialogue, to suit different types of content.
Some soundbars also deliver surround sound or virtual surround sound capabilities that can enhance the audio experience.
You can also check the audio specifications, such as frequency response and total harmonic distortion, indicating the soundbar's overall sound quality.
You can also choose the soundbars with advanced audio technological support, including Dolby Atmos and DTS Virtual: X that envelop you in action and deliver lifelike and cinematic music-listening vibes.
Bass Quality
If you are a music lover, the lower notes also play an important role when catching up on your playlists or listening to something to cheer up your mood.
Subwoofers or built-in woofers give the joy of deep and thundering bass that shatters the windows, creates deep sound effects, and boosts the overall theme of whatever you are watching or listening to.
However, unfortunately, the TV's built-in speakers cannot give you the crispy bass, not even if they focus on the lower notes, so the subwoofer jumps into action.
Many soundbars come with external subwoofers that solely focus on reproducing lower notes and enable functionality whenever you play bass-sensitive content.
However, we have seen many soundbars with built-in woofers that give you a reasonable amount of bass quality to upscale your mood and match your listening preferences.
So, if you have space to host a huge, solid, and external subwoofer, we recommend getting the wireless one that encourages portability. Otherwise, settling with the soundbar featuring a built-in woofer is not a bad idea.
Additional Features
Some soundbars come with additional features like built-in Alexa or Google Assistant or a dedicated App for navigation.
The voice control system helps control the device without messing with the remotes and confusing buttons. You can give commands to the assistant and see how the navigation happens in no time.
Conclusion
Soundbars offer a great way to upgrade your home theater setup and get the most out of your audio experience.
With so many soundbar models on the market, it can be hard to know which is best for you. We hope this article has helped you narrow your choices and find the perfect soundbar for your needs.
Whether you're looking for something powerful yet affordable or with all the bells and whistles, there's definitely a soundbar out there that will meet your requirements.