Are you also tired of your traditional speakers and their reliance on a wired connection and willing to invest in the best soundbar with Bluetooth? Well, keep reading.
Getting a soundbar to upgrade your existing sound system is wise, but you really watch out for its connecting properties for quick access.
Also, to never miss out on anything you watch on TVs, smartphones, Tabs, laptops, or any digital media device, you must invest in the best soundbar with Bluetooth.
Such a system can give you the pleasure of a flawless listening experience with no hurdles of connections. Also, after a great deep research on different products, we have gathered and tested top soundbars with wireless connectivity to make a reliable addition to your smart device's collection.
List of the Best Soundbar with Bluetooth in 2023
1. VIZIO SB2920-C6 Soundbar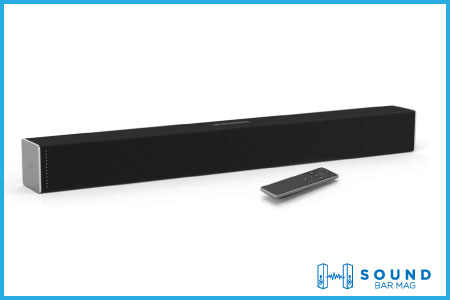 Vizio has a huge product line of an interesting set of soundbars, and this SB2920-C6 is no exception. The unit instantly caught our attention with its attractive profile and sleek design of matte black.
Nevertheless, the built quality is well maintained to house dual full-range channels for outstanding audio production. It became our friend right after we unboxed it, and we knew it wouldn't give us a hard time with setting up and testing.
Undoubtedly, the soundbar is a top preferable device for TVs, home theater setups, and casual sound streaming from mobile due to its wireless connection compatibility.
Since we added it to the best soundbar with Bluetooth list, it is obvious it supports the latest version of wireless connection, but it also includes optical or Aux cable ports. We admired the wide Bluetooth range with excellent signal strength.
Moreover, the built-in drivers produce clear, stimulating, and powerful sound that should be enough to entertain small to average-sized rooms. We tested it with different content and were amazed by the performance despite the 2.0 channel configuration.
Unfortunately, this entry-level soundbar does not support any advanced file formats or any additional channels to expand the music stage, but 95 dB of volume with rare distortions at the peak makes it the best choice for your home.
Besides boosting sound performance with stereo speakers, this soundbar can entertain you with easy setup and quick pairing via wireless. The wall mount bracket lets you customize the device placement according to your choice, and the included remote control will keep up with your device navigation.
Hence, it is definitely a worthy purchase to improve your everyday listening routines, be it music or watching shows on Netflix.
Pros
• Subtle and sleek design
• Expansive sound delivery
• Full-range stereo speakers for entertainment boosting
• Bluetooth streaming

Cons
• Limited channel configuration

2. Hisense HS214 Soundbar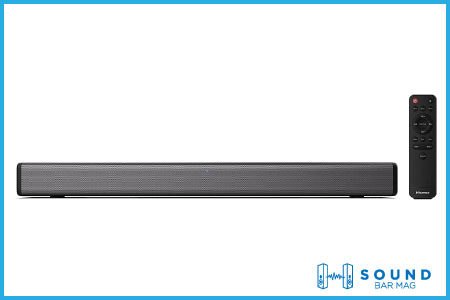 Since research says listening to music can enhance our mood and memory and reduce anxiety, imagine if you listen to it from the Hisense HS214 soundbar, famous for delivering clear, rich, and high-definition sound.
Like other soundbars on our list, Hisense HS214 is another best soundbar with Bluetooth that gives value for money with a long-range wireless connection and smooth setup.
The soundbar is designed to improve our TV sound with its 2.1 channel configuration setup, including full-range drivers and a built-in woofer to give you rumble and bass punch when required.
Its 32-inches size is perfect for sitting under 40-inch or larger TVs, even though it is not necessary due to the wireless connection support. We suggest you mount it on the wall to make it stand out.
In addition, this all-in-one soundbar is Roku TV-ready and can be controlled via a Roku remote. We did all the navigation using the remote, having dedicated buttons at the top and easy access to the volume buttons.
Besides, the built-in subwoofer keeps up with delivering exceptional bass ranges from 40Hz to 20 kHz, while the drivers keep you hooked with mid-range tones. We can't imagine adding an external subwoofer with this, as the bass was perfectly balanced and thundering.
Nevertheless, it offers multiple sound modes that optimize the sound quality according to the content. It seems to adjust settings automatically and never let you waste a moment compromising your listening routine.
So, it may not be a smart soundbar with advanced tech-savvy features, but it can deliver room-filling sound that your TV speakers fail to produce.
Pros
• Built-in woofer
• Rich bass
• Powerful sound delivery
• Clear dialogues
• Roku Ready with HDMI ARC

Cons
No Display to keep up with functions
No audio format support

3. VIZIO M21D-H8R Soundbar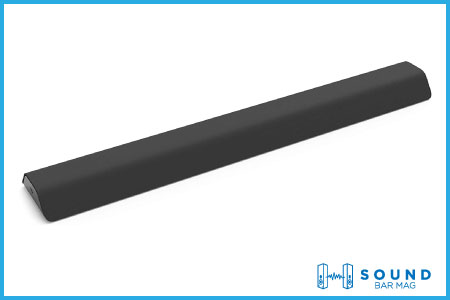 Vizio M-Series has secured attention and popularity like the new baby. Vizio M21D-H8R is the best-selling soundbar for its sophisticated and elegant design with measurements of 36inches only.
It is a reasonable soundbar to mount on the wall because the 2.1 channel system provides a built-in subwoofer along with full-range stereo speakers. We enjoyed the powerful audio output with balanced background tuning.
The soundbar creates a wide soundstage with six speakers, designed precisely within the unit for richer and more expansive sound performance. Every channel has a separate tweeter and woofer that boosts the audio delivery and can go up to 98 dB level.
In addition, the speakers are compatible with Virtual technology, deliver an exceptionally high-fidelity sound that travels from floor to ceiling, and never compromises the quality.
In addition, Dolby TruSurround's sound compatibility enriches the performance by adding that punch in the sound that highlights background tuning and other aspects that regular speakers miss out on.
Though it lacks the center channel, the dialogue delivery is still worth appreciating, making everything crystal clear to understand. However, we hoped for a dialogue enhancement mode many entry-level bars are offering now.
Nevertheless, the soundbar is perfect for mixed usage, especially with the Bluetooth add-on. It may also include other connectivity options, like HDMI, USB, IR Receiver, and optical digital input, but its flawless wireless makes it stand out.
Pros
• DTS:X and TruSurround support
• 4K HDR modification
• Unique speaker design with woofer and tweeter
• Wireless connection support
• Easy setup via remote

Cons
No deep bass
Not value for money

4. MAJORITY K2 Soundbar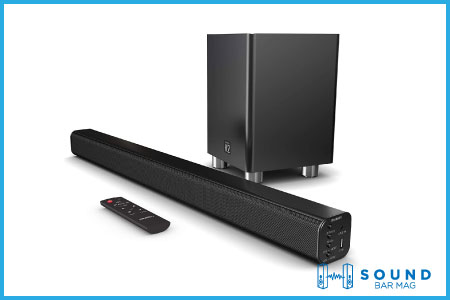 If you are an audiophile but want to invest in an affordable or entry-level system to satisfy your music-listening craving, get the Majority K2 soundbar. This soundbar delivers audiophile-grade sound with two stereo speakers and a wireless subwoofer, making it a great alternative to expensive apparatus.
It also offers a sound that ensures an immersive experience as it tries to deliver a cinematic audio performance. It can also handle the loud explosions of games with professionalism that you hardly notice the distortions, and the clarity is worth noticing. We tried it with both gaming and TV shows and wouldn't complain.
Majority K2 is a 2.1 surround sound with a wireless subwoofer that can handle any content you play, from soft classical music to jazz or pop. It can turn into blasting equipment while listening to music at max volume.
Moreover, you can connect any device you can think to this soundbar with Bluetooth, USB, AUX, HDMI, and optical digital. We tested the HDMI with TV and Bluetooth with all our smart devices. We were impressed how it never compromises the audio quality, no matter what connection you choose to play with.
We think the stylish design adds points to its appearance, and the built-in radio makes it different from other products on our list. Setting up wouldn't take much time because a handy remote control will walk you through the seamless functions.
Also, a wireless connection wouldn't take more than a few seconds to give it a push. Therefore, we call it the best soundbar with Bluetooth to surprise us with high-quality live streaming.
Pros
• Smart design
• Rich connections
• High-definition sound
• Easy and smooth setup

Cons
• Lack of voice control assistants

5. LG SN5Y Soundbar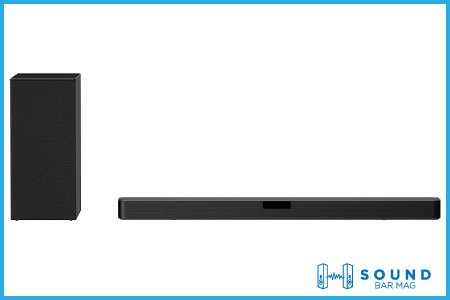 LG soundbars do not need any introduction because they speak for themselves, whether in appearance or performance. LG SN5Y is an incredibly slim soundbar with a wireless subwoofer that can transform the idea of music listening with its advanced AI technology and powerful speakers.
It is a well-built soundbar with a 2.1 channel setup that can produce sound with an output of 400W, and the bass is quite punchy to feel. First, we tested it with country and rock music, and the loud and captivating performance got us in the first phase.
It left us wondering how the full-range drivers unfold high-resolution audio with DTS decoding and Dolby Digital to provide a top-notch listening experience. We also didn't notice any sound delays, and the vocal clarity was better than other bars we tested.
So, whether you connect it to the TV to watch shows or movies or catch up on the long-due podcast or E-Book, LG SN5Y is always ready with its clear, detailed, and pure audio quality.
Also, setting up a device is seamless with voice control, a handy remote, and a Bluetooth option. You can enjoy customizable sound delivery with different EQ preset options that the voice assistant will handle.
In addition, the AI Pro technology of LG can automatically adapt the content and adjust the soundbar performance accordingly to engage you in listening. Besides, Bluetooth pairing is a Godsend feature that wouldn't consume much time in setup and get ready to perform whenever you want.
Therefore, it is a valuable sound system to have in a home for your regular gaming, music listening, or movie streaming.
Pros
• Multiple presets
• Bluetooth, HDMI, and USB
• Voice assistants
• Multichannel soundbar
• Clean, clear, and detailed sound
• Reasonable subwoofer performance

6. VIZIO SB3651-F6 Soundbar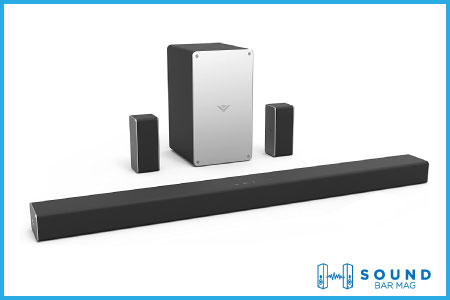 If you are looking forward to planning movies, Halloween parties, thanksgiving, or similar events at your home, you want to give attention to your existing sound system.
Sound quality holds foremost importance in implementing a successful event because everything would be dull without a good sense of music. We at the testing lab are very cautious because unlimited unboxings and device testing make us bored.
And we suggest you never go off-board with your sound systems and invest in the Vizio SB3651-F6, the best soundbar with Bluetooth in town, willing to provide you great sound services irrespective of the content type, event, or connected devices.
It claims to have the best amplification setup that receives the data from Bluetooth-enabled devices and delivers it with exceptional improvements. We tested it for the claims and were shocked to see the incredible output performance.
It is a heavy soundbar with a 5.1 channel setup, so there will be more drivers, tweeters, woofers, and a center channel to boost your listening experience. The sound was more detailed, clear, and expansive than the regular 2.1ch performance, and it will be worth every penny it asks.
Furthermore, the smart design of the soundbar and subwoofer with a shaking volume of up to 101 dB moves you into the content and makes you wonder what you would do without it.
Besides, the advanced audio technology of DTS:X and Dolby Digital compatibility ensures massive explosions with crafted cinematic sound.
Pros
• Sleek and modern design
• Dolby Digital and DTS:X
• Dialogue enhancement feature
• High power output
• Bluetooth and WiFi streaming

7. JBL Bar 5.1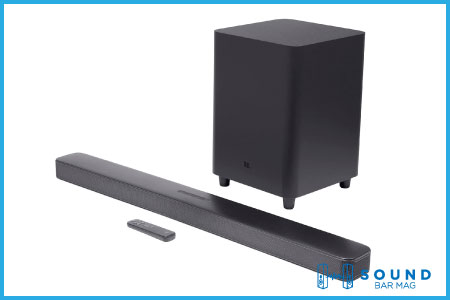 When we talk about the best 5.1 soundbars, JBL Bar 5.1 definitely appears on our lists. Its aesthetically pleasing design will grab your attention even before its starts playing to showcase performance.
A subtle grilled texture at the front conceals all the drivers sitting inside that delivers up to 5501W of output power. The sound output was huge when we tested it for music and warm with the sports and news. We loved the perfect balance according to the content.
It is a powerful soundbar that sets the wide soundstage with built-in drivers and lets you expand your listening with removable satellite speakers that deliver a 3D virtual surround sound experience.
In addition, the center channel improves the dialogue delivery, and the wireless subwoofer takes care of the distortion-free sound with rich bass. The vocals were perfectly synchronized and delivered with energy.
It is a complete package with different input ports to connect external devices, but the Wi-Fi and Bluetooth open doors to digital media streaming without any hassle.
The Chromecast and Airplay support give you access to unlimited playlists that you can play with one tap. Nevertheless, HDMI ARC with 4K pass through is a bonus add-on that can provide theatre-like enjoyment while creating dramatic vibes in the room.
Moreover, installation, connectivity, and device control are a walk-in the park with remote control with necessary buttons at the front. Remote made the navigation super easy with a comfortable grip and dedicated buttons.
However, it is a shame that the subwoofer adjustments are not available, and it might lose control at max volume, so you have to bear a little with its performance. Otherwise, it is a great soundbar with impressive sound performance and wireless connections.
Pros
• 4K HDR passthrough
• Chromecast, AirPlay, and WiFi
• The total power output of 550W
• Exceptionally clear vocals

Cons
• Lack of subwoofer performance adjustments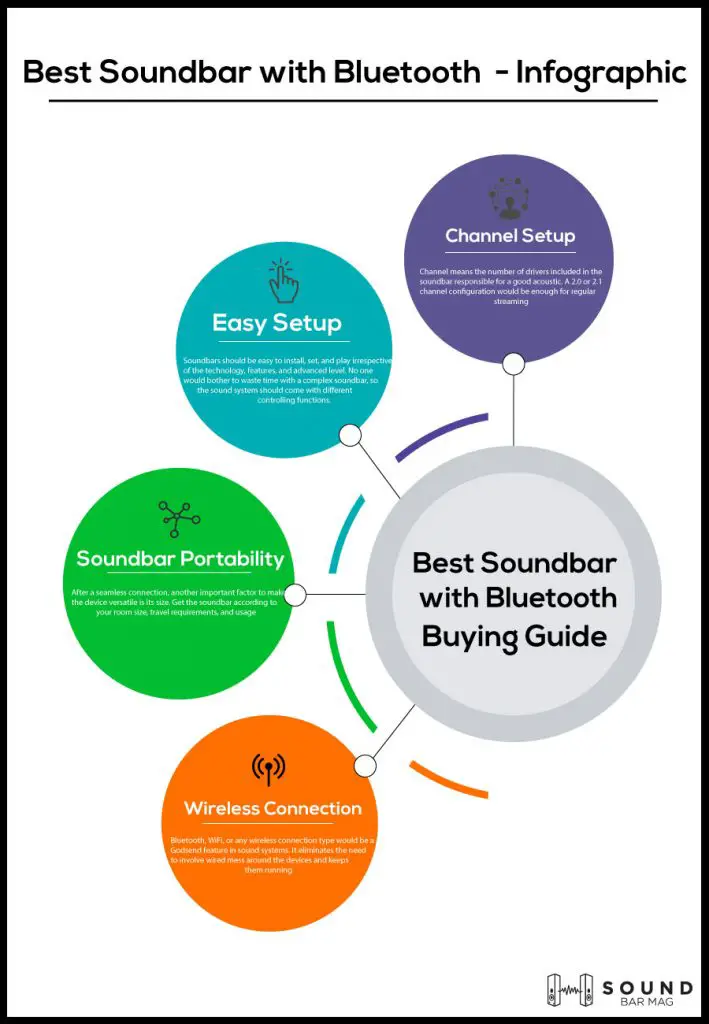 Best Soundbar with Bluetooth – Buying Guide 2023
A soundbar with wireless connection support sounds appealing, but you can't miss out on other features to let the fun begin. A soundbar is a feature-rich sound system that never works alone but with a chain of different functions that holds equal value to deliver an immersive listening experience.
So, here's what we think is the best soundbar with Bluetooth must-have, and you should always consider it before getting one for yourself. However, if we miss any necessary or must-have feature, please school us in the end.
Channel Setup
It depends on your listening preferences.
Channel means the number of drivers included in the soundbar responsible for a good acoustic. A 2.0 or 2.1 channel configuration would be enough for regular streaming, including dual full-range drivers or a built-in woofer to give you a fair taste of bass and treble. This setup delivers reasonably amazing sound quality with noticeable clarity and no distortion. Also, they are relatively affordable than other high channel soundbars.
However, you can invest in the 3.1, 5.1, or more setups that widen the soundstage, produce better, clear, and exceptionally powerful sound with high-frequency ranges. We have added JBL Bar 5.1 and Vizio SB3651-F6 with a 5.1 channel support. They are ready to take your music listening experience to the next level.
Easy Setup
Soundbars should be easy to install, set, and play irrespective of the technology, features, and advanced level. No one would bother to waste time with a complex soundbar, so the sound system should come with different controlling functions.
We have added soundbars that come with a handy remote and different button on the device, and some of them support voice control assistants. These options would help you manage volume, adjust EQ presets, switch connections, or enable other built-in functions from the comfort of your couch.
Soundbar Portability
After a seamless connection, another important factor to make the device versatile is its size. Get the soundbar according to your room size, travel requirements, and usage.
If you are not planning to give a sweet spot to your device and plan to move it here or there for different purposes, ensure it is portable enough to move around. Huge or heavy soundbars may disturb you with placement issues.
Wireless Connection
Bluetooth, WiFi, or any wireless connection type would be a Godsend feature in sound systems. It eliminates the need to involve wired mess around the devices and keeps them running despite dependence on cables, other devices, and constant control.
You can find the best soundbar with Bluetooth in this detailed review article, comprising different products with different features, price tags, and channel systems. All the soundbars offer a reasonable range of Bluetooth pairing for flawless yet stable connectivity for uninterrupted sound streaming.
Frequently Asked Questions (FAQs)
What is the Best Soundbar with Bluetooth?
Vizio M21D-H8R is the best soundbar with Bluetooth with a 2.1ch system, including stereo speakers and a woofer. It can go loud and deliver up to 98 dB of sound, enough to entertain average-sized rooms. Besides, the DTS:X format support enriches the performance and ensures the sound punch from every direction.
Is a soundbar better with Bluetooth?
You may find the best soundbar with Bluetooth expensive, but it is worth it because it eliminates the need to place a device in a certain spot for wired connections. It also pairs quickly and does not require a complex setup process every time before use. Hence, a soundbar is better with Bluetooth.
What does Bluetooth do on a soundbar?
Bluetooth is a wireless connection technology that utilizes radio frequency to share data between two compatible devices. Hence, it eliminates the need to use wires/cables for connection. Bluetooth on a soundbar does exactly the same, enabling the device to pair with other Bluetooth-enabled devices quickly.
Do soundbars have Bluetooth?
Yes, many great soundbars support the latest version of Bluetooth to connect compatible devices seamlessly and enjoy listening to your favorite content without any wired mess.
Is Bluetooth good for audio?
Bluetooth allows more data passing with excellent consistency and stability for smooth use. However, if you have a chance of using WiFi over Bluetooth, you prefer it because you may not receive good quality audio over Bluetooth like with WiFi.
Bottom Line
Having a soundbar that can entertain you with your favorite content at max volume despite placing it at its sweet spot is like a dream come true. This article will help you find that dreamy soundbar with Bluetooth that gives you the pleasure of listening to songs, podcasts, E-Books, and other sound-sensitive content hassle-free.
Get the best soundbar with Bluetooth and transform your listening habits in no time.
Happy streaming!
Mia Evelyn is a soundbar specialist and she love to test and review different soundbar brands. She shares her neutral and in-depth reviews through the Soundbar Mag.