Like eyeglasses make our vision clear and help us see everything in 3D, a good soundbar makes every spoken content audible and clear enough for better understanding.
A soundbar is a thin, long, metallic device that contains several speakers to produce high-resolution sound and lifts our listening experience with its technicalities and features.
Today, we will discuss the best soundbar for Vizio TV that can transform your acoustic expectations with its compelling drivers and terrific specs.
As tested, they are undoubtedly the perfect soundbars for Vizio smart TV, considering their flexible connectivity options, modern yet decent design, and room-filling audio delivery capabilities.
List of the Best Vizio TV Soundbar in 2023
1. VIZIO Elevate Soundbar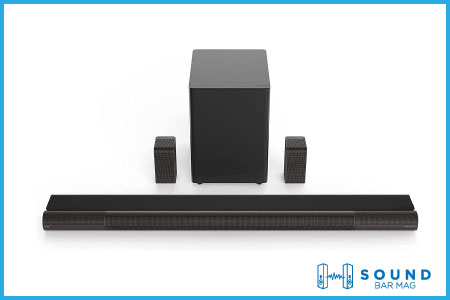 With Vizio Elevate soundbar, explicitly designed for TV and Home Theatre sound systems, bring clear, loud, and thrilling sound to your home.
Our first impression of the soundbar was sarcastic, as it came in a huge box but was nicely packed. It is a huge 5.1.4 channel system soundbar, beautifully packed with all the speakers inside to deliver rich and deep sound quality.
We liked how this high-end soundbar contains up-firing or rotating speakers that optimize the sound delivery according to the environment, ensuring you hear the sound from the ceiling and walls.
The loud yet distortion-free voice fills our ears with the flute, tune, and bass detailing that will let you feel every sound vibration. In addition, the soundbar includes a bunch of connectivity ports to promote rich pairing with other devices.
It also contains HDMI, Optical, and USB for audio playback, Analog, Voice assistant input, Wi-Fi, and Bluetooth 4.1 version. We tried Bluetooth by connecting to a TV and our smartphone, and the range and signal performance were impressive.
Besides, the easy setup and quick pairing with Bluetooth make it the perfect soundbar for Vizio smart TV and your regular music streaming via smartphones.
The Dolby-Atmos and DTS:X certified speakers produce powerful and quality audio output that lets you experience new heights of music. We loved the audio quality while trying it with a number of different content.
Besides, 18 speakers thrive to go loud as possible, and their frequency range lies between 30Hz to 20 kHz, but there will be no lag or distortion coming from the speakers.
Four different listening modes will accompany and enhance your listening experience by highlighting audio tools where needed. The dialogue clarity is promising and lets you understand whisper sounds. Controlling the soundbar via smart remote control and voice control assistants gives you a luxurious usage experience.
Therefore, this best Vizio TV soundbar elevates your music listening experience and provides value to many with all the amazing features.
Pros
• Auto-rotate speakers
• Different sound modes
• Advanced audio format support
• Wireless music streaming
• Rich connection
• Chromecast streaming

Cons
• HDMI ARC could be a valuable addition

2. Vizio VOV51H6 Soundbar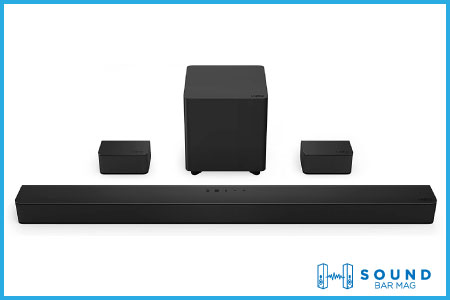 Vizio V-Series VOV51H6 is another decent soundbar we tested from a brand that produces quality audio to boost the built-in speakers' quality and deliver an immersive listening experience.
With a smooth setup and compact size, this soundbar is a go-to device for many audiophiles. It was super easy to handle and navigate throughout the testing.
The 36 inches soundbar weighing only 2.1 Kg, packs around 6 speakers inside that are Dolby-Atmos certified to produce virtually embedded and wall-proof sound that will turn the tables at your parties.
However, we liked the sound personalization feature that lets you adjust the sound level by opting for four different sound modes to optimize the delivery according to the content, ambiance, and other factors.
The wireless subwoofer will produce rich bass but can fool you with its simple-profile design. Furthermore, according to the content, the 5.1ch soundbar offers Dialogue enhancement EQ that can go premium and stay low-key.
However, crafting the soundbar and Subwoofer with premium quality material can surprise you with its durability and reliability, and it plans to stay a little longer with you than planned.
Moreover, when the soundbar connects with Vizio 4K smart TV, it can bring the best audio output possible with a frequency range of 50Hz to 20 kHz. It can be connected via HDMI ARC, Optical digital, USB, or Analog. Besides, the Bluetooth 4.1 version is also available to offer wireless pairing with smart devices.
Pros
• Alexa ready
• Dolby Audio 5.1 delivers incredible performance for 4K HDR content
• Dialogue enhancement EQ
• Bluetooth streaming
• Dual-stereo surround mode
• Four listening modes
• Handy yet stylish remote

3. VIZIO SB36514-G6 Soundbar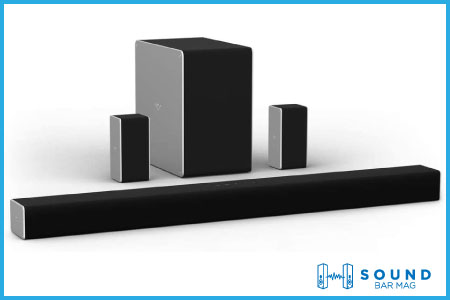 This delicate and elegant soundbar with a wireless subwoofer is perfect for home and studio uses. It is designed to enhance your TV's sound systems and set the surround sound stage with its surprising sound performance.
Besides, it seems like a subtle soundbar with only a 36-inches long profile and 5.18 lbs.weight. Besides, it looks stunning in black, especially mounting on a wall right beneath your smart TV.
Apart from adding charm to your home décor, it can add life to your entertainment sessions. We examined its performance with a diversity of content, and it did great, at least better than the speakers of most TVs.
Whether streaming movies, playing games, or listening to classical songs, it can optimize the sound quality accordingly and can help you feel every bit of the song.
Moreover, the Dolby Atmos multidimensional technology ensures the audio comes from every direction, including your head, so the room will be shaking with vibrations and noises and invites your inner beast at every beat.
Vizio SB36514-G6 unravels the realistic sound performance while not wasting time in connections and settings. It is undoubtedly the best soundbar for Vizio smart TV that instantly detects the device via Bluetooth and starts playing.
We found it a plug-and-play soundbar for smart devices, but for the others like gaming consoles or Blu-ray players, you may need to set it up and connect manually via HDMI, Digital Optical, or Analog cable.
Nonetheless, the soundbar promotes unlimited fun via wireless music streaming. Hence integrated Chromecast Built-in will design a terrific and chilling playlist and boost your mood after an awful day.
Pros
• Quick setup
• 5.1.4ch Soundbar
• Modern design
• Room-thrilling sound performance
• Dialogue clarity
• Multi-room streaming
• Compatible with Voice control

4. SAMSUNG Q700A Soundbar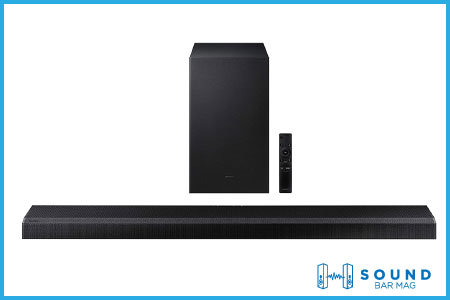 Samsung Q700A is a decent upgrade to your existing sound system with a 3.1.2ch system. All three drivers, one subwoofer, and two up-firing channels give complete audio entertainment regardless of the content type.
We think its elegant yet modern design perfectly blends with the home interior, and the easy setup won't make it hard for beginners. Even though we test a lot of TVs of different models, we find it more convenient and smooth to use.
Besides, when connected to the TV, the built-in technology beautifully synchronizes the content and delivers powerful, deep sound quality that can take your streaming experience to the next level.
Samsung Q700A can be a great soundbar for Vizio smart TV considering the demanding specs and impressive features. Its design and build quality go perfectly well with the new Vizio smart TV series, plus the 3D surround sound delivery should be a perfect convincing element.
The Dolby Atmos and DTS: X format support let you experience true 3D audio with excellent clarity and high frequency. The music can go loud without compromising the quality. Also, we never felt any distortion ruining the entertainment vibes, so it is safe to say that this is the best Vizio TV soundbar with Bluetooth pairing and auto-calibration to fill your space with thrilling sound.
Besides, the soundbar is Alexa and Bixby-ready, so it always responds to your commands to manage volume, switch modes, enhance dialogues, etc. Alexa was enabled in no time and was responding to the commands for a better user experience.
We also noticed that the panoramic sound that moves with the scene's actions would excite all the gamers out there because it will create a thrilling sound harmony and bring more excitement to play.
Pros
• Adaptive sound technology
• Voice assistant support
• High-resolution audio
• Wireless streaming
• Spacefit sound quality
• AirPlay 2 compatibility
• High-frequency range
• Wireless Subwoofer

5. VIZIO SB3220n-F6 Soundbar
When we were looking for an entry-level soundbar with a low-key profile to upgrade the TV speakers while not breaking the budget, we found this extremely customized bar with only dual-range speakers. 
Vizio SB3220n-F6 is a simple, entry-level soundbar with a 2.0-channel system. It is a one-unit soundbar containing dual compelling up-front speakers that are DTS: X certified, ensuring virtual overhead and room-filling sound irrespective of the content.
Also, it is a reliable solution to all audio requirements since it comes with DTS TruSurround and DTS TruVolume, delivering dramatic and realistic sound while maintaining consistency and maintaining a smooth listening experience.
Besides, advanced acoustic formats like Dolby Audio and DTS:X deliver powerful, rich, loud, and clear audio quality. We examined the performance with music, bass-heavy content, and news, and the playback tuning or dialogue performance was worth enjoying.
Additionally, the Vizio SB3220n-F6 is only a 32 inches long bar with 3inches in height and 3inches wide, perfect for blending with your 40-inch Vizio smart TV. If you decide to place the bar under the TV, resting on a trolley, know that it won't disturb the TV functionality. However, the elegant design with grilled texture will look adorable while mounting on a wall.
The connection is restricted with Bluetooth and optical digital, allowing you to stream music wirelessly from your smartphone. Vizio smart TVs also tend to support Bluetooth versions, so lack of HDMI or USB shouldn't be an issue.
Therefore, it is a great, reasonable option if you only get the soundbar for online digital streaming or casual gaming. The sound can go loud, the dialogue is pretty clear, and the stereo soundstage is excellent.
6. Sony HT-S350 Soundbar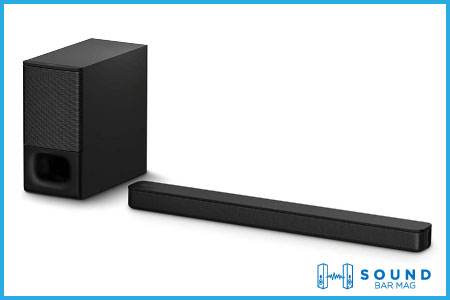 Sony HT-S350 is also a 2.1-channel soundbar designed to upgrade your TV, Home theatre, and Surround sound speakers while not breaking the bank.
It is a soundbar with a wireless subwoofer that aims to bring life to every song and show you play with a total power output of 320W. The music delivery was powerful, with rich tuning and tweeter performance.
The subtle design of the soundbar and subwoofer perfectly complements your Vizio smart TV and lets you mount it on the wall easily and quickly. The built-in voice enhancement feature isolates the voices while boosting audio frequencies for better and greater clarity. A
Also, this beautifully crafted soundbar with a Subwoofer combination features flexible connectivity via Bluetooth and HDMI ARC.
However, if your Vizio smart TV is not compatible with HDMI or HDMI ARC input, the soundbar has an optical digital as a thoughtful alternative. It also allows for rich compatibility, as we could pair the bar with several devices in no time.
In addition, a variety of different sound modes elevates the sounds according to the content. The Music mode delivers every detail of every beat, and the Cinema mode highlights the dialogue for better understanding.
The Soundbar for Vizio smart TV also features three sound effects along with virtual surround technology to enhance your music streaming to the next level without compromising your comfort.
The robust wireless subwoofer produces a rich and deep bass sound that brings a different entertainment vibe to the room. It houses a 16cm large speaker that can produce a heavy volume to deliver room-shaking sound.
Pros
• Modern design crafted with premium material and metallic finish
• Wireless streaming
• S-Force Pro technology
• Different sound modes
• Vocal enhancement

Cons
• No multi-room feature
• No advanced audio format support

7. Samsung HW-A450/ZA Soundbar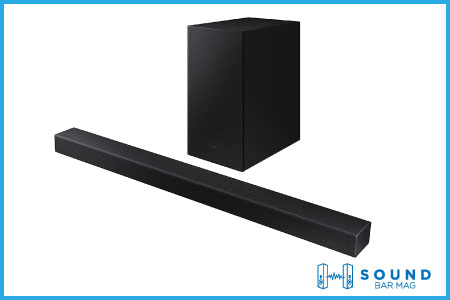 Discover loud, clear, and cinematic sound with Samsung HW-A450/ZA soundbar and experience excellent voice accuracy and rich volume of your content in real-time.
Like many soundbars we tested, it is also a 2.1ch soundbar with a wireless Subwoofer that offers a smooth setup via a wireless connection. Unboxing the bar was fun, and examining its performance didn't require much hassle.
The soundbar features Bluetooth connectivity that instantly detects the smart devices, including Vizio smart TV, and starts performing. However, if your TV is not Bluetooth compatible, the soundbar also contains HDMI and an optical digital input for wired pairing.
Controlling the soundbar and Subwoofer is a walk in the park with a universal or dedicated remote control. You can manage volume, switch listening modes, or enable connection with a one-push button from the remote.
The soundbar also optimizes the sound delivery according to the content playing, so you can enjoy your favorite content with greater harmony and tremendous details. Also, if you further boost the bass delivery, the subwoofer has a push button at the front that can do the job in seconds.
Apart from excellent, loud, and clear sound performance, the game mode further boosts the experience and elevates the sound with every action. It brings detailing, fun, and clarity in sounds that no one can expect from this 2.1ch soundbar for Vizio smart TV.
Pros
• High music sensations
• Quick setup
• Game Mode
• Wireless streaming
• Wireless Subwoofer
• Deep and thrilling bass

Cons
Muddy noise at high volume
No DSP

Best Vizio TV Soundbar – (2023 Buying Guide)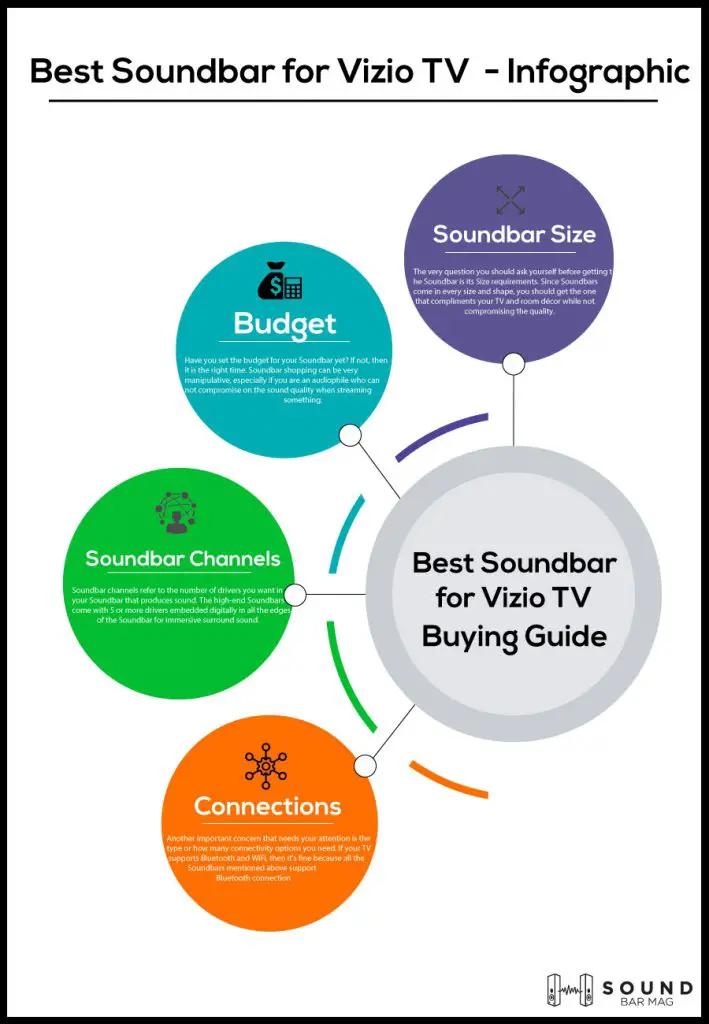 Getting a Soundbar for Vizio smart TV is easier than you think. The detailed review guide will give you a fair idea about the trending Soundbars, along with their features and specs, lightning the burden of self-research.
However, reading reviews is not enough. Because many important factors that play a vital role before even thinking to upgrade to Soundbars need your attention. You must consider and learn several elements that may not sound reasonable at times but can be very beneficial and save your time in the post-shopping period.
So, let's explore a few of the essential factors, learn what we need, and bring the Soundbar for your Vizio TV to our house.
Which Soundbar Size do I Need?
The very question you should ask yourself before getting the Soundbar is its Size requirements. Since Soundbars come in every size and shape, you should get the one that compliments your TV and room décor while not compromising the quality.
Also, the Soundbar design and size vary with the number of drivers it contains. Large Soundbars usually contain more drivers than smaller ones and produce sound performance accordingly. Besides, if you want to get the Soundbar to upgrade the TV speakers, then you should get a 38 to 45-inches long Soundbar for your 42 to 50-inch TVs.
Ensure that your Soundbar should be a little low-key than your TV because their measurements are quite opposites, so you may get confused.
Budget
Have you set the budget for your Soundbar yet? If not, then it is the right time. Soundbar shopping can be very manipulative, especially if you are an audiophile who can not compromise on the sound quality when streaming something. So, you can end up spending more than you have planned. It is better to have a figure in mind and get the required features within that.
Also, setting the budget will help you narrow down your research and save time by taking you to products that fall under your range.
Soundbar Channels
Soundbar channels refer to the number of drivers you want in your Soundbar that produces sound. The high-end Soundbars come with 5 or more drivers embedded digitally in all the edges of the Soundbar for immersive surround sound.
In addition, 2.0 channel Soundbar can be fair enough if you are only getting the Soundbar for casual TV or music streaming. It indicates there will be two speakers left and right that are pretty better than the TV's built-in ones. The three-channel Soundbar adds one center channel that is usually embedded for dialogue delivery. It features vocal enhancement that brings life and clarity to the sound.
Then 5 and 7 channel Soundbars, which are almost the same with little bonus update in 7, are now the standard home theatre sound system. Such Soundbars come with integrated up-firing, front-firing, auto-rotating, center channel, tweeter, and a built-in subwoofer that turns the tables to your music streaming.
Also read: Best Settings for VIZIO 5-1 Soundbar
Connections
Another important concern that needs your attention is the type or how many connectivity options you need. If your TV supports Bluetooth and WiFi, then it's fine because all the Soundbars mentioned above support Bluetooth connection (versions may vary). Still, check your TV connections compatibility beforehand to save yourself a headache and replacement issues.
However, if your Vizio TV does not have a Bluetooth connection, check for the wired connections and get the Soundbar with the same input compatibility. Besides, the most common connections that any good Soundbar must have are HDMI, HDMI, USB, optical digital, and, Analog. Some Soundbars also come with HDMI ARC/eARC port which is a bonus.
Frequently Asked Questions (FAQs)
Which Soundbar is compatible with Vizio TV?
Vizio Elevate 5.1.4ch Soundbar is perfectly compatible with Vizio TVs. It is a high-end soundbar with up-firing, rotating drivers that produce high-resolution and sensational audio performance. The dialogue delivery is tremendous, and the rich wireless connectivity makes it easier to connect and enjoy the music streaming whenever you want.
Is a Vizio soundbar worth it?
Yes, Vizio Soundbars are built with excellent quality material and are affordable. Vizio Soundbar produces tremendous sound performance with clarity, no distractions, and rich bass. So, they can be a reasonable yet thoughtful upgrade to the Sound system and a very fine addition to your entertainment gadgets.
Can you connect a soundbar to a Vizio TV?
Yes, connecting a Soundbar to Vizio TV is easy and worth it. It will enhance the sound quality of the TV's built-in speakers and enrich the depth of the sound. Besides, the Vizio smart TV has many connectivity options, so getting a compatible Soundbar can make a fair deal. The connectivity options may include:
HDMI input
HDMI ARC/eARC
USB input/ USB .WAV passthrough
Optical Digital
Analog
Bluetooth (Refer to the manual for supported version)
WiFi
Read also: Samsung Soundbar Equalizer Settings
Conclusion
We end the detailed discussion of the perfect soundbar for Vizio TV, hoping that you have made up your point of view and are ready to enjoy a thrilling music experience with one of the soundbars mentioned above.
All the soundbars are perfectly compatible with Vizio smart TV (old and new versions vary with the connection) and will boost your audio listening experience with accurate, loud, and distraction-free sound.
Don't forget to mention which soundbar you chose and why?
Read also: Best Settings for Samsung Sound bar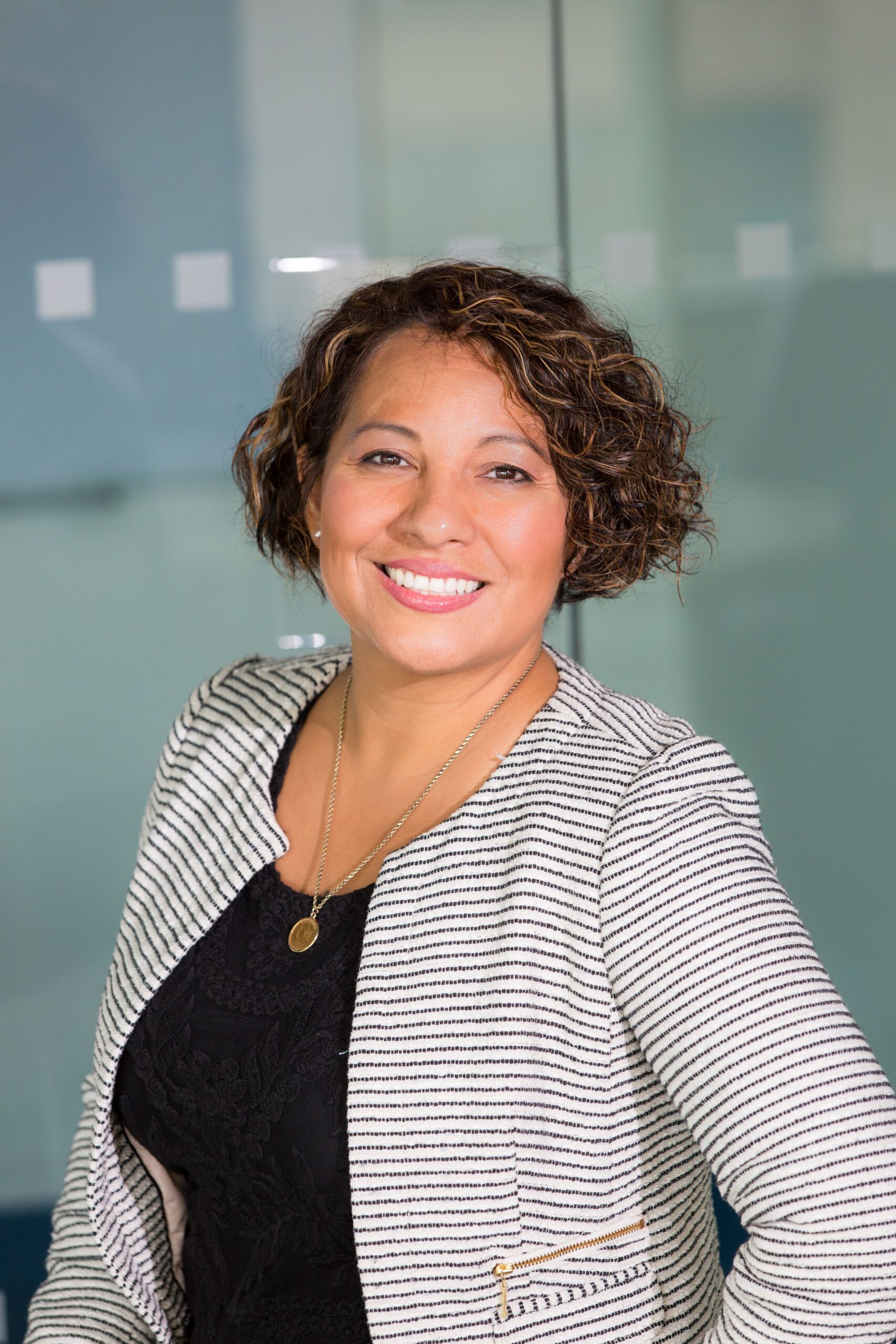 Mia Evelyn is a soundbar specialist and she love to test and review different soundbar brands. She shares her neutral and in-depth reviews through the Soundbar Mag.