The market is filled with high-end soundbars willing to transform your audio listening experience, using multiple speakers inside the rigid soundbar body. But the real task is finding the one that best fits your requirements and audio listening standard.
So, we are here to help by adding the seven best high-end soundbars you can find in 2023. All the soundbars are equipped with advanced audio technology that improves the sound quality, polishes the vocal performance, and provides a theatre-like experience at home.
Without further ado, allow me to dive into the details of the high-end soundbar.
List of the Best High End Soundbar in 2023
1. Samsung Q90R/ZA Soundbar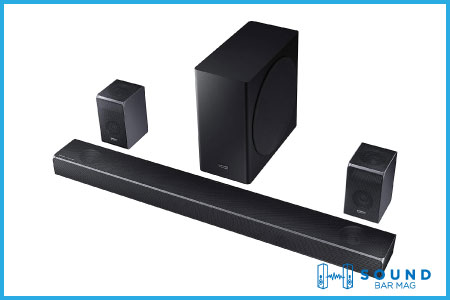 When we talk about high-end soundbars, Samsung always comes at the top. With adaptive sound technology, a wireless subwoofer, and exciting sound effects support, the Q90R wouldn't disappoint you like any other in the vast collection of Samsung soundbars.
It is a 7.1.4 channel soundbar, so you will find lots of speakers sitting on every side of the bar. There are speakers at the side to create a wide soundstage, and height channels with Dolby Atmos and DTS: X effects bounce off the sound from ceiling to floor while maintaining the quality will excite you a little more.
Also, most importantly, the dedicated central channel isolates the dialogues from all the sound and tuning to deliver a cinematic performance. We loved the clear vocals while streaming news, podcasts, or sports channel.
Apart from 17 built-in speakers, this 48.26-inch soundbar comes with two battery-powered rear speakers to add an element of surround sound. The wireless subwoofer performs catchy with a serious rumble and punchy bass.
Samsung Q90R is undoubtedly a complete home entertainment package considering its simple setup, high channel support, and multi-directional sound delivery with audio technology.
It also offers Bluetooth for seamless wireless pairing with smart devices. We tried connecting with TV, smartphones, and other smart home appliances, and its performance was engaging.
Moreover, controlling the device was easy peasy with Alexa compatibility and connectivity via HDMI 4K pass-through will turn the tables for watching 4K content on Netflix, Amazon, or other streaming platforms.
However, the absence of Wi-Fi is a shame because it could open the door to wireless music listening from endless online platforms.
Pros
• Alexa compatibility
• Adaptive sound tech
• Atmos and DTS
• Bluetooth and HDMI 4K passthrough

Cons
• Limited wired connections
• Quite large and heavy

2. Vizio V51x-J6 Soundbar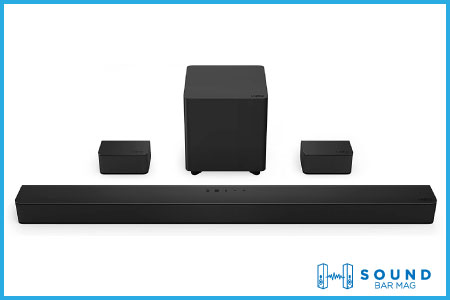 Another best-selling soundbar in 2023 is Vizio V-Series V51x-J6, a 5.1 system with a wireless subwoofer and superior audio delivery. It may be affordable and lack some advanced features that complement the lifestyle, but the room-filling surround sound with six built-in speakers delivers an immersive listening performance.
We loved the soundbar shape and low-key profile. It lets you transform your space by adding this thriller soundbar with a wireless subwoofer equipped with Dolby Digital 5.1 and DTS Virtual: X for precise 4K content with floor-to-ceiling sound dispersion.
Dolby Digital also minimizes the audio delays that further enhance the dialogue, but you will also get a center channel for the vocal polishing. It helps big-time delivery of clear and transparent sound.
The setup is easy; navigation with included remote and voice control support is like a walk in the park, making switching playlists convenient even on busy days like occasions, family dinners, and parties.
The subwoofer is also fully energized and delivers up to 50Hz of deep and accurate bass. You will also find two surround speakers in the kit that allow you to experience more expansive sound performance, giving you enough room to place it anywhere you want.
Also, Bluetooth compatibility lets you stream music wirelessly from different devices. So, it is an excellent soundbar with loaded features to enhance audio listening, but the lack of Dolby Atmos is quite surprising for us. Despite the noticeable lack, you can also count the Vizio V51x-J6 for mixed usage.
Pros
• Full-featured remote
• Bluetooth streaming
• Spacious and filling sound
• Deep but accurate bass
• Excellent vocal pronunciation

3. Nakamichi Shockwafe Ultra 9.2.4 Soundbar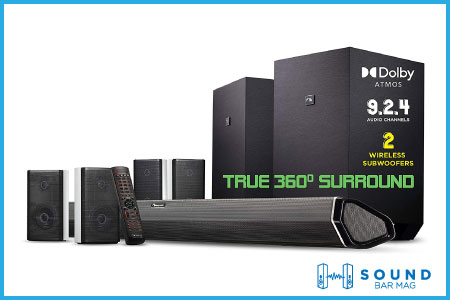 Enjoy a real home theatre experience with the Nakamichi Shockwafe Ultra 9.2 system soundbar with 10-inches wireless subwoofer and four rear surround speakers to deliver a luxurious listening experience.
It delivers a maximum power output of 1300W with an SPL of 113dB, forcing you to make it a part of your parties and movie nights. While testing, we saw its hidden side that got extremely loud without compromising the background tuning and vocals.
It is undoubtedly the quality high-end soundbar you can find to date, with a great price, rich wired and wireless connections, and different sound effects support.
It also houses three advanced audio processing engines that improve the harmony of audio delivery and make the sound more spacious and relaxing to hear.
We loved the soundbar, which measures around 45.5inches, is loaded with advanced features. The wide-body incorporates speakers at the front, back, sides, and center, optimized with the next-generation sound effects Dolby Atmos, Digital, and DTS for the virtual 360 cinema surround experience.
It is a plug-and-play soundbar with Bluetooth, RCA, and HDMI 4K-passthrough that ensures you listen well and watch the 4K HDR content fora cinematic experience you have never had before.
You will never miss a word while listening to podcasts or watching sports, shows, or news with the center channel supremacy. While playing games, you will feel more immersed in the action-oriented sound. Hence, it is a complete home theater sound device that keeps up with your different usages.
We also tried to find drawbacks of the device but almost failed because the maximum power output, high sound pressure level, and decent stereo dynamics check all the necessary requirements.
However, Alexa compatibility could make a difference in managing the Nakamichi Elite soundbar.
Pros
• Dolby Atmos technology support
• Wide soundstage
• Advanced wired and wireless connections
• Decent stereo dynamics
• Surround sound performance

4. Sonos ARC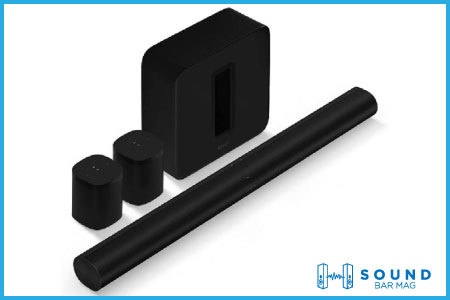 Sonos ARC is famous for its premium audio delivery and impressive set of features; thus, we find it the perfect high-end soundbar for 2023. The soundbar is designed to work flawlessly with TVs, and the DSP technology featuring different preset modes makes things more exciting.
Sonos ARC Gen 3 soundbar has a decent round profile in black, and the wireless subwoofer also complements the home décor while standing confidently on the floor.
The soundbar is tuned for perfection with the True play tuning technology that automatically adjusts the audio components according to what you play. The EQ preset do the same job by customizing the audio quality, managing sound pressure, and changing other audio components.
In addition, the built-in drivers are compatible with Dolby Atmos for room-filling immersive listening, bringing life to the content for realistic hearing. Considering the clarity and detailing of each word, we found it a perfect choice for eBook or podcast listening, besides movies and news.
The wireless subwoofer is also made with special details, taking over the low frequencies like no other. It includes 2 force-cancelling drivers that fight with vibrations and eliminate them for the distortion-free rich bass.
However, managing volume or switching presets could be a hassle without a remote control. You may have to check what works best to navigate the device. We opted for a Sonos app to manage the built-in functions.
Pros
• 5.0.2 system
• Distortion-free bass
• Room-filling lifelike sound
• High-resolution audio with Atmos

Cons
• Remote is not included in the kit

5. Yamaha SR-C20A Compact Soundbar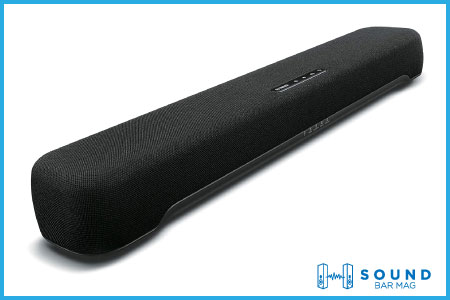 You won't regret bringing this compact soundbar from Yamaha with a built-in subwoofer and exciting sound modes to optimize your listening habits.
It is the most affordable and brilliant high-end soundbar with wireless connection technology that lets you quickly pair the smart devices and enjoy your time. We tested the bar at our testing lab by connecting the TV and noticed the overall performance.
We were surprised listening to the heavy sound reproduction with such detailing and clarity from this compact soundbar. Also, the true surround sound performance is worth appreciating; that can take your gaming or music listening experience to the next level.
In addition, the soundbar is also well-designed for the news, movies, and podcasts that require minimizing distortions or eliminating audio delays.
The built-in subwoofer also sets the standard high for low frequencies, providing rich and deep bass performance to make the most out of the space-saving bar. The bar delivers a max power output of 100W, and the subwoofer sets at 60W only.
The connectivity is apparent with Bluetooth, HDMI, and Aux. You will also get a single port of optical digital that should be enough for any device to connect.
However, it doesn't offer any advanced sound effects, except the Dolby Digital decoding, and you wouldn't find anything exciting other than the powerful sound with clarity.
So, if your concern is upgrading the TV speakers or enjoying the sound-sensitive content with full enthusiasm and no compressions, Yamaha SR-C20A is made for you.
Pros
• Powerful bass with built-in woofer
• Clear voice delivery
• Wall mounting
• Virtual surround sound
• EQ modes

Cons
• Limited features
• No advanced audio formats

6. Vizio SB36512-F6 5.1.2 Soundbar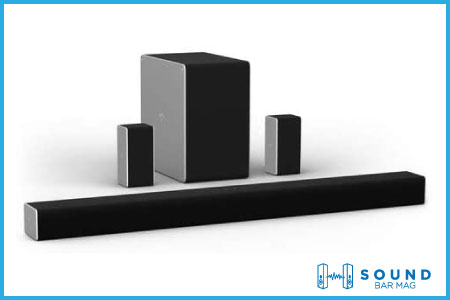 Make a smart choice by investing in the smart soundbar, which is terrific for mixed usage. It is a 5.1.2 system with Dolby Atmos support and a wireless subwoofer that can complement your home entertainment setup with easy setup and stable pairing.
The soundbar measures only 36 by 3.19 x 2.5inches and seems flexible enough to fit under the TV. You can also mount it on the wall to save furniture space and enrich the sound performance.
By connecting with other devices via optical digital, AUX, HDMI ARC, and Bluetooth support, we catch up to our playlists, enhance your TV watching, and go big by activating Chromecast.
It wouldn't promote hassling with the remote control or app, but the voice control support with Google Assistant helps you with controlling and playing with the built-in function effortlessly.
While watching shows or playing games, the Vizio soundbar supporting Atmos will take your listening habits to new heights to feel and enjoy every dimension of the audio. Upward and front-firing speakers ensure multi-dimensional surround sound, and the 101Db SPL makes the sound move around you with powerful intensity.
The wireless subwoofer also performs exceptionally; the low frequency goes down at 50Hz, creating a deep and heart-pounding bass. It is a great entertainment package that may damage the bank accounts but do the job with such perfection at home or workstations.
Pros
• Multi-dimensional sound
• Google Assistant control support
• Atmos compatibility
• Rich connections

7. Sony HT-G700 Soundbar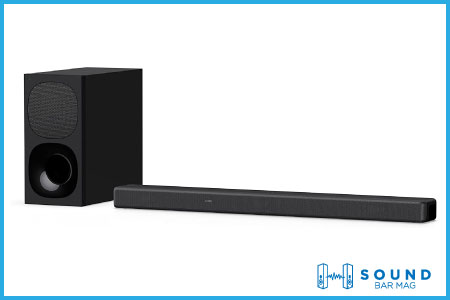 Last but not least, we have the Sony HT-G700 3.1 system in the list of the high end soundbar for apparent reasons. It has an elegant appearance and a slim and long body that houses multiple speakers to enhance the music-listening taste.
The soundbar is designed specifically to improve vocal clarity using the central channel. The immersive audio enhancer button boosts the sound performance and makes it close to the 7.1 surround sound for upscaling the listening: definitely a high-end bar for the price.
After the latest video formats in the smart TV, the soundbar is equipped with vertical engines and connectivity sources that match their standard and customize audio accordingly.
So, connecting the bar with a 4K TV using an HDMI perfectly transmits digital audio signals without any quality loss, so you feel like you are sitting in a cinema. Besides, it also offers other connection options, including optical digital and Bluetooth. We tested both and didn't have a complaint yet.
Additionally, Sony HT-G700 features different sound modes for quick sound customization and wave-front technology for more rational and lifelike sound quality.
It would also deliver the thrill of natural sound with Dolby Atmos and a DTS virtual surround engine. But, the important factor, like controlling the soundbar without meeting any hassle, is still a mystery with this device.
It is disappointing that it doesn't offer voice control or any other wireless option to manage the device and play with functions. Besides that, the overall build quality, treble and bass performance, and other available functions are well-balanced according to the price.
Pros
• Rich bass
• Elegant design
• Loud and clear audio
• HDMI ARC enabled
• Sound effects

Cons
• Lack of height speakers

Best High End Soundbar – 2023 Buying Guide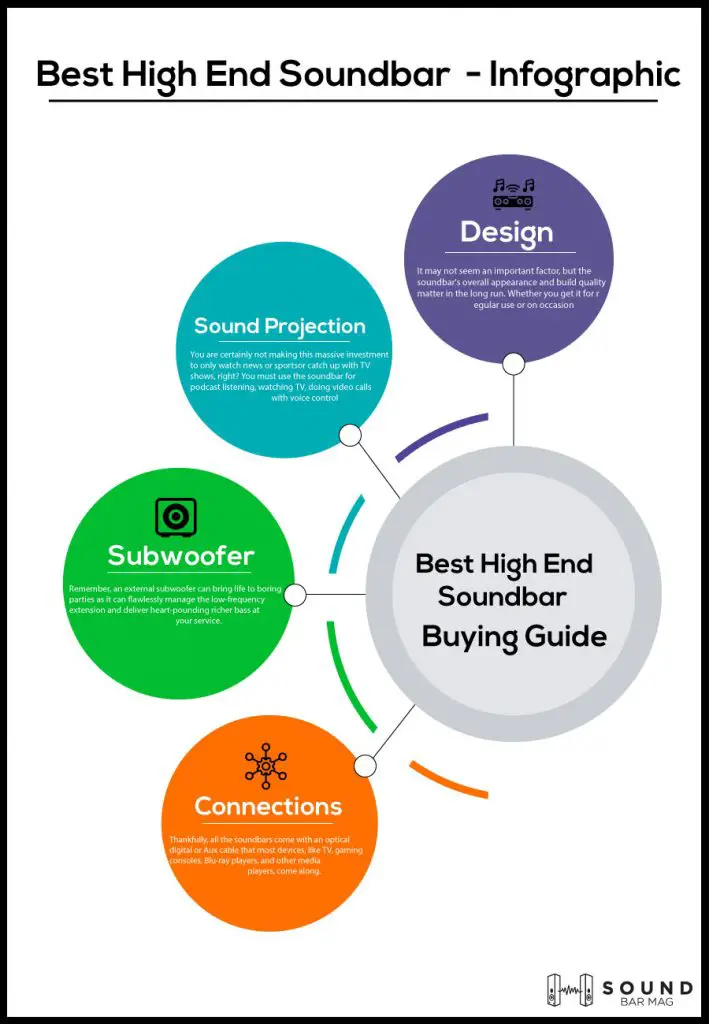 After listening to the awful sound from the latest TVs, enjoying a well-balanced clear sound feels like a dream. Thanks to the soundbar, a valuable upgrade to the speakers provides an immersive listening experience without burdening you financially.
But, considering the constantly rising demand, the brands are launching new models every other day and trying to meet the demand of everyone. Since everyone has different music tastes and listening habits, pleasing the individual is not an easy task.
Therefore, we tried to mention different soundbars, having different channel systems, audio projection capabilities, and features, so you get the one that best fits your requirements.
Still, it is not enough to consider before buying a soundbar. If you are a newbie, you have to walk certain steps before making a substantial investment. So, let's check what entertainment lovers tend to see before getting a reliable soundbar for homes, offices, and game stations.
Design
It may not seem an important factor, but the soundbar's overall appearance and build quality matter in the long run. Whether you get it for regular use or on occasion, it has to be made with durable quality materials that tend to last longer than usual. Many soundbars have plastic fabric all around them, so the plastic quality should be great. And the soundbars with the metallic grille at the front have a different charm.
If you live in a dust-prone place or planning to set the bar near windows or doors, we suggest you not get the grilled texture soundbar because once the dust goes inside the body, it will require maintenance or compromise the audio performance. So, it could be a hassle.
Also, the soundbars usually offer different designs and colors that you can choose according to your preferences. But we suggest you stick with the plain black; it looks classic sitting under the TV and mounting on the wall.
Sound Projection
Another essential aspect to look at in the soundbar is how well it can handle the sound pressure and how well they perform with different contents.
You are certainly not making this massive investment to only watch news or sportsor catch up with TV shows, right? You must use the soundbar for podcast listening, watching TV, doing video calls with voice control support, and listening to ground-shaking music, so it must be well designed for mixed usage.
Besides, sound projection preferences vary among individuals. Still, I suggest you get the soundbar with Atmos or DTS support, as these effects produce a room-filling sound with much clarity and perfect tuning.
Subwoofer
Remember, an external subwoofer can bring life to boring parties as it can flawlessly manage the low-frequency extension and deliver heart-pounding richer bass at your service.
However, built-in subwoofers are not bad to not consider. They also play well, adjust the bass with other audio components, and save the space of additional devices. Choose what best suits you.
Connections
You don't want to waste time figuring your different devices are compatible with your soundbar or not.
Thankfully, all the soundbars come with an optical digital or Aux cable that most devices, like TV, gaming consoles, Blu-ray players, and other media players, come along. So, you can make the pairing with one of them. But you shouldn't settle for that. Soundbars also contain different input ports, like HDMI, USB, RCA, and HDMI ARC, for stable connectivity among devices.
Many latest collections offer wireless connecting technology, like Bluetooth and Wi-Fi, so you must consider those for seamless pairing and unlimited music listening.
Frequently Asked Questions (FAQs)
What is the best high end soundbar?
Choosing the best high end soundbar wasn't easy, but full points to the NakamichiShockwafe 9.2 system soundbar with 1300W power output and 113db sound pressure level. It sets the bar high for other home theatre soundbars, with terrific features and a wireless subwoofer to complete the entertainment touch.
Are highend soundbars worth it?
High end soundbars are worth it for their build quality, extraordinary audio quality, different exciting features, and deeper bass. They are close to providing the home theatre experience, so they are worth more to audiophiles. We have mentioned the top 7 high end soundbars to date, so check them out.
Bottom Line
The thought of getting a high-end soundbar shouldn't haunt you anymore because we have mentioned the top-notch products that can take your music listening, TV watching, or even gaming experience to the next level.
The soundbars are designed to work for mixed content, and the build quality is impeccable to use in different regions. However, you may need to make an effort and read our detailed reviews of the high end soundbars to reach your dreamy product.
Mia Evelyn is a soundbar specialist and she love to test and review different soundbar brands. She shares her neutral and in-depth reviews through the Soundbar Mag.