Choosing the suitable and best soundbar for a large room can be a very hectic task considering the wide variety of remarkable products in the market.
But, we are here with the top 7 soundbars that features stunning build, premium construction, and rich connectivity that allows convenient pairing with TVs, gaming consoles, smartphones, or monitor at office setup.
All the soundbars are tested and recommended for mixed usage. Their room-filling sound performance optimizes according to the content, saving you the trouble of adjusting settings on different usage.
So, let's discover their qualities and what makes them the best for a large room.
List of the Best Soundbar for Large Room in 2023
1. Sonos Arc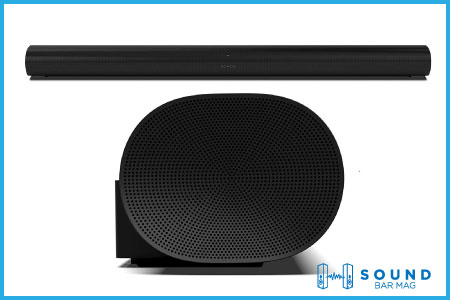 Sonos Arc is a smart premium one-unit soundbar featuring Dolby Atmos to bring next-level entertainment to our boring lives. It is a great update to the TV's speakers or traditional sound system since it creates a 3D surround sound environment with impressive audio performance.
We liked how it is an all-in-one soundbar that houses all the drivers, tweeters, and woofer under one roof and produces rich and detailed sound for watching movies, playing games, or listening to news or music.
We were also shocked by the amazing vocal clarity. The precise sound performance with vocal enhancement enhances the spoken word quality for watching the news.
Besides, the Dolby Atmos technology bounce sounds off the walls that feel like the audio is coming from every direction, making it a perfect soundbar for a large room.
You can also expect lossless, distortion-free heavy-volume sound with Dolby TrueHD and Dolby Digital decoding. Apart from compelling yet outstanding audio output, the soundbar offers smooth connectivity via HDMI or Wi-Fi, optical digital output, and Bluetooth.
Controlling the 5.0.2 soundbar that packs 8 woofers, 3 tweeters, and 11 class-D amplifiers is convenient with a smart App and built-in voice assistants. We enjoyed navigating the device via the voice control feature.
Moreover, with a slim and low-profile design, measuring 45 x 3.4 x 4.5 inches, the soundbar is easily adjustable anywhere in the large room. The handy profile is much relief.
So, for unlimited enjoyment, the smart Sonos ARC Soundbar is compatible with Apple AirPlay2, so you'll have unlimited access to online music, especially with Wi-Fi.
Pros
• Dolby Atmos and Dolby Digital Plus decoding
• Over-head sound with heavy bass
• Wide soundstage with Class-D amplifiers
• Low-profile design
• Rich connectivity for online music streaming

Cons
• Music projection could be better

2. SAMSUNG HW-Q950T Soundbar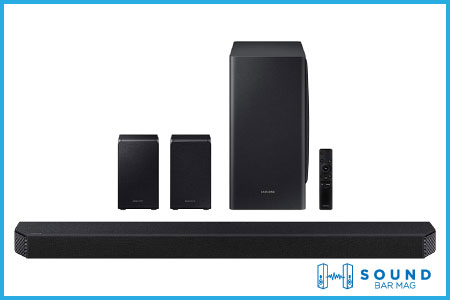 We have placed Samsung HW-Q950T under the top 20 soundbars for a large room for a reason. This high-end soundbar features a 9.1.4 channel configuration which is remarkable for a sound system.
All the built-in speakers are Dolby Atmos and DTS: X certified, ensuring overhead yet 360 surround sound output with outstanding clarity. It was insightful with music, especially the bass-sensitive content.
Wireless supports, including Wi-Fi and Bluetooth power the music streaming, and we loved the Bluetooth range and its ability to switch devices without creating a mess.
However, you will also get the wired options, comprising two HDMI inputs, one HDMI output with eARC support, and one optical digital output. HDMI eARC works great with TV and media players.
The combination of one long soundbar, one wireless subwoofer, and dual rear surround effects speakers makes almost 20 speaker systems, including nine channels, four up-firing channels, and one subwoofer.
The center channel takes care of all the spoken words, whether in movies or music, and the speakers at both corners ensure the creation of a wide soundstage that fills the entire large room with quality sound.
Luckily, the up-firing speakers produce a 3D sound you can feel coming from every direction, including overhead. So, you will deeply immerse yourself in the listening process. The Soundbar design is relatively subtle and unattractive, with a plain texture and matte finish.
There is nothing at the front of the Soundbar; Samsung has maintained a distraction-free policy in all their products. But you can find connectivity ports at the back.
Besides, the built-in Alexa helps you set up the device, switch listening modes, play with settings, and manage volume with your voice command.
Pros
• Smooth setup via voice assistants
• 9.1.4 channel configuration system
• Q-Symphony technology
• Clear dialogues
• True 3D surround sound effects
• An adaptive sound that automatically analyzes sound according to the content

Cons
• Lack of multiconnection via Bluetooth

3. Nakamichi Shockwafe Ultra 9.2.4 Soundbar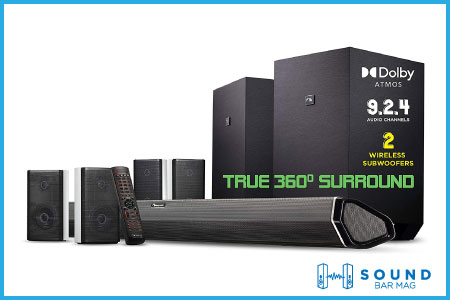 Nakamichi Shockwafe 9.2.4 channel soundbar is a heavy home theatre setup with dual wireless subwoofers, four rear surround effects speakers, and various built-in drivers. It can deliver dramatic sound perfect for parties, movie nights, and gaming sessions.
The combination of different speakers delivers the absolute best audio that no other soundbar can replicate. The soundbar also expands the sound with four surround sound speakers and fills the room with shaking vibrations and heavy volume.
Moreover, you can expect ground-shaking rumbles from dual 10-inch subwoofers that have the potential to add life to large rooms with detailed and rich volume. It was a great revolving bass performance, and I loved its ability to catch the low-end frequencies.
Furthermore, the Nakamichi soundbar also features a dual center channel that enhances the dialogue delivery to hear every whisper. Now, whether you listen to classical music or pop or catch up to your favorite music, the soundbar can make every lyric clear to hear and understand.
Above all, the outward-firing surround effect tweeters aim to create up to 35% wider soundstage than we can never expect from a regular Soundbar, eventually deliver in a cinematic listening experience to our homes.
Also, if you want to experience a 360 Cinematic environment in your smaller or large rooms, it allows attaching surround speakers that can be connected wireless via your phone.
Yes, the soundbar allows connecting smart devices via Bluetooth and Wi-Fi apart from wired connections, including HDMI and optical digital.
Pros
• Dolby Atmos and DTS:X support for overhead surround sound
• Next-level dialogue clarity
• Dual wireless subwoofer produce shaking bass
• Multiple connectivity inputs and wireless options
• It consumes 1000W at 110 decibels output

Cons
• Muddy noise at high volume
• Limited wired connections

4. Bose Soundbar 500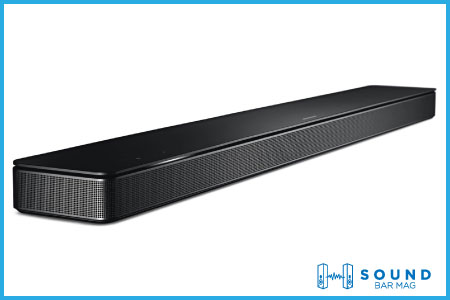 Bose 500 is a slim, sleek soundbar with heavy audio output that can easily fill large rooms with music and weighty bass. It is the most user-friendly soundbar we have tested for home use, with impressive features and premium construction.
The soundbar measures only 31.5 by 4 by 1.8 inches, so we think it can easily adjust in any space and blend in the environment. It has a flat surface with a matte finish, nothing at the front, and all the connectivity inputs are attached to the rear side.
The soundbar contains HDMI and Optical digital input. Luckily, the HDMI input supports an eARC network that optimizes the sound quality for a better TV-watching experience. In addition, it gives Wi-Fi, Bluetooth, and Airplay 2 compatibility for unlimited online music streaming.
While testing, the Bose Soundbar 500 produced a powerful sound with excellent vocal clarity and rich detailing. Despite its low-profile design, the soundbar was able to produce room-filling sound by going up to 90 decibels.
Also, it ensures precise and rich dialogue delivery irrespective of the traditional weighty bass and loud volume, which is a bonus point for this stunning soundbar.
Since it is a smart soundbar, you can expect modern features like Google Assistant and Alexa support for easy navigation that can be controlled via a button on the soundbar.
Also, a Bose Music App can walk you through the necessary Soundbar settings, switching connections, and a lot more with only a single tap. We think it is the user-friendly and handy soundbar one should have in homes.
Pros
• Easy setup via Bose Music App and WiFi support
• Low-profile compact design
• Vocal enhancement with center channel
• Multiple voice assistants support

5. Polk Audio MagniFi Max
Suppose you are looking for a high-quality home-theatre system. This Polk Audio MagniFi Max 5.1 Soundbar with wireless connectivity, modern design, and powerful output audio could be your first choice.
It perfectly creates surround sound effects by wirelessly connecting smartphones, tablets, and iPads. It was pretty smooth pairing with the devices and navigating each one.
The 5.1 channel configuration with Dolby Atmos and DTS decoding can enhance your listening experience. The technology ensures clear overhead sound, making you feel like the audio is coming from all angles.
Above all, Polk Audio provides individual sound modes that automatically adjust the sound level, minimize voice delays, eliminate distortion, and maximize sound clarity with one click.
All the sound modes optimize the sound performance according to the content and provide an immersive listening experience to the users. While testing, it easily widened the soundstage and made things more exciting for us.
Polk Audio also features a wireless subwoofer that produces reasonable bass and ensures expansive, multi-dimensional sound performance. The woofer that moves with the soundbar produces loud, crisp, yet clear sound quality that is ten times better than traditional Soundbars.
Polk Audio MagniFi Max is not merely an update to TV speakers, but it can be an ideal choice for parties, movie nights, and gaming sessions. It allows wirelessly streaming music from Chromecast and enjoying a multi-room sound system.
Besides, you can also find all the connectivity inputs, including three HDMI inputs that are HDCP 2.2 compliant, one HDMI-ARC output for smart TV, optical output for media players, USB, and 3.5mm Aux pin.
Pros
• Voice Adjust technology for crisp, clear, and high-dimensional sound
• More dynamic sound with 5.0.1 setup
• Consumes only 340W
• Google Chromecast, Bluetooth, and WiFi support
• Different Sound modes

Cons
• The setup can be complex for some

6. Yamaha YAS-209BL Soundbar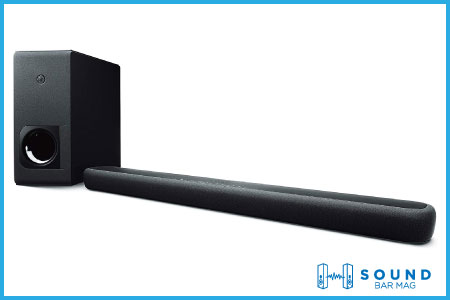 Yamaha YAS-209BL is a famous and decent soundbar for mixed usage that can produce a compelling sound that could easily fill large rooms.
We were impressed by the low-key profile that was easy to handle and navigate throughout the usage. It is a plug-and-play soundbar with a wireless connection and subwoofer, willing to provide a spacious experience with its smart capabilities.
Yamaha YAS-209BL is a thoughtful update to your existing sound system, comprising multiple drivers with DTS: X support. The technology ensures rich overhead sound with exciting sound effects that deliver cool audio quality while playing games or listening to fast music.
Luckily, the soundbar is not solely designed for music streaming, but it can be a perfect device to rely on while listening to the news, watching sports, or streaming movies. It brings conversations to the forefront with remarkable voice clarity, letting you understand every whisper, even with the heavy background music.
As I mentioned, the soundbar is not only for TV watching but by connecting wirelessly via Wi-Fi and Bluetooth; it provides access to the multiple online music streaming platforms that keep you entertained when there is nothing to watch. Spotify or Amazon Music offers unlimited playlist access that will add life to your parties.
Utilizing the features and managing everything is not rocket science with a handy remote, friendly app, and voice assistant support. You can control your Yamaha Soundbar with your voice commands while not compromising your listening sessions.
Pros
• Minimalistic design
• Clear and detailed voice
• DTS:X for overhead surround effects
• Deep bass with wireless subwoofer
• Voice Assistants

Cons
• Lack of Apple AirPlay 2 support

7. Denon DHT-S316 Soundbar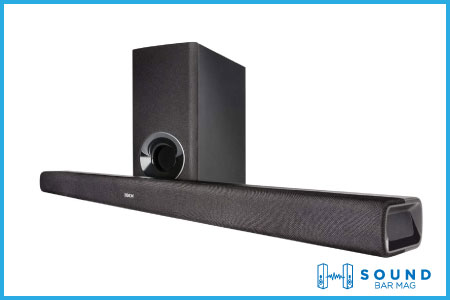 Denon DHT-S316 Soundbar with a wireless subwoofer makes a good home theatre setup with easy setup and lots of connectivity choices. The soundbar comes with subtle aesthetics, nothing to offer much in the design, but the grilled texture with clean finishing can stand out in the room.
We liked the simple profile that blends into any environment while focusing on its primary job to produce heavy, crisp, and clear sound. We tested it with a diversity of content, and it didn't disappoint us with a clear and loud sound.
The mid-profile soundbar houses dual mid-range drivers, and one tweeter Dolby DTS decoding is certified to deliver rich, heavy surround sound. DTS ensures the rooms are filled with a quality voice from every direction, making everyone engage in the vibes.
Besides, the dialogue enhancer helps you hear a clear and detailed voice even at the higher or funky soundtracks, so you won't have to adjust the volume to understand the lyrics.
Furthermore, Denon, the best soundbar in the market, is no exception for offering impressive features. Wireless connectivity and online music app streaming are deadly combinations for audiophiles.
Also, the Bluetooth technology, apart from other wired pairing options, gives you enough flexibility to connect smart TV, phones, and other devices.
Denon ensures a dynamic home theatre setup with a wireless subwoofer despite high-fidelity sound from the compelling built-in speakers. The built-in center channel delivers next-level voice clarity that isolates the spoken word from the heavy soundtracks for better understanding.
Hence it is a great, affordable Dolby Atmos Soundbar that can connect to your smart TVs and update its built-in speakers with excellent performance.
Pros
• Virtual surround sound technology
• Dolby Digital and DTS decoding
• Wireless subwoofer for heavy bass
• Exceptional voice clarity

Cons
• No voice control system

Best Large Room Soundbar – 2023 Buying Guide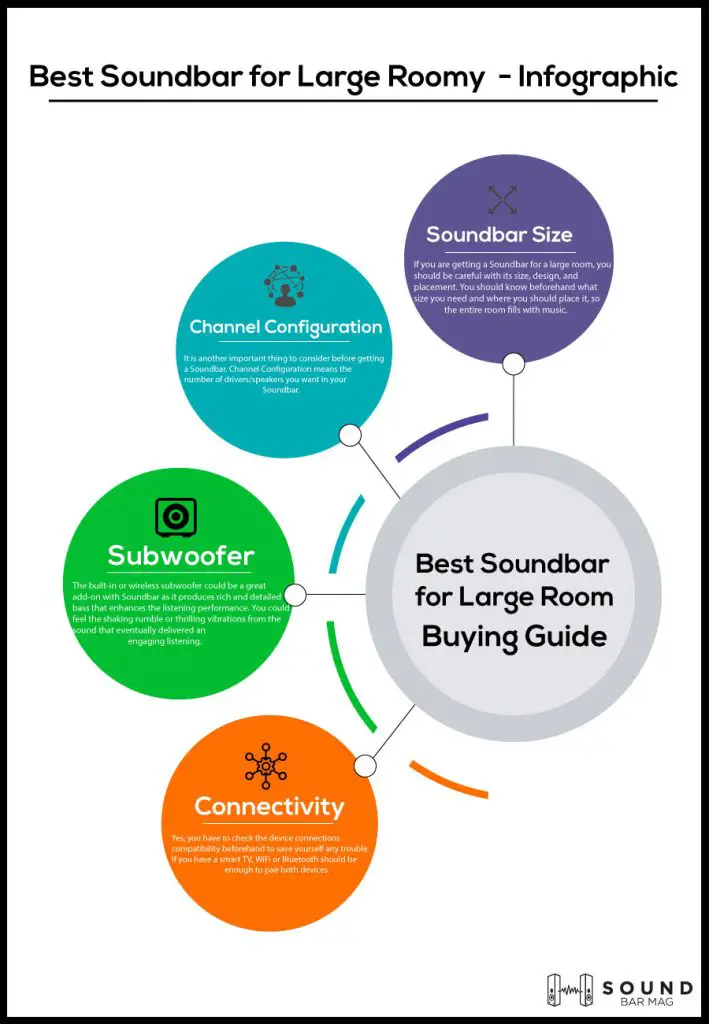 Buying a Soundbar for a large room is not easy as it sounds. You must have the basic knowledge before stepping into the market because it can be pretty consuming, assuming there are many Soundbars.
Of course, the build quality, design, and overall profile of the Soundbar matter since you are placing it in your house, so it has to blend with your interior décor. The construction should be durable because there could be a lot of moving. It is the entertainment device with the power of transforming your dull parties into exciting ones, boosting your gaming sessions with the heavy sound, and accompanying you while watching regular TV.
These are some basic rules of getting the Soundbar that you must have considered. But let me get your attention to the other things that may not feel like an important part but can make a huge difference while using the Soundbar.
Soundbar Size
If you are getting a Soundbar for a large room, you should be careful with its size, design, and placement. You should know beforehand what size you need and where you should place it, so the entire room fills with music. Besides, the Soundbar should be wider and longer, but not long enough to block the TV functionality in case you place it under. 
If I may say, the long and wide Soundbars look astonishing while mounting on a wall, and it can create a wide soundstage with up-firing and front-facing drivers with DTS decoding.
Channel Configuration
It is another important thing to consider before getting a Soundbar. Channel Configuration means the number of drivers/speakers you want in your Soundbar.
Any Soundbar which is 5.1 or more creates a perfect home theatre setup. But their prices could be heavy. Anything less than that also produces high-definition audio clarity, but they may not be enough for the large-crowded rooms. 
Subwoofer
The built-in or wireless subwoofer could be a great add-on with Soundbar as it produces rich and detailed bass that enhances the listening performance. You could feel the shaking rumble or thrilling vibrations from the sound that eventually delivered an engaging listening.
Connectivity
What devices are you planning to connect with your Soundbar?
Yes, you have to check the device connections compatibility beforehand to save yourself any trouble. If you have a smart TV, WiFi or Bluetooth should be enough to pair both devices. However, HDMI or optical digital output should come along to connect other devices.
You can also check our recommendations and detailed review on the Apartment soundbars and bedroom soundbars.
Frequently Asked Questions (FAQs)
What is the best Soundbar for large room?
Nakamichi Shockwafe is the Best Soundbar for large room equipped with multiple speakers with Dolby Atmos and DTS:X decoding. The dedicated center channel ensures excellent vocal clarity for watching news or movies. With only 100W power output and multiple connectivity options, it can offer dynamic high-fidelity sound without breaking your bank.
Are soundbars good for big rooms?
Yes, Soundbars are equipped with multiple speakers, woofers, and tweeters that work side by side to produce rich, clear, and detailed sound with weighty bass. Soundbars can rely on receiving loud music that bounces off the ceiling to ensure the sound hits you from every direction with the DTS decoding.
How big a soundbar do I need?
The Soundbar size should depend on where you plan to set the Soundbar. However, being only 5.5-inches tall, it can be placed underneath the TV without blocking its functionality.
Conclusion
That's a wrap! We hope you learn how to get the best soundbar for a large room with the help of a mini buying guide that diverts your attention to a few factors necessary to consider.
Apart from that, we hope you prioritize the features according to your requirements and choose the best product from the extensive list.
Mia Evelyn is a soundbar specialist and she love to test and review different soundbar brands. She shares her neutral and in-depth reviews through the Soundbar Mag.