The soundbar is a need of the modern era.
The smart TVs are getting slim and fail to make space for built-in speakers, resulting in awful sound quality. Hence, soundbars are here to cover the pitfall and integrate multiple speakers in a compact shell to produce rich and heavy sound with no distortion, compression, and next-level clarity.
Though the dedicated channels are responsible for performing specific audio components, the main focus of soundbars is to produce the best music performance that matches every digital content. So, we narrowed our research and found the best soundbar for music.
Our list has soundbars that vary with a budget, built-in or separate subwoofers, and different channel setups. So, you will have a wide collection to choose from, but all of them can produce heavy sound for a smooth music listening.
List of the Best Soundbar for Music in 2023
1. Polk Audio Signa S2 Soundbar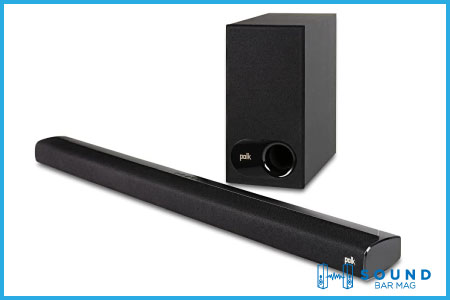 If you want to enjoy rich, pure, and clean sound performance, invest in the Polk Audio Signa S2 Soundbar; that goes a long way. It is a 2.1-channel setup with a wireless subwoofer to satisfy your music streaming needs.
The soundbar also supports wireless music streaming and can get loud enough to surprise you at crowded parties. While testing, we realized the sound was heavy and powerful enough to make the device flexible for different purposes, like watching sports, listening to music, or catching up on new podcast episodes.
Since it is an entry-level budget soundbar, the setup and navigation of the device are a walk in the park. It seamlessly connects with external devices via optical digital, HDMI, or AUX cable.
Nevertheless, Bluetooth pairing gives you enough room to stream your favorite content wireless, even without the internet. The Bluetooth range is also significant enough to pair the device from a distance.
Unfortunately, it does not support any advanced audio formats, like Dolby Atmos or DTS. Still, the audio output is better than other soundbars we have tested so far.
The soundbar can play Dolby Digital content with exceptional quality, making you wonder about your awful TV speakers. Moreover, it has some equalizer presets that adjust the volume and sound quality according to the content.
Moreover, the music mode enables all the drivers, including the subwoofer and tweeters, to perform at their full potential. We liked how the soundbar automatically detects the content and adjusts the audio, volume, and bass accordingly.
Above all, the auto-wake feature is surprising addition at this price that catches the signal in range and starts functioning without going through the whole setup process.
Moreover, it is the best soundbar for music, but the voice enhancement features make it an ideal choice for watching movies, news, or playing games. The realistic and lifelike sound from the soundbar is worth experiencing and can be a thoughtful choice to create a mini home theatre setup.
Pros
• High audio levels
• Voice enhancement
• Bluetooth streaming
• Included remote

Cons
• Lack of atmos
• No WiFi

2. Sonos ARC Soundbar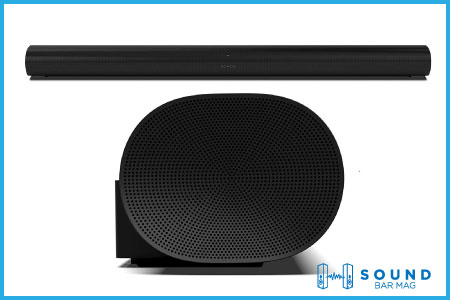 Sonos ARC is a high-end 5.0.2 channel soundbar with decent build quality, pleasing design, and powerful audio reproduction. It has been capturing the mass market for its solid build quality and excellent sound reproduction, and we had to test it.
The soundbar measures around 44.9 x 3.4 x 4.7 (HWD), making it an ideal piece to place underneath the 65-inch TV. For other TV sizes, you can mount the device on the wall at the sweet spot to enjoy room-filling sound.
The SONOS ARC has some exciting features collection like TruPlay room correction compatible with the iOS app that elevates the sound delivery according to the room acoustics.
Though it allows adjusting treble and bass quality, the default settings perform relatively better and ensure a neutral sound profile. We didn't have a hard time balancing the tunes or polishing the dialogues, as it was analyzing our history and playing accordingly.
Besides, it goes well for streaming movies or listening to music with the stereo soundstage. The side-firing speakers reflect the sound from the walls with precise focus and rich rumble.
Moreover, we were also impressed how the soundbar has an excellent frequency response range that gets loud without distortion and compromises vocal quality.
The center channel performance is noticeable as it delivers accurate spoken words for dramatic movie watching. Moreover, it allows adjusting the bass and treble response, but the default settings should give you favorable results.
Since we call it a luxury product for setting up a home theatre, it has an awful collection of physical connectivity ports, including HDMI ARC, Ethernet, Wi-Fi, and Apple Airplay.
Also, there is no chance of Bluetooth even in the latest firmware updates, and the lack of USB port input is such a big disappointment.
Pros
• Dolby Atmos, Digital, and DTS
• WiFi support
• Gets loud
• Clear vocal delivery
• Room correction

3. Sonos Playbar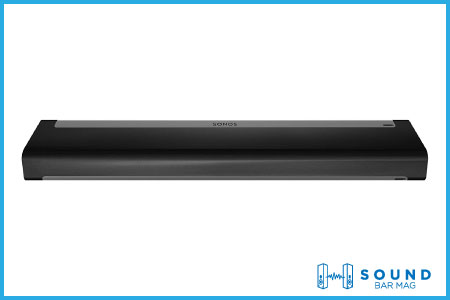 We have this outstanding product from Sonos, the brand that deserves all the attention in the world for coming up with an impressive product line of soundbars. We have to test the bar for its positive word-of-mouth and capturing features.
Sonos Playbar is a 3.0 channel soundbar that produces bright sound from a low-profile design. It is perfect for everyday mixed-use like watching TV, listening to podcasts, documentaries, and heavy music. Its dialogue-centric channel enhances the spoken performance for a better and more immersive listening experience.
The setup process of the soundbar was smooth, with a Wi-Fi connection. However, it does not have Bluetooth or HDMI ports, which is shameful. Still, the wireless connectivity to the internet with the solid build quality steals the show.
The entire soundbar breathes in a high-quality plastic body, making it durable for longer use. It doesn't come with an external subwoofer, but the built-in full-range drivers and woofer perform better than we expected.
Since it is an older model from the brand and many new models are winning hearts with better sound quality, its side-firing speakers work with stereo ones to create a wide soundstage.
All the drivers focus on producing loud, clear, and heavy sounds to create home theater vibes in the house. There are no distortions in the max volume, so no disturbance and breaking tunes are expected.
You may feel slight compression artifacts in the bass range that can be adjusted. Also, the dedicated center channel offers more than expected, with clear and pure dialogue delivery, even in fast-action movies or games.
The room correction feature analyzes your acoustics and adjusts the volume and sound quality accordingly. Hence, Sonos Playbar is the best music soundbar we tested for movies and disruption-free entertainment.
Pros
• Pure and clean sound
• Room correction
• Perfect for mixed usage
• Decent sound profile
• Wireless music streaming with WiFi

Cons
• No wireless subwoofer
• No HDMI

4. Denon SB-550 Soundbar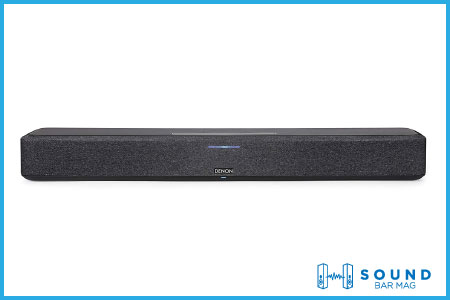 Powerful Denon Home soundbar 550 is a perfect choice to consider if you prefer compact soundbars for constant moving. It highlights all the interesting features that an audiophile would want to boost his music streaming sessions.
The soundbar showcases a compact, slim, and elegant design in black, and we loved the portable profile for flexible usage. The compelling body houses a 4.0 setup featuring six full-range drivers to deliver 3D surround sound from right under your TV or entertainment setup.
Also, it can produce powerful, detailed, and heavy sound with passive radiators that are always ready to turn the tables at parties. The premium tweeters also play a part along with Dolby Atmos and DTS technology, eventually creating a dramatic environment with stunning visuals and high-resolution audio.
The soundbar also lets you connect dedicated external speakers wirelessly for richer sound, but the Powerful Denon alone will satisfy your music listening, gaming, and relatable requirements with good quality. We had the best and most energetic experience with the bar.
Speaking of connectivity, it contains multiple physical media inputs for flexible pairing with external devices, including optical audio, HDMI ARC, HDMI output/input, 3.5mm AUX, USB, and Ethernet. For the wireless connection, Wi-Fi, Bluetooth, and Apple Airplay are here to open the doors of online music streaming.
The soundbar also features multiple equalizers presets that automatically adjust the sound, bass, treble, and other music components according to the content and room acoustic. It saved us time and trouble adjusting settings every time we wanted to test or listen to different content.
Though the soundbar does not feature a dedicated center channel responsible for isolating spoken words to highlight them, it still uses its right and left drivers to simulate a phantom center.
Besides, the dialogue enhancement feature further helps clear the vocal performance, which is a win-win. Irrespective of no external subwoofer, the built-in woofer allows reasonable adjustments to customize the device according to your preference.
Pros
• Decent sound profile
• Clear dialogues
• Virtual surround sound performance
• Advanced audio format support
• Rich connections

Cons
• Narrow soundstage
• Compressions at maximum volume

5. BESTISAN ST08 Soundbar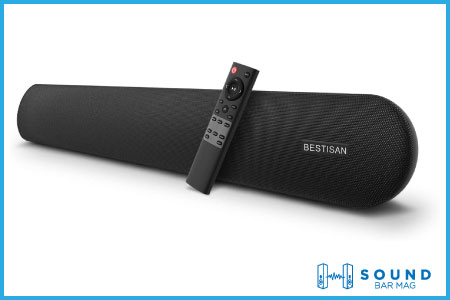 BESTISAN is a premium entry-level soundbar with impressive features and appealing build quality, designed to deliver smooth acoustic performance. It came on time, and the well-packed shipment got us there.
We think the compact design is ideal for small bedrooms, and the wireless connectivity makes it more suitable for outdoor, traveling, backyard movie nights, BBQ parties, and other related activities.
BESTISAN soundbar contains four powerful speakers that produce rich and powerful sound with satisfactory clarity. The deep bass will keep you hooked with your heavy music and provide a sense of escape after an awful day.
In addition, the soundbar offers wired and wireless connectivity measures to utilize the device at its full potential. It contains optical digital output, RCA, HDMI ARC, AUX, USB, and Bluetooth connection to satisfy your music streaming needs. We paired the HDMI with the TV and loved the perfect tuning and synchronization capabilities.
The DSP technology further gives you enough room to get the soundbar advantage no matter what you listen to. The music, movie, and dialogue modes optimize the sound automatically and convert the audio output accordingly.
The dialogue mode isolates the vocals from the background and makes them clearer than ever for better understanding. It gave us excellent audio output performance when watching the news.
However, the music mode fine-tunes the audio, maximize the volume, minimize distortion, and include bass and treble component to fill the room with stunning sound.
Therefore, knowing the space-saving design, excellent sound performance, and rich connectivity options, it is safe to say that the BESTISAN soundbar is worth considering for your entertainment setups. The high-resolution audio, 3D surround sound effects, and the affordable price tag will attract you until you find the best product.
Pros
• Wireless music streaming
• Gets loud
• EQ presets
• Decent dialogue performance

6. Samsung HW-S40T Soundbar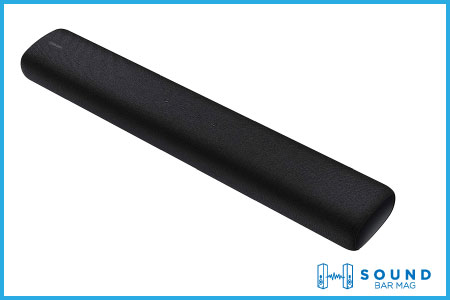 Samsung is a name of a trust. Whether you buy smart TV or Soundbar from the brand, it will be a worthy investment for a long time. The brand has a huge product line of soundbars that varies in size, budget, design, and features.
Still, the HW-S40T has been trending for a while now, considering its elegant design, affordability, and entry-level setup. Even though we wanted to get it through the flagship store, we ended up ordering online and wouldn't complain about the impressive packaging and timely shipment.
Samsung HW-S40T is perfect for upgrading existing speakers for a smooth music listening. It is a premium soundbar under 150 for its compelling properties and advanced audio format support. Though it is a 2.0 channel soundbar, the Dolby Atmos and DTS support make it worth noticing.
Moreover, the soundbar houses two woofers and tweeters to produce a room-filling virtual sound. The one-unit cylinder shape frame caters to all the drivers that produce rich sound from every direction.
The music gets loud enough to entertain crowded parties, and the max volume doesn't invite any annoying compressions or distortions, which is a bonus point for Samsung. Despite the low price, we loved the heavy soundstage with a wide frequency range.
Above all, the multi-connection via Bluetooth allows connecting two devices like a GodSend feature. You can effortlessly switch between the devices using a remote control and enjoy multiple playlists without any hurdles.
Besides, Bluetooth with long-range support detects devices like smart TV or phone in no time and starts performing, so it is a great feature that doesn't involve messy wires.
Apart from that, smart sound and music mode automatically detect the content and optimize the sound so that the vocals and instruments sound crisp and boost entertainment. It was an exciting feature for us, and we tested it with different content genres.
Undoubtedly, it is designed specifically for the audiophile who doesn't want to spend a kidney over a high-end soundbar yet experience the richest sound performance.
Pros
• Redefined and comfortable design
• Pure and realistic sound quality
• Smart sound mode
• Bluetooth multi-connection

Cons
• Poor low-frequency bass

7. RAZER Leviathan Music Soundbar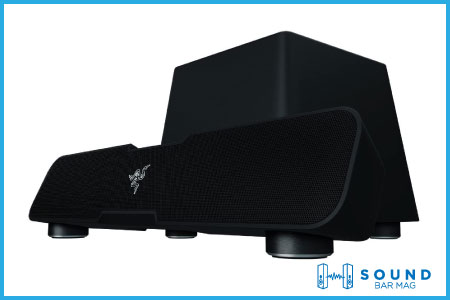 Razer leviathan is a compact soundbar with a big sound profile that enhances the overall music listening, gaming, and podcast streaming experience. The soundbar is only 20 inches long and can easily fit on a desk with your desktop monitor, TV, etc.
For the bass, razer leviathan is a two-unit device with a wired subwoofer, having an unusual design than other traditional square-shaped woofers. Unfortunately, it is not wireless, so you must place it near the bar for stable connection and functionality.
On the other hand, we loved the simple and elegant aesthetics. The entire front of the soundbar is covered with a metal grille that shows the included drivers, including dual full-range drivers and two mini tweeters fitted nicely inside.
Also, connecting other devices is as easy as drinking water with Bluetooth or an optical digital cable. Besides, the soundbar also offers three preset' modes responsible for managing the sound delivery by optimizing the content.
However, the big disappointment from the product is the lack of remote control or a dedicated app that forces you to stay close to the bar to manage volume, switch modes, or adjust other settings. Manual navigation of the bar was a turn off for us, especially when you are watching something fun or exciting.
Furthermore, the sound and bass production is perfect for gaming, taking you to the game with precise sound depth. The vocal clarity is also worth noticing, making you understand each detail of the podcasts, movies, and games. Hence, it is the best soundbar for fast music listening at an affordable price.
Pros
• Booming bass
• Virtual surround sound performance
• Clear dialogues
• Bluetooth streaming

Cons
• No remote for controlling or managing the device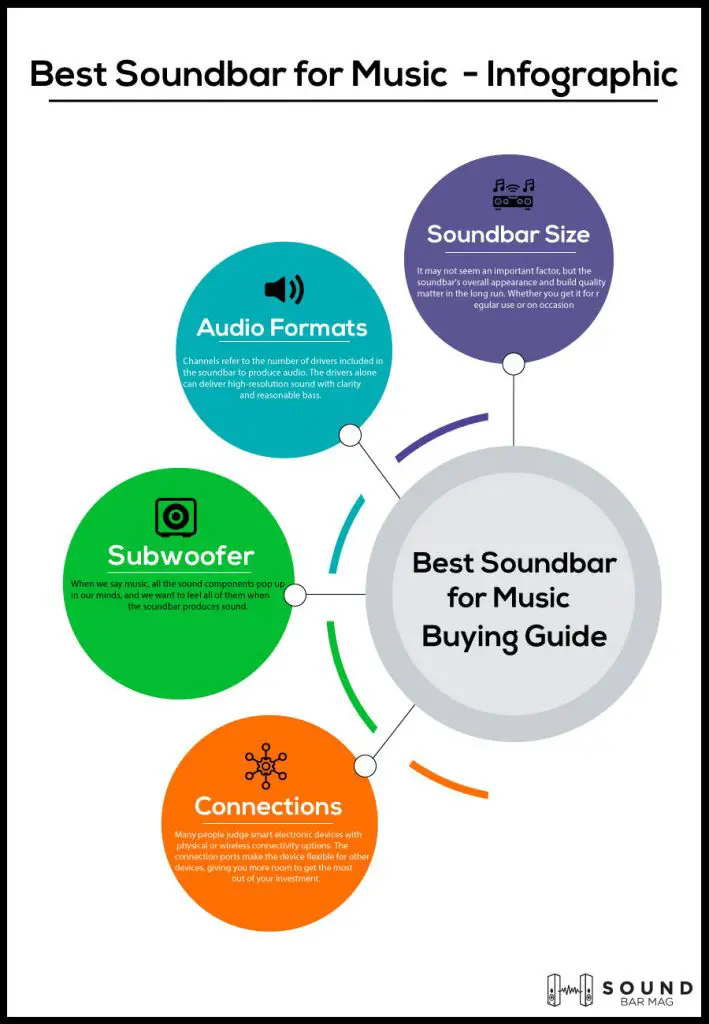 Best Soundbar for Music – 2023 Buying Guide
Buying the perfect sound bar for music can be exciting when you know what you are getting. Having sound knowledge before making a big investment is always good because it benefits durability, consistency, and entertainment boost.
So, let's discuss what we should consider before getting a soundbar for music streaming. Though it is not rocket science, having a checklist beforehand can save you a lot of trouble after the purchase.
Soundbar Size
Deciding what size to get should be your pre-shopping concern so you can make the sweet spot for the device beforehand. The size varies with channel integration, design, and brand model, so you can merely set the rough estimations.
Like smart TVs, you have a choice to fit the soundbar on furniture or mount it on the wall. However, you have to tick another checklist in both conditions. For example, check the distance between the TV legs to fit it under the TV. Also, estimating the height difference should be your priority because many soundbars are tall, disturbing the functionality of the TV making you move the device whenever you use the remote control. Moreover, dedicate the wall for the soundbar and a nearby space for the subwoofer if you plan otherwise.
Subwoofer
When we say music, all the sound components pop up in our minds, and we want to feel all of them when the soundbar produces sound. So, bass production is a crucial component that sets the foundation of the music streaming experience. Therefore, you have to decide on a subwoofer.
Subwoofers can be included in a soundbar or come separately, but both mediums have a slight change in producing bass. If you are a space-conscious music lover, you can have a soundbar with built-in woofers that produce quality and rich bass but can mix up the other components at max volume.
However, the separate subwoofer can deliver weighty bass and allows you to make adjustments to experience luxurious music streaming. The separate one could consume space, force you to take it everywhere with the soundbar, and can be hard to move around since they are heavy. So, choose wisely.
Audio Formats
Channels refer to the number of drivers included in the soundbar to produce audio. The drivers alone can deliver high-resolution sound with clarity and reasonable bass. But, if those drivers have a support of Dolby Atmos or DTS:X formats, they can get wild and create a wide soundstage in the room.
The audio formats enhance the sound production, making it rich, pure, and realistic for a true music listening experience. However, it can disrupt the price of a regular soundbar since the soundbars with such features are relatively expensive but worth investing in.
Also read: Best Settings for VIZIO 5-1 Soundbar
Connections
Many people judge smart electronic devices with physical or wireless connectivity options. The connection ports make the device flexible for other devices, giving you more room to get the most out of your investment.
So, get the soundbar with multiple connectivity options. Plus, check the compatibility of your smart device and make a decision accordingly.
Read also: Samsung Soundbar Equalizer Settings
Frequently Asked Questions (FAQs)
What is the best soundbar for music?
Sonos Playbar is a 3.0 channel soundbar that is easy to set and quickly paired with WiFi. It produces clean, detailed, and rich sound from the full-range drivers, and the vocal clarity is worth noticing with a dedicated center channel.
Can I play music through my soundbar?
Of course, you can play and experience the best quality music with a soundbar as a single device includes multiple speakers that perform simultaneously. Also, with the multiple connectivity options, you can connect the soundbar with your smartphone, tabs, laptop, monitors, or TVs to play music.
What soundbar has the most bass?
Polk Audio Signa S2 is a 2.1 channel soundbar with rich bass performance from its wireless subwoofer. The soundbar is perfect for music streaming at max volume as it features full-range drivers.
Check: What is Bass is Music?
Read also: How to Control Soundbar with Roku Remote
Conclusion
All the parties, movie nights, and entertainment sessions are incomplete without music, so the sound systems should be capable of producing rich and heavy sound output for a better experience.
This article will help you choose the best music soundbar because all the products are carefully examined and claim to offer a wide soundstage with excellent vocal clarity. So, please read it and don't forget to share which soundbar caught your attention. Besides, the mini-buying guide will highlight some important factors to consider before purchasing a solid soundbar.
Read also: Best Settings for Samsung Sound bar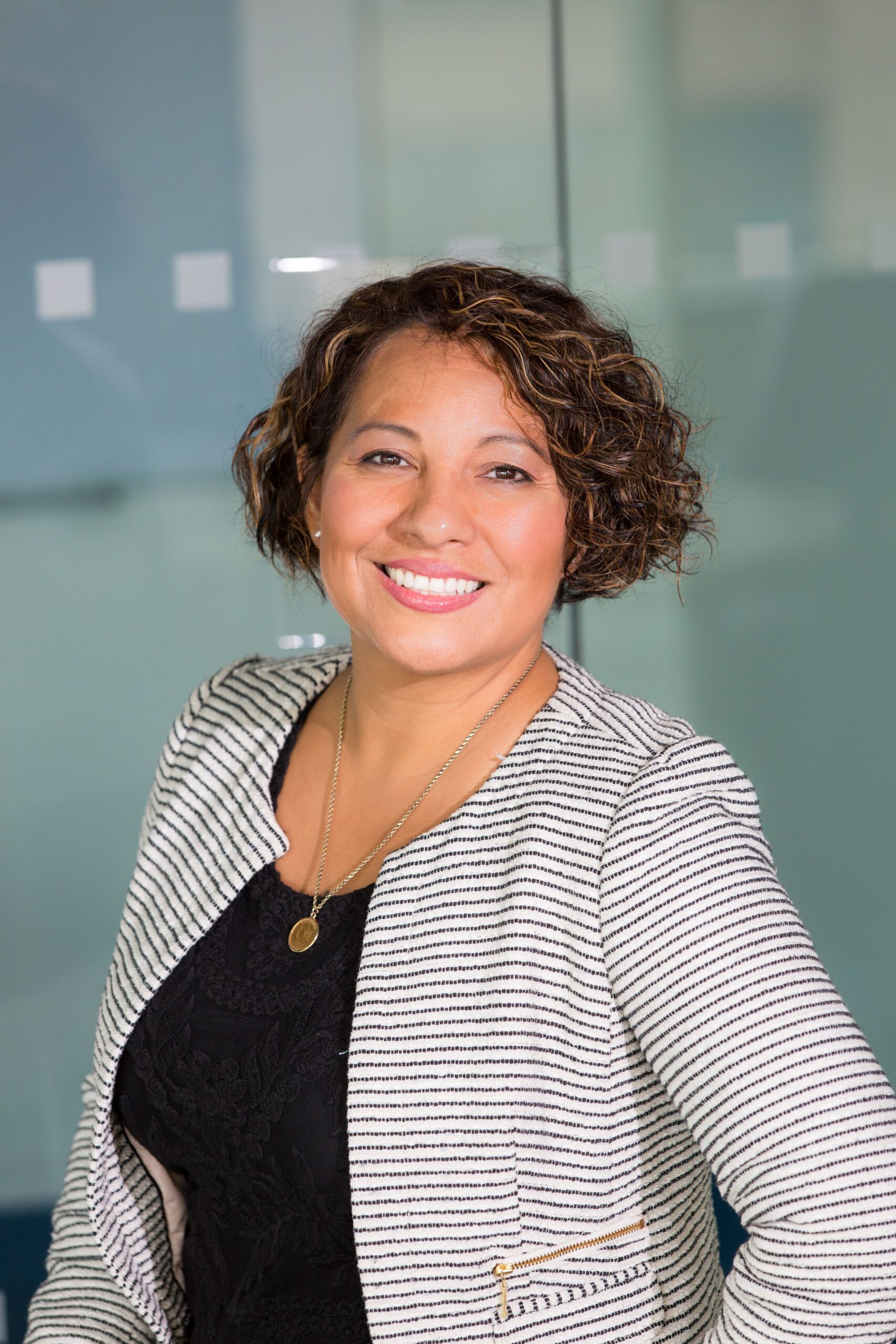 Mia Evelyn is a soundbar specialist and she love to test and review different soundbar brands. She shares her neutral and in-depth reviews through the Soundbar Mag.