Finding the best soundbar for Hisense Roku TV should end here, as you can find some top-notch products producing high-definition audio with different channel configurations and loud output support.
Unfortunately, the big-size flat TV panels cannot keep producing fascinating displays and quality audio simultaneously, so one must invest in a compatible soundbar that upgrades TV audio and provides theatre sound for music, podcast, etc., or other audio-sensitive content.
We have carefully examined soundbars for Hisense Roku TV from the huge competitive soundbar market. We added these few bars that can fully match your requirements, budget, and audio listening needs.
So, fulfill this modern-day need by getting your hands on one of these best soundbars for Hisense Roku TV.
List of the Best Hisense Roku TV Soundbar in 2023
1. Sony HT-Z9F Soundbar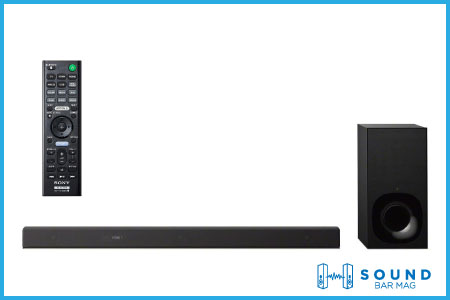 Sony HT-Z9F is a great choice for Hisense Roku TV as it is equipped with a 3.1 channel system and wireless subwoofer. The soundbar looks decent from the outside, with a plain matte-like finish and a mini display at the front.
The automatically adjustable audio goes a long way and provides an immersive listening experience no matter what you stream. It produces high-resolution audio with the 3.1ch system, and all the drivers are compatible with Dolby Atmos and DTS audio formats for the bouncing audio.
It also features seven different sound modes, which could make it a premium choice for smart TVs like Hisense, allowing you to enjoy high-quality audio while watching Netflix, listening to music or podcasts, or even streaming news.
Specifically designed soundbar for TV is HDR compatible, features voice control with Alexa support, and wireless pairing sources, including Wi-Fi and Bluetooth.Wi-Fi assures rapid internet pairing, and we had a seamless experience of hands-free navigation with Alexa.
Additionally, it includes HDMI and optical digital output to let you upgrade the speakers of different available devices and make the most out of it. We used the HDMI to connect the TV and can't complain about the performance.
The virtual surround engine, which is the latest surround technology of Sony, lets you enjoy the latest theatre formats from the slim and subtle unit. The built-in woofer delivers crisp yet heavy bass, and the two levels of dialogue enhancement keep up with the news, sports, or any dialogue-sensitive content.
Pros
• Dialogue enhancement
• 7.1 surround sound
• 400W power output
• Clear and crisp sound
• 3D Dolby Atmos and DTS sound

2. Yamaha YAS-209BL Soundbar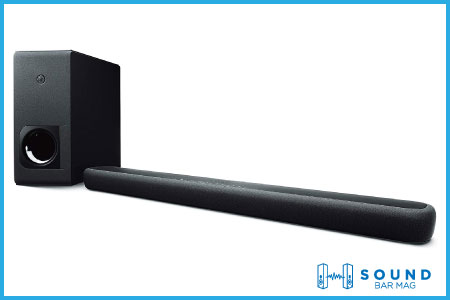 Yamaha YAS-209BL is a decent soundbar to connect with your Hisense Roku TV using different sources. It measures only 36.6inches, so we assure you itwill sit confidently under the 40-inches TV or bigger.
Besides, if you choose to mount it on the wall, the installation and setup are smooth and wouldn't require special skills to get along. It took us hardly a few minutes to get it ready for some serious testing.
It also works along with a wireless subwoofer I cannot vouch for the build quality, but it measures around 7 x 16 x 16inches, in case you bother with the placement. The sub pairs with the bar wirelessly, eliminating the wired mess it could create and giving you hassle-free placement opportunities.
The soundbar offers a couple of smart features, including voice control and a Wi-Fi connection. Alexa will help you with content browsing, music playback, and enabling the built-in function without making you mess with the remote control.
The built-in full-range speakers deliver a well-balanced sound, precisely hitting upper and mid notes with perfection. Dolby Atmos and DTS further enrich the sound and deliver a 3D listening experience.
Many listeners call it an okayish soundbar for an upgrade, but the enhanced vocal performance and excellent stereo dynamics make it a premium choice for Roku TVs. However, the lack of a height channel is a shame; no noticeable distortions at max volume with affordability justify the down point.
Pros
• Decent sound profile
• Gets loud
• Dolby Atmos and DTS
• 3D sound performance
• Voice control

Cons
• Height channels are a little disappointing

3. Hisense HS218 Soundbar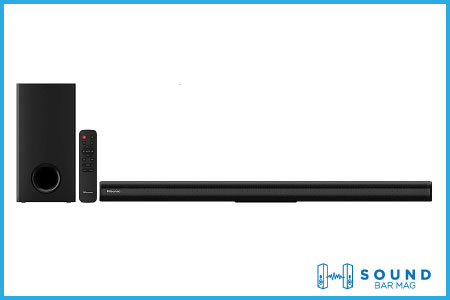 Adding Hisense products to the home entertainment system is a must because it has become a huge name in the soundbar industry with an excellent collection. We adore the shipment protocol and timely delivery, so full marks to the packaging and safe arrival.
Hisense HS218 2.1 system soundbar is a perfect upgrade to the Hisense Roku TVs that can easily connect with HDMI ARC, optical, AUX, USB, and Bluetooth. The Bluetooth range is incredible for large spaces like our testing facility.
Besides, it is a Roku-ready soundbar, so it will instantly grab the signals via HDMI ARC and respond accordingly. The built-in Roku interface was attractive to us and gave us more room to test different music genres.
Moreover, the soundbar with a wireless subwoofer delivers a maximum power output of 200W, which is reasonably better for bedrooms or living rooms. It includes four speakers that produce superior audio with impeccable clarity, even without a dedicated center channel.
Dolby Digital decoding maximizes sound clarity while reducing voice delays, which sounds irritating while watching TV shows.
It will instantly upgrade the TV sound and further boost the enjoyment with an 80W bass extension, ensuring the thumpy bass you need for casual music listening or sports watching at home.
With your Roku TV remote, you can also control the audio levels, adjust the frequency response, and manage sound pressure levels. We didn't struggle to navigate the device with a handy remote.
Moreover, Hisense HS219 offers sound customization with different EQ modes to deliver the best audio performance, making it the best Hisense Roku TV soundbar.
Therefore, it is a great investment as an entry-level soundbar for indoor use with your TV, Blu-ray players, gaming consoles, and smartphones.
Pros
• Rich connection
• Room-filling sound
• Multiple EQ modes
• Elegant design
• Dolby Digital
• Roku Remote support

4. TCL Alto 6+ Soundbar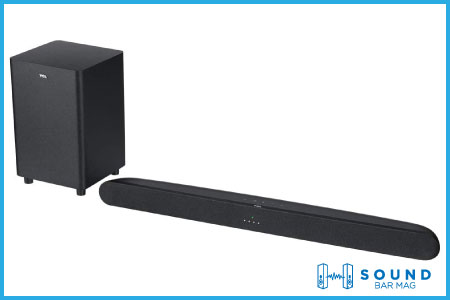 TCL Alto 6+ is another entry-level yet premium soundbar under 100 with a wireless subwoofer and 240W power output. It features a 2.1 channel configuration, indicating that the 31.5-inches soundbar includes full-range front speakers responsible for reproducing superior audio with stunning clarity.
Dolby Digital decoding further polishes the vocal performance and minimizes voice delays, which TVs built-in speakers usually fail to do. We realized it makes the sound soothing and flawless for mixed usage.
TCL Alto 6+ also offers three sound modes for quick sound customization, making it flexible for multiple purposes. Also, the wireless subwoofer makes you experience rich and deep bass like never before.
The sound system containing the soundbar and sub brings life to the content with clear, crisp, and wide audio mixed with heart-pounding bass. We tested it with a variety of content, and we couldn't be this happier for the investment.
You no longer have to keep different remote controls to manage your Hisense Roku TV or TCL Alto soundbar. It is designed as a Roku-ready bar to be efficiently operated with Roku remote control. Bluetooth wireless technology lets you seamlessly stream your favorite digital content through your smart devices, including Roku TV.
In short, it is a tremendous soundbar for Hisense Roku TV, except it doesn't support Dolby Atmos, so you can't expect to enjoy cinematic surround sound from this innovation. Besides, it can be your go-to speaker for soft, loud, and pop music.
Pros
• Virtual surround sound
• Bluetooth technology
• Sound modes
• Roku TV ready
• Clear and precise sound

5. JBL BAR 5.1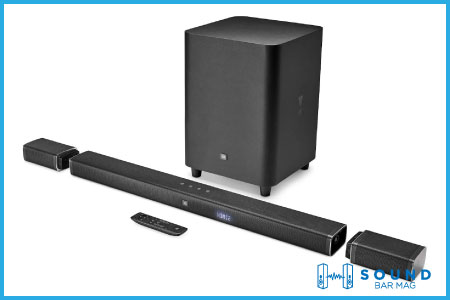 Suppose you are after a virtual surround sound. You must check out this beautiful innovation of JBL, named JBL BAR 5.1, which produces almost 550W of power output and comes with only a 10-inches Subwoofer that produces ground-shaking surprising bass.
A sleek and elegant soundbar measuring only 14.93 by 17.91 by 39.69inches and weighing around 37.30 lbs., it hints to sit comfortably under 40-inch or bigger TVs or mounted on the wall with its VESA compatibility.
On the other side, it delivers impeccable sound with excellent bass and clarity. We loved how the sound gets loud while maintaining the quality, and the fine-tuning will grab your attention at first playing.
Besides epic sound performance, Bluetooth, HDMI, and optical connectivity make things easier. However, many music lovers find it expensive, besides its flawless compatibility with Hisense Roku TV.
In addition, a powerful wireless subwoofer is coming along the way to justify every penny. The frequency response range with worth noticing, and its capability to reproduce low-frequencies caught our attention. It will also be easily managed through the remote control.
So, enjoy thrilling, room-filling, and great acoustics with the soundbar for the Hisense Roku TV. It will know how to do the job by upgrading your TV's built-in speakers, possibly delivering the best audio listening experience you could ever crave.
Pros
• 5.1ch system
• Excellent clarity
• Shaking and thrilling bass
• 4K connectivity support
• 550W power output

Cons
• Heavy and big
• Limited HDMI inputs

Frequently Asked Questions (FAQs)
What is the Best Soundbar for Hisense Roku TV?
Hisense HS218 2.1 is the best soundbar for Hisense Roku TV with 200W power output and 80W bass extension. It reproduces high-definition sound with balanced treble and tuning and comes with Bluetooth technology for quick pairing with different devices.
What is the Best Soundbar for Hisense TV?
TCL Alto 6+ is worth counting as the best soundbar for Hisense TV, with different sound modes, maximum power output, and Bluetooth technology. The bar is simple to set and operate and delivers high-resolution audio with great clarity.
Can I connect any soundbar to my Hisense Roku TV?
Yes, you can find Hisense Roku TV compatible soundbar in our detailed review list. Besides, check for connection compatibility of both devices and make the relevant purchase.
Bottom Line
Undoubtedly, a good and reliable soundbar becomes everyone's need. A soundbar is a mini version of the entire home theatre setup that can deliver quality audio without costing you a kidney.
You can find complete details of the top 5 soundbars for Hisense Roku TV. Click on them to jump for a quick link to make a purchase.
Happy TV streaming!