Polk Omni SB1 is a comparatively quite expensive Soundbar if compared to other soundbars, but its performance is just exquisite if compared to other soundbars. It has a wireless sub that provides the experience of plenty of movie punches and its Voice control feature, which actually helps to make muddy dialogue understandable again, is one of the best features for which it's known.
Beyond the sound quality it provides to its users, the Polk is a stylish-looking soundbar that offers some wireless streaming-music features that include Play-Fi and Spotify Connect, and also Bluetooth.
Polk Omni SB1 VS Magnifi Soundbar
Lets discuss all the terms in detail.
Omni SB1 Design
The SB1 has an essence of science fiction about it as it is a viewing deck rectangle in the center and winglike shape. It comes in a gunmetal gray color and the stylish look is highlighted by the metal grille across the front. Although, the rest of the body is made up of plastic.
The soundbar has all the controls on top and a series of LEDs across the front that figures several functions. It looks decent, but an alphanumeric display would have been better in terms of look.
Its design looks very similar to the Polk MagniFi, which is a quite cheaper soundbar in terms of money, the SB1 comes with both, a larger subwoofer(43 inches) and a wider SurroundBar(38 inches). The in-built 14-inch square subwoofer is wireless and comes in the same color scheme as the 'bar which is grey.
The remote control that comes with the soundbar is a small clicker with not one, not two, but three different volume controls, one for bass, one for the Voice Control feature, and the other one for overall system level.
Omni SB1 Performance
The Omni SB1 is a high-range soundbar reaching good quality, and it is value for the money. If anyone compares the Omni SB1 with the very best soundbar currently on the market, the significantly more expensive, Definitive Technology W Studio, the Omni SB1 is a great competition.
Polk makes big claims for its Voice Control Technology, which lets a person set the Omni SB1's center speaker's volume level equal to the left and right channels' volume via the remote. Not only that but there is also some equalization in the effects and processing applied to dialogues to enhance clarity and special effects in the voice. Most of the time, people prefer the sound with Voice control set to near the minimum level, but it's easy to make adjustments on the fly to achieve whatever level of effects and clarity enhancement a person requires.
Voice Control Technology might be especially useful for poorly voice mixed movies or for people with hearing problems, who are not able to hear properly, they can adjust up voice level as much as they need it. The bass level can also be adjustable from the remote.
On the other hand, if the purpose of a traditional home-theater setup with a half-dozen speakers and a bulky receiver doesn't thrill a person, they may want to consider a soundbar. These small speakers are good and handy, easy to set up, and sound much better than the person's TV speakers. If an individual's requirement is the same as we mentioned above, the best option to go with is no other than Polk MagniFi Mini.
It is flexible and affordable, it sounds diligent with both movies and music, and includes some must-have features. The best feature is Google Cast, which enables easy streaming from a person's phone, works with all music apps, and even makes the MagniFi part of a whole-house music setup. While some people found the MagniFi's connectivity a bit quirky, it's nonetheless an excellent buy.
Polk Magnifi Design
While some gadgets have recently started growing in sizes, like TVs and cell phones, the trend in the AV world is toward smaller devices. It applies to everything now, from Blu-ray players to receivers. The Polk MagniFi is very tiny compared to most other soundbars, it's just 13 inches wide and three inches in height. Although it is made up of plastic and cloth it's stylish enough for the eyes. Its small size also means it's less likely than many bars that block the TV's infrared remote control sensor.
A set of lights is been displayed on the front of the unit which is designed to inform the user of volume and input selection, although they're mostly of no use for the latter period. There are a limited number of inputs, so switching to what a person is looking for is quite easy. 
Unlike some other soundbars, this one needs to sit upright and can't be hung on a wall, though a person can keep it on a small shelf. The in-built wireless subwoofer is minimalist and is made up of hollow-sounding plastic, although it's attractive for the breed.
Polk Magnifi Performance
When buying a soundbar in this price range and in this size, a person's expectation is not very high. They know they can't find a volume and bass of big speakers in this handy one, but the Polk did do a terrific job of transcending the confines of the tiny cabinet. These side-firing speakers are actually of the same level as the big ones in terms of performance. 
A person can also use Google Cast to stream high-resolution music from a phone, the Polk speaker has a very open sound. The airy guitar and vibraphone transcended the physical boundaries of the speaker, making the soundstage seem much larger. The subwoofer added low-end heft when the rhythm section kicked in.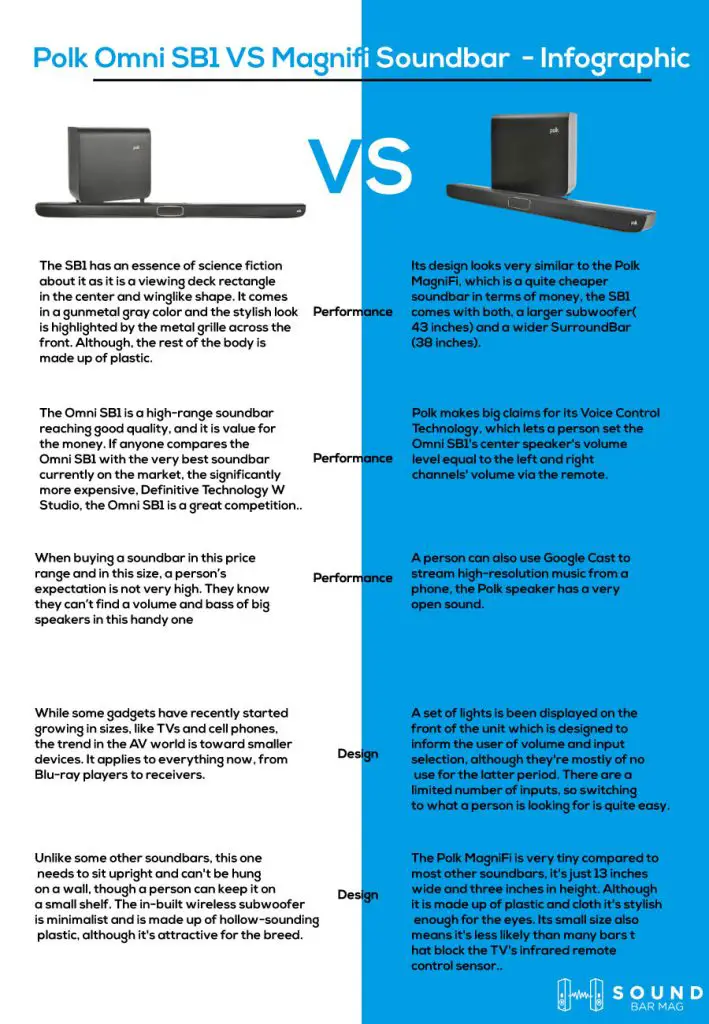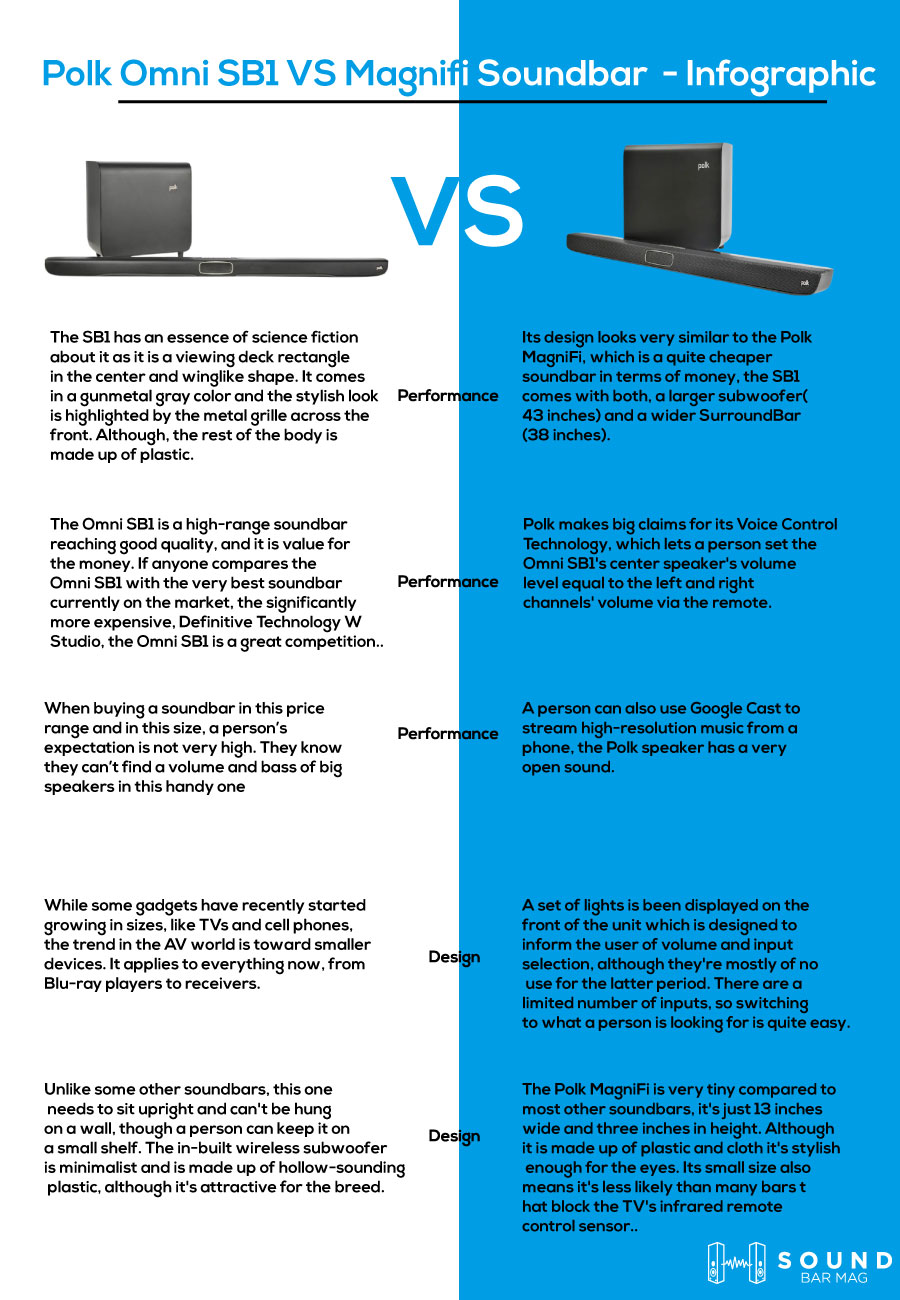 Conclusion
All in all, we have provided you with all the data regarding Polk Omni SB1 and MagniFi. Both the devices are very good in their respective genre. If a person is willing to buy something handy and doesn't want to spend a heavy amount of money on speakers, they could go with MagniFi.
It's a very compatible device with a great volume. If a person is willing to spend a higher amount of money and is ready to experience the quality of big screens at their home, Omni SB1 is a great fit for them. Decide your budget and requirement and then purchase accordingly. Both the devices are a great value for money. 
Related Posts:
Mia Evelyn is a soundbar specialist and she love to test and review different soundbar brands. She shares her neutral and in-depth reviews through the Soundbar Mag.