Polk Audio Signa S2 has caught attention for its ultra-slim design and expansive compatibility with 4K HD TVs. The soundbar with an external subwoofer is a perfect upgrade for TV speakers to stream your favorite latest content on online platforms.
We had the best experience using the soundbar, and we concluded the review after examining its performance with diverse content. Read on to learn more about our overall experience with this premium unit.
Polk Audio Signa S2 Soundbar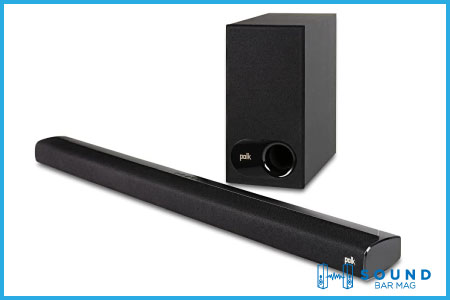 Unboxing the Polk Audio Signa S2 Soundbar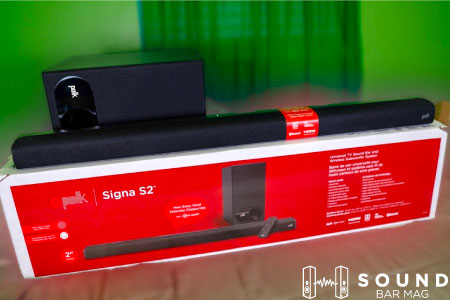 The Polk Audio Signa S2 soundbar came well-packed in a solid brand box that includes the soundbar, a wireless subwoofer, a remote control, and cables for connectivity.
The unboxing experience was straightforward at our facility, and all components are well protected, ensuring they arrive in excellent condition.
We didn't waste time admiring the soundbar and subwoofer and took them right away to examine their performance. But we can't resist mentioning the details.
Size and Design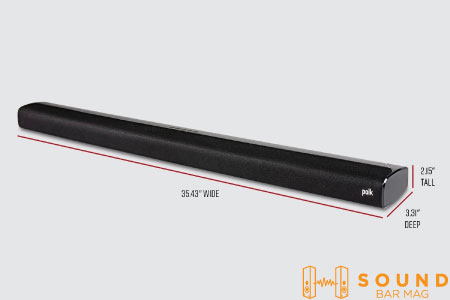 The Polk Audio Signa S2 soundbar is 35 inches long, making it an ideal piece to mount under the TV in bedrooms or living rooms. It also looks fascinating when paired with the home theater setups.
We loved the elegant design of the soundbar, with a black finish that is designed to blend with any home décor. Besides, the wireless subwoofer seems sturdy, but the space-saving design allows you to place it anywhere and expand the soundstage.
Channel Configuration
The Polk Audio Signa S2 soundbar features five compelling full-range speakers inside an appealing body. All the drivers with separate tweeters, phantom center channel, and woofer deliver bold sound output.
For the bass performance, a 2-inch subwoofer takes care of the lower frequencies, setting the overall vibe of the home theater.
Moreover, this configuration delivers a balanced and powerful sound that is perfect for movies and music.
Connectivity Sources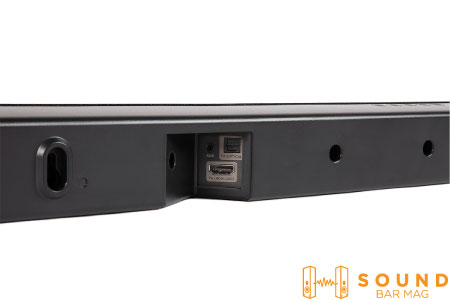 The Polk Audio Signa S2 soundbar supports multiple connectivity options, including Bluetooth, HDMI ARC, and optical audio. All the input ports are well-placed and easily reach the rear panel.
Also, we find the labels on each input to eliminate the chances of confusion when making connections with external devices and setting configurations.
Moreover, Bluetooth is a life-saver, especially with its wide range, allowing for quick pairing with a number of smart devices. Also, You can quickly catch up on your favorite soundtracks on Apple Music, Spotify, and other channels and enjoy the high-definition sound absolutely cable-free.
Controlling and Navigation
The Polk Audio Signa S2 soundbar has a remote control in its kit that makes controlling the soundbar a breeze. The remote features a simple and intuitive button for quickly controlling the device, allowing for quick and easy navigation of the soundbar's various functions. 
Besides managing the volume, you can also manage the bass performance of the subwoofer using this remote. You will find some dedicated buttons at the front that save you time and hassle.
Performance
The Signa S2 soundbar delivers rich and powerful sound with five full-range drivers, ensuring the reproduction of a bold, neat, and loud sound performance. The sound goes well with listening to movies, news, music, and even eBooks.
The Dolby Digital decoding minimizes voice delays, and Polk's Exclusive voice adjust technology maximized the clarity for exceptional crystal-clear dialogue performance.
Additionally, the subwoofer works in harmony, throws low-frequency notes where needed, and raises the bar for digital music streaming.
The soundbar also supports virtual surround sound, creating an immersive audio experience that feels like you are in the middle of the action. And if you are a game lover, this soundbar will boost your enthusiasm and give you a new dimension of enjoying intense games.
Benefits
• Full-range drivers
• No voice delays
• Voice adjust technology
• Powerful bass
• 80W power output
• IR remote
• Bluetooth support

Conclusion
The Polk Audio Signa S2 soundbar is a top choice for a neat, immersive, and dynamic sound delivery. Despite being a 2.1 system, it delivers high-definition sound, perfect for any music genre.
Get this soundbar and subwoofer combo and upgrade your music-listening standards without breaking the bank.
Mia Evelyn is a soundbar specialist and she love to test and review different soundbar brands. She shares her neutral and in-depth reviews through the Soundbar Mag.