The Bose Solo 5 is a compact and powerful audio solution designed to deliver high-quality sound for your TV and movies.
With its sleek and elegant design, the Bose Solo 5 fits nearly any entertainment setup, providing clear and compelling audio delivery to enhance your overall viewing experience.
In the following in-depth review, we will delve into the key features of the Bose Solo 5, including Its design, connectivity options, sound performance, and overall profile to help you determine if this soundbar is the right choice for you.
Bose Solo 5 Soundbar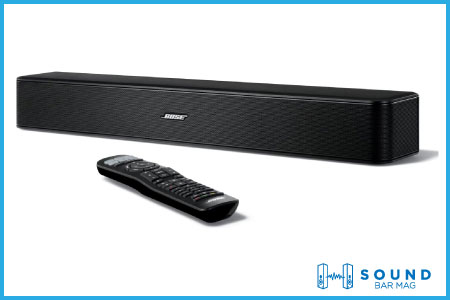 Unboxing the Solo 5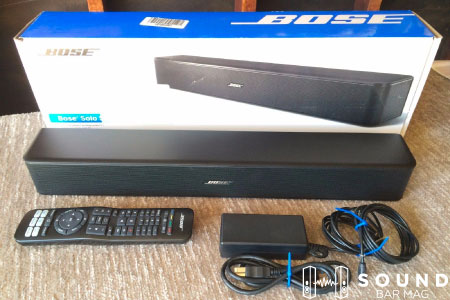 Unboxing the Bose Solo 5 is pretty exciting as the compact profile wouldn't waste your time messing with the packaging material or disturb you with the handling.
It is easy to carry, and the straightforward unboxing will save you ample time. You'll get a soundbar, a remote control, a few connectivity and power cord cables, and a user manual in the kit to get started.
We were impressed by the overall packaging that kept it safe throughout the shipment. Read on to find out what we thought of its design and other features.
Size and Design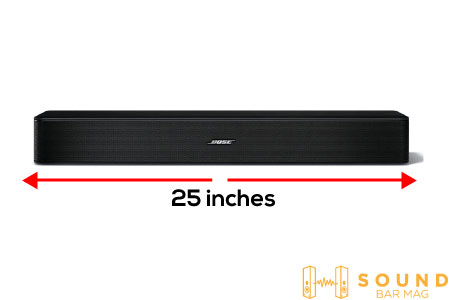 When it comes to the design of the Bose Solo 5 Soundbar, it's all about simplicity and style. Measuring just 25 inches in length, this compact soundbar is designed to fit neatly under your TV without taking up too much space.
The sleek black finish and clean lines give it a modern appearance that will complement any home theater setup. And with its lightweight and compact design, you can easily move the Bose Solo 5 from room to room as needed.
So, whether you're watching TV in the living room or catching up on your favorite shows in the bedroom, this soundbar is sure to look and sound great in any space.
Channel Configuration
Bose Solo 5 soundbar boasts a simple yet powerful 5.0 channel configuration. This intuitive single soundbar brings your movies and music to life with multiple channels, separate tweeters, and a dedicated center channel.
The soundbar is designed to enhance the audio from your TV, and the full-range drivers from the front and sides provide expansive, crisp, and dynamic sound that fills the room without overwhelming it.
Connectivity Sources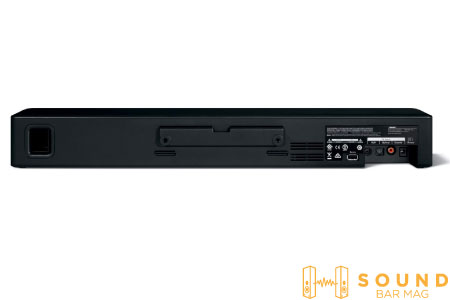 The Bose Solo 5 Soundbar offers a range of connectivity options to ensure you can easily connect it to your smart  TV and other devices. The soundbar has an optical audio input, allowing you to connect it directly to your TV with a single cable.
It also features Bluetooth, so you can directly stream music from your smartphone or tablet. And, if you have an older TV that doesn't have an optical audio output, the Bose Solo 5 also comes with an included coaxial cable, making it easy to connect to a wide range of TV models.
So, whether you're connecting the Bose Solo 5 to your TV or streaming music from your smartphone, you'll find it easy to get started and enjoy high-quality audio.
Controlling and Navigation
Controlling and navigating the Bose Solo 5 Soundbar is a breeze thanks to its included remote control. The remote features simple and intuitive controls, making it easy to adjust the volume, mute the soundbar, and select your audio source.
Thanks to the built-in compatibility with many popular TV brands, you can also control the Bose Solo 5 using your TV remote.
And, if you prefer a hands-free approach, the Bose Solo 5 also supports voice control through Amazon Alexa and Google Assistant.
Sound Performance
The Bose Solo 5 Soundbar delivers outstanding sound performance that will enhance your TV and movie-watching experience in no time. The soundbar's advanced technologies deliver clear and powerful audio with deep bass and clear dialogue.
Whether watching an action-packed movie or listening to your favorite music, the Bose Solo 5 Soundbar delivers crisp, full-range sound that will bring your content to life.
The soundbar's compact size belies its powerful audio capabilities, making it a great choice for those who want high-quality sound without the bulk of a traditional home theater system.
Benefits
• Flexible profile
• Dialogue mode
• Rich and deep soundtracks
• Bluetooth support
• Remote for navigation

Bottom Line
In short, the Bose Solo 5 soundbar is a compact and valuable addition to any home theater setup that offers outstanding sound performance and user-friendly controls. Whether connecting to a TV, streaming music, or catching up on your favorite podcast, with seamless navigation, this might be the ideal fit for your household.
Mia Evelyn is a soundbar specialist and she love to test and review different soundbar brands. She shares her neutral and in-depth reviews through the Soundbar Mag.