When we talk about premium soundbars, Bose smart soundbar 900 comes to the top of our minds. It is a game changer in the audio industry as the luxurious body throws some hard-hitting upper, mid, and lower notes.
Bose smart soundbar comes well-packed with features that transform your music-listening experience and can be a valuable addition to your home theater setup.
Read on to find out more about the product as we dig deep into the bar after getting it in our facility.
Bose Smart Soundbar 900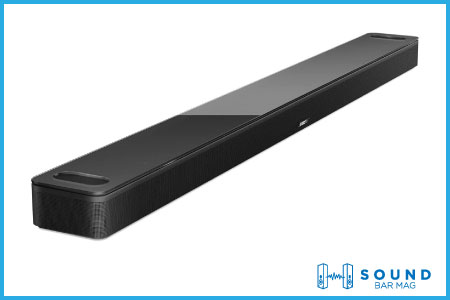 Unboxing the Bose Smart 900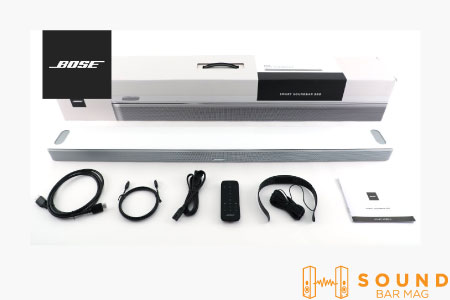 The Bose Smart Soundbar 900 comes in a sleek and stylish box, with the soundbar safely nestled inside and a remote control, power cord, and HDMI cable. The packaging is of high quality and gives you a sense of the premium experience you are about to have.
So after getting everything we needed to kick start the soundbar, we didn't waste time and turned it on.
Size and Design
The Bose Smart Soundbar 900 is 38 inches long and is designed to fit seamlessly under any television. The soundbar has a sleek, modern look with two-tone colors, but the upper case gives a sense of glass as it reflects and enhances its overall appearance.
However, it doesn't distract the user at all when watching something on TV. Also, it looks great when mounted on the wall as well as sitting on the furniture. The standard size allows flexible placement, and the wireless connection is a plus point.
The soundbar is made of high-quality materials and feels solid and well-constructed for the homes.
Channel Configuration
The Bose Smart Soundbar 900 has a 7-channel system that delivers powerful, immersive sound. It indicates the soundbar has speakers at the front, top, sides, center, and rear. The separate tweeters also help with tuning.
Hence, the soundbar is capable of producing crisp and clear high notes, deep and rich bass, and full and rich mid-range sound. The 7-channel system provides a full and spacious soundstage, making movies and music sound as if they are being performed live in your room.
Connectivity Options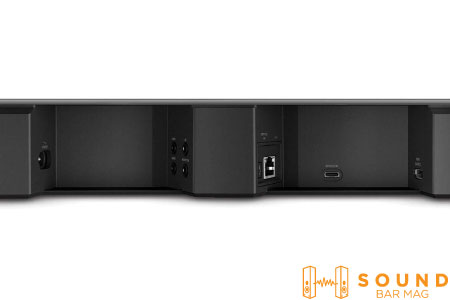 The Bose Smart Soundbar 900 has a variety of connectivity options, including Bluetooth, WiFi, HDMI ARC, and optical audio. It allows you to connect to a wide range of devices, including your TV, computer, smartphone, and tablet.
HDMI ARC provides perfect sync with videos and proves to be a go-to connectivity source with high-end or intense games. Besides, WiFi gives you instant access to online music-streaming channels, like Spotify and Amazon music.
The soundbar also can connect to other Bose devices, such as the Bose Home Speaker or the Bose Soundbar 500, to create a full surround sound system.
Controlling and Navigation
The Bose Smart Soundbar 900 is a top-of-the-line sound system that offers exceptional sound quality and convenience. With its advanced controlling and navigation features, the Soundbar 900 provides users with a seamless control over their audio experience.
The device comes equipped with a compact, intuitive remote that allows you to adjust the volume, switch between inputs, and access popular music services with the touch of a button.
Additionally, the Soundbar 900 also features voice control capabilities, allowing you to control your audio using voice instructions via Amazon Alexa or Google Assistant. You can also use the Bose App to control the device.
Whether you're watching a movie, listening to music, or just relaxing, the Bose Smart Soundbar 900's advanced controlling and navigation features make it easy to enjoy your audio content the way you want.
Sound Performance
The Bose Smart Soundbar 900 delivers remarkable sound performance, with clear and powerful audio that fills the room. The soundbar's 7-channel system provides a full and immersive soundstage, making movies and music sound more realistic and natural.
The bass is deep and rich, and the high notes are crisp and clear, making dialogue in movies and TV shows easy to understand. The center channel further polishes the dialogue, and the built-in woofer summarizes the lower notes for deep bass.
Moreover, the Dolby Atmos lends an extra dimension to the sound and makes it bounce from the ceiling to create cinematic vibes in the room, immersing the audio in every corner.
The smart soundbar also optimizes the sound and mixes it for enveloping music-listening experience. The premium delivery of balanced sound is what you need to enjoy your favorite soundtracks.
Benefits
• Modern and elegant design
• Wireless streaming
• Voice control support
• Dolby Atmos
• Bose exclusive technologies
• Easy setup

Bottom Line
The Bose Smart Soundbar 900 is an excellent soundbar that delivers powerful and immersive sound. The soundbar's sleek and modern design and its high-quality materials make it a great addition to any home entertainment setup.
Overall, the Bose Smart Soundbar 900 is a great investment for anyone looking for a premium soundbar that delivers excellent sound quality.
Mia Evelyn is a soundbar specialist and she love to test and review different soundbar brands. She shares her neutral and in-depth reviews through the Soundbar Mag.