The Sonos Arc is an exceptional soundbar that brings an immersive, multidirectional audio experience to your home theater/entertainment setup.
With 11 high-performance drivers and support for Dolby Atmos, the Arc is designed to deliver a powerful, bold, room-filling, and unparalleled sound that will enhance your movies, games, and music.
Let's have a closer look at the features, build quality, and performance of the Sonos Arc and evaluate its overall value together.
After using it for a while, we assure you it will be a valuable addition to your setup if you are a home theater enthusiast.
Sonos Arc – Premium & Smart Soundbar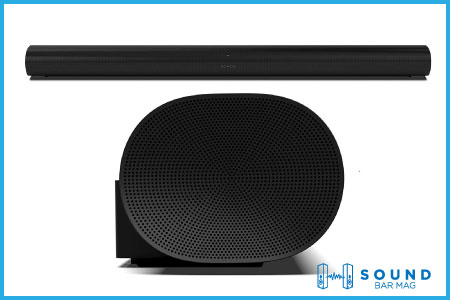 Unboxing the Sonos Arc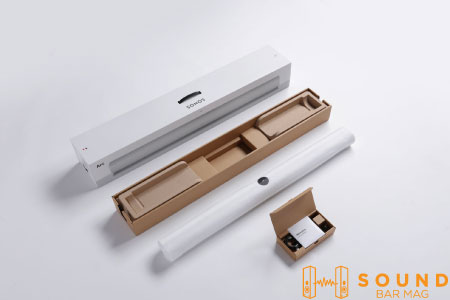 Unboxing the Sonos Arc is a treat in itself, with the sleek, premium design of the soundbar and accompanying accessories immediately making an impression.
Everything inside the shipment box was well-packed and came in excellent condition. The box contains the Arc soundbar, a power cord, an HDMI cable, and a quick start guide.
All in all, the unboxing experience of the Sonos Arc was a testament to the attention to detail and high-quality craftsmanship that has become synonymous with the Sonos brand
Size and Design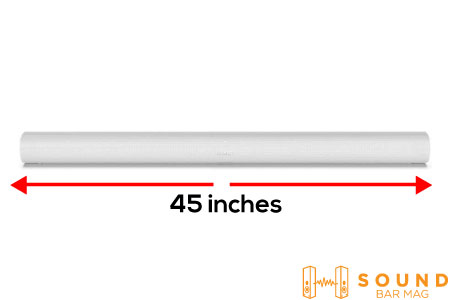 The soundbar is a beautifully designed piece of hardware with a curved, fabric-wrapped exterior that will complement any home entertainment setup. It boasts a sleek design that is both aesthetically pleasing and functional.
The compact size and clean, minimalist design of the Arc make it an attractive addition to any room, and its versatile mounting options make it easy to integrate into any space.
Measuring 45 inches, the Arc has a curved form factor that allows for a wider soundstage and improved audio dispersion. It also has buttons for volume control, mute, and power located discreetly at the top.
Connectivity Sources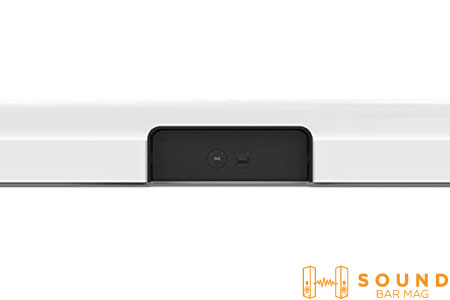 The Sonos Arc offers a wide range of connectivity inputs that make it easy to integrate into your home entertainment setup.
In addition to the standard 3.5mm auxiliary input, the Arc also has an HDMI ARC port for seamless integration with your TV. With eARC and Dolby Atmos support, the Arc delivers high-quality audio optimized for your content.
Additionally, the Arc has built-in Wi-Fi, allowing you to stream music and audio from popular services such as Spotify, Apple Music, and Amazon Music. The Arc also supports multi-room audio, so you can easily connect it to other Sonos speakers in your home and create a seamless audio experience.
Controlling and Navigation
Controlling and navigating the Sonos Arc is a truly unique experience, with various options catering to different preferences.
The soundbar comes with a simple, intuitive remote that allows you to adjust volume, skip tracks, and select inputs easily.
Moreover, the Sonos app, available for iOS and Android devices, provides a comprehensive interface that allows you to access your music library, stream content from popular music and video services, and even set up multi-room audio.
The Arc also supports voice control with Amazon Alexa and Google Assistant, making it even easier to control your entertainment experience without ever leaving the couch.
Additionally, the Arc has AirPlay 2 built-in, allowing you to stream audio directly from your iPhone, iPad, or Mac.
Sound Performance
Despite its compact size, the Arc packs a punch in terms of performance, making it the perfect addition to any home entertainment.
The sound performance of the Sonos Arc is truly top-notch, with its 11 high-performance drivers delivering powerful, room-filling audio.
The Arc supports Dolby Atmos, which creates an immersive, multi-dimensional audio experience that makes your movies, music, and games come to life.
Whether watching a blockbuster movie or listening to your favorite album, the Arc's soundstage is wide and dynamic, with clear, accurate highs and deep, punchy bass.
The soundbar also has a Speech Enhancement feature, which automatically adjusts the audio balance to enhance dialogue, making it easier to follow along with your favorite shows and movies.
With its powerful performance, support for Dolby Atmos, and advanced audio features, the Sonos Arc is a soundbar that truly sets a new standard for audio quality.
Benefits
• 3D sound effects
• Disperse sound in all directions
• Fine-tuned
• Great clarity
• Multiple navigation choices
• Plug-and-play with App
• Comes with warranty

Bottom Line
Sonos Arc is an all-in-one soundbar with a relatively high price tag, but the optimized sound that elevates the listener into the content is worth giving a shot at.
So, stream your favorite content with the multidirectional sound output that is all set to break the records of music-streaming standards.
Mia Evelyn is a soundbar specialist and she love to test and review different soundbar brands. She shares her neutral and in-depth reviews through the Soundbar Mag.