Have you ever heard about the durability and consistency of the Bose soundbars?
Not yet? Well, let's discover some best Bose soundbars in the market.
Bose soundbars are the most wanted sound speakers due to their high-resolution audio, excellent connectivity options, and stunning profile design.
Most Bose soundbars are one-unit, including a subwoofer inside a tiny, compact, and stylish design to encourage portability and flexibility while usage in homes.
So, let's read more about the best Bose soundbar and help you choose the one according to your needs.
List of the Best Bose Soundbar in 2023
1. Bose Smart Soundbar 300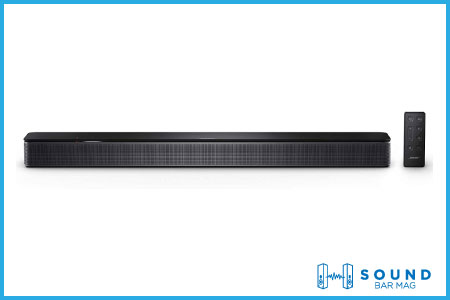 Bose smart soundbar 300 is a compact yet powerful soundbar that can fill small rooms with a delicious sound that your TV's built-in speaker couldn't deliver.
We were in love with the aesthetically pleasing profile, which was easy to unbox and handle in our lab. It has a stylish body with a black matte finish and grilled texture at the front panel.
Also, the 3.0 channel system houses five full-range drivers that produce crystal clear, thrilling, and deep sound performance. The sound was coming from the front, back, and sides to widen the soundstage.
The soundbar may be a little expensive for its small size and big sound, but its features justify every penny. It also has a small, handy, and super functional remote control that gives you access to multiple functions from couch comfort.
Besides, setting up the soundbar has never been easier with voice control assistants, Wi-Fi, and Bluetooth. You only have to plug in the device and ask Alexa to put on some feature or connect with the TV for unlimited movies, shows, podcasts, or documentary streaming.
Also, it is not just a TV speaker; it opens doors to enjoyment doors with built-in Chromecast, Amazon Music, and Spotify with wireless capabilities. We examined the bar with TV, but mostly with our Spotify playlists.
At last, the room-filling sound with an incredible frequency range that keeps the sound quality intact irrespective of the volume, is what every audiophile craves.
It produces big and heavy sounds regardless of the compact design, encouraging placement flexibility to enjoy the thrilling and clear sound. Also, the dedicated center channel delivers crystal clear dialogues for podcast or E-Book listening.
But, it also isolates the spoken word in heavy background music for better understanding. Therefore, this Bose soundbar is definitely worth trying for the entry-level soundbar with some premium add-ons.
Pros
• Elegant yet stylish design
• WiFi and Bluetooth
• Voice control assistants
• Excellent and clear sound

2. Bose TV Speaker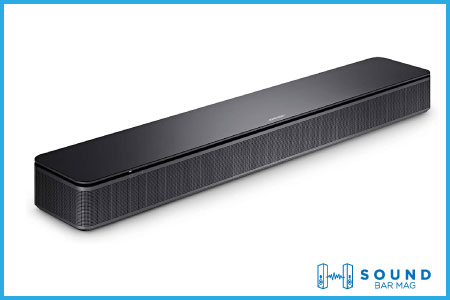 Bose soundbars are the perfect choice to upgrade TV speakers while staying on a tight budget, and this TV speaker soundbar with wireless technology is one of the best devices to date.
It enhances the music listening experience with its rich sound production that never compromises quality, irrespective of the volume.
The soundbar delivers realistic, spatial, and more immersive sound whether you play games or listen to music. With the games, every explosion, gunshot, and car racing sound was spacious and rich, so we enjoyed every bit of it.
It also throws some stylish vibes and looks elegant sitting under the TV from the appearance. The compact size easily adjusts under the TV legs, and the beautifully crafted body blends with a different environment.
Also, the soundbar houses full-range drivers that deliver an acoustic listening experience with its 2 angled design and are always ready to function with a single connection. 
Since it is a one-unit soundbar with built-in woofers, it takes care of the necessary bass crisp you need to enjoy the low notes. Besides, connecting it with other devices, including TV, is seamless via USB, HDMI ARC, optical digital, and AUX. And, reaching the inputs wasn't a hassle for us-plus point.
Moreover, it features different modes, including Dialogue mode that enhance the pronunciation or vocal presentation for more understanding. The mode analyzes what you watch and customizes the sound, dialogue, background tunes, or other audio elements.
This mode can be easily enabled via remote control. Hence, it is an exciting yet the best Vizio soundbar you could get in the budget for its design, sound production, and rich bass.
Pros
• Compact design
• Dialogue mode for vocal enhancement
• 2 angled driver design
• Bluetooth compatible
• Loud, rich, and clear sound

Cons
• No advanced feature
• No app control

3. New Bose Smart Soundbar 900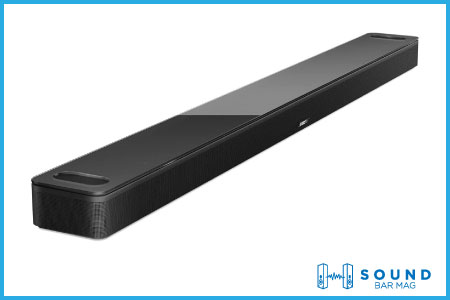 Even though Bose is famous for a premium soundbar that goes big and heavy while producing sound, the price tag sometimes gets hefty for a few additional features.
The New Bose smart soundbar 900 is another great bundle of speakers that delivers high-resolution and multidimensional sound for all your music-sensitive content.
It is a soundbar with a 5.1.2 channel configuration that packs all the drivers and a built-in woofer inside a simple and elegant design. It comes with a glass panel and metallic grill at the front that complements the home décor with a premium look.
Additionally, the Bose 900 is compatible with Dolby Atmos, which enriches the neutral sound profile with 3D projection. Atmos ensures the sound bounces floor to the ceiling to deliver a virtual surround sound while maintaining clarity and rumble.
It sets a decent soundstage with loud music to cater to crowded parties, and the center channel takes care of vocal performance at every frequency level. We tested it with a heavy audience in-house, and the performance wasn't compromised.
Other advanced features that significantly affect the overall music listening experience are room correction, which adjusts the sound according to the room objects, and height-level adjustments.
Bass and treble adjustments also give you room to customize the music according to your taste. So, it may not be the best budget soundbar yet, but it can produce heavy sound for your parties, movie nights, and other events.
Pros
• Spatial and expansive sound
• Dialogue enhancement mode
• Dolby Atmos compatibility
• Solid connections
• Built-in Chromecast and Apple AirPlay

4. Bose Solo 5 Soundbar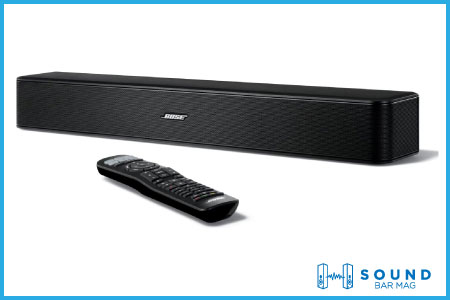 Bose Solo 5 is a perfect soundbar for mixed usage with low-profile and heavy sound production. We enjoyed using the bar for its great directional sound output that moves you with every beat.
It is a soundbar that every music lover wants due to its high-resolution sound projection, excellent clarity, and easy setup. Also, the frequency level was amazing, and the drivers were picking the notes smartly.
Though it is a compact 2.0 channel soundbar that quickly fits anywhere in the house or office, it integrates a subwoofer for the reasonable yet thump-rich bass.
The neutral sound profile keeps you entertained while watching TV or listening to podcasts or music. The stereo dynamic frequency response elevates an immersive listening experience in any content streaming.
However, it doesn't get very loud because the dual full-range speakers only focus on delivering balanced sound with clarity and richness in audio elements; it still should be enough to cater to the small room.
Moreover, the build quality is powerful, and the appearance is pretty attentive. However, it still lacks the elegant touch for the price. The included remote control can help you with basic navigation, bass adjustment, and enabling dialogue enhancement mode.
In addition, it offers optical digital, AUX, and Bluetooth for connectivity, which enriches the compatibility of the bar with other drivers. The lack of USB and HDMI inputs is a big shame for the brand.
Pros
• Dolby Digital 5.1
• Bluetooth compatibility
• Dialogue enhancement mode
• Rich and thrilling sound

Cons
• No audio format support

5. Bose Soundbar 500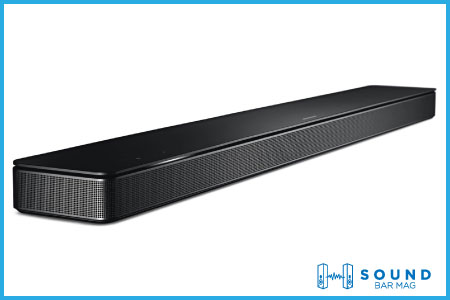 With a slim profile and heavy sound, Bose soundbar 500 is still securing its position worldwide, irrespective of the hefty price tag. The shipment was quick and in great condition, with reasonably pleasing branding over the box.
Upon unboxing and testing, we started exploring the devices and found it offered some premium features that other series didn't have and thus tried to justify the high price.
Nevertheless, it has a slim and sleek profile that looks astonishing sitting on the furniture. It is quick to function with easy setup and flawless pairing with HDMI, Bluetooth, optical digital, and Wi-Fi.
Besides, the Alexa voice control will walk you through the setup, navigation, and device management with your voice command. It was easy and fun for us, at least better than the remote control navigation.
The soundbar ensures a wide soundstage regardless of a small footprint. Even without a wireless subwoofer, it produces impressive sound with top-notch clarity, decent rumble, and high-note projection.
The vocal delivery is insanely clear and detailed, which delivers pronunciation and dialogue projection with style.
Furthermore, integrated music streaming platforms are the real ice breakers that open doors to the unlimited with a hands-free experience. And the Bose music app gives you access to the different sound customization options, frequency controls, and connected device management for your comfort.
Pros
• High-resolution audio
• Clear dialogues
• Bluetooth, WiFi, and Airplay compatibility
• Bose music app for control
• HDMI ARC

Cons
• Lack of Atmos
• No HDMI ARC
• Expensive

6. Bose 3.1 Home Theater Set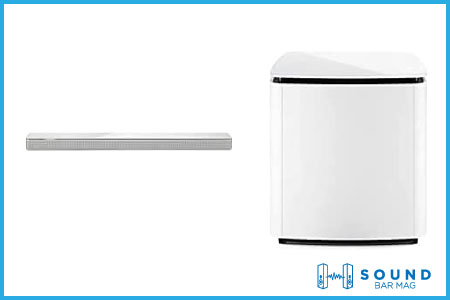 Bose 3.1 home theater set has an unusual but interesting design in white that automatically complements the interior and catches the attention of everyone. We were in awe right after unboxing the bar and couldn't wait to test its performance.
Though the sophisticated design makes it look like a toy, the exceptional and loud performance never lets you underestimate its performance. We were amazed at how the bar could produce this loud yet thrilling audio output at such extreme listening levels.
It is a smart soundbar with Wi-Fi, Bluetooth, and Voice control Assistant support. You only have to plug in the device, ask Alexa to set up the connection, and play your favorite song from the online platforms.
This home theater set allows you to make purchases individually because the soundbar alone can produce powerful and immersive sound using the integrated drivers.
Though there is no advanced audio format support, the audio quality remains consistent, and the low-note crafting and clear dialogue delivery deliver the fun of sound listening.
Furthermore, the noise-rejecting mic system lets you make or receive calls hassle-free. Controlling the device is also a walk in the park with three different sources, including Bose Music app, voice-activated protocol, and handy remote control.
On the other hand, the compact yet stylish wireless subwoofer produces low and thumpy bass to rock the house with stimulating vibrations. This deadly combo of home theater makes the device worth purchasing if you want to experience a cinematic listening experience.
Pros
• Elegant yet modern design
• WiFi and Bluetooth support
• Immersive sound with low notes bass
• Built-in noise-rejection Mic
• Voice control Assistant

7. Bose Bass Module 700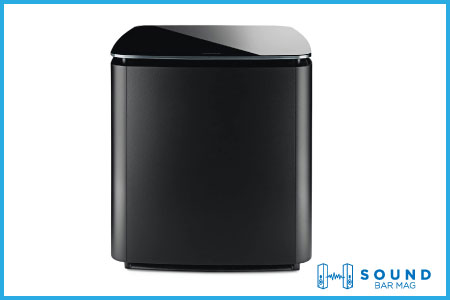 Unlike the last product we mentioned, Bose Bass Module 700 is one of the best subwoofers we have ever come across that expands your soundstage by connecting to a compatible soundbar and delivering an immersive listening experience.
You can rely on the subwoofer for realistic, rich, and in-depth bass performance while throwing stylish vibes with its glass panel. The sound was also loud and captivating, despite the content we played.
In addition, connecting the subwoofer with a soundbar is hassle-free with Bluetooth compatibility. The Bluetooth range was wide and strong, so we liked it.
You can connect the Bose subwoofer with any Bose or other brand soundbar and turn its experience from a neutral profile to thunder.
However, it is designed exclusively to pair wirelessly with a Bose soundbar 700, which is one of its kind for producing expansive and multidimensional sound.
A bass enhancer adds a little more crispness to the included bass that Bose 700 delivers with built-in woofers. It can definitely boost your music listening experience with low notes, distortion-free and thundering sound.
Pros
• Sophisticated look
• Compact size
• High dynamic bass
• Wireless connection

Check our further Bose Soundbar Reviews:
Best Bose Soundbar Buying Guide 2023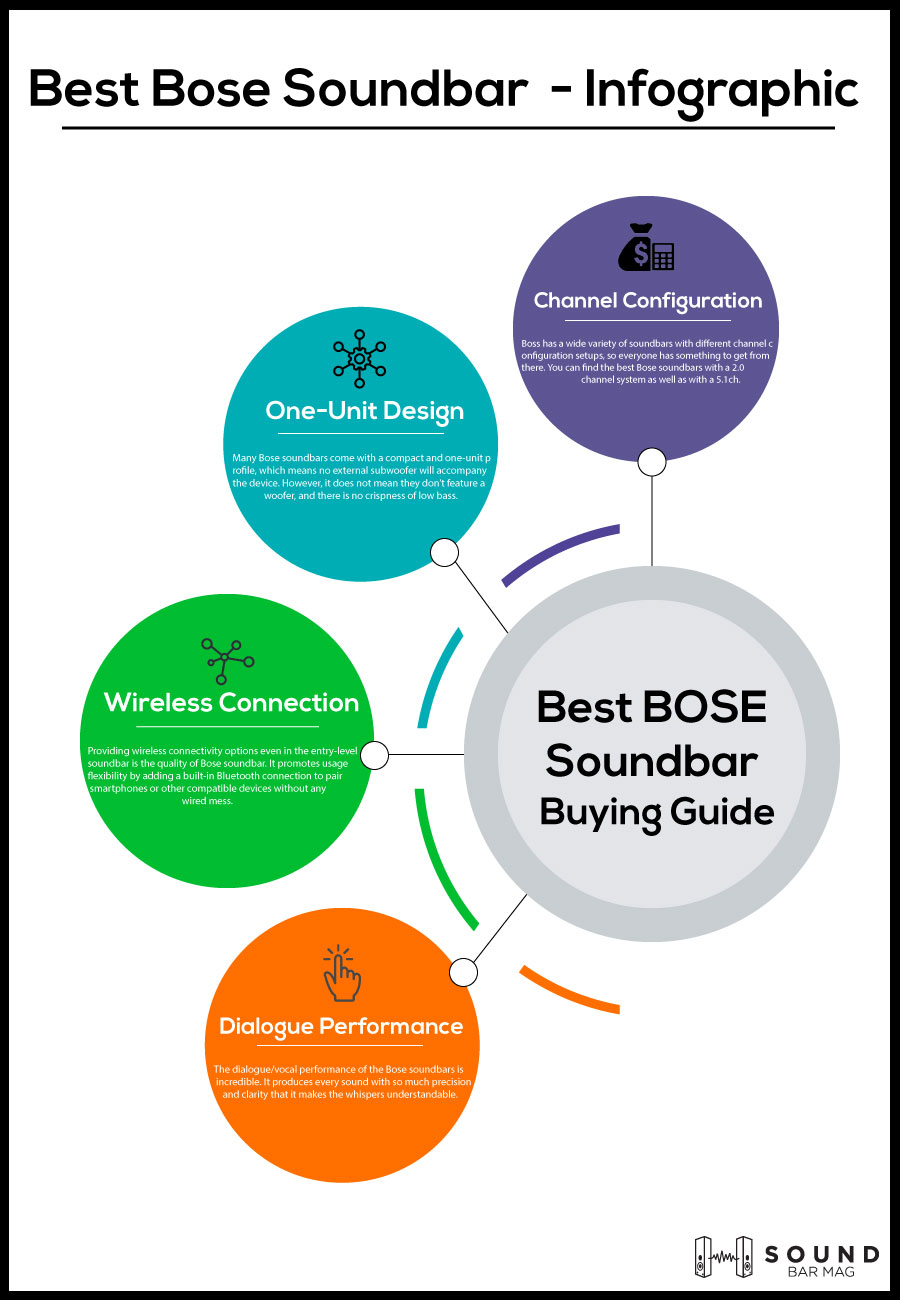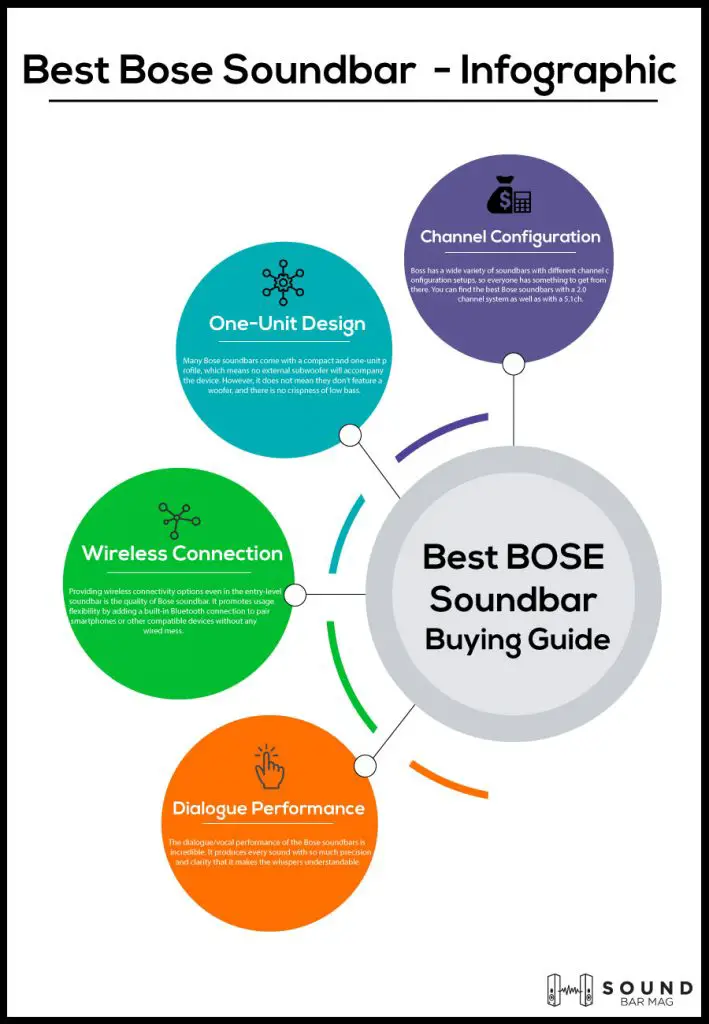 Choosing the best Bose soundbar is the hardest task one could dare to achieve because the brand has an extensive product line with terrific features distribution and breathtaking sound performance.
Though the brand keeps its standard high with the hefty price tag, each device justifies its price with the pure, clear, and thrilling sound with balanced treble, bass, rumble, and other audio elements. The perfectly balanced sound profile is craving for a lost soul. However, if you are getting a soundbar for the first time and planning to invest in the Bose, you should know some basic soundbar features. Here's what you will be catching up on most while using the Bose soundbar.
Channel Configuration
Boss has a wide variety of soundbars with different channel configuration setups, so everyone has something to get from there. You can find the Bose soundbars with a 2.0 channel system as well as with a 5.1ch.
However, the sound quality, dialogue clarity, and bass richness remain constant regardless of the channel setup. You will get the luxurious, consistent, and detailed sound performance from all the soundbars.
In the reviews, we have mentioned several products with 2.0, 2.1, 3.0, and 5.1 channel system that contains full-range drivers to produce compelling audio. Other channels vary with the configuration.
One-Unit Design
Many Bose soundbars come with a compact and one-unit profile, which means no external subwoofer will accompany the device. However, it does not mean they don't feature a woofer, and there is no crispness of low bass. They still integrate built-in woofers according to their channel configuration setup and produce the perfect blend of sound to enhance your music listening experience.
Since they are compact, elegant, and don't need any dedicated space to adjust or fit, the users will enjoy keeping it with them and expand their listening habits unconsciously. Moreover, the one-unit soundbar with wireless connection compatibility is like icing on the cake. No one would think twice before investing in such a compelling soundbar that performs incredibly well without keeping you worried about its placement properties.
Wireless Connection
Providing wireless connectivity options even in the entry-level soundbar is the quality of Bose soundbar. It promotes usage flexibility by adding a built-in Bluetooth connection to pair smartphones or other compatible devices without any wired mess. In addition, some soundbars offer WiFi, which is a premium add-on and comes at the expense of some additional pennies. Still, it can be a great addition if you frequently access online music streaming platforms.
The wireless connectivity facility enriches the usage by making it a plug-and-play device. Besides, the compact design and Bluetooth connection are a heaven combo.
Dialogue Performance
The dialogue/vocal performance of the Bose soundbars is incredible. It produces every sound with so much precision and clarity that it makes the whispers understandable. Also, many Bose soundbar offers a Dialogue enhancement feature that softens the vocal delivery until you understand it.
This feature also helps isolate the spoken words from the annoying and harsh background sound. So, it can be valuable while watching movies, shows, documentaries, or even listening to podcasts.
Conclusion
This detailed discussion about the Bose soundbar should give you a fair idea about its expansive product line, features distribution, and other factors that you may find important in the soundbar.
Moreover, besides the best Bose soundbar reviews, a mini buying guide will walk you through the necessary factors we consider while narrowing down our research to help you know more about the device and its functions. We hope you make a sound decision for all your sound-sensitive requirements.
Mia Evelyn is a soundbar specialist and she love to test and review different soundbar brands. She shares her neutral and in-depth reviews through the Soundbar Mag.