The Bose Soundbar 700 is a smart-looking, double-tone 3.0-channel soundbar that promises to deliver a powerful, bold, and realistic audio experience.
This soundbar not only boasts Bluetooth connectivity but also comes with built-in Amazon Alexa support, making it a smart and convenient choice for those looking to upgrade their home entertainment system.
We will dig deep into the features of the Bose Soundbar 700 in the following review and see how it stacks up against other soundbars in the market. We'll explore its design, sound quality and other features to help you determine whether this soundbar is the right choice for you.
Bose Smart Soundbar 700 with Alexa & Bluetooth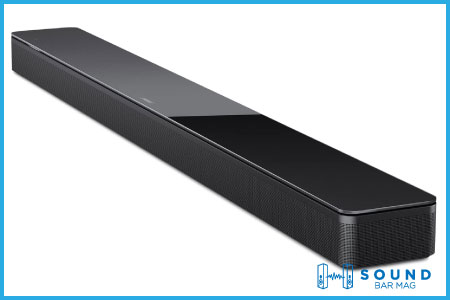 Unboxing the Bose 700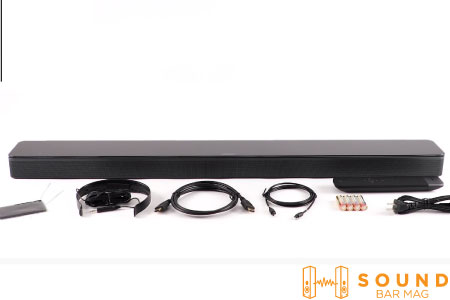 Unboxing soundbars is a relatively fun experience, especially when it comes from our favorite Bose. All the products from the brand, whether ordered directly or through Amazon, come nicely packed and equipped with all the accessories at the best prices.
The Bose 700 also came to us in a box full of branding. We could see the soundbar pictures with some features engraved on them. The opening was also a breeze.
To our surprise, we found a lot of things inside the box beside a soundbar. We got a universal remote, 4 AA batteries, a cleaning cloth as the bar has a glass top, power/HDMI/Optical cables, a safety sheet, an ADAPTiQ headset, and QSC.
Size and Design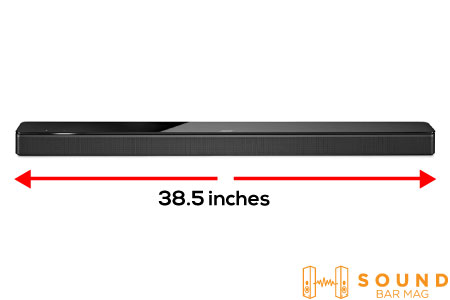 The Bose Soundbar 700 has a sleek and modern design that complements the place where you set it up. It measures 38.5 inches in length, 2.25 inches in height, and 4.25 inches in depth, making it a perfect fit for most TV stands or wall mounts.
The soundbar's slim profile and elegant tempered glass top panel give it a minimalist and sophisticated look. The front of the soundbar features a perforated metal grille that covers the three speaker drivers, which are neatly arranged in a left, center, and right configuration.
The Bose Soundbar 700 is available in black or white to suit your personal style and home decor. In short, the Bose Soundbar 700's design is stylish and functional, making it a great addition to any living room or entertainment space.
Channel System
The Bose Soundbar 700 features a 3.0 channel system, which means it has three dedicated speaker drivers to produce sound.
The three channels are arranged in a left, center, and right configuration, with the center channel serving as the primary source of dialogue and vocals.
This configuration allows for a more immersive and accurate sound experience, especially for movies, news, and TV shows that rely heavily on dialogue.
Additionally, the soundbar's custom-designed drivers and proprietary DSP (Digital Signal Processing) technology work together to deliver clear, detailed, and balanced sound across all frequencies.
Connectivity Sources
The soundbar provides various connectivity options, allowing you to connect your devices and stream your favorite content easily. It features Bluetooth connectivity, allowing you to wirelessly stream music, podcasts, and eBooks content from your smartphone.
You can also use Wi-Fi to connect to your home network and access music streaming services like Spotify, Pandora, and Amazon Music directly from the soundbar.
In addition to wireless options, the soundbar includes an HDMI ARC (Audio Return Channel) port, allowing you to connect it to your TV and control it with your TV remote.
The soundbar also features an optical audio input, connecting other audio sources like a DVD player, game console, or cable box. There is also a USB port that lets you play audio files directly from a USB drive.
Control and Navigation
The Bose Soundbar 700 also includes a universal remote that lets you control the soundbar, your TV, and other devices connected to the soundbar.
The remote has a sleek design and features backlit buttons, making it easy to use even in dimly lit environments.
The remote also includes dedicated buttons for accessing popular music streaming services like Spotify and Pandora, allowing you to manage your music playback without needing to use your phone or tablet.
If you prefer to use your smartphone or tablet, you can download the Bose Music app, available for both iOS and Android devices. The app lets you control the soundbar from your phone or tablet, allowing you to adjust the volume, change the sound settings, and access your favorite music streaming services.
The app also allows you to set up Alexa and access various other features like software updates, personalized settings, and device management. Besides you can also pass your commands to Alexa and navigate the device with your voice.Bottom of Form
Sound Performance
The Bose Soundbar 700 promises an immersive and high-quality sound experience with built-in drivers. The soundbar's three-channel system, combined with custom-designed drivers and proprietary DSP technology, produces clear, detailed, and balanced sound across all frequencies.
The soundbar delivers crisp highs, rich mids, and deep lows, making it an ideal choice for music, movies, and TV shows.
Its Dialogue Mode is a standout feature, which enhances the clarity and intelligibility of dialogue and vocals, making them easier to hear and understand. This mode is particularly useful when watching movies or TV shows with heavy dialogue or when you want to listen to the latest podcast or audiobook.
The Bose Soundbar 700 also features ADAPTiQ audio calibration technology, which optimizes the sound performance based on the acoustics of your room. This technology ensures you get the best possible sound experience, no matter where you're sitting in the room.
Pros
· Premium appearance
· Wireless connections
· Alexa support
· Loud and spacious sound
· Accurate dialogues
· Universal remote
· Built-in mic

Cons
· Average bass
· No adv audio formats

Bottom Line
The Bose Soundbar 700 delivers high-quality sound performance, with clear and accurate sound across all frequencies. Its Dialogue Mode and ADAPTiQ technology make it an ideal choice for anyone looking to enhance their home entertainment experience.
We recommend this smart device with its appealing features and fascinating appearance to everyone who doesn't want to compromise on style while receiving high-resolution audio.
Mia Evelyn is a soundbar specialist and she love to test and review different soundbar brands. She shares her neutral and in-depth reviews through the Soundbar Mag.