As someone who is passionate about home entertainment, I was ecstatic to get my hands on the Vizio 5.1.2 soundbar from its M-Series.
This premium soundbar boasts impressive features, including a wireless subwoofer, multiple audio format support, wide frequency response, and much more.
Vizio M-Series is also known to be a premium collection of soundbars that becomes a valuable piece of home theater setups, and this unit is no exception. And when I heard about its powerful capabilities, I knew it needed to be on record here.
So, here we are, providing a detailed review of the Vizio 5.1.2 soundbar to help determine if this fits your music-listening or digital media streaming requirements.
VIZIO M512a-H6 M-Series 5.1.2 Immersive Sound Bar with Dolby Atmos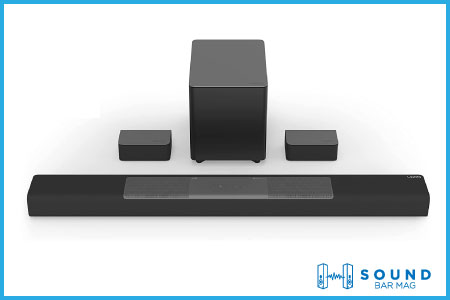 Unboxing the M512A-H6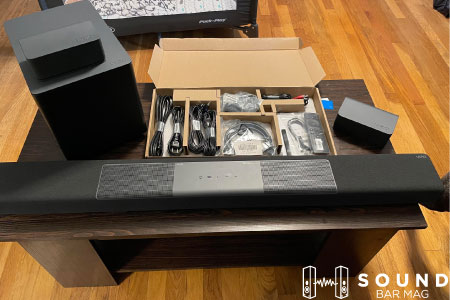 Opening a soundbar package doesn't require much care, especially when it comes from the Vizio. The brand is kind and smart enough to pack everything in high-quality packaging material that keeps things safe and secure despite long shipping hours.
The same thing happened with the soundbar from the M-series. It came well-equipped with the necessary packaging material. One box had a soundbar with a remote and its batteries, power and HDMI cables, and a user guide.
The other box was quite heavy and had a subwoofer alone.
Size and Design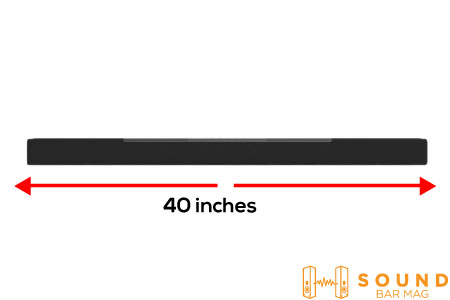 The Vizio 5.1.2 soundbar is a modernist and stylish device designed to blend in with any home decor. It measures 40 inches, so you need a dedicated space to place it on the shelf. Besides, it would look great under the 50 to 65 inch smart TVs.
On the other hand, it also comes with a subwoofer. The wireless 6 inches subwoofer can be placed anywhere in the room for optimal bass performance. Fortunately, it doesn't need a sweet spot to break in and deliver what it intends to produce.
Also, it is not heavy to not move around effortlessly, despite the solid construction with premium materials. Also, it will look great anywhere you place it.
Channel System
The 5.1.2 channel system is one of the standout features of the Vizio M-Series 5.1.2 soundbar.
With five speakers and a subwoofer, the soundbar is capable of delivering immersive audio that's perfect for movies, TV shows, and music.
The two upward-firing speakers on the soundbar add height to the audio, creating a 3D-like soundstage that's perfect for Atmos and DTS content.
The five speakers are arranged in a traditional 5.1 channel configuration, while the two upward-firing speakers add the height element to create the 5.1.2 setup. This setup offers an excellent balance between front, center, and surround sound, creating a sense of depth and space that's hard to achieve with a traditional stereo system.
Connectivity Sources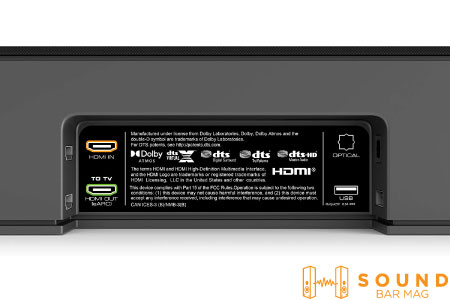 The Vizio M-Series 5.1.2 soundbar is a versatile device that offers a range of connectivity options. To avoid distractions and mess, you will find the connectivity input hub at the rear panel of the bar.
It also comes with Bluetooth, allowing you to listen and enjoy audio from your smartphone, tablet, or other compatible devices without any cables.
The soundbar also features HDMI, which supports both audio and video, as well as an optical input, a USB port, and an auxiliary input. USB can let you power your devices and Aux makes it flexible with all sorts of media devices.
Control and Navigation
Thanks to the included remote control, navigating the soundbar's features and settings is easy. The remote has a simple layout, and all the buttons are well-labeled, making it easy to adjust the volume, change the input source, and switch between different sound modes.
The soundbar also has a built-in voice assistant, which allows you to control it using your voice. No matter if you want to control the volume, skip the tracks, switch connections, balance the bass or treble performance, or access the menu for troubleshooting, Alexa will do everything for you.
Sound Performance
When it comes to sound performance, the Vizio M-Series 5.1.2 soundbar doesn't disappoint. The sound quality is rich and detailed, with clear dialogue and powerful bass.
The upward-firing speakers do an excellent job of creating a sense of height and depth, and the soundstage is wide and spacious with Dolby Atmos and DTS support.
It also gets insanely loud and has a wide frequency response range of 45 Hz to 20kHz, providing well-balanced mid and high-range notes. The 103dB sound pressure level bangs the windows in max listening levels.
The soundbar also has a number of different sound modes, including Movie, Music, and Gaming, which allow you to customize the audio to your preferences. So, with just one button on the remote, you will get personalized audio clarity with clear dialogue, boosting bass, or balanced sound according to the playing content.
The wireless subwoofer delivers punchy, loud, and bold bass that turns the table for bass-heavy music content or gaming. The dialogues are also crystal clear to understand everything you play.
Pros
· Entertainment package
· 11 high-range drivers
· Crystal clear vocals
· Loud and balanced sound
· Overhead sound level
· Atmos and DTS
· Heart-pounding bass

Cons
· Takes time to break in
· Bluetooth can be slow

Bottom Line
Overall, the Vizio M-Series 5.1.2 soundbar is an excellent choice for anyone who wants to take their home entertainment to the next level.
With its 5.1.2 channel system, wireless subwoofer, Bluetooth, and voice assistant, it's a versatile device that delivers excellent sound performance.
Also read: Best Settings for VIZIO 5-1 Soundbar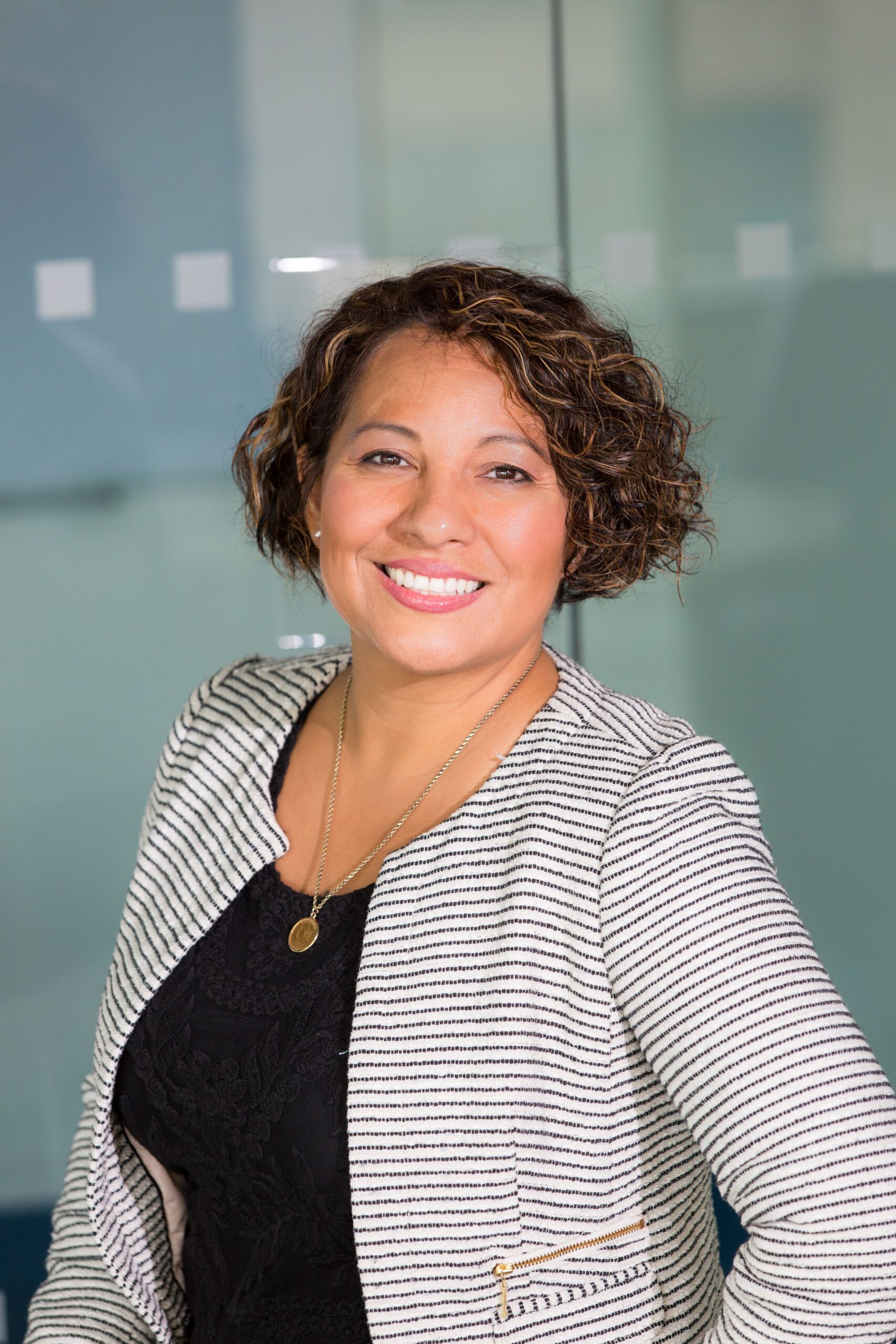 Mia Evelyn is a soundbar specialist and she love to test and review different soundbar brands. She shares her neutral and in-depth reviews through the Soundbar Mag.