Vizio may not be here for decades like Samsung or Sony, but it delivers the latest technology at the most affordable prices.
Vizio soundbars are compelling enough to fill the room with thrilling and striking sound and add additional audio format mixture support to customize the audio production.
However, landing on the right product could be exhausting and confusing because many incredible-looking soundbars catch your attention. Therefore, we tested and reviewed the top 7 Vizio soundbars available, from affordable price ranges to theatre-alternative products.
So, let's discover their qualities, specs, and sound performance.
List of the Best VIZIO Soundbar in 2023
1. Vizio SB2920-C6 Soundbar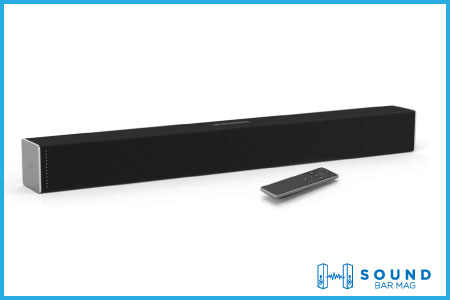 Vizio SB2920-C6 is an incredible soundbar we got to test from the huge product line of the Vizio with a sleek and slim profile and terrific audio delivery.
The soundbar gives value for the money with its easily adjustable design, wireless connectivity options, and an included kit that has everything you need to set up the device. Plus, unboxing was simple and fun, and the timely shipment has all the marks.
Besides, the soundbar is only around 4.9 pounds and measures around 29inches, which can easily fit between the huge-size smart TV legs. It wasn't challenging or a hassle for us to handle the bar and scan the device in our hands.
It houses 2 channels that produce decent, thrilling, and loud noise that goes well with the mixed content type. The soundbar can produce 95 dB of expansive sound, which should be reasonable for small to medium-sized rooms with a significant audience.
Even though it does not have a dialogue channel, the vocal performance was on-point, with clarity and details to catch up on your favorite podcasts and E-Books. Though we tested it with news only, and it sounded better for us.
Moreover, you may experience less than 1% of harmonic distortion in the max volume, but you would rarely feel it in the excitement of rich rumble, bass, and sound production. Its frequency range is between 70Hz to 19 kHz, so you definitely won't lose any sound quality, irrespective of the volume.
Moreover, it supports DTS surround sound technology that expands the sound and makes it virtual for the cinematic experience.
Luckily, the Vizio soundbar features Bluetooth, allowing wireless connectivity with smart TVs, smartphones, gaming consoles, and other compatible devices.
Therefore, this soundbar stays on top of our recommended list with a simple setup, excellent sound performance, and hassle-free connectivity.
Pros
• 2.0ch with DTS surround sound tech
• The kit includes optical, AUX, power cable with remote control
• Rich sound quality
• Decent audio frequency range
• Rare distortion feels

2. Vizio SB362An-F6 Soundbar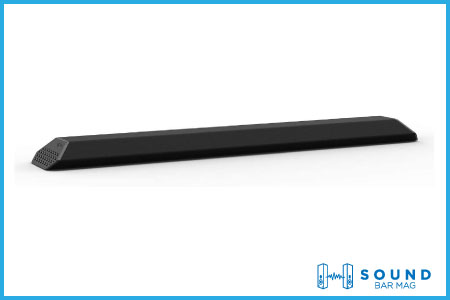 Vizio is a brand that can offer you a great product with stunning features without costing you your kidney. It may not be famous worldwide, but it can cater to the needs of a different audience with different music tastes with its SB362An-F6 soundbar.
Vizio SB362An-F6 is a 2.1-channel soundbar with stereo speakers' integration, DTS:X technology, and dual built-in woofers.
While testing, the soundbar produced quality sound at the expense of a few dollars, which is worth paying. In addition, the soundbar beautifully elevates the TV content sound and produces it by customizing it accordingly, and it enhances the overall TV-watching experience.
In addition, the overall appearance of the soundbar is worth noticing as the top, back, and front sides are covered with a metallic grille. You may see the drivers packed inside, giving an attractive look while functioning. The basic control buttons at the side are also unusual but catch the attention at first sight.
We like it offers rich connectivity, including optical digital and RCA, regardless of the entry-level soundbar with a low channel configuration setup. The lack of HDMI or ARC connection is a shame, but optical 3.5mm works pretty well to cover the sacrifice.
Besides, it also features two EQ modes, Music, or Movie, that customize the sound quickly. The built-in full-range drivers' support to Dolby Digital also expands the sound delivery. Hence, considering the price and features, the soundbar is worth trying.
Pros
• Dolby Digital and DTS:X
• Surprisingly loud and clear sound
• Wired and wireless connections
• Built-in woofers
• Aesthetic appearance

3. Vizio SB2021n-J6 Soundbar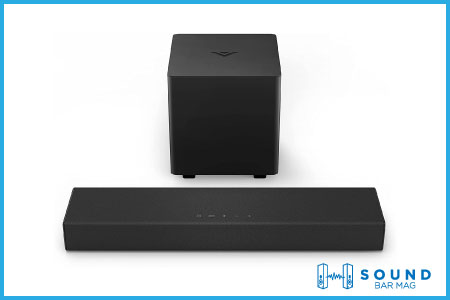 This budget-friendly 2.1 channel soundbar is ready to fire your house with the thundering sound and needed rumble and bass. With an easy setup and wireless connectivity via Bluetooth, the soundbar will widen the soundstage no matter what you stream.
It is a mini smart soundbar, considering the impressive features, sleek design, and wireless subwoofer addition. It houses dual full-range drivers compatible with DTS Virtual: X technology to expand its performance.
Also, Dolby Digital support ensures powerful performance with clarity and detail, so it can be used to stream dialogue-sensitive content. The sound delivery is loud with no compressions and harmonic disturbances at the max volume, making it an outstanding choice for movie nights or parties.
Moreover, it can work as an alternative to mini home-theater speakers because the frequency range is decent, which keeps the sound quality intact even with the room-filling sound delivery.
Also, we find that voice-activated technology has your back in setup, switching connections, and controlling the device. We loved navigating the device, compared to others that only came with a remote.
Besides, many call it a plug-and-play soundbar for its easy setup via Bluetooth and Aux and easy control via remote control and voice Assistant. In short, you can turn to this soundbar if you want to enjoy crisp, loud, and thrilling sound under a certain budget.
Pros
• Multi-dimensional sound with DTS Virtual:X
• Built-in Bluetooth
• Wireless subwoofer for deep and heavy bass
• High and low-range frequencies
• Stylish and compact design

4. Vizio V51x-J6 Soundbar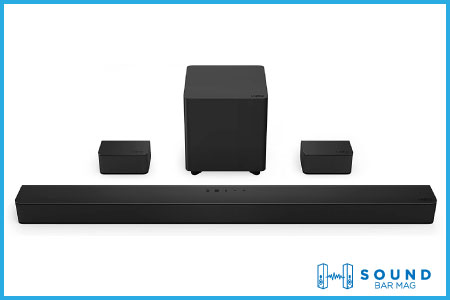 It is a premium addition to our Vizio soundbar list with a 5.1 channel configuration and powerful performance as we tested it with various digital media.
We liked the aesthetics as the soundbar is incredibly slim but wide due to the multiple driver integrations. It makes room for the full-range rear speakers, side-firing ones, and a center channel to turn your place into an entertainment hub.
It gives a lot of value to money with its soft, smooth, and beautifully crafted sound that goes well with every possible content you could stream online.
It also comes with a wireless subwoofer that delivers a powered thump and two satellite speakers that will blow your mind with solid sound. Besides, you can enjoy luxurious sound customization without any advanced adjustments with four different listening modes.
Though the soundbar design is stylish, the subwoofer may disturb you with the wired mess and placement. The bar can function individually, but you have to pair speakers with the subwoofer via a wired connection.
But the hassle will be worth it when you hear the rich and powerful sound with floor-shaking thumps. Also, thanks to the dedicated center channel, the dialogue delivery is stunning and insanely clear to understand the whispers.
It would turn the tables while streaming sports or playing games because it elevates the sound with every action. Also, connecting to the other devices was seamless with optical digital, AUX, and Bluetooth options.
The included remote control will take care of the necessary adjustments from the couch comfort. We loved the remote's handy profile and the smooth buttons.
Pros
• 5.1 speaker channels
• Sound clear and loud
• DTS TruVolume and DTS Virtual:X
• Listening modes
• Bluetooth 4.1

5. Vizio M21D-H8R Soundbar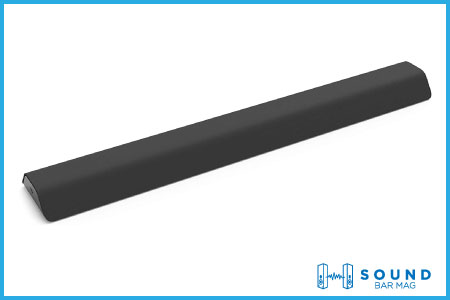 Enjoy the spectacular sound with a Vizio M21D-H8R soundbar that features six precisely designed speakers, including separate tweeters and woofers.
Its two-way speaker design is unusual but ensures next-level clarity and a broader soundstage when playing. We perceived that the soundbar was a decent choice for mixed usage.
It can get loud with a sound pressure of 98dB without compromising the sound quality. The audio delivery is maximum enough to fill the small to medium-sized rooms.
Besides, the Virtual: X technology ensures the sound bounce from floor to ceiling and fills the room with Virtualized 3D elevation.
Moreover, the soundbar looks decent with LED Display, a metallic grill at the front, and a few control buttons. Its size measurement is around 36inches, and the subwoofer felt powerful with a traditional design and a frequency response of 50Hz.
The soundbar and subwoofer connection is wireless, and the bar features Bluetooth to pair with external devices wirelessly. The Bluetooth range was static and long, and the signal strength was also worth noticing.
Besides, it contains HDMI, Analog, USB, Voice input, optical digital, and IR Receivers of up to 30 feet for smooth and seamless connections.
Pros
• 4K HDR Sound modification
• 2-way speaker design with built-in tweeters and woofers
• High-fidelity immersive sound
• DTS:X and Dolby TruSurround Sound
• Wireless connection

Cons
• Limited navigation options

6. VIZIO SB3621n-E8C Soundbar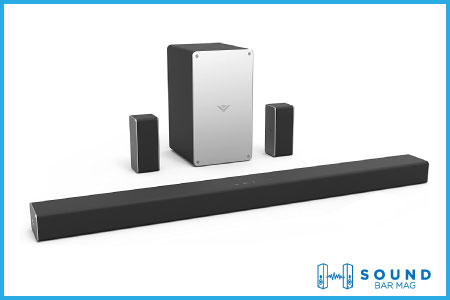 Vizio SB3621n-E8C is a 36-inches powerful soundbar under 100 with a wireless subwoofer and breathtaking sound performance that moves with the actions.
It is the best budget soundbar we have tested, with only a 2.1-channel configuration, immersive and crystal-clear dialogues, and booming bass. Unboxing the bar was fun, and revealing the low-key profile shocked us.
We liked the soundbar comes in flawless design with a few control buttons and is 36inches of standard size. It features Bluetooth to pair wirelessly and a couple of other inputs for the wired connection.
Besides, the built-in audio technology support of DTS Studio Sound, DTS TruSurround, DTS TruVolume, and Dolby Digital produces an expansive sound that delivers a compelling sound with a pressure level of 100 db.
It may be an entry-level soundbar with basic audio formats and other features, but its dialogue performance and potential to get loud with no harmonic distortion is noticeable.
The included remote control helps you with the walking navigation, and the insanely affordable price tag will surprise you with every beat it produces.
Therefore, we suggest you buy this best Vizio sound bar if your concern is getting beautiful stereo sound with weighty punches at the max volume for streaming podcasts, music, and movies.
Pros
• Striking sound
• Bass and treble adjustment via remote
• Decent profile
• DTS sound modes
• Wireless connectivity

7. Vizio M512a-H6 Soundbar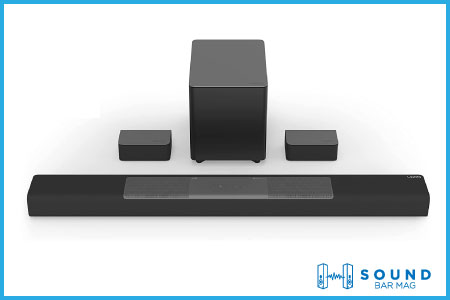 The M-series of the Vizio soundbar can be a game-changer as they are the perfect choice to enjoy a home theater experience. Vizio M512a-H6 may be the best budget soundbar for its features, channel configuration, and audio production.
The upward-firing speakers with Dolby Atmos and DTS: X technology take the music listening experience to the next level. While testing in the lab, it created the cinematic experience while throwing realistic sounds from every direction.
This technology combo is heaven for gamers and audiophiles like us who love to hear their favorites at maximum volume without compromising the audio output quality.
Surprisingly, every speaker accompanies a separate woofer and tweeter for a high-fidelity sound that elevates every content and delivers the sound accordingly. It promises to expand the soundstage with room-rattling lows and super-crisp highs, bringing electrifying realistic sound.
Apart from multi-dimensional sound, it has a lot more to offer, like wireless connectivity, an easy yet smooth setup, and multiple EQ presets for quick sound customization.
The included remote control helps you with the basic and advanced settings and navigation with a comfortable grip and stunning response. Besides, HDMI and ARC support receives the audio from the TV and delivers it in high quality with perfect synchronization.
Pros
• Sound moves with you
• Atmos and DTS:X
• HDMI ARC support
• User-friendly remote control
• Excellent sound performance with clarity

Cons
• No voice control system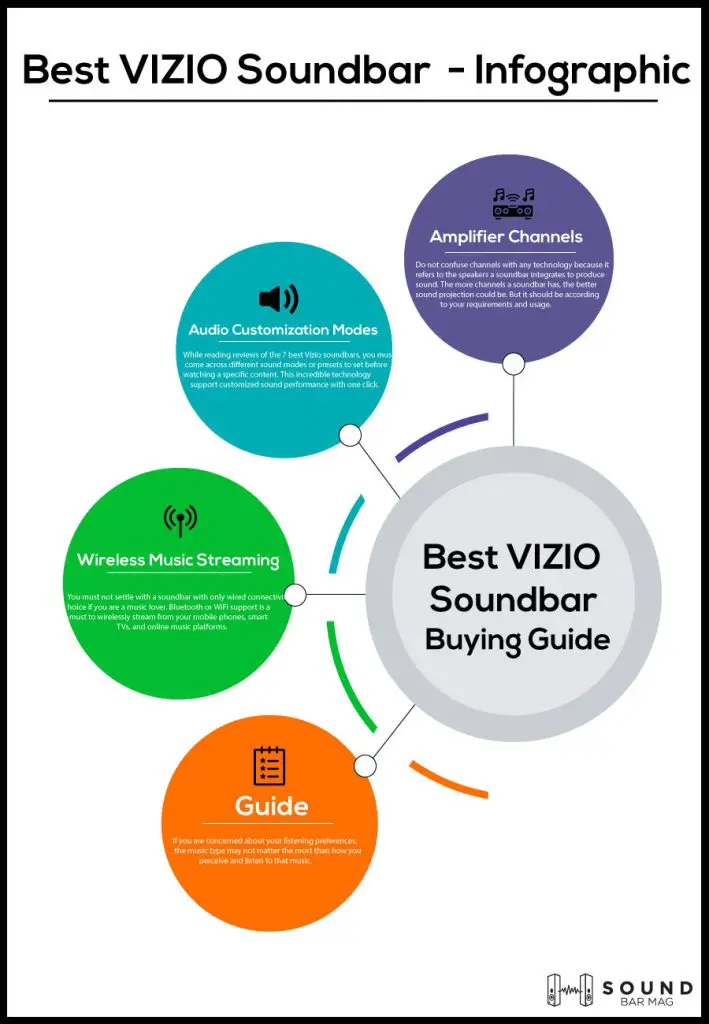 Best VIZIO Soundbar Buying Guide 2023
If you are concerned about your listening preferences, the music type may not matter the most than how you perceive and listen to that music.
A speaker comes into action because it is responsible for producing the sound while matching it with the content. Unfortunately, the TV speakers are not powerful enough to deliver quality sound for obvious reasons, and the traditional speakers would limit you with specific devices connection. Therefore, you need a reliable, durable, and powerful soundbar to satisfy your music listening craving while not burdening your pocket.
Many other music lovers believe that Vizio soundbars can make a huge difference and produce quality audio irrespective of the connected device and content playing. But, like other electronic devices, there is a certain process of buying a soundbar of your choice. Before getting the soundbar, let's discuss what you should consider and how we narrowed our research while adding the products.
Amplifier Channels
Do not confuse channels with any technology because it refers to the speakers a soundbar integrates to produce sound. The more channels a soundbar has, the better sound projection could be. But it should be according to your requirements and usage.
A soundbar for regular TV streaming and music listening can perfectly well with a 2.1ch system, containing full-range drivers and a built-in woofer. You can expect loud, clear, and crisp audio performance, even without dedicated channels for every purpose.
Many Vizio soundbars are compatible with S-Force Pro technology that elevates the sound quality and make it expansive for the virtual surround sound experience. However, if you want to go big with the sound volume and quality, you can invest in the 3.1 or even 5.1ch soundbar. These soundbars would further improve the vocal performance, bring deep and rich bass, and minimize the compressions at max volume.
In addition, the price also varies with the channel configuration system, so choose wisely and spend on the right product that gives you value in the long run.
Audio Customization Modes
While reading reviews of the 7 best Vizio soundbars, you must come across different sound modes or presets to set before watching a specific content. This incredible technology support customized sound performance with one click.
For example, if you set news preset, the soundbar would enhance the dialogue delivery while softening the background music for better understanding. And, when you set the soundbar for movies, sports, gaming, and music, it will wake up different channels that produce a loud sound, clear dialogues, balanced treble and bass, neutralizing the sound while displaying different content, etc.
It sounds exciting, but the experience will give you goosebumps. You may never find this tech in the regular speakers and TV sound system.
Wireless Music Streaming
You must not settle with a soundbar with only wired connectivity choice if you are a music lover. Bluetooth or WiFi support is a must to wirelessly stream from your mobile phones, smart TVs, and online music platforms.
Luckily, Bluetooth support is available even to entry-level soundbars to provide you with a smooth and immersive acoustic experience. Moreover, the Vizio soundbar also contains multiple input ports, including HDMI, USB, optical digital, and AUX, to pair gaming consoles, TVs, media players, etc.
Also read: Best Settings for VIZIO 5-1 Soundbar
Bottom Line
Choosing the Vizio soundbar can be time-consuming, considering many terrific models with impressive features and reasonable prices. But, to choose the one according to your requirements, you must know your purchasing purpose.
This article helps you with soundbar research if you have already decided to invest in the best Vizio soundbar. All of them are perfect for regular and mixed usage. So, they are worth making a deal.
Read also: Samsung Soundbar Equalizer Settings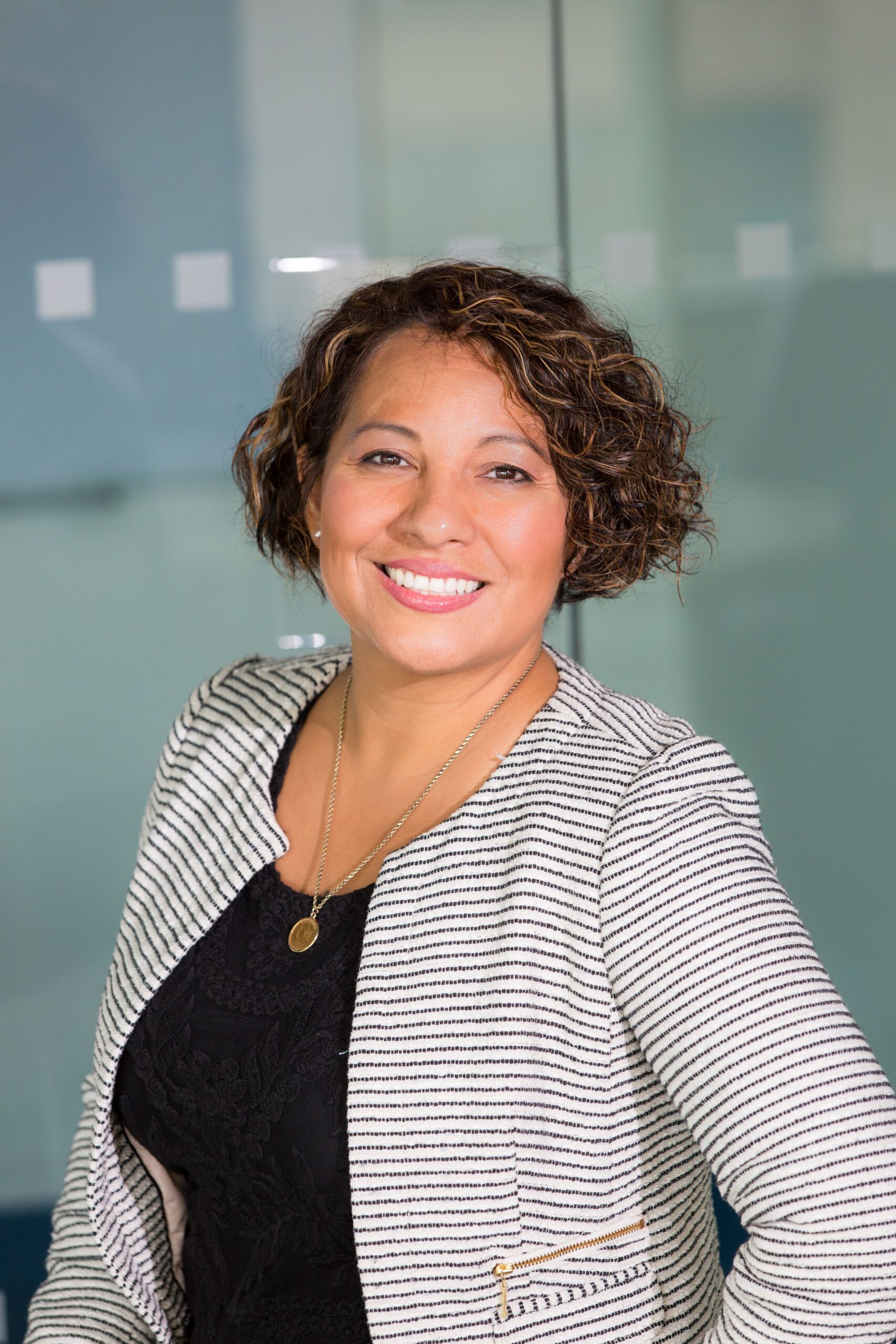 Mia Evelyn is a soundbar specialist and she love to test and review different soundbar brands. She shares her neutral and in-depth reviews through the Soundbar Mag.