Unlike me, are you tired of the awful sound quality of your TV's built-in speakers? Especially when binge-watching your favorite show on Netflix or Prime?
And, like me, do you want to experience immersive, high-quality, and crisp audio without breaking the bank?
If yes, then it's time I should reveal the secret of my uninterrupted entertainment hours. After trying many soundbar brands, I have been stuck with the Polk, and my experience is beyond incredible.
Yes, the best Polk soundbars are transforming the whole entertainment vibes with their sleek, compact speakers that offer premium sound quality, easy installation, and a wide range of exciting features to elevate your movie and music-listening experience.
Hence, in this article, I will discuss the top 5 Polk soundbars, comparing their performance, design, and value to help you choose the perfect addition to your home entertainment setup.
Let's get cooking.
1. Polk Audio Signa S2 Soundbar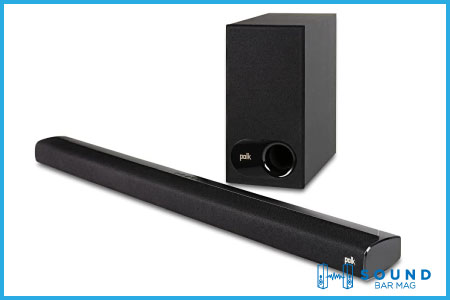 Polk Audio Signa S2 Soundbar Quick Overview
The Polk S2 with an external subwoofer provides an exceptional cable-free music-listening experience no matter what you stream and where. Bluetooth expands the compatibility, and the woofer widens the soundstage for unlimited fun.
The Polk Audio Signa S2 soundbar has been turning heads for its sleek design and compatibility with 4K HD TVs. The S2 is a terrific option for anyone upgrading their TV's sound system to stream their favorite content online. We enjoyed testing this soundbar and are excited to share our experience.
First, let's talk about the unboxing experience, which was pretty straightforward and mess-free. The soundbar arrived in a well-packaged box that included the soundbar, wireless subwoofer, remote control, and cables for connectivity. After admiring the sleek design, we tested the soundbar's performance.
Signa S2 is 35 inches long, making it an ideal size to mount under the TV in your living room. The soundbar's elegant design features a black finish that would probably blend with any home decor.
On the other hand, the wireless subwoofer is also designed with a space-saving design that can be placed anywhere and will expand the soundstage without needing a sweet spot.
The soundbar hosts five full-range speakers inside an adorable body. Each driver has separate tweeters, a phantom center channel, and a woofer that delivers bold sound output.
A 2-inch subwoofer takes care of the bass performance, which sets the overall vibe of the home theater. This channel configuration delivers a powerful, balanced sound perfect for movies and music. But we doubt it would perform well with dialogue-sensitive content.
Surprisingly, the bar supports multiple connectivity options, including Bluetooth, HDMI ARC, and optical audio. All input ports are well-placed and easily reachable from the rear panel.
The labels on each input eliminate confusion when connecting with external devices and setting configurations. The Bluetooth function is a lifesaver, allowing for quick pairing with several smart devices.
It also comes with a handy remote that makes controlling the device a breeze. The remote features intuitive buttons at the front for quickly managing the device, allowing for easy navigation of the soundbar's various functions.
In addition to managing the volume, you can also manage the bass performance of the subwoofer using this remote. You will find dedicated buttons at the front that save you time and hassle.
At last, the soundbar's performance is top-notch, even with the limited channel configuration. The soundbar delivers rich and powerful sound, reproducing bold, neat, and loud sound performance.
The Dolby Digital decoding minimizes voice delays, and Polk's Exclusive Voice adjust technology maximizes the clarity for exceptional crystal-clear dialogue performance.
The subwoofer works in harmony with the bar, throwing low-frequency notes where needed and raising the bar for digital music streaming.
The soundbar also supports virtual surround sound, creating an immersive audio experience that feels like you are in the middle of the action. If you are a game lover, this soundbar will boost your enthusiasm and give you a new dimension of enjoying intense games.
Main Features
Full-range drivers
80W power output
Bluetooth support
Voice adjust technology
Pros
· Elegant design
· Quick installation
· Easy navigation
· Wireless music streaming
· Wide compatibility

Verdict
The Polk Audio Signa S2 soundbar is a premium soundbar that promises an exceptional audio experience. Its sleek design and expansive compatibility with 4K HD TVs make it an excellent upgrade for your home theater system.
2. Polk MagniFi Mini AX Soundbar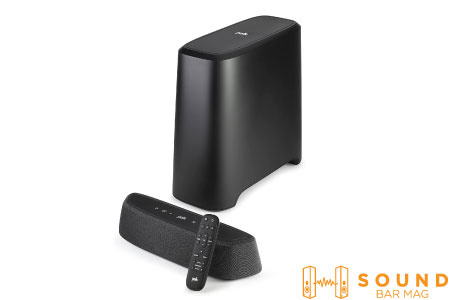 Polk MagniFi Mini AX Soundbar Quick Overview
Enjoy streaming your favorite digital media content with the Polk Audio MagniFi Mini AX, which features advanced engineering, modern and compact design, and technology that upscales your watching, gaming, and audio listening experience.
You may find it similar to its other sibling Polk MagniFi Mini, but there are some noticeable differences between them, from design to performance.
The Mini AX has a surprisingly compact design, but the modern aesthetic catches anyone's attention as it can be a valuable piece for the home décor while upgrading your TV speakers to enjoy the detailed sound quality of your favorite content.
Unboxing and setting up the soundbar, like other products we have tested from Polk, was a breeze. The unpacking process was simple, and everything came in excellent condition that we could set up in minutes.
The MagniFi Mini AX features different connectivity sources, including wired and wireless, to make a significant space in your home. It is versatile enough to pair with laptops, smart TVs, other speakers, consoles, and other digital devices via HDMI, optical, and Bluetooth.
Moreover, the WiFi connection opens doors to accessing online streaming channels to enjoy your subscription to Pandora, Spotify, Amazon, and other music channels with terrific sound quality.
In terms of performance, the Mini AXX gets a spotlight even with its other sibling. We tried it with various movies and TV shows, and the sound quality was great yet consistent.
However, we noticed some delays and confusion in dialogues until we enabled the Polk Voice to adjust technology that polishes the vocals and makes them sound more clear and more understandable even without a dedicated center channel.
Additionally, navigating the soundbar is no problem with the included remote control with all the buttons at the front with their respective labels to not waste time. It manages the soundbar and subwoofer, and the bass boost button can upscale the party with heavy bass punches.
So, enjoy the 3D soundstage with the built-in drivers and tweeters that fine-tune the audio quality for more impressive, detailed, and immersive sound performance.
Main Features
Advanced engineering
Solid and compelling construction
Modern aesthetics
Dialogue clarifying technology
Down-firing subwoofer
Dedicated center channel for dialogues
Pros
· Big and heavy sound delivery
· Flexible design
· WiFi, Airplay 2, and Chromecast support
· Atmos and DTS compatible
· Cinematic sound performance

Cons
· No voice control
· Subwoofer configuration is tricky

Verdict
The Polk MagniFi Mini AX is a great value for money if you want a simple sound solution to your everyday entertainment needs. You can trust the bar and subwoofer with its Voice Adjust technology, 3.1 configurations, and Atmos support for premium sound reproduction.
3. Polk Signa S3 Soundbar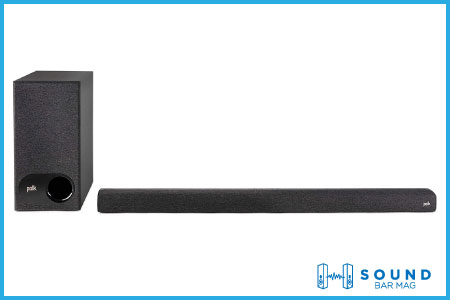 Polk Signa S3 Soundbar Quick Overview
Upgrade your home entertainment system with the ultra-slim and modern Polk Audio Signa S3. It is the perfect addition to your entertainment requirements with clear, crisp, loud, and balanced audio, wireless subwoofer, and easy connectivity.
As a first-time user of the Polk Audio Signa S3, I have to say that I'm thoroughly fascinated with this sleek and subtle sound system. It is one of the sleekest soundbars I have seen, and imagining it under my smart TV was like a dream come true.
First and foremost, the channel configuration on this soundbar is top-notch. With only two tweeters and two mid-range drivers, this soundbar delivers clear and balanced audio that really enhances your TV viewing experience.
And when combined with the wireless subwoofer, the bass response is surprisingly impressive, adding depth and richness to everything from dialogue to music.
Speaking of the subwoofer, I was pleasantly surprised by how easy it was to set up and connect wirelessly to the soundbar. It's compact, but don't let its size fool you – this little guy packs a serious bass punch that's probably enough to bang your house windows.
Moreover, I found that placing it on the floor near my TV added a nice touch of immersion to action-packed scenes and made me feel like I was right in the middle of the action.
In terms of performance, the Polk S3 really shines. I've watched everything from movies to TV shows to sports, and the sound quality has been consistently excellent.
Polk's famous Voice Adjust feature is especially handy, allowing you to customize the sound of voices to your liking. And if you're like me and enjoy listening to music through your TV, you'll appreciate the soundbar's Bluetooth connectivity, which makes it easy to pair your phone or tablet and stream your favorite tunes.
Setting up the soundbar was a breeze, thanks to the included optical cable and HDMI ARC input. The user interface is straightforward to navigate using the included remote, and the soundbar also has a handy "Night Mode" that reduces loud sounds for binge-watching something at night.
Therefore, It's a great value for the price and delivers top-notch sound quality that truly enhances my TV viewing experience. If you're looking for a soundbar that's easy to set up, performs well, and won't break the bank, try the Polk Audio Signa S3!
Main Features
Ultra-slim profile
Wireless subwoofer with heavy bass
WiFi and Bluetooth
Built-in Chromecast
Polk's Voice adjust tech
Works with voice control
Excellent sound quality
Pros
· Perfectly tuned drivers
· Loud and balanced audio
· Heavy and punchy bass performance
· HDMI ARC
· Wireless music streaming
· Easy and quick setup

Verdict
The Polk S3 is an excellent value for the price, delivering clear and balanced audio with a terrific depth of bass performance to elevate your TV-watching and music-streaming experience. It's easy to navigate, set up, and soft to the ears, no matter what you stream.
4. Polk Audio MagniFi Mini Home Theater Surround Sound Bar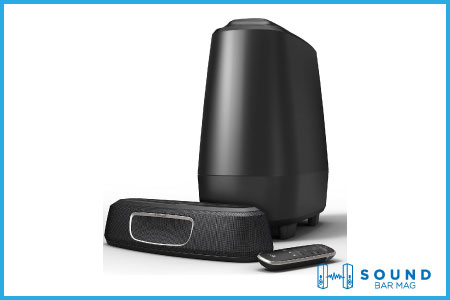 Polk Audio MagniFi Mini Quick Overview
The Polk Audio MagniFi Mini is a perfect getaway device for casual TV watching, parties, gaming nights, and movie weekends with its compact, flexible size and powerful sound output. It can make a valuable addition to any entertainment setup.
If you're craving a big and heavy sound from a mini or space-saving profile, then definitely get your hands on the Polk Audio Magnifi Mini bar.
As an avid fan of home theater systems, I was excited to get my hands on this unit, considering its unusual but super attractive design and loud volume levels. First things first, the soundbar design is sleek but quite modern that fits perfectly anywhere you set it.
The wireless subwoofer, which also features a compact profile, is a nice touch, providing flexibility in placement while still delivering powerful bass utilizing its built-in compelling bass driver.
In terms of connection input talk, the MagniFi Mini has vast options, including HDMI ARC, optical, and Bluetooth, making it easy to pair with TV, laptop, DVD/Blu-ray, gaming consoles, smartphones, and other entertainment devices.
I also appreciate a quick setup and navigation process that makes it a go-to choice whenever we want to catch up on something exciting, like the newly released album of our favorite singer or the most-awaited podcast episode.
In addition, the soundbar kit includes a remote for navigating the soundbar and giving you a great time managing the device. The remote gives you quick access to the soundbar functions, including sound modes, bass quality, volume, etc.
We particularly enjoyed the movie mode and the personalized audio it brings to us, with clear dialogues, loud volume, and perfect bass. Also, the Night mode reduces the volume for late-night viewing is another catching feature.
Anyways, the performance with the 5.1 channel system is thoroughly impressive. The surround sound technology delivers exceptional sound quality, and the dialogue clarity is top-notch.
Furthermore, it also features Polk's patented SDA (Stereo Dimensional Array) technology, which creates a wider soundstage, making the audio experience more immersive and dynamic for music streaming, gaming, and regular TV watching.
Main Features
Striking design
SDA technology
Different sound modes
Powerful bass with a subwoofer
Wireless connection support
Pros
· Flexible and space-saving
· Multiple drivers
· HDMI and Bluetooth
· Voice adjust tech
· Clear and loud sound
· Thumpy and rattling bass

Cons
· No WiFi
· Noticeable delays

Verdict
After spending a good time with the MagniFy, we highly recommend this unit from Polk technologies for all the obvious reasons. Its sleek and attractive design, intuitive navigation, and exceptional performance made us its absolute fan.
5. Polk Audio React Soundbar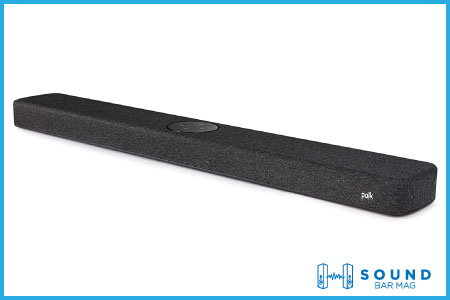 Polk Audio React Soundbar Quick Overview
Introducing the top-notch soundbar from Polk, designed to enhance your overall audio experience no matter what you stream on digital media channels. With powerful surround sound, Bluetooth, and clear or bold sound, immerse yourself in the dynamic audio.
At last, if you want a compact and lightweight soundbar with powerful audio capabilities, consider the Polk Audio React soundbar. A top-of-the-line soundbar can transform your home entertainment system with clear, crisp, loud, and balanced sound output.
The unboxing experience of the bar is straightforward, and the soundbar comes well-packaged, including a remote control, power cable, and HDMI cable. Providing the necessary cables to get it started is excellent and valuable.
When we talk about the design and overall appearance, the Audio React soundbar may be small, but it has a sleek and modern design that allows it to blend effortlessly into any home entertainment setup.
The channel system features two 25mm tweeters, two mid-range drivers, and a pair of 110 x 100mm passive radiators for bass. The full-range high-quality drivers are placed at the front, delivering front-facing sound to immerse you.
The bass performance is also satisfactory, and the balanced tuning takes all the points when watching TV, streaming country or jazz music, or being hooked to a podcast episode.
Moreover, the connectivity options include Bluetooth, USB, optical, and HDMI, making it easy to connect with various devices. The diverse range of wireless and wired connections makes the device versatile enough to pair with a variety of devices, including smartphones.
The Bluetooth range is mindblowing, and its instant pairing mode won't let you waste time enjoying your new favorite playlist. The cable-free experience of digital binge-streaming opens the door to wide entertainment.
The soundbar also features a remote control and built-in Alexa for voice control. The audio quality is powerful, clear, and detailed, making it an excellent choice for movie nights, streaming, gaming, or music enjoyment.
Overall, the Polk Audio React soundbar delivers an immersive and dynamic audio experience perfect for anyone wanting to elevate their entertainment experience.
Main Features
Surround sound system
Voice adjust technology
Bluetooth support
HDMI ARC
Digital and DTS decoding
Pros
· Excellent sound performance
· Thumpy bass
· Clear dialogues
· Wireless streaming
· Flexible profile

Cons
· Lack of Atmos
· No WiFi
· Limited HDMI inputs

Verdict
Overall, the Polk React soundbar delivers exceptionally well sound quality with customization options to ensure you receive surround sound to elevate your musical hearing experience.
Although lacking some advanced features, like Atmos, it still won't stop surprising you with personalized audio output and powerful bass quality.
Frequently Asked Questions (FAQs)
Are Polk soundbars good?
Polk soundbars, entry-level or premium, are generally considered an excellent choice for everyday digital streaming, offering a range of features and good sound quality for their price point.
Does Polk have Dolby Atmos?
Yes, some high-demanding Polk soundbars, like the S4, have Dolby Atmos, providing an immersive audio experience by creating a three-dimensional sound field.
What is the difference between Polk S2 and S4?
The key difference between the Polk S2 and S4 soundbars is that the S4 is a higher-end model with more advanced features, such as built-in Alexa voice control and a larger subwoofer for deeper bass. However, Polk S2 is an entry-level profile with strong audio output but limited features.
Bottom Line
After thorough research and analysis, I can safely conclude that Polk soundbars are among today's best options. The top 5 Polk soundbars we reviewed here have been tested and evaluated for their audio quality, design, features, and value for money.
Whether you're looking for a basic or entry-level soundbar to enhance your TV audio or a more advanced model with multiple connectivity options, Polk has a soundbar that can meet your needs.
Mia Evelyn is a soundbar specialist and she love to test and review different soundbar brands. She shares her neutral and in-depth reviews through the Soundbar Mag.