Are you searching for a powerful, high-quality soundbar to elevate your entertainment experience? Look no further than the Polk Audio React soundbar!
This sleek soundbar promises to deliver an immersive and dynamic audio experience that will transport you right into the heart of your favorite movies, TV shows, and music.
With its cutting-edge technology and impressive features, the Polk Audio React soundbar is sure to impress even the most discerning audio enthusiasts.
Whether you're hosting a movie night with friends, streaming your favorite shows, or simply enjoying your preferred tunes, this soundbar promises to take your audio experience to the next level.
So if you want a soundbar that can deliver an audio experience like no other, the Polk Audio React soundbar is definitely worth considering.
Stay tuned for our detailed review, where we'll dive deep into all the features and specs that make this sound bar a true standout in its class.
Polk Audio React Soundbar with Dolby & DTS Virtual Surround Sound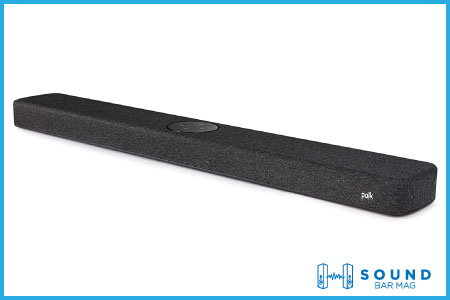 Unboxing the Polk Audio React
Unboxing the Polk Audio React soundbar is an experience in itself. The soundbar comes in a sleek and well-designed box, which immediately gives you a sense of the quality of the product inside.
The box itself is compact, which is great for those who don't have a lot of storage space. We didn't face the hassle of it weighing only 9.72 pounds but call for help if you need to handle it with care.
Once you open the box, you'll find the soundbar, remote control, power cable, and an HDMI cable neatly packed inside. The soundbar is wrapped in a protective cover, ensuring it remains in perfect condition during shipping.
The entire unboxing experience was quite straightforward, making it informal for anyone to get started with their new soundbar.
Size and Design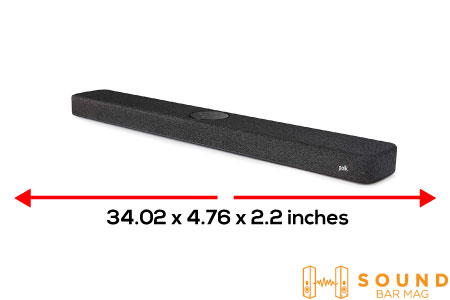 The Polk Audio React soundbar may be small in size, but it packs a powerful punch when it comes to its audio capabilities. This soundbar is the epitome of a compact and lightweight design, measuring just 34.02 x 4.76 x 2.2 inches and weighing only 9.24 pounds.
It's like having a superhero disguised in plain clothing. The Polk Audio React soundbar's unassuming size and shape allow it to blend seamlessly into any home entertainment setup without drawing attention away from the action on the screen.
But don't let its tiny and sleek stature fool you because the Polk Audio React soundbar is a true powerhouse regarding audio performance.
Its sleek and modern design is both functional and stylish, making it a flawless addition to any home entertainment system. Whether you have a minimalist living room or a more traditional setup, the Polk Audio React soundbar will complement your décor and impress your guests with its impressive audio performance.
Channel System
The Polk Audio React soundbar's channel system is truly something to marvel at. It features two 25mm tweeters, two mid-range drivers, and a pair of 110 x 100mm passive radiators for bass.
This soundbar delivers a rich and immersive audio experience that will bring your favorite movies, TV shows, and music to life.
The two 25mm tweeters are designed to deliver crystal-clear highs and a detailed soundstage, while the mid-range drivers provide a warm and natural sound that is sure to entertain even the most perceptive audiophiles.
And when it comes to bass, the Polk Audio React soundbar doesn't disappoint. The pair of 110 x 100mm passive radiators work together to deliver deep and powerful bass that will give your favorite action scenes an extra level of excitement.
Connectivity Sources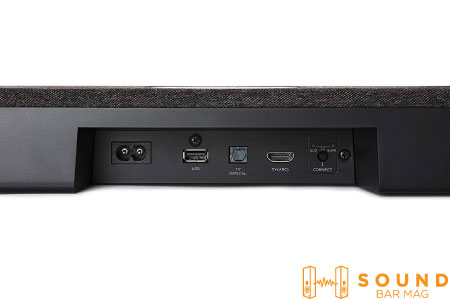 The Polk Audio React soundbar isn't just about impressive sound quality; it also boasts an impressive array of connectivity options that make it easy to use with a wide range of devices.
Whether you want to connect your smartphone, laptop, gaming console, or TV, the Polk Audio React soundbar has you covered.
One of the most versatile connectivity options is Bluetooth, which allows you to stream music wirelessly from your smartphone or tablet. That means that you can enjoy your favorite playlists without the hassle of wires and cables.
The soundbar also features USB connectivity, which makes it easy to connect your phone, tablet, or other USB-enabled devices.
In addition to Bluetooth and USB, the Polk Audio React soundbar also features optical and HDMI connectivity. Optical is a great option for those who want to connect their TV, while HDMI is ideal for gaming consoles, Blu-ray players, and other high-end devices.
The soundbar has HDMI input and output, which means you can connect it to your TV, and your TV can then connect to other devices via HDMI.
Control and Navigation
The Polk Audio React soundbar is designed for ease of use, and its navigation options are no exception. The soundbar comes with a remote control that allows you to adjust the volume, change the settings, and navigate between different sources.
The remote is user-friendly and intuitive, so you won't have to devote much time to figuring out how to use it.
In addition to the remote control, the Polk soundbar also has built-in Alexa. That means you can control the soundbar using your voice without needing a separate device.
With Alexa, you can play music, adjust the volume, and even control your smart home devices with simple voice commands.
Sound Performance
But what sets the Polk Audio React soundbar apart from other soundbars on the market?
The loud, detailed, clear, and powerful sound delivery!
Whether watching a suspenseful thriller or listening to your favorite music, the Polk Audio React soundbar's channel system promises to deliver a truly immersive audio experience.
And with its advanced audio processing, you can be sure that every note, every word, and every sound effect will be delivered with the utmost clarity and precision.
Moreover, the React soundbar delivers exceptional sound performance, especially when it comes to Dolby Digital content. Dolby Digital is a popular surround sound format used in many movies and TV shows, and the Polk is specifically designed to take advantage of this format.
Pros
· Low-profile design
· Realistic and lifelike sound
· Crisp dialogues
· Reasonable bass
· Voice adjust tech
· Dolby Digital decoding
· Alexa built-in
· Multiroom music

Cons
· Bass could be better
· Distortion at max vol

Bottom Line
Hence considering all the qualities, stunning sound performance even with limited channel configuration, and smart features, the Polk react soundbar is set to make history and deliver an outstanding digital streaming experience to its listeners.
Invest in the soundbar now and watch for yourself.
Mia Evelyn is a soundbar specialist and she love to test and review different soundbar brands. She shares her neutral and in-depth reviews through the Soundbar Mag.