Most TVs offer decent audio quality, but if you want to experience cinematic 360 sound, you must invest in the home theater sound system.
However, setting up a home theater isn't easy as it sounds. Besides a hefty, dedicated space, you will need a decent amount to get your hands on it.
Therefore, we decided to surprise you with the best soundbar for home theater that produces quality, loud, and clear sound that will be close to home theater quality.
They are super affordable, easy to set up, and have different connectivity sources to pair multiple devices simultaneously. So, let's explore the details of the 7 home theater soundbars.
List of the Best Soundbar for Home Theater in 2023
1. Q Acoustics M4 Soundbar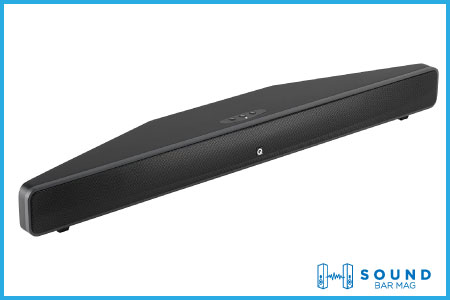 Q Acoustics M4 made it to the best home theater soundbar list for its capability of producing high-resolution and loud audio without ruining the dialogue clarity.
The soundbar may have a slim profile, but it contains two full-range drivers at the front that produce quality sound, and a woofer keeps the frequency extension low to add depth to the bass.
Hence, it is a complete sound system at an affordable range that will be a premium piece as an alternative to the home theater setup.
Installation and setting up the device are hassle-free with power and optical digital cable. We found the power cord in the box while unboxing and the user manual for quick setup.
The flared shape profile helps with mounting on the wall while giving you enough room to reach the cable input ports. We were impressed with the handy profile and catching appearance.
M4 is also Bluetooth compatible, which lets you enjoy wireless music streaming from your smart devices. It has a surprisingly long and stable range, and its clear and loud sound instantly fills the room and disperses in a wide area,giving us goosebumps.
Unfortunately, the soundbar doesn't offer other demanding features or sound effect support. But its easy-to-use profile, less power consumption ability, and rich connectivity make it a suitable choice for regular use for mixed content.
Pros
• Multiple connectivity inputs
• Built-in subwoofer
• Advanced BMR speakers
• Loud and powerful audio output

2. Sonos Beam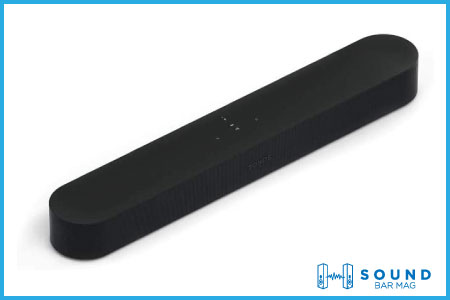 Sonos is a huge name in the soundbar industry and has maintained its reputation by launching incredible products; Sonos Beam is no exception.
It is a soundbar designed for smart TVs or home theater setups with superior audio output and many impressive features. We enjoyed using this user-friendly model, which was a noticeable upgrade to traditional speakers.
It would hardly take 2 minutes to understand this 25.6-inches soundbar and make a play to enjoy the high-definition sound quality. The bar is compact and gets a nice or decent profile in black.
Setting up is also a walk in the park with Alexa built-in and Google assistant and connectivity sources at the back panel. The voice assistant support helps control other smart devices at home and makes it interlink with them.
The sound quality is insanely better, and it is all set to compete with the high-end soundbars with its crystal-clear dialogues, fine-tuning, and balanced treble, even in the fast-action scenes.
The soundbar gets loud, and there will be hardly any harmonic distortion at every volume level, so this is another surprise. We also noticed the dialogues getting better and clear on different volume levels.
It also features a built-in optimal speech enhancement function that further polishes the pronunciation and makes it better for understanding.
Also, Dolby Atmos compatibility is coming your way with the latest version of Sonos Beam that creates a 360 soundstage, making it the perfect home theater soundbar.
Pros
• Excellent sound quality
• Crystal clear dialogues
• Speech enhancement function
• Voice assistant support

Cons
• Struggles with deep bass

3. Samsung HW-Q950A 11.1.4ch Soundbar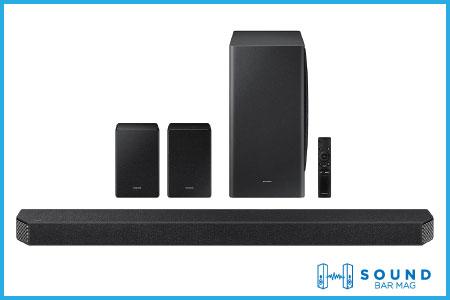 Samsung HW-Q950A is our premium pick with an 11.1.4 system support, wireless subwoofer, surround speakers, and advanced sound effects. Unboxing this entire system was fun, and linking them to each other gave us a theater-like experience.
We all need a soundbar in our homes if planning to set up a home theater, and this unit matches all the requirements within an affordable price range. Not only from the appearance and number of pieces, but the sound quality was also unmatchable.
The soundbar has a flat panel with edgy sides and a black plastic-like coating wrapped around it. The built material is classic, making it stand out to complement the home décor.
Besides, setting up, pairing with other devices, and controlling is a piece of cake with Alexa built-in. The voice control assistant picked up the commands and responded to them instantly, and we were impressed by this technology.
The sound travels in all directions with Dolby Atmos support, and DTS maintains clarity while levelling up the volume, and there are hardly any voice delays to notice.
The soundbar automatically calibrates the sound or tones according to the space and makes it more immersive to listen to. It gets more exciting while gaming or listening to pop music at full volume.
HW-Q950A offers multiple options for connectivity, including HDMI, Wi-Fi, optical digital, and Bluetooth. Since it is iOS ready, you wouldn't face the hassle of making it run or accessing the built-in functions for greater convenience.
Moreover, the wireless subwoofer delivers great bass, and the rear speakers help with enjoying rich sound while pushing the soundbar to its height levels.
Hence, it is a complete entertainment package for your house to enjoy the cinematic sound without stepping out of your comfort space. It offers much more than stated here, so giving it a shot wouldn't disappoint you.
Pros
• Great stereo dynamics
• Emphasized voices for clarity
• Wireless connections
• Voice assistant
• Airplay2 support

Cons
• Q-Symphony doesn't work with old QLED versions

4. JBL Bar 3.1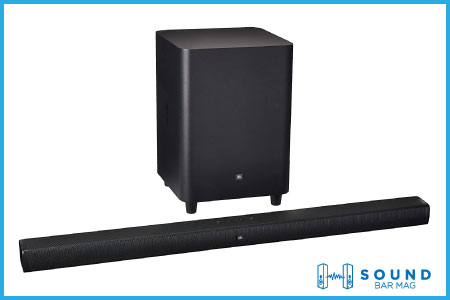 JBL Bar 3.1 gives life to movies and shows with its realistic sound reproduction capability. It's a wholesome flat soundbar with a wireless subwoofer with a frequency response of 35Hz to 20kHz, enough to cater to a large audience.
The 43.03-inch soundbar sounds pretty big, but it wasn't when we unboxed and handled it to set it up. It houses full-range speakers, a center channel, and a dedicated tweeter and woofer.
The woofer produces rich bass, but the wireless subwoofer sounds so much better and takes care of low-frequency extension to add some extra depth to the bass.
Installing and setting up JBL Bar 3.1 is not complex with remote control. Though it doesn't have many features or advanced sound effects support, the built-in speakers deliver decent audio with much clarity and detail.
Also, the slim profile is easy to adjust under the TV or mount on the wall using the given brackets. We were happy with the instant navigation system and its flexible profile to use in living rooms while mounting.
Additionally, Surround sound, and Dolby Digital support let you immerse in the music, gaming, or movies with quality audio and no harmonic distortion at any volume level. Bluetooth connectivity helps with convenient pairing, but the HDMI ARC input allows streaming 4K content with accurate sound.
JBL Bar 3.1 clearly raised the bar for soundbars by being entry-level and producing 450W power output. If it manages to update with sound effects, voice support, or other additional features to complement the smart lifestyle, it will rule the soundbar industry in no time.
Pros
• Elegant design
• Rich bass
• No harmonic distortion
• Surround sound
• Bluetooth enabled

Cons
• Lack of sound effect support

5. Bose Smart Soundbar 900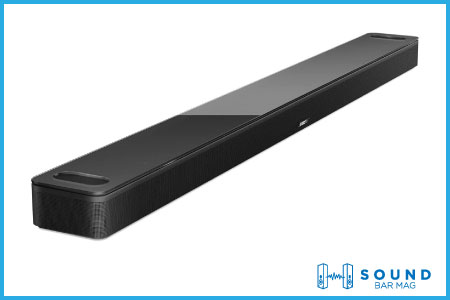 Bose Soundbar 900 is one of the few smart soundbar productions of the brand. Still, considering its specs and terrific audio quality, it is worth every penny to enjoy a home theater experience.
It has an elegant design with a dual-colour palette at the top panel and a metallic grille at the front. We liked the attractive profile, which is reasonable to set in living or cinema rooms, and powerful enough to handle high-frequency ranges.
Also, the sleek design will easily adjust under your TV, and a built-in Bluetooth allows seamless pairing with smart devices. We checked the Bluetooth connectivity and liked the signal strength as well as the device switching.
The bar also integrates a voice control system, and its performance is worth mentioning. Upon enabling it from the remote, Alexa voice support helps with hands-free browsing, controlling, and maintaining the device.
Bose launched this smart soundbar by integrating six full-range drivers, a center tweeter, and height channels with Dolby Atmos support. The sound effect enriches the audio quality and makes it multidirectional for immersive listening.
Moreover, the dialogue clarity is impeccable, and it gets loud without any noticeable compressions. We examined it with news, podcasts, and shows; it was insanely better. So, it is definitely the recommended soundbar for home theater for us.
The soundbar also has multiple connectivity inputs at the back panel, including HDMI ARC and optical digital. We recommend using HDMI ARC over Bluetooth while using the TV for more stability and better listening.
Hence, Bose Smart Soundbar 900 has everything you need in a regular soundbar that doesn't burden your pockets and does the job with absolute perfection.
The smart features make it the best-selling in the market, and crisp, loud, or well-balanced sound delivery makes you enjoy every bit of the digital content.
Pros
• Voice assistant
• Loud sound
• Great clarity
• Dialogue mode
• Multiple connections
• Dolby Atmos

6. Sony HT-A7000 Soundbar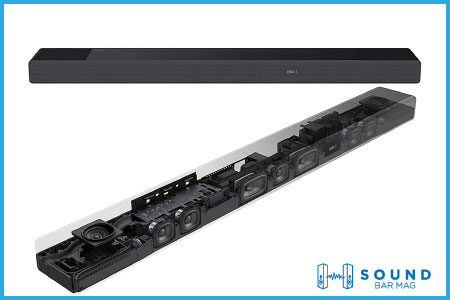 Sony makes outstanding soundbars that go well for occasions, regular TV streaming, music listening, and gaming. After unboxing and setting it up in our testing facility, we examined the bar with a diversity of content.
From Sony's wide collection of superior soundbars, HT-A7000 is no exception, with a 7.1.2 channel system and 500W power output. It was powerful and loud enough to shake us with vibrations and strong musical notes.
Besides, it is a sleek, one-unit soundbar that entertains many speakers at the front, left or right, center, and top panels (height channels). It also defines the sound, and the center channel works hard to isolate the dialogues from tunes and background noises for absolutely clear pronunciation.
The height channels are compatible with Dolby Atmos and DTS: X effects that give speakers premium direction and make the sound delivery richer, and we felt it with classical, country, rock, and pop music.
The soundbar with built-in Google Assistant and Alexa gives you the comfort of usage, making everything available on your voice command. The soundbar can connect to other smart devices using Alexa support and wireless connection technology, including Wi-Fi and Bluetooth.
The soundbar produces spacious, Mapping 360 sound that instantly fills the room and punches you with deep bass. The heart-pounding bass from two built-in subwoofers doubles the fun of music listening.
Besides, the vertical surround engine and room calibration customize the sound according to the environment, making you more immersed in the content.
Pros
• Wider soundstage
• Dolby Atmos and DTS
• Vertical surround engine
• Built-in dual subwoofer
• Voice assistants

Cons
• Atmos struggles at max volume

7. LG SP11RA 7.1.4ch Soundbar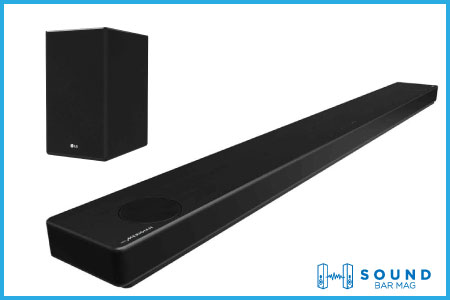 Enjoy listening to high-resolution audio with an LG SP11RA 7.1.4ch soundbar with Dolby Atmos, smart features, and an attractive design. It is a complete bundle of entertainment that creates better sound with surround speakers and a subwoofer to deliver luxurious audio output.
LG features a maximum power output of 770W, and the sound depth goes to 24 bits, which is not surprising for the high-end premium soundbar. It gets insanely loud, as we checked with a diversity of content.
But we liked the well-balanced audio delivery with LG AI Sound Pro technology. Besides, many speakers present on every side of the soundbar create a wide soundstage, making it worthy of setting as a home theater.
The height channels are compatible with Dolby Atmos and DTS: X, which polishes the sound and makes it more detailed, loud, and dimensional, so the audience feels sound coming from different directions.
The loudness and clarity-maintaining capability are exceptional. It is a decent soundbar for mixed usage, considering the style to fix in the living room and powerful audio output.
The design and build quality are also worth mentioning. It is solid enough to last life but has a limited warranty to face any unexpected damages.
It may be a little expensive and lacks voice assistant support, but the LG magic remote helps easily control and manage volume from the couch comfort. Connectivity is also rich enough with HDMI and Bluetooth.
Hence, it is a great option if you have a budget and space to welcome it.
Pros
• High-definition audio
• Great audio depth
• High-frequency range
• LG AI Sound Pro
• Dolby Atmos and DTS

Cons
• No voice assistant
• A little expensive

Best Home Theater Soundbar Buying Guide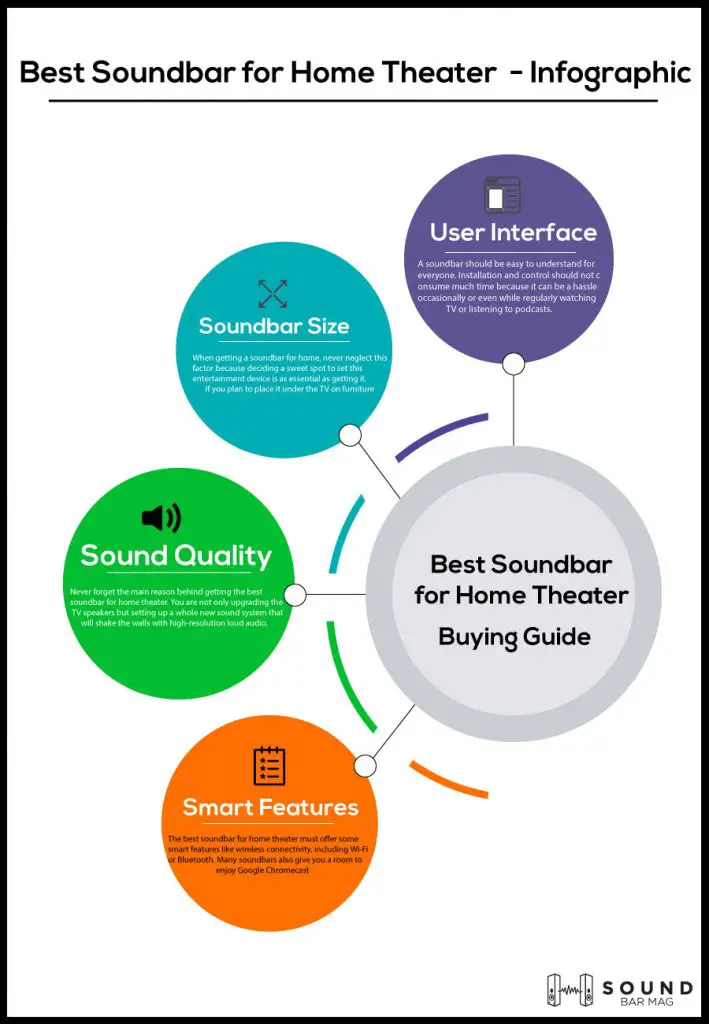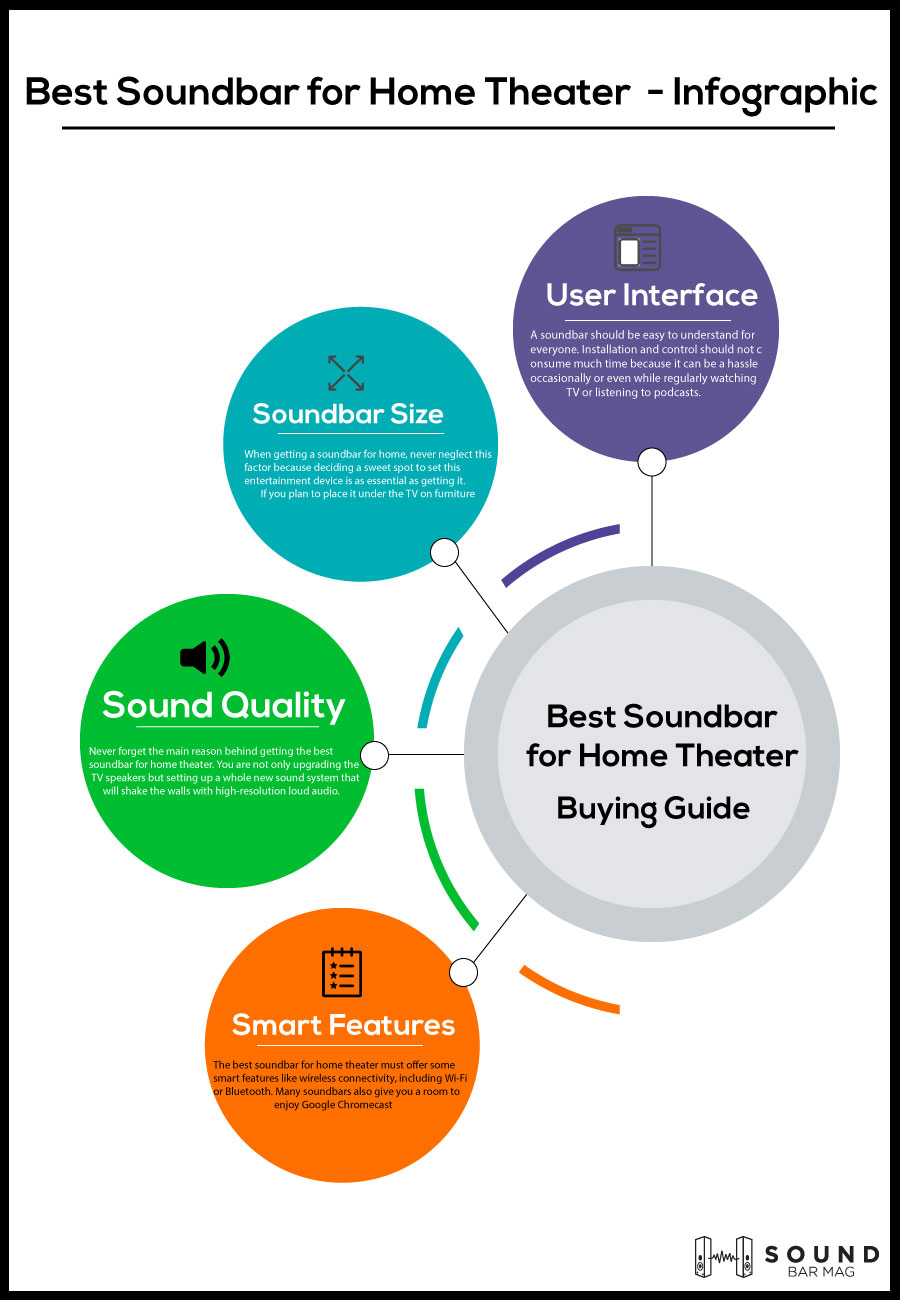 A soundbar with a high channel system is ideal for setting home theater, but a 3.1 or any entry-level soundbar with powerful sound output can surprise you with rich audio delivery. We have mentioned from 3.1 to 7.1.4 soundbars with an interesting set of specs that makes a unique soundbar but leave you in confusion at the same time.
So, let's quickly highlight some important features that you should consider before getting a soundbar for a home theater. Because it is not always about channel configuration, but many other things work together to make a reliable soundbar.
Management/User Interface
A soundbar should be easy to understand for everyone. Installation and control should not consume much time because it can be a hassle occasionally or even while regularly watching TV or listening to podcasts.
We have mentioned soundbars with a magic remote or show support to the typical TV remote for easy access. Besides, many smart soundbars feature built-in voice assistant support with Alexa or Google Assistant, so managing volume or switching channels is just your voice command away.
Soundbar Size/Weight
When getting a soundbar for home, never neglect this factor because deciding a sweet spot to set this entertainment device is as essential as getting it. If you plan to place it under the TV on furniture, ensure it is not much heavy or taller to disturb the IR.
In other cases, if your soundbar features wall mounting brackets, fix it in the ideal place where it performs at its full potential, complements the room, and makes it easy to connect with other devices via wired connections.
Sound Quality
Never forget the main reason behind getting the best home theater soundbar. You are not only upgrading the TV speakers but setting up a whole new sound system that will shake the walls with high-resolution loud audio.
It will be a completely different experience if you are a newbie, so invest much time and thoughts before getting one. The sound quality should be rich, spacious, and crisp, and there should be no compromise on the vocal clarity.
Ensure the volume gets insanely high without any noticeable distortions or compressions. The clarity also shouldn't be compromised on the max volume.
Many soundbars feature Dolby Atmos and DTS: X technology, which is a bonus point and very impressive for the home theater. It further enriches the sound, makes it multi directional, and eliminates any disturbing audio component effects.
Smart Features
The best sound bar for home theater must offer some smart features like wireless connectivity, including Wi-Fi or Bluetooth. Many soundbars also give you a room to enjoy Google Chromecast, Spotify, or Apple Airplay 2 playlists without connecting any external device, so it is a premium point.
Voice assistant support, room calibration, and sound customization feature are also smart enough to complement the experience.
Frequently Asked Questions (FAQs)
What is the best soundbar for home theater?
 Samsung HW-Q950A is the premium choice for home theater with an 11.1.4 system, maximum power output, height channels compatibility with Dolby Atmos, and wireless connectivity technology. It is a complete entertainment setup with a simple interface and exciting features.
Which is the best soundbar for home?
Bose smart soundbar 900 is a decent soundbar for mixed usage containing six full-range drivers and wireless connection support to be the best soundbar for the home. It is a reasonable upgrade to the TV speakers, and smart features make it interesting to use.
Is a home Theater better than a soundbar?
Home theatre is quite expensive and requires a huge, dedicated space to fix and perform. However, a soundbar, which is ten times affordable and easy to use, can perform most likely the home theater setups without costing a fortune.
Bottom Line
A soundbar for home theater does not limit your use of the sound system at home, but you can turn movie nights with friends or outdoor birthday parties a blast by connecting this powerful device.
It sounds heavy and clear, so that it can be a great speaker piece for background entertainment. Connectivity and setups are a piece of cake, so choose the one that best suits your requirements and enjoy the high-quality cinematic sound performance.
Mia Evelyn is a soundbar specialist and she love to test and review different soundbar brands. She shares her neutral and in-depth reviews through the Soundbar Mag.