When we hear the word home theatre, the collection of huge speakers that consume space and get heavy on our pockets pops up in our minds.
However, the Soundbars are relatively compact and include multiple speakers to provide rich, realistic, and clear sound. Soundbars are ten times better than TVs' built-in speakers, especially with the support of advanced audio format technology, like Dolby Atmos and DTS.
Thankfully, you can rely on this space-saving device for mixed audio listening, like TV streaming, catching up on documentaries, or online music listening with weighty bass and next-level clarity.
Therefore, we have tested and reviewed some cheapest Dolby Atmos soundbars that deliver room-filling sound clarity with easy setup and rich connectivity.
So, let's explore the top Soundbars with Dolby Atmos and get the right fit for your home theatre setup.
List of the Best Cheapest Dolby Atmos Soundbar in 2023
1. TCL Alto 8i Soundbar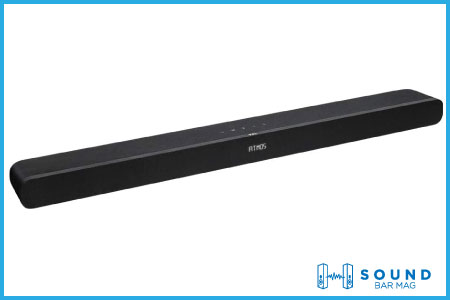 TCL Alto 8i could be an excellent soundbar for mixed usage. It can fill up the room with rich volume and heavy bass while listening to pop, country, and rock music, delivering warm sound clarity while streaming movies.
Despite being only a 2.1 channel setup, this entry-level soundbar surprised us big time since it integrates Dolby Atmos format support to get wild. Our entire space filled up with loud sounds in no time.
Also, installing the device is not a hassle as it features easy setup and pairing via optical digital output, HDMI output, HDMI input, HDMI ARC, Analog, and USB input.
The lack of Ethernet port input is a little disappointing, but it will offer multiple options to connect smart devices.
In addition, the soundbar also lets you optimize the sound performance according to the content, especially when connecting to the TV. It comes with three EQ settings that are easy to manage through the included remote control.
The soundbar also allows customizing sound profiles and getting the sound performance according to your listening taste. Apart from treble and bass adjustment, you can also enhance the audio output quality using Dolby Virtual sound mode. It boosts the audio frequency while maintaining clarity and depth in the content.
Moreover, TCL Alto 8i houses front-firing speakers that bounce the audio off the ceiling and back down to the listener, ensuring the sound comes from different angles. However, it doesn't have a dedicated center channel, so it uses left and right speakers to perform at the center, resulting in average dialogue delivery in the sensitive content.
Also, the sound sometimes gets muddy at the max volume, inviting annoying distortion. We mostly experienced it with gaming or bass-heavy content.
Overall, considering the basic design, connectivity, and 3D sound performance, it is the cheapest Dolby Atmos Soundbar worth connecting to your TV.
Pros
• Rich and wide soundstage
• Built-in dual woofers
• Bass and treble adjustments
• HDMI ARC support
• Average dialogue delivery

Cons
• Dialogue delivery could be better

2. Polk Audio Signa S2 Soundbar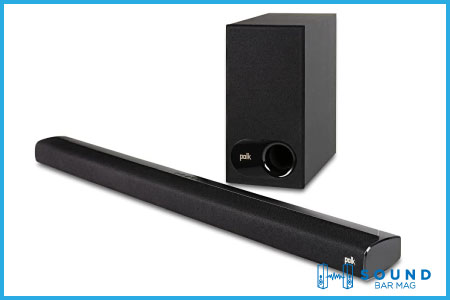 Polk Audio S2 is a decent and affordable 2.1-channel soundbar for mixed usage, coming with wireless pairing and a subwoofer to enhance the listening experience.
Setting up the device is a piece of cake, especially with the wireless pairing that gives enough freedom to pair smartphones and organize party vibes. We loved not to mess with cables, so it was our guy.
With a height of only 2.1 inches, it is a perfect device to sit under the TV as there is no chance of blocking the IR. Besides, the subtle design with matte finishing has nothing much to offer except the booming sound that offers a frequency response from 45Hz to 20kHz.
This frequency was enough to catch the audience's attention, as it was loud and thundering when we tested it with the diversity of music.
Also, the high-frequency dual drivers certified with Dolby Atmos technology deliver an expansive sound technology while optimizing the sound according to  content playing.
Also, the wireless connectivity with Bluetooth and wired options of HDMI, Analog, and optical digital outputs are noticeable, making the device always ready to perform.
Above all, the wireless subwoofer produces good bass but can get overwhelmed at certain levels. But we did some tricks and adjusted its performance to align with our content, which was great.
Moreover, apart from the fantastic Bluetooth range and easy setup, the soundbar with Dolby Atmos can entertain you with warm music while watching the news or movies. Though it can get loud enough, but better not to use it for crowded parties as the distortion at max volume is real.
Pros
• 2.1 channel
• Gets loud enough
• Smooth and stable sound production
• Wireless subwoofer for reasonable bass
• Wireless pairing

3. Polk Audio MagniFi Soundbar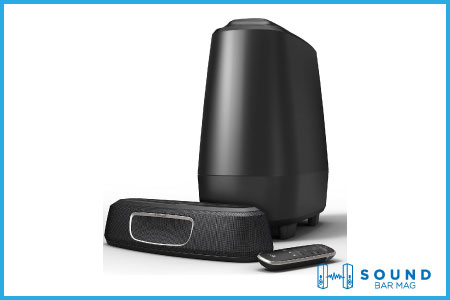 Polk Audio Magnifi 2.1ch is the perfect alternative to the home theatre setup with excellent features and quick connectivity. We loved unboxing the device and setting it in our testing lab for examination. It was super handy.
Yes, we realized it is a compact soundbar, measuring 13-inches wide and three inches high, but delivers heavy sound that you can't even imagine. 
The plastic quality of the mini soundbar is not bad, and the design with LED light indicators at the front is exciting. Whenever you change the volume or customize settings, they blink and let you monitor the functionality.
Besides, the Soundbar design doesn't allow wall mounting, but it can be placed on a shelf, and the wireless subwoofer can rest on the floor. The placement was also not a hassle, and the compact profile would adjust anywhere easily.
The mini soundbar houses two tweeters and four 2.2-inch drivers, whereas the subwoofer includes a downward-facing driver that produces rich and detailed bass.
All the built-in drivers deliver high-resolution audio with somewhat clarity for the immersive listening experience. However, the lack of a dedicated center channel may cause a struggle with accurate dialogue delivery.
On the upside, we found a hidden dialogue enhancement feature which was quite helpful when we made it up for news and TV shows.
We loved how the MagniFi Mini Soundbar allows connecting to different devices via multiple mediums, including wired and wireless. It includes optical digital output, HDMI, and Analog ports to connect TV, monitors, or Blu-ray players.
To our surprise, the Ethernet port is also available to get a stable internet connection for online music streaming since Google Cast streaming is supported with WiFi or Bluetooth.
The installation and setup of the device are pretty smooth, and the remote control with the necessary buttons at the top is like the icing on the cake. The button lets us adjust bass and treble while switching to the connections.
So, if you are right with the budget and willing to experience a home theatre setup, get the Polk Audio MagniFi portable Soundbar and get the rich soundstage.
Pros
• High-resolution audio quality
• Clear vocals
• Weighty bass with wireless subwoofer
• Handy remote

Cons
• Treble is quite harsh
• No dedicated app for controlling

4. TCL Alto 9+ Soundbar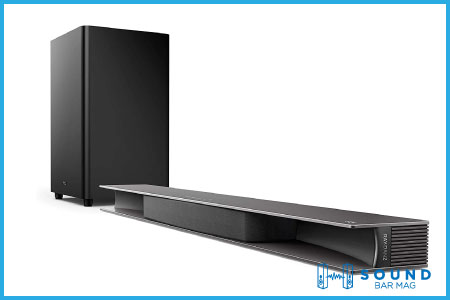 TCL Alto 9+ is a 3.1 ch Soundbar, a thoughtful upgrade to the previous 8i model. It is designed to enhance the music listening experience with crisp and clear audio output, and the dialogue clarity is also noticeable.
The soundbar has many exciting features, like lots of wired and wireless connectivity options. We love this quality because many people pair gaming consoles, smartphones, and Blu-ray players to make their TVs and systems all-rounder.
We also like the build quality and low-key profile of the bar. The front of the bar is subtle, but all the ports are available at the back. Above all, controlling the device is also seamless with a Roku TV remote since the soundbar is explicitly designed for smart TVs to upgrade their speakers.
Moreover, all the built-in drivers are Dolby Atmos-certified, meaning there will be a room-filling yet thrilling sound that feels like it is coming from all directions.
The technology delivers powered audio that bounces off the ceiling and reaches down to the user, making them feel immersive with the content. Besides, the soundbar is powered by TCL RAY-DANZ technology that claims to generate a wide soundstage for a surround sound experience.
Also, the 3.1 channel configuration brings a dedicated center channel that delivers impressive performance. Whether you stream action movies or play pop music with a heavy background, you will clearly and accurately hear every spoken word. The dialogue enhancement features further let you adjust the dialogue clarity according to your conditions.
Above all, TCL Alto 9+ elevates the sound quality by optimizing the content played. It features multiple EQ presets that adjust the audio performance with bass and treble formats.
However, despite its low-profile design, the bass production is satisfactory and reasonable at this price.
Pros
• Expansive sound details
• Multiple connections
• EQ presets
• Dialogue enhancement

Cons
• It can not get very loud

5. Sony HTX8500 Soundbar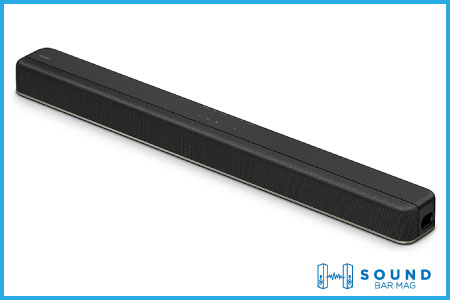 Sony HT-X8500 is an entry-level soundbar with a 2.1 channel configuration but can be a thoughtful upgrade to your existing speakers. It has a subtle design that houses speakers and dual subwoofers to save space and get wild altogether.
Also, the Sony S-Force Pro technology makes the soundbar stand apart with immersive sound performance, making it worth using for music streaming.
Unlike other affordable soundbars, Sony HT-X8500 offers Dolby Atmos support that enriches the audio output while maintaining clarity. However, despite dual subwoofers included in the bar, we didn't experience serious rumble in the low bass with heavy bass music.
Moreover, the installation and operation of the soundbar are seamless for us. The design also has nothing to offer as it is covered with a metal grill on the plain body.
The 2.5-inches height makes the soundbar perfect for placing underneath the TV. Also, the device's rear panel includes all the connectivity ports, including optical digital, HDMI ARC, and HDMI input/out. However, the lack of USB and Ethernet is a shame.
Considering it's a 2.1-channel setup, it does not have a dedicated center channel for dialogue. Yet, the vocal enhancement features isolate the spoken word from the background noise and make it understandable.
We didn't struggle to hear the dialogues or lyrics when streaming news or slow music. However, it might struggle with heavy sounds at max volumes.
Surprisingly, despite the affordable price tag, the space-saving soundbar supports different audio formats, like eARC, Dolby Digital, Dolby Atmos, DTS, DTS-HD MA, etc., for virtual sound performance.
Pros
• Compact and elegant design
• Colby Atmos and DTS compatibility
• Vocal enhancement feature
• Integrated dual subwoofers

Cons
• Lack of wireless connection
• No USB

6. LG SPD75A Soundbar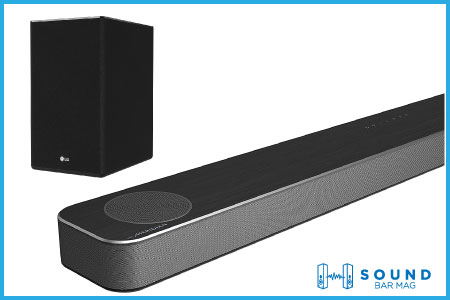 LG SPD7Y is the latest addition to the vast product line of LG Soundbars. It features many exciting qualities that make it stand out among its rivals, especially at this price.
The best thing about the soundbar is its potential to get loud without distortion and glitching, giving you smooth music listening no matter what device you connect.
It is a 3.1.2 channel setup with different EQ presets to enhance listening, let alone the standard mode, which can take care of room-filling sound with clarity. We mostly set the standard mode when testing it with movies or news, and even music.
The soundbar also lets the user make different customizations to make the soundbar according to their taste. The soundbar can become a versatile entertainment device for other users with treble and bass adjustments.
Furthermore, it proposes optical digital output, HDMI input/output m, HDMI ARC, USB, and Bluetooth for pairing. Nevertheless, the lack of WiFi and Ethernet input is quite a shame, prohibits online music streaming.
The soundbar also has different vocal enhancement features that bring depth and warmth to the sound, making it worth listening to. It also advertised to deliver virtual surround sound, which is exciting for audiophiles.
Thanks to the Dolby Atmos support, the sound gets loud enough to bounce off the ceiling, creating 360 environments with a rumble, bass, and shaking noise. However, the soundbar may struggle with the bass-heavy frequency response, which is a shame with such a compelling device.
Pros
• 3.1.2 channel configurations
• Easy setup
• Vocal enhancement features
• The sound is loud and clear
• Treble and bass adjustment options

Cons
• Lack of WiFi and Ethernet

Cheapest Dolby Atmos Soundbar – 2023 Buying Guide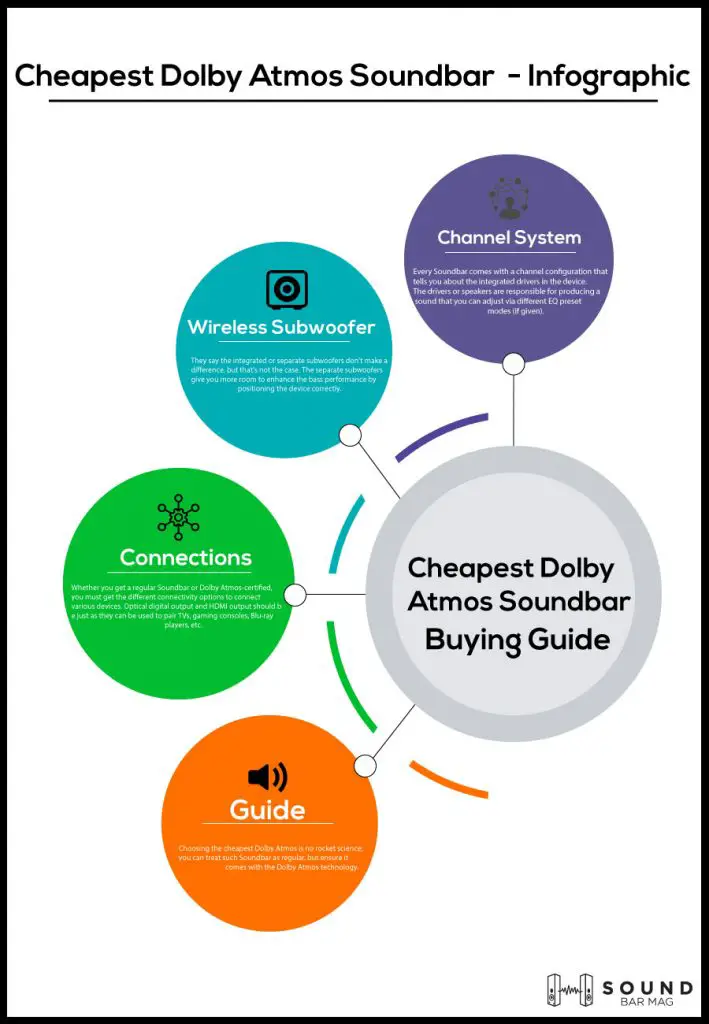 Choosing the cheapest Dolby Atmos is no rocket science; you can treat such Soundbar as regular, but ensure it comes with the Dolby Atmos technology.
Though the Soundbars are designed to deliver high-quality audio output, the technology further enhances the experience by ensuring the listener feels sound from every direction. The drivers with Dolby Atmos support produce a sound that bounces off the ceiling and reaches back for thrilling sound performance.
The Soundbar with this technology maximizes the excitement level while reducing distortion and muddy noise that might ruin the whole music listening vibes. However, if you are still baffled about the Soundbar with Dolby Atmos purchase, here's what you can consider before buying one.
Channel System
Every Soundbar comes with a channel configuration that tells you about the integrated drivers in the device. The drivers or speakers are responsible for producing a sound that you can adjust via different EQ preset modes (if given).
The drivers include up-firing, down-firing, forward-facing speakers, tweeters, or center channels, and every driver has different jobs to do. Sometimes the Soundbar includes woofers if the wireless subwoofer is not coming along to add the taste of bass. So, the major decision about getting the Soundbar should rely on the channel system you want.
Remember, the more channel it has, the better its sound output. However, increased drivers, especially the dedicated ones for specific purposes, can also increase the price.
Wireless Subwoofer
They say the integrated or separate subwoofers don't make a difference, but that's not the case. The separate subwoofers give you more room to enhance the bass performance by positioning the device correctly. They are more compelling, and the dedicated driver knows better to create a more immersive listening environment.
On the other hand, you can get the Soundbar with a built-in woofer, but it may involve lots of bass and treble adjustments according to the content.
Connections
Whether you get a regular Soundbar or Dolby Atmos-certified, you must get the different connectivity options to connect various devices. Optical digital output and HDMI output should be just as they can be used to pair TVs, gaming consoles, Blu-ray players, etc.
Wireless Connectivity via Bluetooth or WiFi may allow you to experience unlimited online music listening via different platforms and keep you always hooked.
Frequently Asked Questions (FAQs)
What is the best cheapest Dolby atmosSoundbar?
Polk Audio Signa S2 is a 2.1ch Soundbar with a subtle design and Dolby Atmos drivers. They produce high-resolution sound with clear and accurate vocals for immersive watching. The wireless subwoofer also enhances the bass delivery to power energy with the music.
Can any soundbar use Dolby Atmos?
Dolby Atmos is a specialized audio format technology that any Soundbar can integrate to deliver expansive and loud sound output. Many brands launch separate Soundbar models with Atmos certifications. You can find the best one in the article.
Is Dolby Atmos worth the price?
Yes, considering the rich and wide soundstage it creates, Dolby Atmos Soundbars are worth the price. They bring life to the dull parties and ensure clarity while streaming dialogue-sensitive content.
Conclusion
Buying a soundbar with Dolby Atmos is as easy as getting a cake with this detailed review guide. There are no complex technicalities that you have to watch out for before buying the best soundbar for your home, except the ones we mentioned.
However, we have added some of the best products available in the market with the mini buying guide to help you purchase the best product that best suits your requirements. We hope you find the product that fulfils your home with loud sound and excitement.
Mia Evelyn is a soundbar specialist and she love to test and review different soundbar brands. She shares her neutral and in-depth reviews through the Soundbar Mag.