TCL Alto 9+ soundbar is the latest addition to TCL's impressive range of audio solutions. Whether you're watching your favorite movies or listening to music, this soundbar promises to take your home entertainment experience to the next level.
With its modern design and cutting-edge features, the TCL Alto 9+ has been garnering a lot of attention in the market. But do you need more information to figure out if it's worth the hype?
Because we will take the soundbar, explore its features, and review it in detail for its overall performance.
So, sit back, relax, and read on to find out if the TCL Alto 9+ is the soundbar you've been looking for.
TCL Alto 9+ 3.1 Dolby Atmos Soundbar with Subwoofer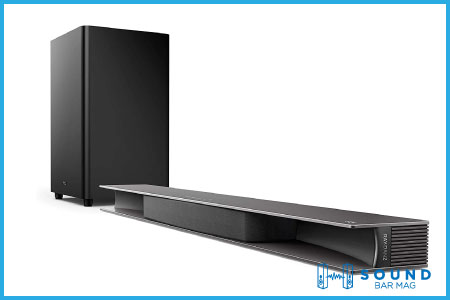 Unboxing the TCL 9+ soundbar
The unboxing experience of the TCL Alto 9+ is a joy for any tech enthusiast. The package comes neatly wrapped with a minimalist design, highlighting the TCL brand's attention to detail.
Upon opening the box, you'll find the soundbar securely in a protective foam with other accessories and the subwoofer packed in separate packaging. The accessories include a remote with batteries, HDMI, power cable, and user manual.
Since the unboxing experience was incredibly smooth, we were hoping the setup and user experience wouldn't test our patience.
Let's move forward to learn more.
Size and Design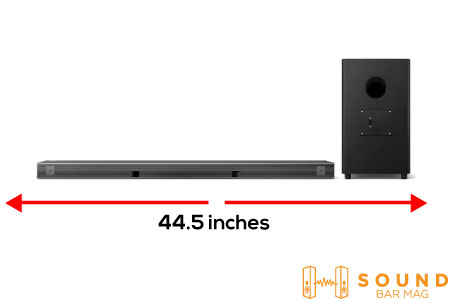 We were surely impressed by the build quality of the soundbar and subwoofer. As soon as we opened the box and got the soundbar in front of us, the sleek and minimalistic design with sturdy construction caught our wow.
We believe the combo has been designed with aesthetics and functionality. The soundbar measures 44.5 inches, making it a perfect fit for many households, and it would be ideal for sitting under 50 or upward TVs.
Conversely, the subwoofer is compact and can be easily placed in any corner of the room without taking up too much space. Its cylindrical design is aesthetically pleasing, and the black finish complements the soundbar's design.
Channel System
The 9+ soundbar has a compelling 3.1-channel system featuring three forward-facing speakers and a wireless subwoofer designed to add a real depth of lower frequencies.
The three front-facing speakers comprise a dedicated center channel and two side channels, which create a clear, immersive, bold audio experience.
The dedicated center channel ensures that dialogue is crisp and clear, making it easier to follow the plot of your favorite movies and TV shows. Meanwhile, the side channels deliver wider stereo sound, enveloping you in a realistic audio experience.
The wireless subwoofer provides deep and powerful bass, adding a new dimension to your audio experience. It connects seamlessly to the soundbar, eliminating messy cords and ensuring your home entertainment setup remains neat and tidy.
Connectivity Options
The TCL soundbar has been designed flexibly, ensuring it can easily integrate with your home entertainment setup. It offers a variety of connectivity options, including HDMI, HDMI ARC, optical, Bluetooth, and WiFi.
The HDMI input allows you to connect your soundbar to your TV, while the HDMI ARC allows easy soundbar control using your TV remote. The optical input is a great option for those who prefer a wired connection, providing a clear and stable audio signal.
The soundbar also features Bluetooth connectivity that lets you connect the soundbar to your smart devices without messing with cables. The Bluetooth range is also surprisingly great, so no worries.
At last, the WiFi support allows you to access online music streaming channels, like Soundcloud, Spotify, Amazon Music, and others, and enjoy your favorite playlists without using any additional devices.
Hence, the TCL Alto 9+ offers a range of connectivity options that cater to your unique music-listening needs.
Control and Navigation
The soundbar has simple yet intuitive navigation properties that make it easy for everyone to control and customize their audio experience.
The compact remote control features simple buttons that allow you to adjust the volume, switch between input sources, and access different audio settings using the labeled buttons.
The soundbar also features some touch buttons at the top panel that let you turn it on or off, manage volume, and monitor the playing status if you don't have a remote. Besides, you can pair Alexa or Google devices and control the bar with your voice commands.
In addition, the TCL Alto 9+ soundbar can be controlled through the TCL app, which is available for both iOS and Android devices. This app allows you to adjust the volume, switch inputs, and even customize the soundbar's audio settings from your smartphone or tablet.
Sound Performance
The TCL Alto 9+ soundbar is a powerhouse when it comes to sound performance despite what you play on the device.
Featuring Dolby Atmos and RAY∙DANZ TECHNOLOGY, the soundbar delivers immersive and realistic audio that transports you into the heart of your favorite movies and TV shows.
Dolby Atmos technology enables sound to move around you in a three-dimensional space, creating a lifelike and immersive audio experience.
RAY∙DANZ TECHNOLOGY takes it a step further by using a unique reflective surface and diffuser to create a wider soundstage, giving the illusion that sound is coming from different directions.
The wireless subwoofer adds depth to your audio experience, delivering powerful bass that enhances the overall sound quality. The reproduction of low-frequencies is surprisingly great as it delivers a punchy, strong, and bold bass that can turn the tables.
Moreover, it also features different audio modes that cater to different preferences. The Movie mode enhances dialogue and boosts bass, while the Music mode delivers a more balanced and dynamic audio experience.
The News mode prioritizes dialogue, making it easier to follow news broadcasts and documentaries. So, it is a perfect addition to your home entertainment system.
Pros
· Impressive design
· Wireless subwoofer
· Loud and rich bass
· Dolby Atmos for surround sound
· RAY DANZ Tech
· Multiple connections

Cons
· Lip sync is quite a delay for some videos
· Dolby 5.1 does not work properly with optical

Bottom Line
Finally, the TCL 9+ soundbar could be a valuable addition to upgrade your sound system as it delivers loud, crisp, and accurate sound with a dedicated center channel.
The multiple sound modes for customization and subwoofer for real bass can be a real game changer when watching different content on certain devices. So, we believe you should invest in the soundbar for a more realistic and lifelike experience.
Mia Evelyn is a soundbar specialist and she love to test and review different soundbar brands. She shares her neutral and in-depth reviews through the Soundbar Mag.