Finding a top-of-the-line soundbar in a market full of beasts can be frustrating, especially when you are on a budget.
But the good news is TCL has something for everyone.
Apart from its luxurious product line with high-frequency range and advanced audio formats, it has this excellent piece that may be entry-level for most users but can be a valuable upgrade to your existing systems.
So, if you are in the market for a loud, powerful, and thundering soundbar, TCL Alto 7 can be the perfect match. In the detailed review, we'll discuss its features, design, and systems to determine if that's what you have been looking for.
Let's dive in.
TCL Alto 7 2.0 Channel Home Theater Soundbar with Built-in Subwoofer
Unboxing the TCL 7 Soundbar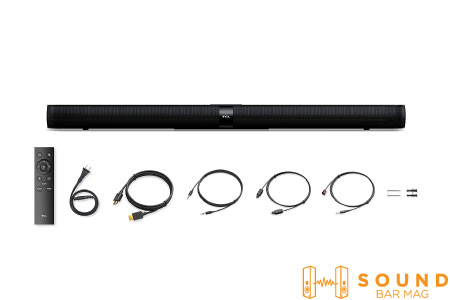 Opening the TCL soundbar was quite an experience for us as the compact and slim profile came well-packed in a box with some branding over it.
Opening the box was hassle-free, and we found some other accessories carefully placed above the foam. The soundbar was placed at the bottom under the strict supervision of foam stuff.
We found the mounting kit in the box, some cables, including HDMI, Optical, and power, and a manual user guide with instructions to start and control it.
Fortunately, setting up the soundbar was also a walk in the park. So, let's move forward to analyze its size and design properties.
Size and Design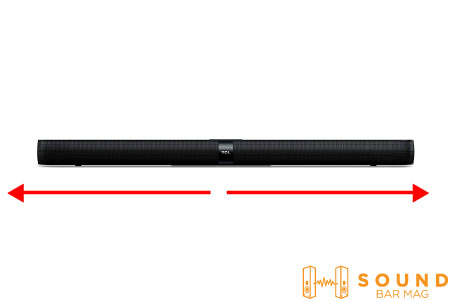 The TCL 7 has a usual attractive body with a grille at the front, and the sides are edgy, giving it a modern look, especially when you mount it on the wall.
The black color looks stylish, and the TCL logo at the front adds another dimension of style and class. The front panel is plain back, and we notice some manual buttons for quick navigation.
These buttons have a design that shows its functionality and allows you to control the usual functions without a remote.
And when it comes to the connectivity inputs, we have seen them placed at the sides and at the back panel. It doesn't cause much mess with cables and does not cause distractions when watching TV. So the soundbar design is a win-win.
Channel System
The Alto 7 has a 2.0 channel system like the other entry-level soundbars. It proves to be a perfect upgrade to TV speakers with dual full-range drivers at the right and left side of the soundbar.
The 36-inches soundbar also hosts separate tweeters, so you can rely on the two drivers for enhanced higher and mid-range frequencies and get the maximum output to enjoy watching or listening to your content.
However, it may not give you home theater vibes with no built-in woofer or center channel that polishes the vocals, but the sound quality with no harmonic distractions is still a decent deal at this price.
Connectivity Options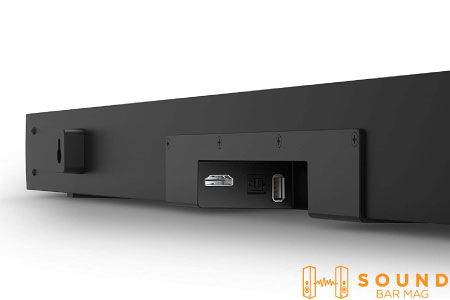 That's the thing about TCL soundbars; their wide compatibility with external devices will surprise you at every stage and make the device versatile enough so you can enjoy high-quality sound with whatever you stream on entertainment devices.
Similarly, the TCL Alto 7 features multiple wired and wireless connections, including HDMI ARC, Optical, IR Pass-through, USB, AUX, and Bluetooth.
Bluetooth lets you stream music, podcasts, eBooks, and audio-sensitive content with smart devices without cable mess. And the HDMI ARC offers excellent lip-sync to enhance your TV-watching experience.
And when you connect the TV and soundbar with HDMI ARC, it allows you to control both devices with a single remote. You can connect an external subwoofer with IR pass-through, AUX, and other devices with Optical and USB.
Control and Navigation
Surely we didn't expect much from ALTO 7 when it comes to the navigation system. It doesn't offer a voice control feature, but the manual buttons at the top of the soundbars are enough to control volume, change input settings, and manage audio modes.
Also, when you connect any device with an HDMI ARC, you can use the receiver's remote to manage the soundbar. Convenient, isn't it?
Sound Performance
TCL Alto 7 2.0 soundbar surprisingly delivers unpredictable sound performance with dual 4,5 inches drivers and dual 1..5-inches tweeters.
The upper and mid-range frequencies are well-balanced, and the clarity is not as compromised as we thought, especially without a center channel.
The dual full-range drivers somehow expand the soundstage with its loud volume delivery, and the distortion-free sound doesn't create much distractions when gaming or listening to heavy music.
Moreover, the soundbar features several sound modes, including music, movies, and news, that optimize the sound delivery according to the content and save you time calibrating audio properties.
However, it doesn't support any audio format like Atmos, DTS, or Dolby Digital. Yet, it still delivers a powerful sound with reasonable clarity to keep you hooked on the playing content.
Pros
· Minimalistic design
· Distortion-free loud sound
· Multiple sound modes
· Range of connections
· Bluetooth connectivity
· Budget-friendly

Cons
· No audio formats
· Doesn't come with remote

Bottom Line
At last, we must say the TCL Alto 7 has everything you would desire from TV speakers, but they lack to entertain you the way it promises. With dual full-range compelling drivers and separate tweeters, it is ready to transform your audio listening habits and introduce you to a new audio dimension.
Mia Evelyn is a soundbar specialist and she love to test and review different soundbar brands. She shares her neutral and in-depth reviews through the Soundbar Mag.