Are you looking for an affordable soundbar solution to amp up the audio quality on your TV and other entertainment systems?
Look no further than the TCL Alto 6+ Soundbar!
It is the best budget-friendly soundbar solution that can transform your digital media streaming habits and introduce a new dimension of sound that you have never experienced before.
In this article, we'll take a detailed look at the features and performance of this budget-friendly soundbar and see how it stacks up against its competition.
TCL Alto 6+ 2.1 Ch Dolby Audio Soundbar with Wireless Subwoofer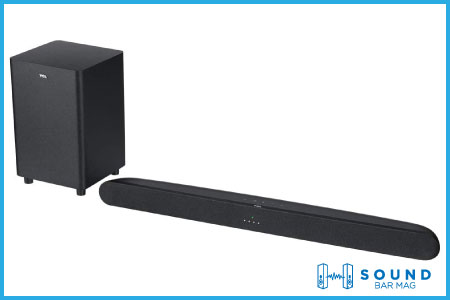 Unboxing the TCL 6+ soundbar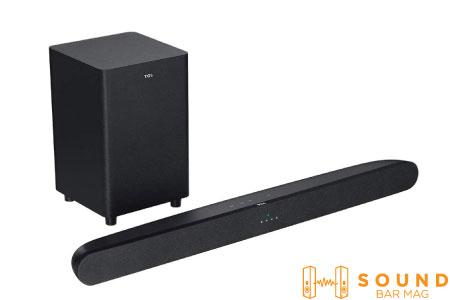 That's the great thing about TCL products; they come on time and in great packaging protocol that wouldn't create a mess in your space and keep the devices secure inside the box.
The TCL 6+ also came in a hurry with all the necessary protocols by the brand. The packaging was sleek and well-designed, and all the necessary components were placed diligently.
We found a soundbar, a power cord, some connectivity cables, and a user manual inside the box. The wireless subwoofer came in separate packaging, which was also sell-designed according to the product's nature.
Size and Design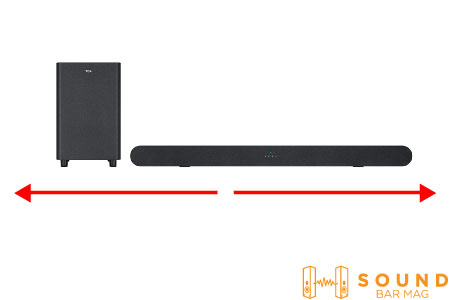 Setting up the soundbar was a breeze. We simply connected it to the TV using the included cables, plugged in the power cable, and turned it on. Besides, the subwoofer pairs automatically after receiving the audio signal.
Also, the soundbar has a sleek appearance with a metal grill designed to complement any setup and décor you have. The handy and slim profile can be placed on a shelf or mounted on the wall under smart TVs.
The textured body has little to offer except for some touch buttons at the top panel that allows you to control the volume and manage some input settings. And light indicators at the front panel show you its functional status.
On the other hand, the subwoofer has a black mesh cover with feet for stable standing and a logo at the front.
Channel System
The TCL 6+ features a 2.1-channel system that delivers high-quality audio for an immersive listening experience. A channel system refers to the number of audio channels a sound system uses to produce sound. It uses a 2.1-channel configuration with two front channels and one subwoofer.
The dual front channels are responsible for delivering high and mid-range frequencies, while the subwoofer is responsible for delivering low frequencies. This arrangement ensures that the sound is well-balanced and that each frequency range is accurately reproduced.
The wireless subwoofer of the TCL 6+ soundbar is designed to deliver deep and powerful bass. It uses advanced audio processing technology to reproduce low-frequency sounds accurately and can produce sound at high volumes without distortion.
Connectivity Options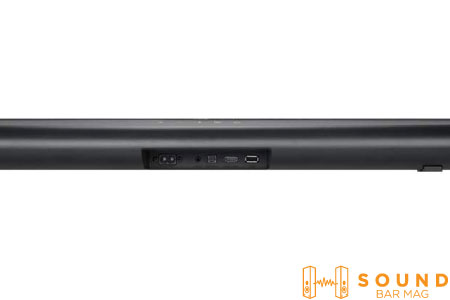 The TCL 6+ soundbar features multiple connectivity options, including optical, HDMI, and Bluetooth, making it easy to connect to various devices.
The optical input lets you connect the soundbar to your TV, Blu-ray player, or other audio devices. This connection provides high-quality digital audio, ensuring you get the best sound possible.
The soundbar also features HDMI ARC (Audio Return Channel) connectivity, which allows you to connect it to your TV or gaming console for more realistic sound with accurate lip sync properties.
In addition to these wired connections, the TCL 6+ soundbar also features Bluetooth connectivity to enjoy your favorite music without the need for cables. It lets you stream music wirelessly from your smartphone, tablet, or Bluetooth-enabled device.
Control and Navigation
The TCL 6+ features a straightforward navigation system that makes it easy to control and customize your audio experience. The soundbar comes with a remote that allows you to adjust the volume, bass, treble, and other settings efficiently.
The remote control features a clear and easy-to-read display that shows the current settings, input source, and other information. The bar also features touch-sensitive buttons on the top, allowing you to control the volume and input settings without using the remote.
The 6+ also has a mobile app that allows you to control and customize the soundbar using your smartphone or tablet. The app provides access to additional settings, such as dialogue mode, night mode, and EQ settings, which allow you to adjust the sound to your preferences.
Sound Performance
The TCL 6+ soundbar packs a powerful punch with 320W power and delivers impressive sound performance, with support for various audio formats that provide a solid and immersive audio experience.
The bar features two front channels and a wireless subwoofer that delivers clear and powerful audio. The dual front channels provide a balanced mix of high and mid-range frequencies, while the subwoofer adds a touch of deep and powerful bass.
Moreover, unlike the TCL 6, 6+ supports several audio formats, including Dolby Digital and DTS Digital Surround, which provide a more immersive audio experience. DTS, in particular, is a surround sound format that uses object-based audio to create a three-dimensional soundstage, allowing you to hear sounds from above and around you.
In addition to these audio formats, the TCL 6+ soundbar also features a dialogue mode that enhances speech clarity, making it easier to hear the dialogue in movies and TV shows.
Additionally, the night mode reduces the volume of loud sounds, making it ideal for watching movies late at night without disturbing others.
The soundbar also features EQ settings that allow you to customize the sound to your preferences. The EQ settings control the bass, treble, and other audio frequencies, allowing you to fine-tune the sound to your liking.
Pros
· Subtle appearance
· DTS and Dolby Digital
· Built-in and wireless woofer
· 320W power output
· Bluetooth 5.0
· Two HDMI ARC inputs
· Bold and rich sound quality
· Multiple EQ settings

Bottom Line
The TCL 6+ offers more powerful audio with 320W and greater connectivity options compared to the TCL 6 soundbar.
But both soundbars are excellent choices to upgrade the audio quality of your home entertainment system and enjoy a more realistic sound without compromising the style. So, if you're looking for a budget-friendly beast, this might suit you.
Mia Evelyn is a soundbar specialist and she love to test and review different soundbar brands. She shares her neutral and in-depth reviews through the Soundbar Mag.