Undoubtedly TVs are getting better for producing outstanding picture quality, but when it comes to sound, we are forced to believe that the brands have stopped focusing on innovations. The sound quality of old TVs may have been better, but the new range of Smart TV is quite a disappointment from speakers.
So, Soundbars are the need of an hour. Instead of investing in a new TV, it is a thoughtful idea to get hands-on one of the best Soundbars available and enjoy a dramatic sound system at your house. You can feel the deep sound quality and vibrations when coming through the Soundbar and the pairing with external devices is also pretty seamless.
Therefore, we have gathered, tested, and reviewed the best Soundbar for TCL Roku TV, a great update to the built-in speakers. They are affordable, integrated with advanced technology, and can produce room-shaking sound without any distortion.
List of the Best Soundbar for TCL Roku TV in 2022
1. TCL Alto 9+ Soundbar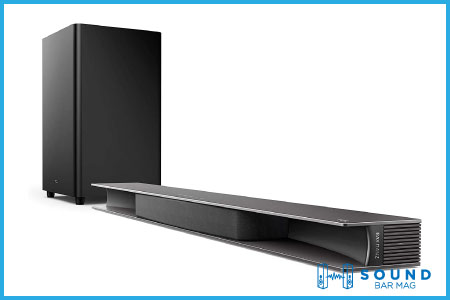 Audiophiles will love having this stunning Soundbar because of all the interesting features it has to offer. Just like TCL Smart TVs make the best display, TCL soundbars also produce quality sound that your ears will never stop listening to. The compatibility with Dolby Atmos is a game-changer at this affordable price tag, and the Roku TV connectivity is also worth appreciation.
Many people think that affordable products come with a cost of sacrifices. But fortunately, TCL Alto 9+ is a fair deal from every possible angle. It comes with a decent metallic design in Black, and the body houses all the drivers inside it with love and care. TCL Alto 9+ is a 3.1ch Soundbar featuring a dedicated center channel for accurate dialogues.
Thanks to the Dolby Atmos, you can now get rid of the old-school speakers because the Soundbar produces room-thrilling voices that make the room shake with every vibration it produces. The high pitches don't ruin the sound quality, and the dialogues will be clear despite high-frequency levels.
For connectivity, this best TCL Roku TV Soundbar offers WiFi and Bluetooth options that make the device always ready to utilize. The wireless subwoofer also starts producing rich and deep bass as soon you open the device, saving time for navigation and setting up the device.
Similarly, you can control the TCL Soundbar via Roku remote and enjoy smooth configuration, volume control, and mode switching. Also, the Soundbar is a perfect ago-to device for music streaming from online services like Pandora, Spotify, TuneIn, or can connect wirelessly via AirPlay, Chromecast, or Google with Hey Google hint.
Pros
• Premium audio quality with Dolby Atmos
• Excellent dialogue delivery with dedicated center channel
• Compatible with online music streaming platforms
• Attractive design
• Wireless subwoofer
• Wall mounting
• HDMI and Wireless connections

2. TCL Alto 8i Soundbar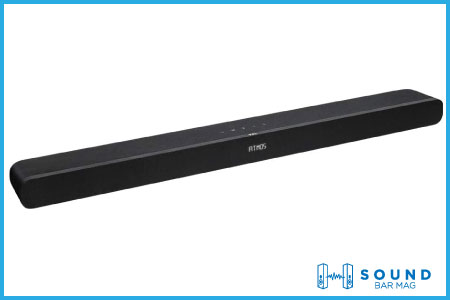 TCL Alto 8i is another piece of art from the brand that we call a decent upgrade to your old speakers. It is a solid Soundbar with exceptional qualities to enhance your music streaming experience. TCL Alto 8i is a 39-inch soundbar with a black matte finishing that looks insanely stunning right under your smart TV. Thankfully, it is compatible with almost every Smart TV with Bluetooth or HDMI cable.
With an easy and quick setup, the TCL Alto 8i Soundbar is always ready to produce high-quality sound and make the cinematic vibes at your place. The pretty slim body makes room for the dual subwoofers that pinche the bass when the drivers deliver clear and loud sounds. Though it doesn't come with any separate subwoofer, the integrated drivers produce loud, clear, bass-rich sound. Also, Dolby Atmos' compatibility enhances the sound quality while ensuring louder sound without losing any quality or pitch.
Moreover, different sound modes optimize the sound quality and make it according to your playing content. Undoubtedly, it is a time-saving feature that automatically detects the sound requirements and optimizes the quality. Besides, the dialogue delivery is also pretty satisfactory, making it the reliable Soundbar for movie or show streaming.
Connecting and controlling the Soundbar is also a piece of cake. If you have a TCL Roku TV, it will easily be manageable by its remote control. For pairing with smartphones, TVs, or other devices, you can opt for a Bluetooth connection or Optical digital, USB, or HDMI cables.
Pros
• Dolby Atmos
• Wireless music streaming
• Roku TV compatible
• One-unit device
• 2.1ch Soundbar
• Compatible with Samsung and Apple smart TV
• Compatible with Chromecast and AirPlay

Cons
• Google Assistant support could be a plus point

3. TCL Alto 6+ Soundbar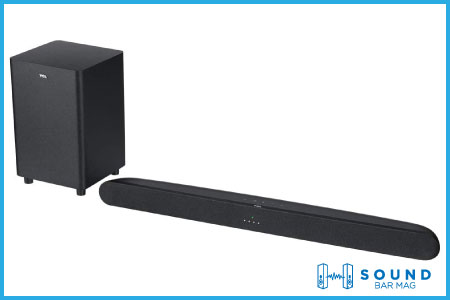 TCL Alto 6+ is another affordable Soundbar piece winning hearts with its outstanding performance. It just gives life to the sound, making everything super engaging and peaceful when it comes out of the system. Therefore, we couldn't resist putting this valuable piece into our best Soundbar for the TCL Roku TV list.
It is a simple, decent-looking Soundbar with an external subwoofer, consuming a little space in your room while showering loud and thrilling audio output. It is a-2.1 channel Soundbar, consisting of two full-range drivers and one subwoofer, working together to deliver clear, crisp, and quality sound for movies, classic vocals, high pitches sound, etc.
In addition, this best Soundbar under 100 has a lot to offer, like flexible connectivity via HDMI, optical digital, 3.5mm Aux, and USB Type-C port. The Bluetooth connection is also super convincing to effortlessly pair smartphones, smart TVs, laptops, and other smart devices.
Moreover, the Dolby Digital compatibility emphasizes decoding and maximizes sound without ruining the dialogue clarity. It also claims to deliver soothing, thrilling, and room-filling sound while optimizing the content playing. Besides, the wireless subwoofer also catches attention with the deep and rich bass production that highlights the tunes, thus giving life to the music and creating cinematic vibes in the surrounding. You surely can rely on the TCL Alto 6+ Soundbar for your movie nights, parties, and regular streaming as well.
Pros
• Bluetooth streaming
• Rich and lifeful bass
• Sound modes
• Clear dialogues
• Super affordable
• Roku TV ready
• Control via Roku remote

Cons
• Lack of dedicated app for easy control

4. TCL Alto 7 Soundbar
This one-unit Soundbar with a built-in subwoofer needs your attention as it has been trending for its premium audio quality and minimalistic design. The matte at the top and grilled texture by the front look stunning while placed under the TCL Roku TV, adding charm to your decor. Besides, it is only a 2.0 channel Soundbar, referring to the two full-range drivers responsible for producing audio output that would be compelling enough to entertain parties.
The Soundbar offers several sound modes that optimize sound performance according to the content. The news mode would focus on delivering clear and quality dialogue for understanding. In contrast, the music mode invites tweeters and woofers to deliver every tune detail the content demands. Nonetheless, controlling the TCL soundbar is not a headache, especially when connecting to the TCL Roku TV. The Roku demand will support its functions and help you navigate easily.
To enjoy the loud, clear, and rich sound from the Soundbar, you can not only connect TCL Roku TV but can pair any TV or device via wired or wireless connections and make the most out of it. The Soundbar contains many input ports that make the device flexible for pairing. HDMI ARC input lets you listen or pass audio, and the Bluetooth automatically detects the saved devices and starts working.
Pros
• Easy and quick setup
• Sound modes
• Clear, loud, and distortion-free sound
• Impressive bass response
• Wireless streaming via Bluetooth
• HDMI ARC support

Cons
• Nothing we could find annoying

5. TCL Alto 5 Soundbar
TCL Alto 5 Soundbar accompanying dual full-range drivers is a great home theatre setup that can take your music streaming to the next level. It is a slim, one-unit soundbar with a simple body and some buttons at the top. The Soundbar offers a seamless setup; even we should call it a plug-and-play device as it is always Roku ready.
The three dedicated sound modes produce ear-pleasing, loud, and clear enough sound that goes well with music, movies, sports, and news. The Soundbar automatically optimizes the sound quality, enable the bass and tweeter where necessary, and highlight dialogue in the news.
The deep and rich bass enhances the sound quality, increases the music intensity, and brings music to life. The cinematic vibes via wireless connectivity seem like a game-changer because the music streaming will be only a click away. The Soundbar contains Optical digital, USB, IR pass-through, AUX, and Bluetooth connections.
TCL Alto 5 2.0 channel Soundbar has so much potential that even the smart TV's built-in speakers could not show. It is an affordable, valuable, and powerful alternative to old-school speakers that wouldn't come with a long life span. So, enjoy the loud, rich, and clear sound with this Sound bar for TCL Roku TV and have a great escape from a boring routine with unlimited music streaming.
Pros
• Distortion-free sound
• Seamless setup
• Lots of connectivity options
• Sound modes
• Comes with remote
• Simple and attractive design
• Budget-friendly bar

Best TCL Roku TV Soundbar – Buying Guide
Reading reviews and settling with the handsome, affordable, and feature-rich Soundbar is not enough. Getting a Soundbar to connect with TV and placing it in your house requires more research, decisions, and time.
So, we are here to solve your most asked question, "How to buy a Soundbar?". We understand that the flood of Soundbars makes everyone confused. Therefore, here are some factors that you should have in mind before Soundbar shopping.
Where to Place?
Since you are getting the Soundbar for your smart TV, it's better to place it under or near the TV for a seamless connection. However, it should depend on your room size and flexibility of usage. Mounting on a wall may be better, but making it sit comfortably on the TV trolly throws some luxurious vibes. In addition, you may bound the Soundbar if mounted on the wall because it will get a headache when you have to move it to the other room.
So, Soundbars with wireless connection options should stay flexible to use for different purposes. Therefore, we recommend you decide where to place the Soundbar beforehand because it leads us to the next important factor.
Soundbar Size
It may sound useless to you, but Soundbar size and height hold utter importance. You don't want to mess with this necessary purchase, especially when you plan to connect it with your TCL Roku TV for its speakers upgrade.
So, if you have decided to place it under your smart TV, ensure its height won't disturb the TV functionality. Besides, the trolly should be powerful enough to house a TV and a soundbar simultaneously. These are such elements that buyers usually avoid and purchase in excitement but later deal with such irritating issues. So, clear your mind beforehand for a smooth shopping.
Connectivity
How will you pair your new Soundbar with TCL Roku TV if the device lacks connectivity compatibility? So, Check the connectivity options beforehand, and then make the purchase.
Besides, remember you are not getting a Soundbar solely for TV. You can pair other external devices and make the most out of them. So, Wireless connections via WiFi or Bluetooth should be a must apart from wired connections. And, for the wired options, AUX, USB, HDMI, and Optical digital cable should be your preference. HDMI ARC is unnecessary, but its presence is always a bonus point.
Sound Quality
Obviously, you are getting a Soundbar for better sound quality, so it will be your priority. The sound should be clear, full of life, and rich with details. The dedicated center channel that enhances the dialogue delivery will benefit you while streaming news, sports, and movies. So, better watch out for it.
In addition, wireless or built-in subwoofer depends on your decision, but a deep and rich bass for dramatic music streaming can turn the tables for you. Compatibility with Dolby Atmos or Digital would be a plus point as it enhances the frequency level and makes the sound louder, more precise, and free of distortion.
Frequently Asked Questions (FAQs)
What Soundbar works best with TCL Roku TV?
All the Soundbars reviewed above work pretty well with the TCL Roku TV. But, we recommend you get the TCL Alto 6+.
Does TCL TV need a soundbar?
Almost every smart TV produces awful sound quality, so upgrading the built-in speakers with Soundbars is better. Soundbars are more reliable, cost-effective, and paired with several wireless devices.
Does TCL make a good soundbar?
TCL makes incredible Soundbars famous for delivering clear, powerful, crisp, and distortion-free sound. The brand has a range of Soundbars that varies with channels, an external subwoofer, and other features. Also, they are relatively cost-effective than other famous brands in the market.
Can you use any soundbar with a Roku TV?
You need to take care of connectivity requirements. Usually, if the Soundbar comes with HDMI or Bluetooth options, it would be used with a Roku TV.
Conclusion
Introduce a reliable and powerful Soundbar to your TCL Roku TV and enjoy a seamless watching and listening experience. All the Soundbars mentioned above may be small but mighty to set in the house. They let you feel the depth of moving sound as the TCL brand pretty much knows the job of producing and designing such products.
So, enjoy unlimited quality music streaming by choosing any of the best Sound bar for TCL Roku TV, and let us know how your experience is going so far.