While shopping for the soundbar, your main concern should be getting a device that can perform better without breaking the bank.
Luckily, many entry-level soundbars deliver articulate sound with clarity for an engaging listening experience. Also, they won't cost much to be a reasonable upgrade to the TVs speakers and regular music listening from your smartphones.
So, if you want to experience quality audio output at less, we have a detailed review list of the best budget soundbar we tested for you.
Our wide collection has different models featuring channel setups and wireless connections for seamless music streaming. So, let's dive deep into the top 9 budget soundbars in the market.
List of the Best Budget Soundbar in 2023
1. SAKOBS F925D Soundbar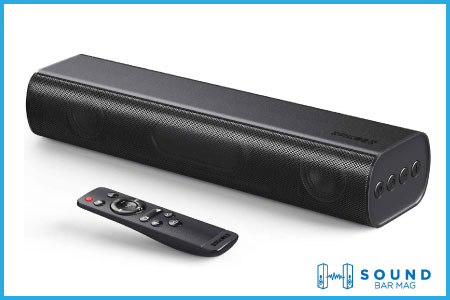 This compact yet compelling soundbar from SAKOBS is another addition to the pipeline of the best budget soundbar under $50 we tested. It came in great condition and on time, so it passed the first exam.
We liked its overall appearance with a subtle design featuring a metal grille covering the front while the plastic fabrics the entire device. A few buttons at the side help you manually power on or manage the volume buttons.
Though the design is elegant and straightforward, it still blends in with our environment and compliments the home décor. It also gives us flexibility while streaming music with Bluetooth 5.0 support.
Besides that, the physical pairing options, including optical digital, Aux, and 3.5mm RCA audio cable, let you pair gaming consoles, TV, and Blu-ray players.
The soundbar is a 2.0ch setup with two full-range drivers to produce excellent stereo sound. The frequency response is powerful and can deliver audio up to 60W, enough to fill a huge room. We tested it mostly with country music, and the performance was outstanding.
Moreover, the bass delivery is also weighty and rich, and the unmistakable vocals are inspiring, ensuring an immersive experience while watching movies.
Above all, the built-in subwoofer delivers a bass thumb that is adjustable via remote control. The dynamic sound stage is pure and clean, with the hint of different sound effects to provide an immersive experience.
Pros
• DSP technology
• Sleek me delicate design
• Bluetooth 5.0
• 3D surround sound effects
• Clear vocals

2. Sony HT-S100F Soundbar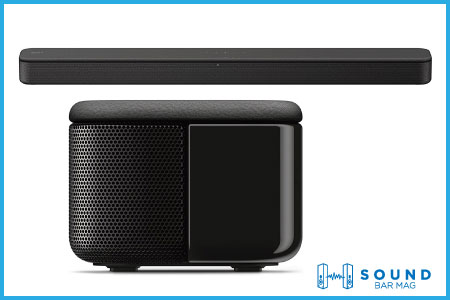 Sony S100F is another entry-level soundbar under $100 with a 2.0 channel setup but struggles to deliver bass due to no dedicated wireless subwoofer.
Though it is designed for mixed usage, the lack of Dolby Atmos and other audio format support can make a difference. When we turned it on and connected it to the TV, it produced rich and energetic sounds despite the content type.
It is the best budget soundbar, considering it can get extremely loud withoutlosing the vocal quality. The bar enables the surround sound mode called A-Force Front as default, ensuring 360 sound delivery to entertain everyone sitting in the room.
Unfortunately, the bar has nothing to offer with its design. It is relatively wide, and the metal grille conceals the front and sides of the bar to protect the drivers inside.
The back panel includes all the physical input ports containing optical digital output, HDMI ARC, HDMI output, and USB. And the input ports were easy to reach while setting it under the TV.
It's a disgrace that it does not come with RCA inputs, Ethernet, and Wi-Fi support, but the Bluetooth connection can satisfy your wireless streaming cravings.
Since it is an entry-level budget soundbar, you can't expect advanced audio format support. Still, the multiple voice enhancement features that enhance the vocal delivery to hear clear dialogues in movies are noticeable.
It also has a night mode feature that maintains the sound consistency and makes it warm, not compromising the listening experience under different circumstances.
Pros
• Dialogue enhancement
• Audio gets loud
• Clear sound at max volume
• Elegant design
• Bluetooth streaming

Cons
• No WiFi and Ethernet
• No advanced audio formats

3. Vizio M21D-H8R Soundbar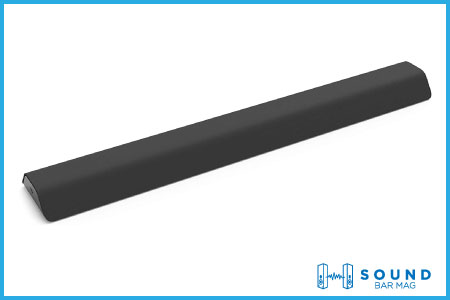 Enjoy the richer and clear sound with Vizio M21D-H8R Soundbar under $150 , which houses three subwoofers and full-range drivers to turn the tables for music streaming and TV watching. We also tested it with gaming, and was shocked by the loud and directional sound output.
It is a 2.1-channel soundbar that features DTS Virtual to ensure virtual surround sound that fills the room with detailed sound performance without losing the dialogue quality.
In addition, the soundbar is 36 inches long and 2.13 inches wide, which is perfect for placing between the legs of a 60-inches + TV. DTS Virtual: X ensures the sound bounces back from the ceiling to create a broad soundstage and immerse everyone in the content.
Besides, the frequency response range between 50Hz to 20KHz implies the powerful sound that is subtle soundbar can deliver rich audio, even with a limited channel setup.
The remote control makes the setting up process pretty seamless. You can switch connections, adjust settings, and manage volume using comfortable control. Besides, the bar is compatible with Google Assistant, which can function the soundbar over voice commands.
Above all, the soundbar lets you enjoy 4K HDR content when connected via HDMI and provides luxurious listening with the best budget soundbar. The soundbar also contains optical digital output, HDMI input/output, USB, Aux, and Bluetooth streaming for flexible pairing with other devices.
Pros
• Dolby digital
• ARC support
• Google Assistant support
• Rich and detailed soundstage
• Built-in woofers and tweeters

4. Bose Solo 5 Soundbar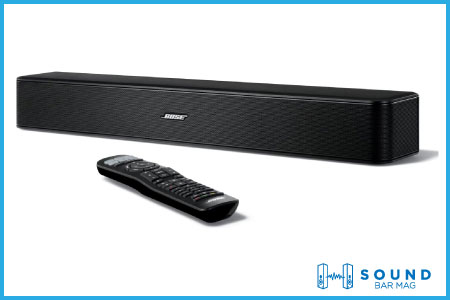 Bose Solo 5 is a compact entry-level soundbar under $200 that can easily adjust in different environments, measuring 55 cm long and 7 cm tall. It is designed to fit underneath the TV without giving anyone a bad time.
Besides, operating via universal remote control is convenient, as it gives you enough flexibility to make it according to your preferences. The remote was also handy enough to hold in hand and navigate the TV.
We were shocked to see that the Bose has kept the low-profile design, but the metal grille at the front gives luxurious vibes. Only two drivers behind the grille bring the sound to the center and create a wide soundstage.
Also, the entry-level soundbar may surprise you with its exciting features, like auto wake-up, making it ready to perform as soon as it catches the audio signals.
Well, it is turned off automatically, too, while being inactive for a certain time which is reasonably helpful in saving power consumption. We examined the feature, and it worked fine for us.
Furthermore, the soundbar projects audio with quality, fine-tuning, and clarity to deliver an immersive listening experience. Dual front-firing drivers get loud enough to entertain small parties with enough good depth.
Yet, the low-frequency bass may confine the heavy music. However, the connectivity is limited to optical, coaxial, and Aux inputs. It also provides Bluetooth streaming, but the lack of USB and other necessary outputs is a shame.
Pros
• Compact and lightweight
• Universal remote
• Auto wake
• Detailed and clear dialogues

Cons
• Limited connectivity
• No rich bass

5. ZVOX SB380 Soundbar
The combination of great price and excellent product performance is like a dream come true. With the ZVOX SB380 2.0 soundbar under $300, you can transform your music listening experience in no time.
ZVOX SB380 soundbar is elegant and subtle and houses compelling drivers inside to produce powerful sound. It delivers room-filling 3D sound with full-range drivers, class D amplifiers, and a built-in subwoofer.
So, it has an aesthetically pleasing body, and its sound performance with next-level clarity is worth appreciating. We tested it with gaming, news, podcasts, and TV shows, and everything sounded better.
The soundbar is ideal for mixed usage, including watching movies, listening to pop or classical music, streaming news, etc. It also integrates patented sharing aid technology to boost voice, emphasizing vocal quality and making it stronger with every push.
Moreover, if you face any hearing impairment, you can enable the Output Leveling (OL) feature to make the sound performance softer even at the maximum volume. Besides, it helps with annoying commercials and pop music with heavy soundtracks.
Besides string virtual sound performance, it offers limited connectivity with optical digital, analog, and aux cable ports.
Pros
• Rigid build quality
• Big and heavy sound from a small device
• Class D amplifiers
• Subwoofer with suitable bass
• Three-dimensional sound modes

6. Klipsch Cinema 400 Soundbar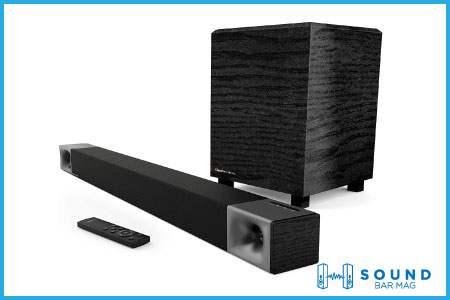 Klipsch Cinema 400 is a 2.1 Soundbar setup with reasonable sound quality and a fair set of features. Its dialogue delivery is relatively clear and pure than other models at this price range of under $400, but the lack of sound adjustment features makes a difference.
The design is no different from the previous Klipsch models, with a plastic body and fabric coating. However, the external subwoofer is solid and quite heavy, with a wood body and 12inches in width.
Plus, you will find all the input ports at the back panel of the bar, which are also easy to reach, and we didn't have to make the extra hassle of finding which input is located where.
We also find that installation and setting up the device is a walk in the park with a handy remote control. The dedicated buttons for different features will walk you through the setting process and make it ready to function within minutes.
Also, the connectivity is seamless with optical digital, HDMI ARC and Out, and a 3.5mm Analog audio port. There's also a Bluetooth connection available, but the lack of Wi-Fi, Ethernet, and USB ports is a huge disappointment.
Even though the soundbar does not include a dedicated center channel, the dialogue performance is still clear and helps understand spoken words. Also, the Night feature automatically disables the subwoofer while modifying the soundbar audio output as warm and smooth.
In addition, the wireless subwoofer can take care of bass-heavy sound products with its high-profile downward-facing driver. Still, the lack of Dolby Atmos and height-sensitive drivers are turned off for the soundbar.
Pros
• Best budget soundbar for TV and random audio listening
• Several voice enhancements features
• Night mode
• High audio frequency margins
• Adequate Stereo soundstage

Cons
• No Atmos and DTS
• Scarce connectivity

7. Samsung HW-Q600A Soundbar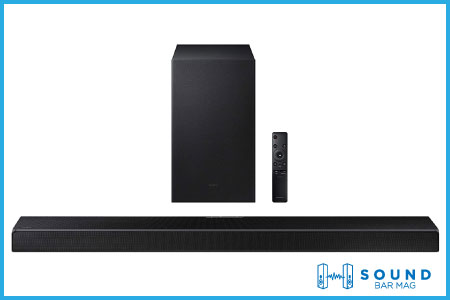 Enjoy the shaking and thrilling audio output with Dolby Atmos support and other exciting features without burdening your pocket. We tested this model after several requests from our readers and weren't disappointed by the performance.
We realize that satisfying your music-listening craving at the best possible quality is no more a dream because Samsung has a terrific soundbar that can offer high-resolution audio with clarity.
Yes, Samsung IHW-Q600A is a solid 3.1.2ch soundbar under $500 with a dedicated subwoofer to turn your home into an entertainment hub. The latest Samsung soundbar lineup has noticeable upgrades like several EQ customizations.
Also, the acoustic beam technology integration further enhances the sound performance and delivers an immersive listening experience irrespective of the content nature.
The Q-Symphony optimizes the sound projection via syncing the content, especially when connected to Samsung TVs. It is relatively formal, with a plastic body and metal grille at the front from the design and aesthetic side.
It is easy to move and set underneath the large-size TVs (check your TV's leg distance beforehand). However, the wireless subwoofer is heavy with the wood build; you can place it anywhere in the room.
The soundbar is suitable for mixed usage with its incredible stereo frequency response and neutral sound profile. The subwoofer throws extra punch and bass to boost the enthusiasm for party nights.
We loved the sound customization options it gives via the remote control and some buttons. The soundbar offers treble and bass adjustments to set the quality accordingly, and you can make changes using a remote control.
The soundbar also offers many adjustments like dialogue enhancement, Auto-volume or night mode, subwoofer level adjustments, height levels, etc. However, the lack of a Wi-Fi connection is a shame; Bluetooth is an acceptable alternative.
Pros
• Colby Atmos and DTS
• Subtle design with metal grille
• Heavy and rich sound
• Weighty and punchy bass with a subwoofer
• Easy to use
• Budget-friendly

Cons
• Lack of room correction
• No WiFi and Ethernet

8. BOSE TV Soundbar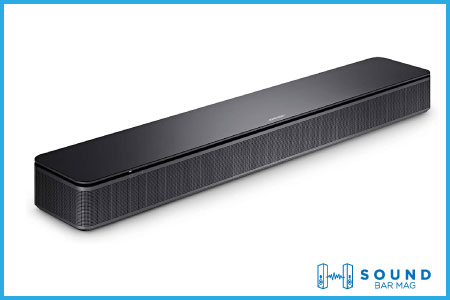 Bose TV soundbar is a tremendous entertainment device that satisfies your everyday music-listening yearning with dual full-range drivers. The soundbar is somewhat easy to set up and manage with wireless connectivity.
The soundbar is a fair upgrade to your TV speakers on a budget and can produce powerful enough audio output to create a wide soundstage for parties.
Though it does not have a dedicated center channel, the built-in dialogue enhancement feature makes it an ideal choice for streaming documentaries, news, and movies. It can isolate the spoken word from the punchy soundtracks and make them sensible.
The realistic and true surround sound effect elevates the audio performance and adds a mixture of deep bass and rumble for more adventure. A decent stereo frequency response can get loud and produce 3D room-filling sound with next-level clarity.
The lack of advanced features makes sense since it is an entry-level and best budget soundbar in the market. We didn't expect much from the bar and saw it as an upgrade to the TV speakers only.
The connectivity is also essential with optical, HDMI ARC, and a 3.5mm AUX cable ports. We miss the WiFi and other options to access online music streaming platforms, but the heavy sound performance would cover the disappointments.
Pros
• Dialogue enhancement feature
• Bluetooth streaming
• Easy setup
• Compact design
• Budget-friendly

Cons
• Lack of WiFi
• No features adjustment odds

9. JBL Bar 9.1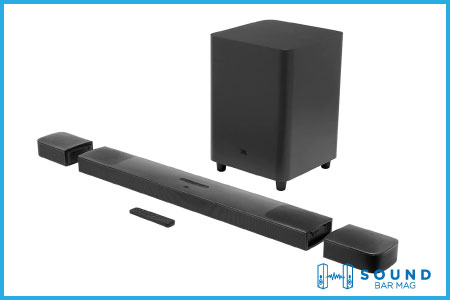 JBL Bar 9.1 is a stunning soundbar under $1000 from the vast product line, andit comes with a 5.1.4 setup, including dual satellite speakers to widen the soundstage.
Luckily, the main focus of the soundbar is producing high-resolution and dynamic surround sound for mixed usage. Also, JBL Bar 9.1 includes a subwoofer to boost a bar with some punch and thumb.
This high-end budget soundbar has a 5.1.4 setup, and all the speakers are carefully concealed under a metal grille. Besides, the metal top throws a fine aesthetic, which looks amazing while sitting under the smart TV.
Also, the minimalist subwoofer can stand with its compelling legs and is easy to move around for the sweet spot. We didn't like how it is bound to set in certain places to perform at its full potential.
However, we liked the sound customization option it offers. Yes, JBL Bar 9.1 features multiple EQ modes that elevate the sound according to the content.
The standard model enables the front-firing speakers to produce rich sound perfect for casual TV watching and listening to music. Other modes optimize the sound performance and make it immersive for the listener.
Thanks to Dolby Atmos, the speakers will receive enough power to produce bouncing sounds that kicks off the ceiling and shakes the room with thrilling audio output.
The sound clarity is also worth noticing because the center channel enhances the delivery of every spoken word to ensure smooth movie streaming.
Above all, installing, setting, and pairing the device is a walk in the park. The bar comes with mounting screws under the whole setting kit. By the rear panel of the bar, you can find HDMI ARC, HDMI output, optical digital output, HDMI input, and Ethernet port.
It also features wireless connectivity options, including Wi-Fi, Bluetooth, Apple Airplay, and Chromecast for unlimited online music streaming. Bluetooth range was acceptable, and Wi-Fi didn't take much time to recognize and connect with devices.
Pros
• Colby Atmos and DTS
• Voice Enhancement features
• Room Correction
• Detailed and rich sound
• Heavy bass with wireless subwoofer
• Dual satellite speakers for long playback virtual surround

Best Budget Soundbar – 2023 Buying Guide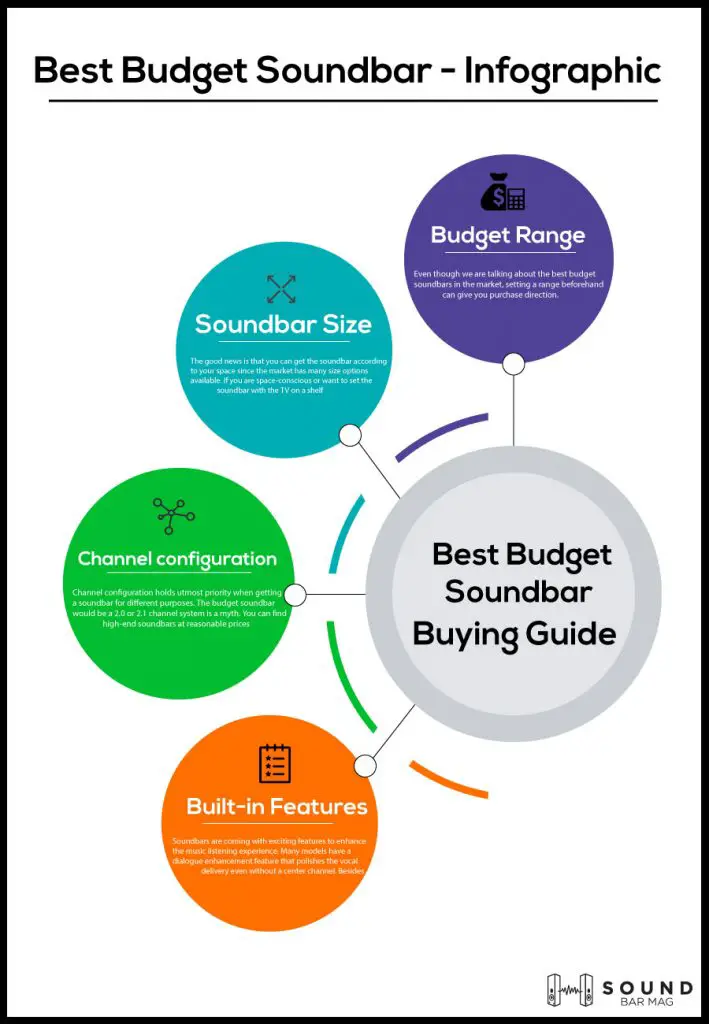 Choosing the best soundbar for your house and office depends on the features, connection preferences, and size. Also, the purpose of getting the soundbar can help in making the right decision about the purchase.
However, some important considerations demand your attention before the big investment. Here are some points you want to pay attention to and ensure you are heading in the right direction.
Budget Range
Even though we are talking about the best budget soundbars in the market, setting a range beforehand can give you purchase direction. The soundbars vary with size dimensions, features, and other components, setting the price foundation.
So, having a budget range in mind can take you to those products offering your desired elements, saving you time and trouble finding the best ones.
Soundbar Size
Did you dedicate a sweet spot for the soundbar? Oh well, you are not sure about the size dimensions of the coming guest.
The good news is that you can get the soundbar according to your space since the market has many size options available. If you are space-conscious or want to set the soundbar with the TV on a shelf, you can get the size accordingly.
In addition, like smart TVs, you can mount the soundbar on a wall, as many models come with mounting brackets and give you more room to find the desired spot where the device functions at its full potential.
So, it is wise to choose the space beforehand to avoid spending much time setting up when you get it.
Channel Configuration
Channel configuration holds utmost priority when getting a soundbar for different purposes. The budget soundbar would be a 2.0 or 2.1 channel system is a myth. You can find high-end soundbars at reasonable prices; all it takes is patience, time, and energy.
Connections
Don't settle for a soundbar with limited connectivity preferences. Despite being affordable, the soundbar must offer multiple connectivity options so you can pair your smartphones, TVs, gaming consoles, and Blu-ray players with a single device.
Built-in Features
Soundbars are coming with exciting features to enhance the music listening experience. Many models have a dialogue enhancement feature that polishes the vocal delivery even without a center channel.
Besides, the room correction feature that elevates the sound according to room acoustic is also worth using. Bass and treble adjustments can make a difference when listening to certain music.
Also read: Best Settings for VIZIO 5-1 Soundbar
Frequently Asked Questions (FAQs)
What is the best budget soundbar?
ZVOX SB380 is the best 2.0 channel soundbar with the solid build quality and impressive sound production capability. It is a compact soundbar but produces a heavy sound that complements a home theater setup. Besides, three-dimensional sound mode further optimizes the sound performance and ensures a premium listening experience at an affordable price.
Are budget soundbars worth it?
Budget soundbars are no different than other soundbars, but you may have to compromise on a few high-end features. Still, they produce stunning audio performance with clarity and fine-tuning for immersive listening.
How much does a decent soundbar cost?
The soundbar cost depends on the brand, model, demand, and the features it provides. A decent soundbar from a high-end brand should cost between $250 to $800. But you can find the best soundbars under $100, $150, or even $500.
How much should you pay for a soundbar?
It depends on your budget range and feature preferences. You can spend as low as $100 on a soundbar and invest $1000 in a premium model.
Is soundbar better than speakers?
Speakers Vs. Soundbar debate is never-ending. In most cases, speakers create a wider soundstage and offer better audio quality than most soundbars. However, the soundbar can improve the TVs speaker's quality and offer pure, crisp, and clear audio for better understanding.
Read also: Samsung Soundbar Equalizer Settings
Conclusion
That's a wrap. Finding the soundbar under a certain budget can be a pretty hectic and annoying task as the market introduces a new model every second. So, we have surveyed, tested, and reviewed the best budget soundbars that are worth considering for everyday music, movie, or podcast streaming.
Read also: Best Settings for Samsung Sound bar