Do you want to upgrade your sound system, but the budget is limited?
Fear not. We have some great options to consider, famous as the soundbar.
You must be familiar with this technology, that one unit contains multiple speakers that reproduce high-resolution audio that maintains clarity, detailing and distortion-free sound at max volume.
So, we will introduce you to the best soundbar for the money we tested that are ruling the market with solid design and sound effects.
So, let's get into their details and examine the top 15 soundbars worth investing in for upgraded audio.
List of the Best Soundbar for the Money in 2023
1. Vizio M21D-H8R 36 Inch Soudbar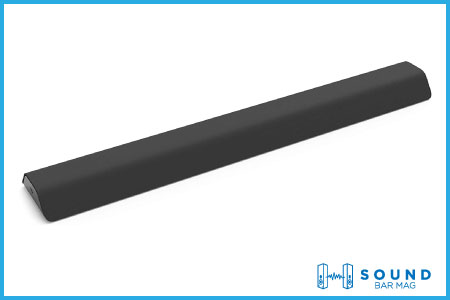 The M-Series of Vizio has an incredible soundbar collection that proves to be a valuable upgrade to TV's built-in speakers and a go-to sound system for casual gaming and music listening.
Vizio M21D-H8R is no exception, with 36-inches solid build quality and a 2.1-channel configuration system. The soundbar came earlier than the quoted date, so we didn't waste time unboxing and setting it up for testing.
We loved the aesthetics, and some stats, like the soundbar houses two front-facing full-range surround speakers with separate tweeters and woofers that produce high-definition audio with great quality.
The bar features a phantom center channel where the left and right channels work together to enhance the vocal presentation. The dialogue delivery wasn't admiring, but it was reasonable when we tested it with news, sports, or shows.
Besides, you will also get a touch of good bass by fine-tuning that perfectly optimized sound for mixed usage. However, if you are a music lover, we recommend adding an external subwoofer.
On the upside, the modern-looking soundbar with an angular design seems more durable than the typical bars with a plastic coating. The capability of hitting 98dB sound pressure level is worth admiring, and a frequency level of 50Hz to 20kHz allows you to enjoy soft upper and mid notes while watching TV and experiencing wild sound with music.
The built-in drivers are also compatible with DTS:X technology that ensures 3D bouncing sound and goes from ceiling to floor with great intensity to fill the room. We played some country or hip-hop music, and the performance was worth noticing.
Easy setup with the included HDMI cables and remote control will hardly take a minute to kick start the device and let you enjoy quality audio streaming. We were ready to play the bar within 20 minutes of its arrival.
You can also use Bluetooth technology to connect with your phone and enjoy your playlists in premium audio quality wirelessly. However, we noticed some distortions while connecting to the Bluetooth, and HDMI gave us smooth audio quality.
 So, it is an issue to look for. Otherwise, it can be the best soundbar for money and features. The sound was loud and detailed, and the vocals were reasonable to hear. We would recommend it for daily TV watching.
Check: Best Soundbar Under $50
Pros
• Easy setup
• Wireless connection technology
• Virtual 3D sound
• Voice-assistant ready with AUX
• The kit included remote and connectivity cables

Cons
• Slight distortions with Bluetooth
• Dialogue is not clear enough

2. JBL Bar 9.1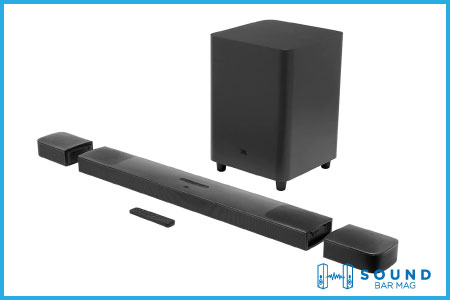 The JBL Bar 9.1 soundbar carries the audio experience of a movie theatre in your home with two rear speakers and Dolby Atmos and DTS:X 3D sound technology.
It comes With 820 watts of overall power, and you can enjoy every movie through powerful, rich, and clear audio. We were shocked to get the loud, powerful, and energetic sound output at different volume levels.
We assure you the bar wouldn't disturb you in setting and turning it on any time you want to enjoy the high-definition sound. Easy Plug-In helps you to enjoy the cinematic 9.1 sound-cutting experience.
Place the two attachable surround speakers behind your couch, or place them on your vaulted ceiling. Bluetooth connections help with connecting detachable speakers without worrying about any wiring coming out all over your floor
The unbelievable 4K video resolution deserves excellent sound. The JBL Bar 9.1 soundbar makes the ultimate lively duo when connected to your TV device via HDMI for more stable digital audio decoding.
Built-in batteries mean you can play as long as you want because you may get tired playing games or watching shows, but the soundbar won't after 10 hours of playback.
Built-in Wi-Fi helps you with Chromecast, which means you can stream all your favorite online music in high clarity. We tried with our account, and the process was seamless, with some heavy sound punches.
The wireless subwoofer delivers punchy bass with a max power output of 300W, and you will be surprised by enjoying ground-shaking bass audio from the 10-inches subwoofer.
You can connect to the internet with the help of Wire or Wireless, a choice of optical or eARC HDMI (HDCP 2.3) for source connections, plus an HDMI-in for 4K pass through, which is also Dolby Vision well-matched.
Pros
• Amazing Sound Quality
• Reasonable Bass performance
• Surround sound speakers
• VESA compatibility
• Clear Dialogue Outcome

Cons
• The remote design looks outdated
• No voice control support

3. Roku Smart Sound Bar
If you're demanding to stretch your budget as far as it will go, the Roku Smart Soundbar offers remarkable value by joining a 4K HDR Roku streaming device and a decent soundbar.
The soundbar sits practically high at 2.8 inches tall, with a 32-inch width, but as long as you have a TV that sits reasonably high off the table and has wide legs, you shouldn't have any glitches with the soundbar blocking the IR receiver on your TV. 
We think the soundbar achieves decently well for its price and design. It faces no issues fulfilling the room with quality sound, whether the size is small or big, and the capacity doesn't crack or distort.
We also like that the soundbar comes with a devoted remote with a built-in microphone that allows you to use voice assistance to control the volume, search for movies, or launch exact channels.
You will be getting all the needed cables for your soundbar inside the kit for the instant running of the device. The shipment was also on time, and everything came in excellent condition. We were satisfied with the packaging.
Upon unboxing, we found a kit including a power port, HDMI 2.0a ARC audio return channel, and a USB Type-A slot. Besides that, the soundbar features Bluetooth and Wi-Fi technology to open doors for unlimited entertainment at home, proving to be the best soundbar for money.
Pros
• Very loud
• Built-in 4K Roku player
• Voice control support
• Excellent speech clarity

4. Sonos Beam Gen 2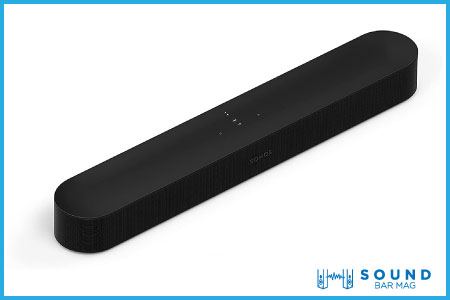 The Sonos Beam Gen 2 is a major upgrade paralleled to the original Sonos Beam soundbar, approaching Dolby Atmos support, HDMI eARC compatibility, and a new updated design.
This soundbar sounds terrific and fits in small spaces flawlessly, while its mid-range price won't be too hard on your monthly pocket money. We loved the handy profile that helps with portability and let you upgrade the audio of any device you have in your home or office.
The new Sonos Beam is almost equal to its forerunner, with the exact design, size and stylish curved edges. The only change in creating a punctured grille similar to that of the Sonos Arc wishedfor to be more long-lasting and easier to clean.
We love how it gives you the pleasure of experiencing 3D sound with Dolby Atmos compatibility, which enriches the audio quality, boosts speech clarity, and minimizes any noticeable distortion effect for smooth listening.
The two new selections add edging and height features to the left, right, and center channels; the second-gen Sonos Beam will calculate and enable support for Dolby Vision on the soundbar. 
The second-generation Beam also enlarges eARC connectivity, which has much wider data bandwidth over HDMI than ARC for higher-quality multi-channel audio, and more NFC connectivity for arrangement.
Having Wi-Fi means you can also play the Beam Gen 2 from a handheld device via Apple Airplay 2 or any other streaming platform. We tested the Apple Airplay, and it played smoothly with our favorite playlists.
Pros
• 3D sound quality
• Compact design
• Easily upgradeable

Cons
• Little Expensive than the previous-gen

5. SAMSUNG HW-Q950A 11.1.4ch Soundbar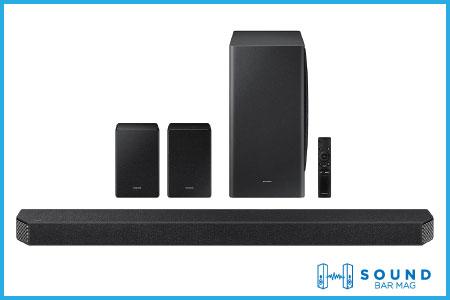 In the market full of new soundbar and home theatre system, Samsung's HW-Q950A rank all by coming in 16 separate sound channels. After hearing about this high-end profile soundbar, and couldn't wait to test it. After waiting patiently for a few days, it was in our facility.
This premium yet best soundbar for money with an 11.1.4 channel system powered by compelling amplifiers is ready to turn the tables for TV watching, music listening and covering important sound-sensitive occasions.
Despite resounding a considerable 8-inch driver, the subwoofer has a thin profile to hide down the side of a sofa or below a sideboard. The rears are heavy but necessarily compact to fit on a shelf easily. The best soundbar is more than a meter wide but slim, with plenty to tuck under the screen of most great TVs.
The key soundbar stays on being full to overflowing points with speakers. As well as the devoted front-center, front-left, and front-right channels soundbar, there are two more up-firing speakers, two drivers firing off to the side, and an additional two drivers firing onwards at an angle to deliver mid-side effects reproduced off your walls.
Connectivity comes from two HDMI inputs, one HDMI output, a visual digital audio input, and the now compulsory Wi-Fi and Bluetooth support. We utilized the HDMI ports to connect with the TV, and we must say the performance was better than Bluetooth.
We appreciate that Samsung even delivers support for Tap View technology, where you can start a connection between a well-matched Samsung phone and the soundbar. So, it is a valuable addition.
The HW-Q950A's new rear channels make available an unexpected subordinate benefit: they make the rear soundstage commonly feel more involved in the accomplishment. It again underlines the organization of the wrap-around 3D soundstage.
Pros
• Can Play Music Without lagging
• Amazing Sound Quality
• Dolby Atmos support
• Works with Alexa and Google Assistant
• Quick connection

6. Vizio M512a-H6 5.1.2ch Soundbar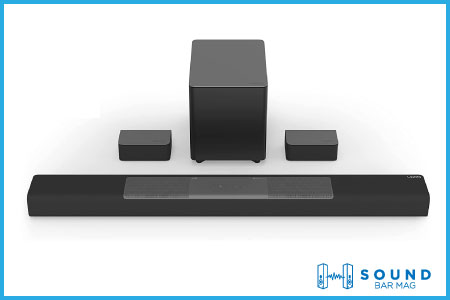 Vizio M512a-H6 is an excellent soundbar that gives value for money with exceptional audio quality, next-level clarity, and perfect background tuning. It is made for those who want to get into Dolby Atmos without denting their bank account.
Setting up M512a-H6 is not complicated, as it is designed to run instantly once the power cord plugs in. We loved the smooth setup, though. Besides, the bar has five channels, one subwoofer, and two up-firing Atmos speakers. All these drivers combine to make incredible audio output with clarity and energy.
The soundbar speaker arrangement comes in the center, left, proper channels and those stated above, and two up-firing Atmos speakers, also known as height channels, are responsible for producing room-filling sound.
There is an HDMI port, eARC, USB, and a 3.5mm AUX jack that can be used to wire up to a smart speaker on the back panel. Out of the box, but the M512a-H6 doesn't have any built-in assistant voice control. Still, you can connect Alexa, Siri, or Google Assistant devices by available input. It may give you a hard time in navigation, but you will be fine.
Besides, the subwoofer comes with a 6 inches woofer that can connect wirelessly to the soundbar. The bass performance was catchy and better than the built-in woofer, so we were impressed. However, the two rear speakers are held together and must be connected to the subwoofer. 
The remote control is also amazingly robust and quick to respond. It has a small LED screen to see what settings you're shifting. Everything from EQ, balance, inputs and other settings can be done remotely. 
It is one of the best Atmos soundbars for money that should be a reasonable upgrade to TV speakers and typical Bluetooth speakers at home.
Pros
• Easy Set up
• Quick to Response remote
• Good sound Quality

Cons
• No built-in Wi-Fi
• No external woofer

7. Sony HT-ST5000 7.1.2ch Soundbar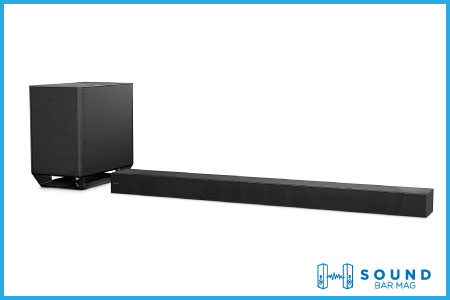 Sony HT-ST5000 is a premium soundbar with a 7.1.2 channel system, 800W power output, and advanced audio format support. It is an ideal piece to add to your home entertainment setup because its high price justifies its performance, features, and quality.
The soundbar combines quality material, optimal design, and superior audio performance. The bar has powerful speakers everywhere in the solid construction that works together in a single unit and delivers cinematic sound performance.
After unboxing and setting up the bar, we tested it with different content, mainly the different sound genres, and it made every effort to grab our attention. The audio quality was subtle, detailed, and precise with the balanced mids and higher highs.
Coaxial speakers, woofers, and tweeters align the audio across different frequencies, and the height channel with Dolby Atmos support brings realistic vibes to the music.
Enjoy this stylish device's next level of dialogue accuracy and high-resolution audio. The wireless subwoofer is not disappointing either; it manages to deliver heart-pounding bass to match the overall premium quality of the bar.
Multiple connectivity sources, including Wi-Fi, Bluetooth, HDMI ARC, three HDCP 2.2 compatible HDMIs, optical SPDIF, AUX, and USB, give you the relief to pair any device you want. Sony Music Center allows you to enjoy multi-room music listening, which is ideal for dinners, parties, and game nights.
Besides delivering detailed and rich sound performance, it lacks common features like room correction or voice control support, which also makes a huge difference.
But we consider it a valuable piece of home-theatre setup due to the great price, plenty of connection support, and clean audio quality.
Pros
• Elegant design
• Smooth setup
• Lots of connections
• Great acoustics with clarity and detailing
• Heavy bass performance

Cons
• Lack of room-correction function

8. Sony HT-X8500 Soundbar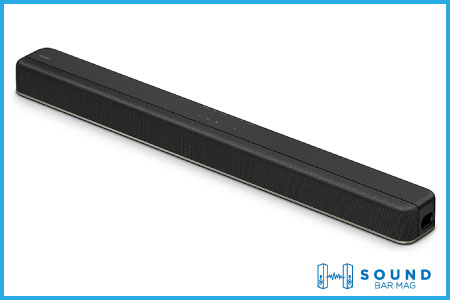 Most top-rated Atmos soundbars will do their best to control table space, but you won't need to create space for the Sony HT-X8500. It is just 89 cm wide and makes an upright partner for screens from 49 inches up.
Its ultra-slim body is good enough to sit in front of the greatest of them but can also be wall fixed for ease. The smart placement of input ports wouldn't make it hard to reach them when mounting on the wall, so we recommend enjoying the flexibility.
The HT-X8500 proves the capability to cast images high and wide. It also plays encouragingly loud with a power output of 320W, hinting that the bar's power plant is self-motivated and fearless.
We assure you it is slim, discreet, and modern, completing your Sony TV. Characteristic design elements include a punched metal speaker grille and sub-woofer channels on both sides.
Upright Surround Engine Sony's newest surround technology lets you relish the thrill of Dolby Atmos and DTS: X from a single slim element. Whether in which room you want to place this, the DSP technology permits two front speakers to replicate full, filmy sound from all around you, including from directly above.
The Sony soundbar is not only the best soundbar for money; it's a go-to speaker for listening to podcasts or any dialogue-sensitive content. The sound performance was perfectly balanced and customized according to the point, and we tested every mode to solve the confusion.
The speech enhancement function allows you to clarify dialogue, and seven different sound customization modes will enhance the listening experience with one button push. So, get ready to enjoy real entertainment with the premium Sony HT-X8500 soundbar.
Pros
• All-in-one 2.1 design
• Dialogue enhancement function
• DSP technology
• Deep bass sound performance
• Bluetooth streaming
• Easy Plug and Play

9. Polk Audio Signa S4 Soundbar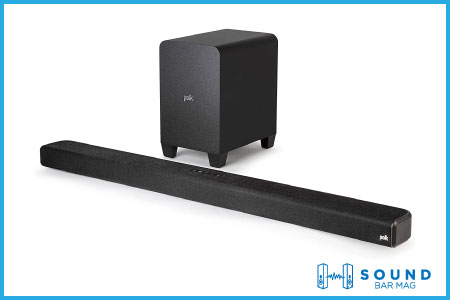 Polk Audio Signa S4 is another best soundbars for money in our list that is compatible with 8K, 4K, and HD TV with HDMI ARC and Bluetooth support. We invited the bar for its rich compatibility as the users want something to pair with different sound-sensitive devices simultaneously.
We must say the soundbar appearance is super cute, with an ultra-slim body in black having a few control buttons at the top panel. The wireless subwoofer is also decent looking, standing on four strong feet that help with smooth moving.
The soundbar is only 2.4inches tall, so we assume it will easily adjust under your smart TVs and wouldn't disturb you with mounting. Built-in Bluetooth technology lets you wirelessly stream music from your favorite online streaming platforms.
HDMI with HDCP 2.2 and 2.3 compatibilities will get you the joy of enjoying 4K content from a TV with rich and spacious sound performance. We utilized the HDMI and other input ports and loved the piece.
You will enjoy a true 3D surround sound experience with the 7-driver array with 40W each power output and a dedicated center channel that isolates dialogues from tuning to sound more accurate and engaging. In addition, Polk's exclusive voice and bass adjust technology allows you to customize sound while maximizing clarity and boosting bass levels, so you enjoy the content without missing a word.
We were amazed to notice the soundbar gets surprisingly loud without any noticeable distortions. It also utilizes height channels with Dolby Atmos support for realistic 3D surround sound. Undoubtedly, it is a Godsend soundbar, and it was really hard for us to determine its shortcomings.
However, we assumed having voice control support with Alexa or Google Assistant could be a valuable addition to enjoying built-in functions without going through the settings hassle.
Pros
• Customized sound
• Night mode
• Effortless bass
• Quick setup
• HDMI HDCP 2.2 and 2.3
• True Dolby Atmos surround sound

10. Roku Stream Bar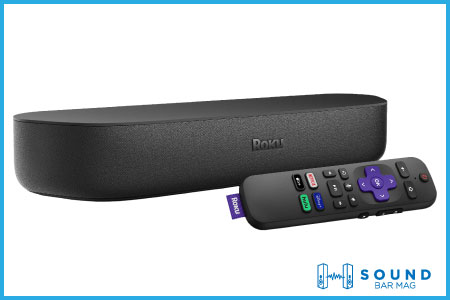 The Roku stream bar is here if you are looking for a portable soundbar that can wirelessly work with your laptop, smartphone, or even smart TVs. Measuring only 14 by 4.2 by 2.4inches and weighing around 2.4 pounds, this portable soundbar is ready to be a part of your mini parties, sports nights, and podcast listening days.
It is a complete entertainment package with built-in 4K/HD/HDR streaming channels, offering a fast interface and new channels to enjoy your favorite content in terrific quality. We enjoyed testing this pleasing profile and would recommend it to anyone looking for an upgrade.
We were surprised to hear the sound quality, which is also big and heavy beyond its size. It reproduces high-definition sound with advanced audio engineering Roku OS that boosts the volume, enhances clarity, and adds depth to the music.
Setting up the Roku stream bar is super convenient, and a subwoofer is also a part of the package that covers the rich bass. We played some bass-sensitive content and were amazed at how smartly it was picking the low-bass extensions.
But we must say the soundbar is user-friendly. The audio settings are straightforward; connectivity with Bluetooth, Wi-Fi, USB, and HDMI and managing the device with the Roku voice remote sounds exciting.
The built-in drivers are calibrated with Dolby Audio for rich dialogue clarity and perfect tuning. You will also enjoy some severe rumble with the room-filling sound that can turn the table for everyday music listening or TV watching.
So, no more separate investments for digital streaming and listening because the Roku stream bar covers all the online watching needs with a single device. Enough money values.
Pros
• Travel-friendly
• Built-in 4k streaming channels
• Easy to use
• Bluetooth, Wi-Fi, and USB
• High audio quality

Cons
• Limited device compatibility

11. Nakamichi Shockwafe Ultra 9.2.4 Soundbar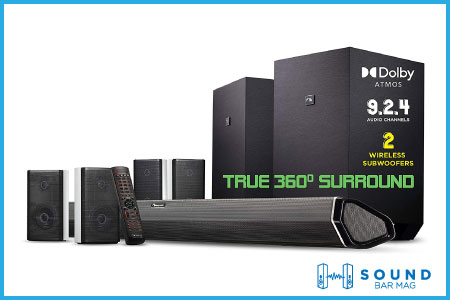 Try Nakamichi Shockwafe Ultra 9.2.4 channel soundbar with a maximum power output of 1000W to turn your place into an entertainment hub. The complete home theatre kit includes a compelling soundbar, a 10-inches wireless subwoofer and 4 rear surround sound speakers to set the wide soundstage.
Nakamichi is the name of the trust and can provide the absolute best audio experience with a set of multiple built-in speakers. Three advanced audio processing engines are included that improve sound directionality, boost spaciousness, and ensure audio accuracy despite the volume level.
We also explored the drivers that are compatible with Dolby Atmos and DTS: X, which delivers object-based multi-dimensional audio that envelops every music layer and flows around while maintaining quality and ensuring an immersive acoustic experience.
In addition, the subwoofer has taken inspiration from multiple cinema-based woofers and come up with better, deeper, and shaking bass than you can ever experience. We almost heard the windows banging and our hearts pounding with the bass output.
The soundbar features a dual center channel that brings excellent clarity to every word delivery, so you can count on it for the front-row listening experience every time you plug the bar.
Besides, connectivity is pretty rich, including HDMI, optical digital, Bluetooth, HDMI ARC, and USB ports. However, due to a lack of proper stands and cable management, the soundbar creates a lot of cable mess, which is a turn-off for us.
Pros
• Lifelike sound
• Deep bass
• Surround speakers for 360 sound
• SPL up to 113dB
• Advanced audio format support

Cons
• No cable management and stand available

12. SENNHEISER AMBEO Sound Bar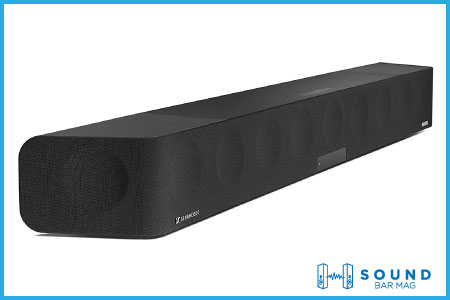 Powered by 13 high-end components, the AMBEO Soundbar brings a 5.1.4 sound experience while creating strong 30Hz bass without requiring an extra subwoofer. We loved the sound output with different genres and couldn't wait to dive into other functions.
And thanks to progressive room correction, it engages you in studio-grade sound modified to the setting of your living room for an impressive 3D experience. We were surprised to welcome all these unusual specs at this price, but all of them made the bar an impressive sound-reproducing device.
It was smooth tuning it to your home setting, creating your own listening experience with a built-in equalizer and three custom-built AMBEO 3D technology features for your home audio soundbars.
Different EQ presets let you set your own music standards by utilizing 13 built-in speakers smartly. We tested all the presets with different content and were shocked at how the sound was personalized with every button. 
So, turn your home stereo or 5.1 audio into a 3D surround sound experience with the combined-Up mix Technology, which is also completely well-matched with Dolby Atmos, DTS: X, and MPEG-H.
It offers quick wireless pairing with your home-compatible devices with built-in Wi-Fi and Bluetooth or from the cloud via the built-in Chromecast system. Five dedicated tweeters bring studio-grade balanced sound and voices delivered with stunning accuracy, giving you a better home theatre familiarity.
The Sennheiser soundbar is fixed to produce more natural highs and lows, more measurement, and more subtle detail than thinkable. AMBEO helps you make your own bass according to your needs and the music you are playing without any lag.
Pros
• Natural sound outcome
• Amazing sound details
• Perfect for your gaming
• Balanced tuning
• Dolby Atmos compatibility

Cons
• No external subwoofer is disappointing

13. Yamaha ATS-2090 Soundbar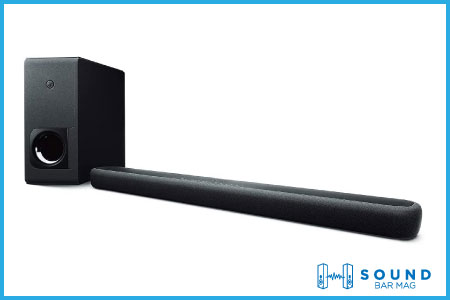 We have another top-profile product from Yamaha that we all want to test so badly. It came in excellent condition, and the attractive profile screams for quick or smooth testing.
Yamaha ATS-2090 is a decent soundbar with round outlines, and the wireless subwoofer does not take up much of your space. It is a great combination for listening to mixed content, including podcasts, music, news, and movies.
However, Dolby Atmos is incompatible; instead, DTS Virtual: X should give the impression of a height channel sound production that bounces from the ceiling and fills the room with powerful yet detailed sound.
The 200W power output may not satisfy the audiophiles, but the clarity and high-resolution audio quality should be enough to convince you. However, the audio was loud enough to keep us hooked on sports, news, and shows.
We like you to get Wi-Fi connectivity and voice assistance control with Alexa, but it does not come with Google Assistant. Spotify Link allows you to play Spotify straight on the soundbar from your mobile, although other streaming service areas may use Bluetooth.
With Alexa, playing music is as humble as asking for a song, artist, or genre from Amazon music and more. You can play music on many other devices in any room with the help of Alexa. We tried the feature and enjoyed every bit of it.
Additionally, the ATS-2090 has an audio return channel on the HDMI output for a stress-free connection to the TV, while an extra HDMI input can be used if you want full-quality high-definition soundtracks from Blu-ray or gaming consoles.
Yamaha's soundbar has no display as an alternative. Inputs and purposes are marked with LEDs at the top. More than a few LEDs light up when you set the volume level, dependent on the volume. The same thing happens when you need to select the subwoofer.
Yamaha ATS-2090 offers a tremendous and sensibly powerful soundbar for money. One is speedily drawn into the action on film, and the soundbar is skillful enough to deliver powerful explosions when the scenes need it. The dialogues are good with good weight, while the sound is evident.
Pros
• Balance sound outcome
• Decent Built
• Alexa-ready
• Wireless connection

Cons
• Poor surround performance.

14. ZVOX AV157 Soundbar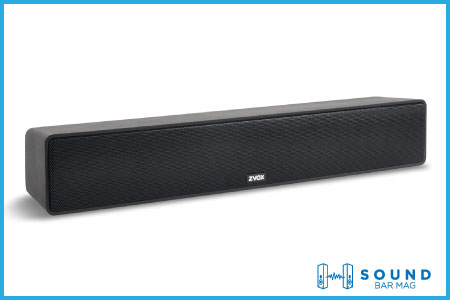 Are you not thoroughly enjoying streaming TV, gaming, or listening to your favorite playlists because the flat TV panel has the worst audio quality? Worry no more because ZVOX AV157 offers 12 dialogue boost level that clarifies vocal pronunciation until you hear them.
The soundbar includes three full-range speakers powered by a 24W Class D amplifier that produces powerful, room-filling sound. We noticed the audio is dimensional, and the sound pressure level is also pretty maximum. It could be heaven for gamers for its pleasing and loud soundstage.
Also, ZVOX has a built-in technology, named AccuVoice hearing aid technology, that takes dialogue clarity to another level, so it is not only the best soundbar for money, but it should be the best soundbar for the hearing impaired who can't enjoy the digital world because built-in speakers fail to distinguish background noise and dialogues.
Installation and setup of the portable soundbar are easy. The low-key profile adjusts anywhere, even on the tables, and lets you experience rich audio quality. The included remote control with dedicated buttons keeps up with navigation, and wireless connectivity technology allows you to pair any device.
However, it is a basic soundbar that improves the dialogue performance and hence does not offer any advanced specs or features to entertain you. It is more like a sound-clarifying device, so better to expect not much.
Pros
• 12 dialogue boost level
• Balancing background noise
• 24W Class D amplifiers
• Dolby Digital

15. CineHome PRO 5.1 Soundbar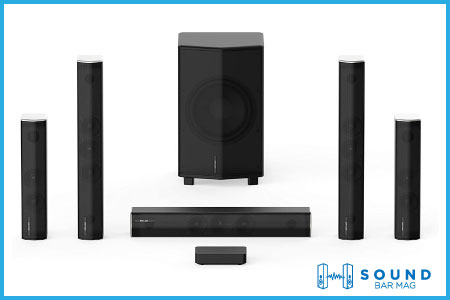 Cinehome Pro 5.1 is a decent plug-and-play soundbar that easily connects with a TV using an HDMI ARC and takes your visuals to the next level. The two-way speaker placement ensures a wide soundstage with great dialogue clarity and balanced tuning.
Plug in each of your speakers to the wall sideways with the Enclave CineHub. It will pair flawlessly with your speakers so that you can fix them anywhere in your living room.
We appreciate the idea of providing mind-blustering 360 degrees of wireless sound like you're in an actual movie theatre. We connected it to a TV and gaming console and enjoyed the bumping and energetic sound of gunshots and explosives.
Moreover, it houses eleven dominant 24-BIT CLASS-D AMPS Power-driven by 14 custom-designed drivers and a 10-inch subwoofer to convert your living room into a true surround sound cinematic capability.
The built-in drivers are THX Licensed, 24 Bit Dolby Digital, DTS, and WiSA compatible for a rich, 360, and rational listening experience. We must say the bar is made to compete and get compatible with the latest technology-oriented devices.
It comes with a 3.5mm analogue so that you can stream any type of music and video from your preferred music player using this universal audio port. Cinehome got you your back with Bluetooth 5.0 connectivity for effortless use with any mobile device or tablet.
Pros
• Very detailed sound
• Dolby Audio and DTS
• THX-certified speakers
• Bluetooth streaming
• Easy to set up

Best Soundbar for Money (2023 Buying Guide)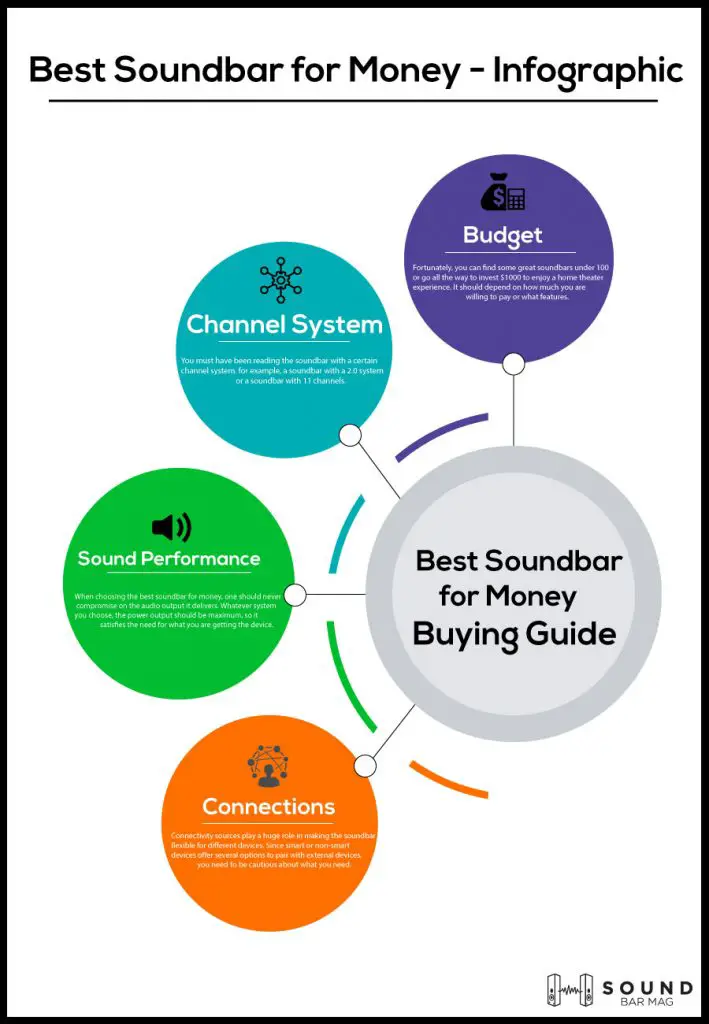 Since we all want to consume quality music while studying, driving, partying, gaming, or even watching TV, we become conscious of sound systems. With the increase in quality music listening demand, the sale of soundbars is reaching the sky.
Therefore, brands produce soundbars with different features and the enhanced sound quality so that everyone can get their hands on them hassle-free. However, it makes the newcomers super confusing, and they end up spending hundreds of bucks on the wrong product.
Hence, let me tell you some important points to consider while getting the best soundbar for money.
Budget
Let's start with setting a budget. Getting the best soundbar for money does not imply finding a budget-friendly device. Instead, it indicates getting the one that includes everything you need to set up a home entertainment setup.
Fortunately, you can find some great soundbars under 100 or go all the way to invest $1000 to enjoy a home theater experience. It should depend on how much you are willing to pay or what features.
Channel System
You must have been reading the soundbar with a certain channel system. for example, a soundbar with a 2.0 system or a soundbar with 11 channels. They are the same channels you get from typical speakers. Rather, they indicate the number of drivers or speakers included in a system that produces the sound.
Usually, a regular entry-level soundbar with 2.0, 2.1, 3.0, 3.1, etc., the system contains left and right channels. 3.0 and 3.1 includes an additional center channel that enhances the dialogue performance, and they are surprisingly great for mixed usage, including podcast or eBook listening, TV, movies, music, and much more.
Similarly, the more speakers you opt for, the more optimized sound gets, and you can widen the soundstage. It should depend on your usage, audio listening preferences, and occasions. Also, you may have to increase the budget according to the channel system. So, choose wisely.
Sound Performance
When choosing the best soundbar for money, one should never compromise on the audio output it delivers. Whatever system you choose, the power output should be maximum, so it satisfies the need for what you are getting the device.
Whether advanced sound effects are coming along or not, the sound quality should be precise. Upper and mid notes should be well balanced, and distortions should be minimized at any SPL. In addition, if you want to calibrate sound, the bar should offer you settings to adjust audio quality, treble, and bass performance.
Connections
Connectivity sources play a huge role in making the soundbar flexible for different devices. Since smart or non-smart devices offer several options to pair with external devices, you need to be cautious about what you need.
Usually, all the best soundbars come with wireless Bluetooth technology that allows pairing two devices without any cable. It saves time, eliminates the need to dedicate a device to a soundbar, and enjoy music streaming without hassle. Also, the soundbar contains a pair of input ports that varies with the models and brands. But the most common are optical digital, RCA, USB, HDMI, AUX, etc.
Frequently Asked Questions (FAQs)
What is the best soundbar for the money?
We find Nakamichin Shockwafe Ultra the best soundbar for money, featuring a 9.2.4 channel system and 1000W power output for a complete entertainment setup. It comes with a wireless subwoofer and four surround speakers to provide a real home theatre experience.
Are soundbars worth the money?
Soundbars are worth every penny you pay for them, regardless of the features, size, and built-in technology they offer. Soundbars are affordable, stylish for home, and sound bigger than TV speakers. So, it is a win-win device for everyone.
What is the best soundbar money can buy?
Sony HT-ST5000 is the best soundbar you can invest in. It is a 7.1.2 system soundbar with a wireless subwoofer and Bluetooth technology to give you an ultimate listening experience. The built-in speakers are compatible with Atmos for lifelike sound, and dialogue clarity is exceptional for speech-sensitive content.
Conclusion
You can find great soundbars with an intuitive design, a diversified channel system, and a variety of features selling with a reasonable price tag. We have added the best soundbars for money that can light up your houses with a big, clear, and heavy sound with advanced built-in technology.
Soundbars being a dedicated speaker will add value to your entertainment lives. So, get one that best matches your requirements and enjoy high-definition cinematic audio at your house.
Mia Evelyn is a soundbar specialist and she love to test and review different soundbar brands. She shares her neutral and in-depth reviews through the Soundbar Mag.