We have covered many topics regarding soundbars, but all of them mostly range from best-size soundbars or affordable soundbars, and best-brand soundbars.
However, today we will focus on the convenience while using the soundbar. We have tested hundreds of soundbars/speakers but narrowed down our research for this piece and added the one with built-in voice control.
We reviewed the best soundbar with Alexa built-in to ensure a device reproduces sound with clarity and loudness while giving you the pleasure of hands-free usage.
All the soundbars mentioned below come with built-in voice control that eliminates the need to use a remote control or complicated apps while you host large parties or dinners at your place. Use the voice command to manage volume, switch connections, play a certain playlist, etc.
So, let's check out without further ado.
List of the Best Soundbar with Alexa Built-in in 2023
1. Samsung HW-Q60R Soundbar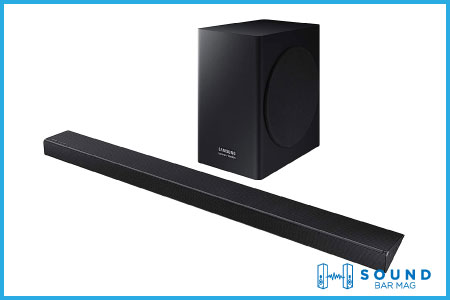 First, we have added a top-notch product from the famous and trustworthy brand Samsung. Samsung has been in the electronics market, and we all trust their product for innovation, price, and quality.
Though we tested it for the loud sound output with multiple advanced features, we couldn't stop adding it to this category.
Samsung HW-Q60R is a complete entertainment package with a 5.1 system and wireless subwoofer, delivering a power output of 360W only.
Samsung is a name for a stunning build profile and highly advanced audio technology that delivers precise and detailed sound performance. The 5.1 channel configuration setup with the Samsung acoustic beam technology reproduces balanced, room-filling sound that delivers a home-theatre experience.
In addition, the adaptive sound technology analyses the content nature and optimizes the sound, its clarity, treble, and bass performance to make it more interesting to hear.
The up-firing speakers come into action while gaming or music listening for an amazing surround sound experience. We tested it with gaming first, and all the explosions, gunshots, and racing noises were hitting into the eardrums.
Samsung HW-Q60R doesn't come alone, but the wireless subwoofer that takes care of low-frequency extension gives the pleasure of powerful and deep bass.
Thankfully, all the audio components and format supports are easy to adjust with a remote control or Amazon Alexa support. We tested Alexa for regular navigation, which was smoother than we thought.
Whether adjusting the frequency or enjoying the bass depth, ask Alexa to do the job, and it will instantly follow the voice command. The device's super convenience makes it the best affordable soundbar to pair with a TV or wirelessly to smartphones.
Pros
• Acoustic beam technology
• Adaptive sound and Game pro mode
• HDR and Bluetooth support
• High-frequency response of up to 24Hz to 20kHz
• Alexa voice control

2. Sonos Beam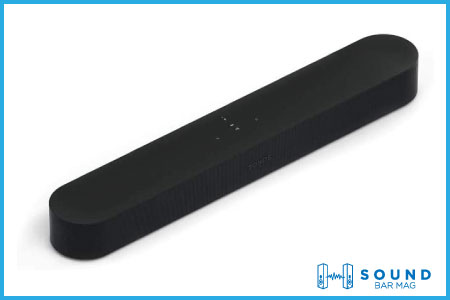 If you want to experience quality audio, get Sonos Beam, which connects with TV, gaming console, and other digital devices via multiple connectivity sources, and upgrade your TV's built-in speakers.
We loved its low-key profile that wouldn't give hard time setting up with different devices. Also, it is portable and easy to set, and Alexa compatibility makes it more interesting. We tested the feature, and it was exactly like our phone. Quick to pick the command and perform accordingly.
Undoubtedly, this 25.6-inches smart soundbar is designed to satisfy all your music-listening cravings with detailed and high-definition audio. The upper notes are higher, and the bottom ones are lower with perfect tuning.
It won't be hard on your pockets and will become a reasonable upgrade to the TV's built-in speakers. Also, the slim profile is ready to take place under your smart TV to complement the home decor and give you the convenience of using physical inputs without creating a mess.
Its built-in full-range drivers with passive radiators deliver the perfect mixture of loud and crisp audio with the perfect bass. The side driver's placement creates a wide soundstage, and the frequency range is unbelievable and can fill small to average-size rooms with ground-shaking vibrating sounds.
The soundbar is certainly designed for endless entertainment due to the wireless connectivity options that give access to online music streaming platforms.
However, while testing it with a diverse range of music and gaming, we heard some annoying muddy noise at extreme levels. It shouldn't be a problem for regular streaming or some minor sound customizations.
Pros
• Quick setup
• Voice enhancement function
• Elegant design
• Alexa control
• Ground-shaking sound

Cons
• Muddy noise at high volume

3. Bose SoundTouch 300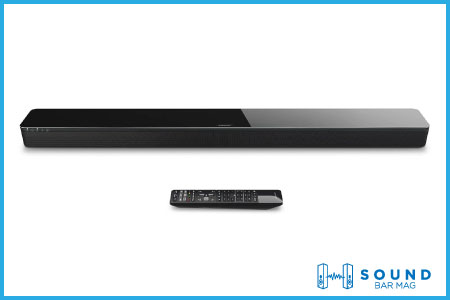 We tested the unit for the best portable soundbar for its lowkey profile, but its features brought it here. It is a handy soundbar with a heavy sound punch to transform your TV and gaming experience.
The Bose SoundTouch 300 is a beautifully designed soundbar with premium glass material and a metal grille at the front. It complements the home decor while mounting on the wall.
It offers a great acoustic experience with loud and detailed sound that maximizes vocal clarity and minimizes sound delays. Though it is a one-unit device that is enough for the loud and clear sound requirements, you can connect an external subwoofer for richer deep bass.
The soundbar is long and wide, and every bit of it integrates innovative technology that delivers an immersive listening experience. The powerful sound effects go a long way to customize the sound and make it more interesting according to the content.
This full surround sound speaker connects to other devices wirelessly, making the sound system flexible to place and easy to use.
The voice control support with Alexa offers less effort and more music enjoying policy with Bluetooth pairing and voice controlling.
It is undoubtedly the best soundbar with Alexa that browse playlists, podcasts, or even ebooks and play on your preferred volume with the right effect.
Pros
• Multiple sound effects
• Powerful and stable connection
• Attractive and elegant profile
• Deep bass performance

4. Creative X-Fi Sonic Carrier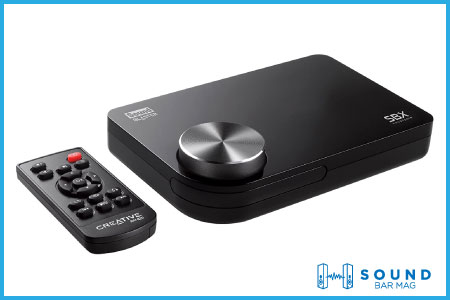 It is a broadband-like surround sound speaker with a 5.1 system configuration compatible with Dolby Digital to produce highly adaptive sound. It is highly portable and lets you take it wherever you go.
Despite the compact profile, the soundbar houses multiple speakers inside to create a stunning-sounding profile. We were amazed by its performance.
In addition, Dolby Digital decoding makes the sound more realistic and lifelike to hear. In addition, it also offers the pleasure of private listening with the headphone jack port, letting you make audio or video calling and enjoy accurate audio.
Also, a single optical digital cable and RCA stereo provide a stable connection for the best audio performance. However, the lack of WiFi may annoy you a bit.
Alexa voice control gives a stunning experience, giving you all the built-in functions and control over the voice command. Just ask Alexa to navigate the device and see getting it done quickly.
It can also get super loud with a sensitivity ratio of up to 100dB, and the audio fidelity response goes high of up to 96kHz with a sound depth of 24-bit.
It also features a volume control knob at the top, but the handy remote and Alexa compatibility gives you the luxury of hands-free control.
Pros
• SBX Pro Studio
• High fidelity sound
• Highly portable sound
• Dolby Digital

5. Yamaha YAS-706 Soundbar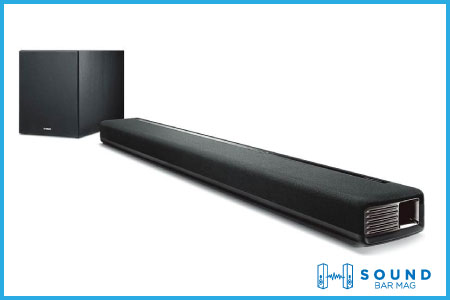 We tested Yamaha for many reasons. Its feature-packed profile, loud and clear sound, and built-in music streaming services shocked us, but the price tag was also quite surprising.
Yamaha YAS-706 is a compact multiroom soundbar with Alexa support that comes with a MusicCast wireless speaker that can easily fit anywhere in the room.
It gives quick access to online streaming services like Pandora, Spotify, and Amazon Music that instantly play quality music with voice control. We tried the Spotify with our account, and it was always ready to roll.
The soundbar is easy to use, but it doesn't work hard to stand out in the market in terms of design. It has a typical soundbar style and 37.4-inch robust built quality that are flexible to use indoors and outdoors to entertain a large audience.
The grille covering conceals dual subwoofers, two 3-inch built-in subwoofers, and four tweeters. All the drivers reproduce quality sound, and the 9 LEDs at the top give you a lead of functions working on the soundbar.
Though it has a series of buttons to control the bar, the voice control support with Alexa expands the usage and responds to every voice command.
You can ask Alexa to enable Bluetooth or WiFi or open access to playback music streaming with your smart devices in no time. You don't have to rely on the ugly and uncomfortable remote control because Alexa will care for everything.
The bar is also capable of playing loud music with no harmonic distortions. The subwoofer also sounds cranky and thumpy at the max volume, giving you the pleasure of all the detailing of guitar notes. Hence, it is worth investing in this soundbar.
Pros
• Bluetooth streaming
• No harmonic distortion
• Multi-room sound
• Dialogue clarity

6. Samsung HW-MS650 Soundbar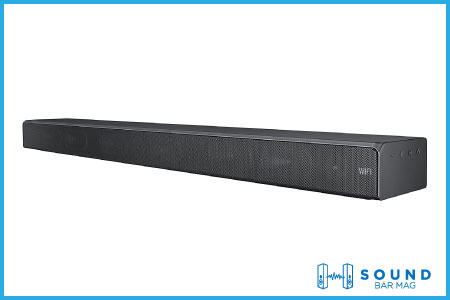 Samsung has again made it to our list of the best soundbar that ensures convenience while using. The brand has a huge TV collection, and we tested hundreds of products, so we are choosing this unit for a reason.
Samsung HW-MS650 is a premium entry-level 3.0 soundbar with a built-in subwoofer and Alexa compatibility to provide a luxurious listening experience.
Besides easy installation and quick setup, the bar contains one optical digital, two HDMI, Bluetooth, and WiFi for seamless pairing with TV and smart devices.
It is a plug-and-play device that starts running in only three steps. Connect the bar to the power, pair external devices, and ask Alexa to play music.
It also gives access to online music streaming platforms that let you create or play certain playlists according to your mood and vibe. We made a playlist of testing and are relying on that to date.
Samsung is the number one brand for electronics products; it will never disappoint you whether you buy smart TV or soundbar. All the soundbars produce clear and high-resolution audio with well-balanced treble and bass performance to turn the tables for music listening or gaming.
The wide-range tweeter, 4K HDR passthrough, and multiroom sound delivery are some other highlighting features of the HW-MS650. The bass performance is also relatively punchy. We realized this after testing it with bass-sensitive content and games.
The built-in 9 speakers with dedicated amplifiers deliver room-filling and spacious sound that eliminates the need for external subwoofer and satellite speakers.
Hence, it is a complete entertainment package that upgrades your TV while staying on a budget.
Pros
• User-friendly
• Distortion cancelling technology
• 4K HDR passthrough
• Wireless multiroom
• High-definition audio

7. Naxa NHS-5002 Soundbar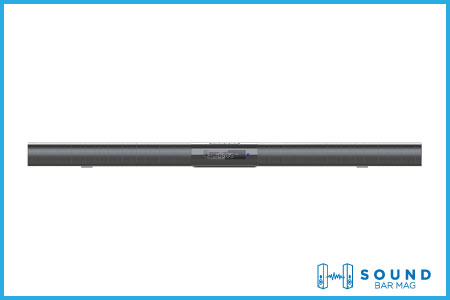 It may not be a famous soundbar, but its powerful audio output can take the music-listening experience to the next level. We tested this soundbar for its amazing reviews and popular demand for its affordability and convenience. 
It is a classic soundbar with a grille covering and a digital display at the front to update you with the running functions. We tested it with so much precision and loved the build profile. 
Wireless connectivity with Bluetooth and WiFi is also a luxurious addition, making it flexible to pair with other devices. But it also contains RCA and AUX cable inputs for gaming consoles, Blu-ray players, and other similar devices.
In addition, you don't have to manually switch the connections or go through the hassle of finding certain playlists; just Ask Alexa to find stuff and play for you.
The soundbar also has the feature of a far-field microphone with Alexa-on to pair up to 6 speakers on your WiFi that are easy to control with the smartphone-compatible app.
Moreover, this 42-inch soundbar produces high-resolution audio with maximum power output to enjoy unlimited music and TV watching.
It also raises the bar with great stereo performance and clear vocals, making you understand all the whispers for immersive listening.
The virtually connected speakers and this soundbar can take the gaming, TV watching, or podcast listening experience to the next level.
Pros
• Multiple connections
• Amazon Alexa compatibility
• Seamless controlling via app and remote
• High-quality and clear audio

8. Yamaha YSP-5600 Soundbar
This powerful and compact 7.1.2ch soundbar is ready to transform your listening experience with Dolby Atmos and DTS:X technology.
The unusual but aesthetically pleasing design grabbed our attention at first glance, and the volume knob-like structure at the front gives vintage speaker vibes.
It is also known as the world's first soundbar with a 7.1.2 channel configuration, which indicates lots of built-in speakers at the front, sides, and center to produce accurate and detailed sound.
The high-definition and clear sound give the pleasure of listening to songs, dialogue-sensitive content, documentaries, or even Ebooks with much concentration.
Besides the multidirectional listening experience, the soundbar also provides multiroom audio playback with wireless connection technology.
The versatile connectivity and setup make it the best soundbar to place in homes and offices, and the built-in Alexa support has all the bonus points.
Moreover, the height channels with DTS bounce back the sound for virtual 3D listening, but the sound customization and content optimization are adjustable with your voice commands with an Alexa control.
The multiple speaker systems are known as the best soundbar with Alexa built-in. They promote convenience, reliability, and a luxurious user experience with stunning audio delivery and other features.
Pros
• Excellent height channel performance
• MusicCast and Bluetooth
• Compatible with 4K60p and HDCP 2.2
• Home theatre controller app

9. Denon HEOS HS2 Wireless Soundbar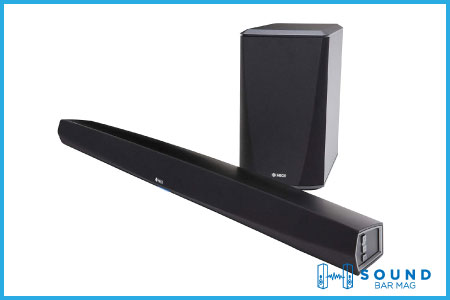 It is the best choice if you are looking for a mid-range sound system that can work for multi-purposes, like gaming, movies, and music, while not breaking the bank.
It delivers a decent and well-balanced sound profile with two bi-amplified woofers, two tweeters, and 4 channels of Class D digital amplification for deep and serious bass.
It powers up the entertainment of watching your favorite content with advanced DSP processing, Dolby Digital, and ARC to connect with a smart TV.
It also supports DTS decoding for directional and immersive audio, making everything worth listening to. While testing, we heard the sound coming from different directions and filled the lab with rich notes with clarity.
Moreover, Denon HEOS promotes easy and hands-free listening like other soundbars mentioned by offering Amazon Alexa voice control. You only have to enable the HEOS home entertainment skill and start giving commands to the bar for unlimited entertainment.
In addition, AirPlay2 and Bluetooth also give you extreme pleasure in accessing popular music streaming services online. However, no WiFi function was quite disappointing.
It further optimizes sound performance with multiple modes, including music, movie, and night. It eventually enhances the listening experience, and switching the modes is the cherry on top with the built-in Alexa.
Pros
• Soft dome tweeters
• Multiple connections
• Online popular music streaming
• Alexa support
• Class D amplification for rich bass

10. Sony HT-ST5000 Soundbar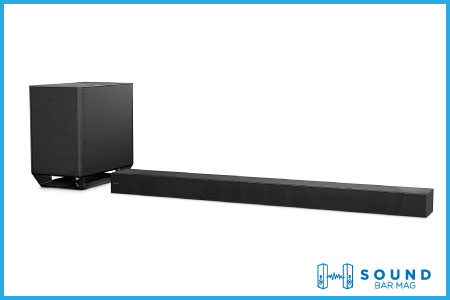 Despite what you play, Sony ST-5000 can deliver the best cinematic experience with clear, spacious, and high-resolution audio performance. We have added the soundbar to this category for voice control, excellent performance, and reasonable price.
Yet, it has an attractive appearance with a flat metallic body with a subtle grille at the front, and it throws some powerful audio with the support of built-in speakers.
It integrates S-Force Pro Sound engine technology that simulates the sound and makes it sound more lifelike and realistic. While listening to music gives the vibes of a live concert with loud sound and clear lyrics.
The 7.1.2 channel system takes every audio component into action while reproducing the sound, ensuring clear vocals, fine-tuning, and balanced treble performance.
The maximum power output of the soundbar measures around 800W, and with the DTS support, the sound quality more enriches and gets multidirectional to enjoy every bit of the audio beat.
The wireless subwoofer also performs decent low-frequency extension, resulting in a well-balanced rumble and rich bass.
Also, you can control the functions and adjust them according to your listening preference with the built-in voice control support. Just ask Alexa to manage the stereo performance of other available features, and it will do the job for you without any remote or app support.
Alexa also manages the connections as the Sony ST5000 offers WiFi for seamless connectivity. To connect with the TV and enjoy 4K content, its HDMI with 4K HDR passthrough makes a noticeable difference that gives the pleasure of perfect syncing with dialogue-sensitive content.
Pros
• Multidimensional sound quality
• Multi-room listening
• Gets loud without compressions
• WiFi streaming
• Clear vocals

Things to Keep in Mind While Buying the Best Soundbar with Alexa Built-in in 2023
Getting a soundbar with Alexa built-in will be exciting because you get to control your entertainment device with your voice, but many other factors also play a significant role in the purchase decision.
Making a spontaneous purchase on such items is not a good idea. Therefore, we recommend aligning your priorities, budget, and soundbar's qualities to get the most of it. So, here are some important factors that everyone should consider before getting the best soundbar with Alexa built in.
Soundbar Operation
Operating a soundbar should be easy enough because some devices are quite hard to get used to, even with the voice control system. It is better if the navigating buttons are on the front panel, and if the soundbar has a blinking lights system, it will be more entertaining, especially when the party gets real with thumpy bass and loud volume.
Size and Weight
Get a soundbar that fits nicely to your space, whether big or small, and doesn't feel like an unnecessary tool in the house. It should complement your house décor, not ruin it. Many people neglect this factor because sometimes it does not matter, but other times it can create real trouble in houses.
A big and heavy soundbar performs better is a myth. The soundbar performance and audio delivery depend only on the specs and channel configuration, not weight and size. So, choose carefully. 
Clear Dialogues
A soundbar should be able to understand your commands irrespective of the accent and communicate in clear enough voices. When the device tends to deliver clear dialogues with Alexa, it will perform better with audio quality, even without a center channel integration.
Channel Configuration
How do you want your audio system to perform? Why are you getting a soundbar in the first place? What role are you expecting it to perform? Is it only upgrading your TV speakers? Or are you specifically getting it for the party night?
These are some of the matters you need to be clear about, and then they will help you understand what channel configuration you need to move forward. You can find a soundbar with a 2.0 system that has two up-firing speakers, but you can also get a 5.0 or 7.0 system with speakers at the front, sides, and center to boost your music listening experience.
Similarly, the extended system versions include a dedicated woofer and tweeter that aligns the background tuning, bass quality, and dialogue performance to make a complete entertainment package.
Budget
Not every expensive thing guarantees to perform beyond the extraordinary. You can easily find budget-friendly soundbars that can deliver outstanding audio quality, and the expensive ones may not meet your expectations.
It is all about what you expect from a soundbar and getting the right device to satisfy your cravings. However, setting a budget beforehand is also necessary, so you would know your boundaries to play within them.
Frequently Asked Questions (FAQs)
What is the best soundbar with Alexa built-in?
Sonos Beam is the best soundbar with Alexa built-in, featuring wireless connectivity and online music streaming compatibility. The loud and crisp audio with voice enhancement function goes a long way while watching TV or listening to music.
Does the Samsung soundbar have Alexa built-in?
Yes, you can find built-in Alexa support in samsung HW-M650 and HW-N850 soundbars. Both the soundbars are one of a kind and deliver high-definition sound with little variations of other features.
Can Alexa be connected to the soundbar?
If the soundbar does not have built-in voice control, you can buy the Alexa device separately and pair it with your soundbar to enjoy hands-free controlling and music listening.
How do I add Alexa to my soundbar?
If you want to pair Echo Dot,
Put your soundbar on the pairing mode
Download the Alexa app on the smartphone and access the Main menu
Select your EchoDot device on the available devices
Pair with the soundbar
Test the device connection and enjoy hands-free soundbar usage
Conclusion
Imagine navigating your sound system while connecting to the TV, gaming console, or smartphone without leaving your couch.
Yes, it is possible with the best Alexa soundbar because it offers endless entertainment without creating a mess of wires or ruining the audio transmitting process. Check out the top 10 products and invite loud, clear, and high-resolution audio to your living rooms and workstations.
Mia Evelyn is a soundbar specialist and she love to test and review different soundbar brands. She shares her neutral and in-depth reviews through the Soundbar Mag.