Do your neighbors hit the ground with loud and heavy music and dance their hearts out to every beat?
Have you ever wondered how they get such powerful and shaking music beats that sound so pure and clear?
They must have solved the mystery of enjoying incredible acoustics by getting their hands on the best loudest, and most powerful soundbar.
Yes, only a soundbar can deliver such high-level audio without compromising the quality. Also, they can be a perfect piece for your home theatre system to provide you cinematic listening experience.
We have carefully testedand reviewed the 8 best loudest soundbars for you to check out. They are robust, contain compelling speakers, and offer flexible connectivity to pair different devices.
So, let's check out without further ado.
List of the Best Loudest & Powerful Sound Bars in 2023
1. Sonos Playbar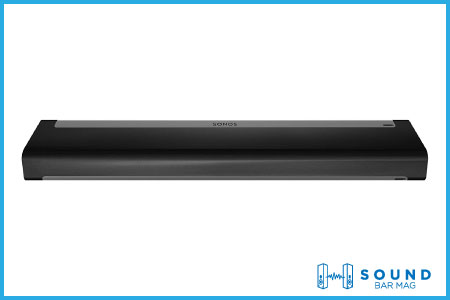 Sonos Playbar is a famous, portable and smart soundbar with multichannel support that can turn the tables on your music listening.
It is available on two different channel configuration set, 3.1 and 5.1, and both of them ensures high-resolution audio output with stunning vocal clarity.
Installation and setting up the device were hassle-free for us. Wall mounting brackets help with the placement of the 35.5-inch soundbar, and the Sonos app and remote control provide smooth device navigation.
In addition, it features WiFi to pair with external devices and expand the usage at your fingertips. We also loved the signal stability and WiFi range.
It is amazing how the wireless technology support gives access to online music streaming services like Amazon Music, Spotify, and others to enjoy unlimited playlists at the loudest possible volume.
The best thing about Sonos Playbar is its automatic tuning capability that delivers adjustable sound according to the room and content for premium listening.
We tested the feature for different content and loved how the volume and dialogue were automatically managed with the content playing. The news sounded clearer, and the music was loud, with a reasonable share of high and low notes.
The dedicated center channel for dialogue enhancement plays a big role in polishing the vocals, isolating them from the background noise, and delivering with absolute clarity.
The bass reproduction is also appealing as the mid-range, and upper notes are highly defined, and the low frequencies make it hit the ground.
However, the lack of DTS or Atmos can be a real turn-off because they make the sound directional and more powerful. Overall, we found this bar pretty admiring for the TV streaming and music listening.
Pros
• Night mode
• Automatic tuning
• Dialogue enhancement
• Loud and rich sound
• WiFi and Alexa support

2. Bose SoundTouch 300 Soundbar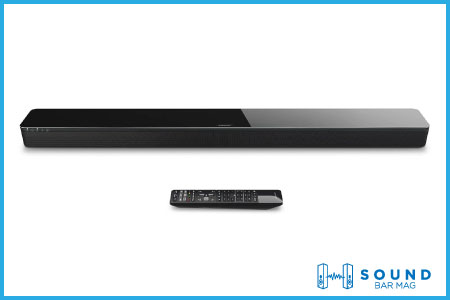 Create a perfect synchronized sound system by pairing Bose SoundTouch 300 soundbar with excellent audio technology to enhance the listening experience.
It is a soundbar for everyone as it produces a detailed, rich, and expansive sound that is exciting to listen to.
It has a flat but stylish design, comprising glass and a metal grille at the front, concealing all the powerful speakers inside. The soundbar works with Alexa to set up hands-free and control the functions without any hassle.
It gets loud without harmonic distortion, making it the best, loudest, and powerful soundbar at this price. After testing and examining its quality, we recommend using for movies and music, considering the clear sound reproduction and wireless technology.
In addition, Dolby Digital decoding and DTS format support set the wide soundstage, making the sound delivery rich enough to come from every direction.
The built-in subwoofer gives a perfect touch of deep bass that mixes with the optimized audio for creating surround sound.
In addition, it includes optical digital output and HDMI with 4K passthrough to perfectly synchronize 4k content, providing an incredible watching and listening experience.
Though it also offers wireless connectivity for smart device pairing, which makes this typical entry-level soundbar smart enough for regular use.
Pros
• Clear dialogues
• High-frequency response
• No distortions
• HDMI with 4k passthrough
• NFC pairing
• DTS and Dolby Digital

3. Vizio SB3821-C6 Soundbar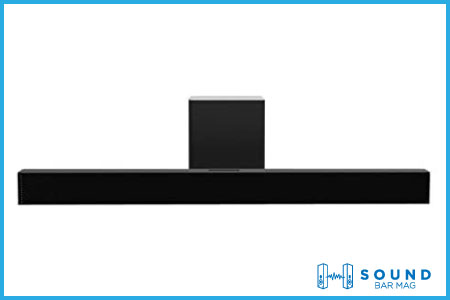 Vizio SB3821-C6 soundbar is a complete entertainment package and a great piece for your home theatre with a high-frequency response of up to 100dB and a wireless subwoofer for thundering bass.
You can rely on this 2.1 soundbar for heavy, premium sound that fills the room in no time. Also, irrespective of the max volume, it wouldn't ruin the experience by introducing harmonic distortions; hence the booming and pure sound steals the show.
Also, DTS TruSurround, DTS TruVolume, and Dolby Digital decoding enhance the audio definition, making them revolutionary, consistent, and powerful for enhanced media listening.
Moreover, the physical connection sources of the soundbar consist of RCA, stereo mini jack, USB, coaxial RCA, and optical digital output. We opted for an optical cable and paired the bar with a Samsung smart TV, which worked great.
The included wireless subwoofer delivers explosive bass quality for dramatic sound without creating a mess of wires. The frequency level goes down to 50Hz for the precise bass transformation.
Yes, with easy setup., wireless technology for pairing subwoofer or other devices to catch audio signals, and excellent sound reproduction capability, this best loudest and most powerful soundbar is winning hearts in the market.
Pros
• Bluetooth streaming
• Dolby Digital
• Loud and crisp audio
• Easy setup
• High sound pressure level

4. JBL Bar 3.1 Soundbar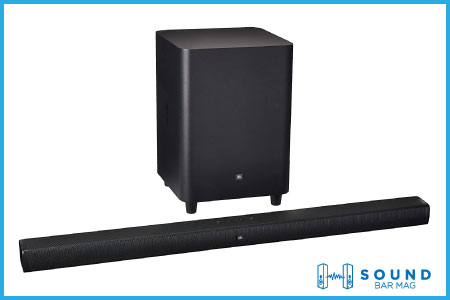 JBL Bar 3.1 is the one that produces dramatic sound with the revealing yet powerful 5.1 pounds body. We enjoyed testing this revolutionary soundbar that is capable of producing stunning sound.
This 40-inches subwoofer is capable of more than you could imagine, delivering a power output of 400W from the built-in six drivers. It filled up our space with high-definition sound with the next level of clarity.
This 3.1-channel soundbar has everything to deliver high-quality audio with premium volume. The stereo dynamics help the bar make it to this list of the best, loudest and most powerful soundbars.
But we appreciate the support of 26.7 pounds heavy wireless subwoofer that resides a 10-inch driver to deliver low frequencies and produces heavy bass punches to align with the other frequency levels.
It is a complete package with tweeters, full-range drivers, a center channel, and woofers for home theater listening. The punchy bass, loud music, and clear vocals turn your place into an entertainment hub and make you enjoy every tune coming out of it.
However, it does not have any advanced audio format support or other function to enhance the audio credibility.
Still, different sound customization modes, night modes, and audio syncing properties let you adjust the sound according to your preferences.
For the sake of experience, like neighbors, we tried increasing the volume to its extent but rarely heard any compressions. A bonus point to the bar.
Also, it didn't ruin dialogue delivery, which is a shady thing to experience. But it really proved itself, even considering the availability with under 300 price tag.
Device setting, connection, and control are easy as it sounds. It is quick to operate, flexible to place on the furniture or mount on the wall, and seamless to pair with other devices via Bluetooth, HDMI, USB, and AUX. So, we assume it is the best possible soundbar anyone could have at that price range.
Pros
• Balanced audio tuning
• EQ presets
• Night mode
• Thumpy bass with adjusting
• Powerful sound with clarity

Cons
• Mid-range performance struggles at max volume

5. ZVOX SB400 Soundbar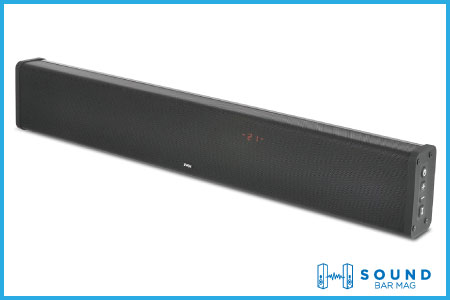 ZVOZ SB400 is another powerful soundbar with a built-in subwoofer and an appealing sound reproduction capability to impress all audiophiles. Its space-saving profile gives you thumbs up to place it in kitchens, cinema rooms, gaming zones, and offices.
Like JBL Bar, it is also a 3.1 system soundbar with multiple built-in drivers, including full-range speakers, tweeters, centre channel, and woofer.
It creates a wide soundstage with shocking audio, clear dialogues, and rich three-dimensional sound delivery. In addition, the AccuVoice technology further polishes the spoken words, never compromising the audio quality.
Also, the built-in subwoofer produces subtle low notes, with the frequency going down to 58Hz. It is not ideal low-notes for bass-heavy content, but it will do good with regular TV, music, and Gaming sessions.
Additionally, the deep and ground-shaking bass is responsible for thundering and 3D acoustics, which every music lover dreams of.
While watching TV by connecting with Bluetooth or WiFi, utilize the output leveling function, which tames the annoying background or ad noises to make the content refreshing and flawless.
With all these functions and extraordinary sound delivery with a power output of 118W, there is no such need for audio format support. But their presence could be the cherry on top.
Pros
• Loud and crisp audio
• Quick installation
• Space-saving elegant profile
• Well-balanced audio levels
• Rich bass with 58Hz frequency

6. Klipsch Bar 48 Soundbar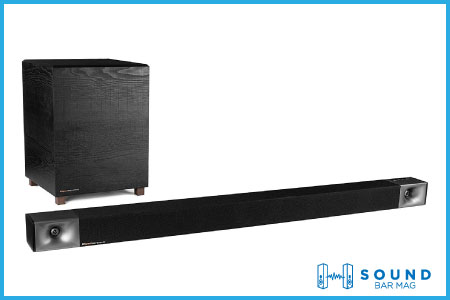 We had to add a powerful pair of the soundbar and a wireless subwoofer to the list of the best loudest and powerful soundbars. We did it for all the positive reasons, and we are not regretting it after checking its performance.
It is carefully crafted with wood, so the built-in drivers perform fully and confidently and deliver a rich sound better than hearing from the plastic body material.
The 8-inch powerful subwoofer takes care of the bass, and the 3.1 system bar will be responsible for the loud, crisp, and high-quality audio performance.
It also features center channel that enhances the vocal clarity, making every dialogue transparent enough to understand. It makes a difference while hearing dialogue-sensitive content with loud background or ad noises. We tested it with news, and the dialogues were easy to catch.
Klipsch Bar 48 gives you true entertainment by sounding big and bounce high, with heart-pounding bass and balanced tuning with suspension tweeters. It also adds to the crispiness of 3 surround speakers for the home theater experience.
The comfortable rubber remote material gives a great holding grip and proves to be a substantial add-up to the package. Also, frequent firmware updates improve the maximum power output and dialogue delivery.
Pros
• Decent connections
• Clear dialogues
• Loud and powerful sound
• Built-in elevation

Cons
• No Atmos
• Low frequencies struggle a bit

7. Q Acoustics M4 Soundbar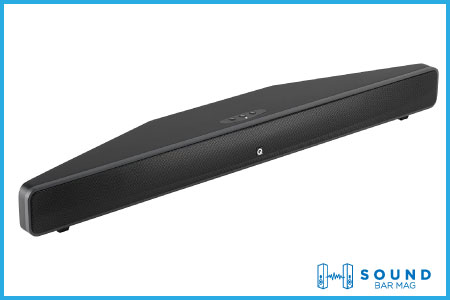 It is a one-unit sound system with a built-in subwoofer and a 2.1-channel system ready to hit your homes with powerful sound production. It was a decent soundbar at our facility, and from unboxing to examining its qualities, we enjoyed every bit of it.
It catches the audio professionally from external devices, maintains consistency, and delivers it with more balanced tuning, notes, and resolution.
It may have a slim profile design, but the compact body can influence you. It is known as the best soundbar with a built-in subwoofer because the sound reproduction capacity is mind-blowing, and the deep bass with low frequency pushes the acoustics to the next level.
It has AUX, RCA, HDMI ARC, and optical digital for physical connections. But the Bluetooth-ready feature makes it a plug-and-play speaker for your smartphone and other enabled devices.
However, it has lots of degrading points like no advanced format support, limited connections, and typical design; if you still choose to try this affordable yet worthy soundbar, there is no going back.
The built-in full-range drivers deliver wide and room-filling audio and remind you of the exciting, dramatic sound vibes. Eventually, you experience the sound from different directions without putting it in the sweet spot as it produces virtually rich audio.
The built-in Q Acoustics M4 technology handles every music or TV content professionally and provides sound performance accordingly. The speech delivery will be accurate and thorough, helping you understand the dialogues without subtitles.
Also, the music can get wild without getting cold or harsh, so the sense of warmth in the sound will be there for people with hearing impairment.
Pros
• Bluetooth support
• Lifelike sound
• Heavy and shaking bass
• Compact design
• Well-balanced harmonic distribution

8. LG SL5Y HD Soundbar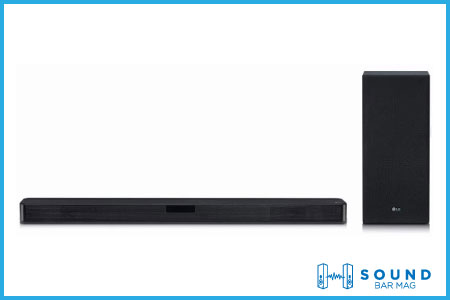 LG SL5Y HD Soundbar is a decent 2.1 system device that produces high-definition, loud, and rich audio to transform your previous listening experience. Its DTS surround sound support makes the audio rich, so the total power output ranges around 400W.
In black, the ultra-slim soundbar contains full-range drivers that deliver spectacular, powerful sound with precise detailing to keep you hooked with TV streaming or podcast listening.
The wireless subwoofer also reproduces rich and thumpy bass with some serious rumble to entertain you throughout the streaming period.
The high-resolution audio of 96kHz with 24 depth bit makes everything realistic and natural. When paired with a gaming console, the directional sound moves you with every tone and beat for superior engagement.
Also, LG AI Pro offers automatic sound adjustment according to the content, balances background tuning, and brings the balanced tone with the necessary treble, bass, and rumble for ideal acoustics.
LG SL5Y, being the best loudest and powerful soundbar, is equipped with Bluetooth technology for the effortless pairing with smart devices. It also includes USB 2.0, optical digital, and HDMI outputs for the physical connections.
Similarly, the navigation and setting up via a handy remote make things easier for the user. However, the lack of Atmos is a shame.
Pros
• DSP technology
• LG Sound AI Pro technology
• 400W power output
• Rich and heavy bass
• Excellent stereo dynamics

Cons
• Lack of Atmos
• Limited navigation sources

Best Loudest Soundbar 2023 Buying Guide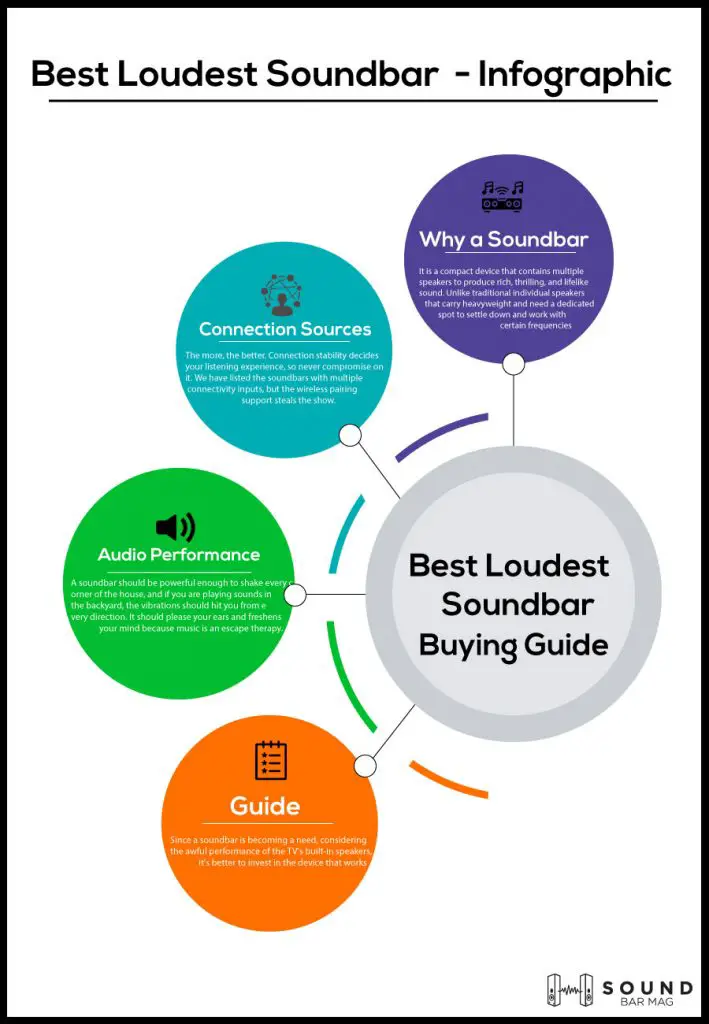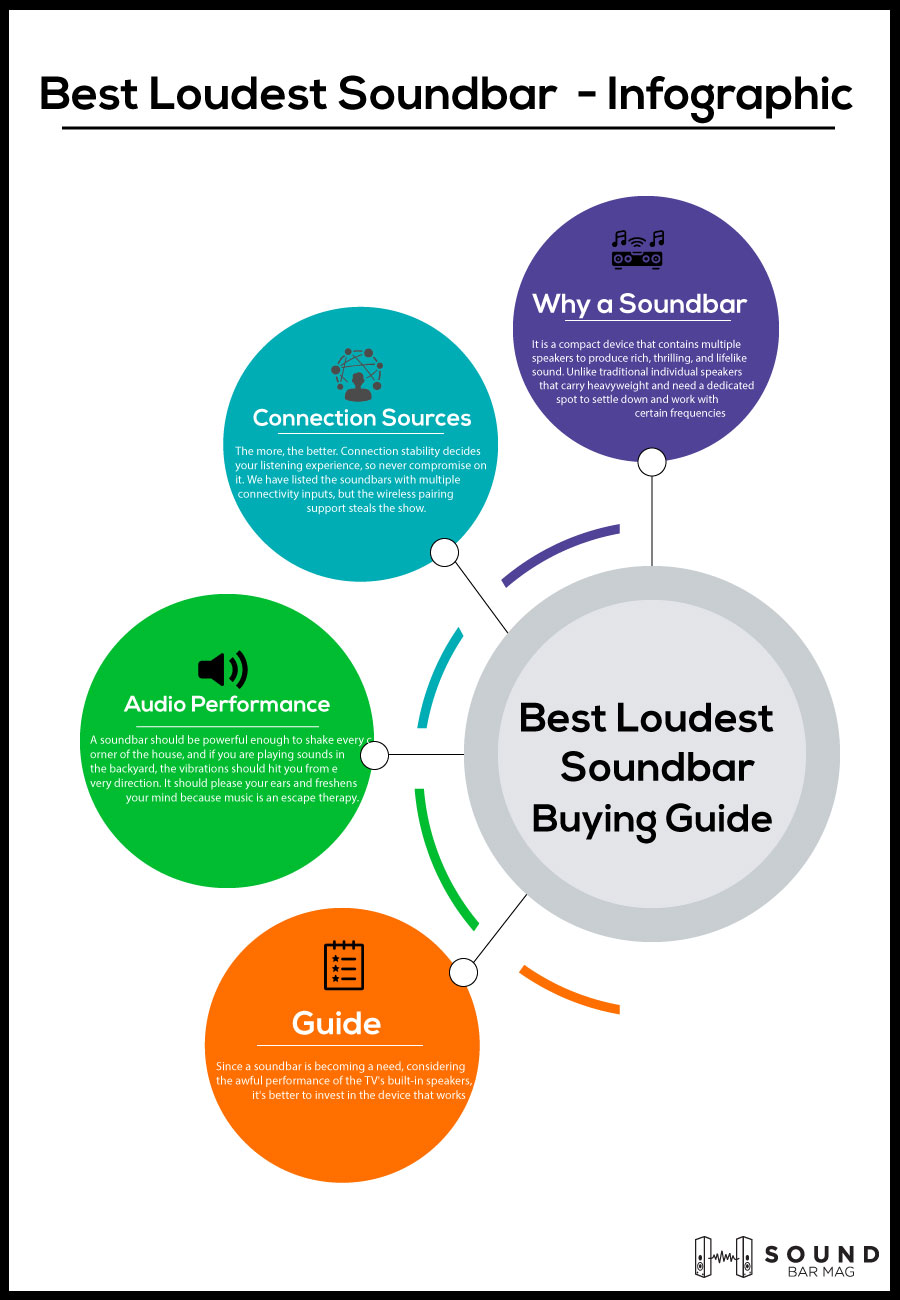 Since a soundbar is becoming a need, considering the awful performance of the TV's built-in speakers, it's better to invest in the device that works as the all-rounder and be your partner at home, at parties, at dinners, and gaming stations.
So, thorough research is important to get the best product and invest your money on the right product. After discussing each product in detail, we will briefly discuss some important aspects of the soundbar that give you enough knowledge about the device.
It should start with why you need a soundbar and how much you are willing to spend. The research follows the functions you need, channel configuration you prefer, and connectivity sources compatible with your existing devices.
Let's get started.
Why a Soundbar?
Let me rephrase the point, why not a soundbar?
It is a compact device that contains multiple speakers to produce rich, thrilling, and lifelike sound. Unlike traditional individual speakers that carry heavyweight and need a dedicated spot to settle down and work with certain frequencies, a soundbar is a technologically innovative device that sounds big without constant involvement.
A soundbar houses different drivers (channels) that vary with the channel configuration you choose, but all enhance the existing sound production, maximize the stereo, and improve vocals. All the drivers work with professional correspondence and do not require individual monitoring.
However, if you choose a soundbar with a built-in subwoofer, you can adjust the treble and bass performance according to your preferences. And the dialogue enhancement polishes the spoken words until you hear and understand them.
Connection Sources
The more, the better. Connection stability decides your listening experience, so never compromise on it. We have listed the soundbars with multiple connectivity inputs, but the wireless pairing support steals the show.
Nowadays, many people prefer hands-free usage with the device, and Bluetooth and WiFi support this lifestyle. It instantly pairs up with compatible devices, eliminating the need to set up wires.
Audio Performance
It matters. At the end of the day, sound quality is all you are ever concerned about. Also, how loud it can get.
A soundbar should be powerful enough to shake every corner of the house, and if you are playing sounds in the backyard, the vibrations should hit you from every direction. It should please your ears and freshens your mind because music is an escape therapy.
All the soundbars we have discussed can deliver the loudest and most powerful audio with the best sound quality. The volume can get heavy without any noticeable harmonic distortions, so don't worry about any little details. Thus, we were careful in adding up products to this list.
Frequently Asked Questions (FAQs)
What is the Best Loudest Soundbar?
ZVOX SB400 is a 3.1 system soundbar with a built-in subwoofer that delivers a maximum power output of 118W. It has an amazing feature set, wireless connectivity, and loud stereo for the heavy sound system setup.
What is the most powerful soundbar?
Vizio SB3821-C6 is a decent 2.1 system soundbar with a frequency response of 100dB. It features Dolby Digital decoding that maximizes clarity and eliminates sound delays. Also, multiple connectivity sources make it an ideal choice for everyday music listening or TV watching.
How do I get a loud soundbar?
Check out the soundbar specifications and watch out for stereo dynamics performance. The high sound pressure can make the soundbar wild while performing, but it should maintain the upper or mid-range notes and vocal clarity. Give a read to our best loudest and powerful soundbar reviews and choose one for yourself.
Bottom Line
This sums up the research for finding the best loudest and powerful soundbar. All the soundbars we mentioned deliver high-quality loud audio that can shake every corner of the room and entertain a larger audience than you can imagine.
So, whether it's a Christmas dinner or New Year's Eve, invest in the best, loudest soundbar and bring out the entertainment.
Mia Evelyn is a soundbar specialist and she love to test and review different soundbar brands. She shares her neutral and in-depth reviews through the Soundbar Mag.