Upgrade your sound system with this best soundbar with built-in subwoofer.
A soundbar is space-saving and an incredible entertainment device to enjoy quality audio. It may have a compact or slim profile, but the sound reproduction with the necessary bass screams perfection that you only get from the home theatre system.
Also, if you are setting up a smart sound system and are conscious of space consumption, we tested our top picks for the best soundbar with built-in subwoofer. Let's get into the details of the top 9 soundbars in the market designed to enhance your music listening experience.
List of the Best Soundbar with Built in Subwoofer in 2023
1. Yamaha YAS-108 Soundbar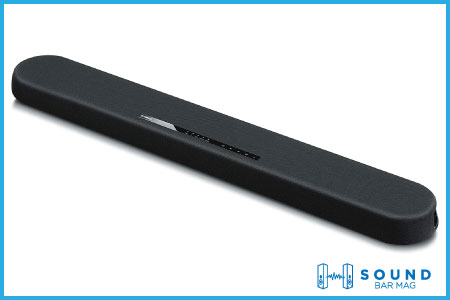 Yamaha YAS-108 is a compact and excellent soundbar for the money. This 2.2 setup has dual built-in subwoofers that ensure deep rumble with thumpy bass. It may be an entry-level soundbar, but this affordable unit is great for everyday music or podcast listening.
However, the fabric covering the entire soundbar is a big turn-off; it is easily prone to dirt or ripping while moving. But the connectivity options and a port for an external subwoofer are also there to compensate for the flaw.
Also, the mid-range is pretty balanced to provide accurate voice production. Though it does not have a center channel for dialogue enhancement, this phantom concept will care for the clarity of the voice.
The THD performance is pretty fine for regular use. You will be hearing clean and crisp audio at the average volume, though it struggles to get loud while maintaining the quality.
There is no Atmos support, but the DTS and Dolby Digital decoding make a difference in enhancing sound performance. DTS may give you the pleasure of 3D surround sound with the next-level clarity, and the bass-level adjustment balances the subwoofer performance to your listening level.
Connecting the Yamaha YAS-108 with other devices contains multiple input ports, including optical digital, HDMI input, HDMI output, HDMI ARC, and AUX. Also, HDR 10, 4K passthrough via HDMI enhances the TV watching experience, giving you a dramatic feel while watching 4k content.
Pros
• Multiple connectivity inputs
• Decent surround sound performance
• Dialogue enhancement feature
• Dual built-in woofers
• DTS support

2. Sony S100F Soundbar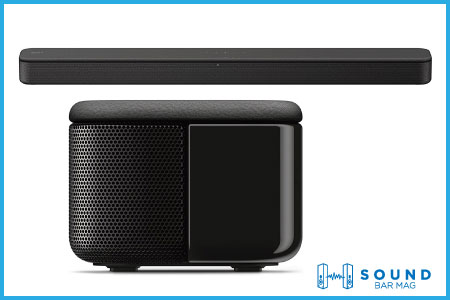 Like other Sony soundbars, the Sony S100F is the best-selling unit despite being an entry-level configuration. This 2.0 ch soundbar has excellent sound reproduction, but it struggles with delivering low bass frequencies.
It may be wide, but the metallic grille at the front gives attractive aesthetics which instantly blend with the room environment. Also, Sony soundbars have S-Force Front sound mode on by default, ensuring loud and pure sound with decent clarity.
With a neutral sound profile, it goes well with different types of content. However, I wouldn't advise getting it for the heavy sound genre's thumpy bass and punchy audio. Still, it can get loud without any noticeable compressions, and the voice clarity would maintain at every level.
The phantom speaker system usually comes up when no dedicated center channel is available for dialogue enhancement. It makes decent dialogue reproduction, making it a valuable device for sports, news, and podcast listening. Also, the night mode makes a difference by softening the sound at odd hours.
Moreover, Dolby Digital decoding polishes the performance while streaming online services like Netflix or Hulu, producing accurate sounds with virtually rich audios even without Atmos. In addition, connecting the soundbar is seamless with optical digital, HDMI output with ARC support, and USB input. Luckily, it has Bluetooth, and all the functions are easily manageable with remote control.
In short, it is a great soundbar under 100, but a poor production of bass is such a turn-off for audiophiles.
Pros
• EQ presets
• Bluetooth streaming
• Night mode
• Gets super loud

3. Powerful Denon Home Soundbar 550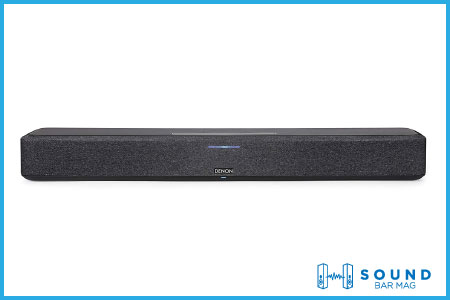 Powerful Denon 550 is fair for streaming movies, shows, documentaries, and listening to podcasts or ebooks. It is a compact soundbar with a built-in subwoofer, making it a complete package for regular entertainment.
This 26-inches space-saving soundbar easily fits between the large-size smart TVs without disturbing the IR function. Surprisingly, it delivers 3D virtual surround sound with the support of premium tweeters, dual full-range drivers, and dual passive radiators. The built-in drivers reproduce impactful sound that goes high and expansive and creates a wide soundstage.
Moreover, this best soundbar with built-in subwoofer is a game-changer while watching TV with the HDR10 passthrough. It brings life to the movies and shows with detailed imaging and bright colors. Another surprising element in the soundbar is built-in HEOS that provides access to thousands of Hi-resolution tracks and millions of available songs. You can also create your personal playlist and control it with a user-friendly app.
This unit expands the sound listening experience by the directional sound that moves you with every beat. In case you are not aware, Denon has been a market leader in soundbar technology and is famous for manufacturing compelling soundbars within a reasonable budget range. Thus, it has expertise in 3D surround sound with drivers' compatibility to DTS: X and Dolby Atmos.
Also, the bass performance of the built-in subwoofer struggles a little, but hopefully, you wouldn't notice it with heavy genres. The bass adjustment function helps you analyze the performance and set it according to your preference. At last, connecting via Bluetooth is a big relief.
Pros
• Built-in Alexa
• Amazon Music and Spotify Connect
• Gets loud with DTS and Atmos
• 3D surround sound
• Affordable

Cons
• Noticeable compressions at high volume

4. BESTISAN ST08 Soundbar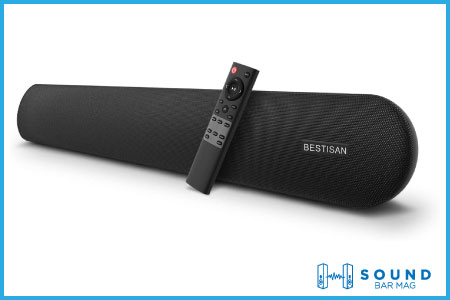 The BESTISAN soundbar with built-in subwoofer, different sound modes, and wireless connectivity options. It is the most portable soundbar I have ever come across, with 28-inches in width, which pleases everyone who wants to adjust it between their smart TV's legs.
The space-saving elegant soundbar has a lot to offer, and the two full-range drivers, two tweeters, and built-in subwoofer justify its purpose of existing. It is designed to satisfy your music craving with a well-balanced sound profile that suits different genres.
In addition, different sound modes, including Movie, Music, and Dialogue, make a noticeable difference in enhancing user experience and making the sound production more immersive by adjusting the sound accordingly.
It is an ideal device to set up a home theater system for bedrooms or studios as it creates a decent soundstage, despite being slim or super portable. The intense bass and fascinating mid-range performance make a deadly combination, and the delivery of the song hitting by punchy bass is a relief to sore ears.
However, it lacks Atmos or DTS support; the dialogue enhancement function and DSP compatibility compensate for the flaw. It can be a go-to device for regular TV watching or podcast listening because the Bluetooth compatibility makes it more flexible to use with your smart devices.
Pros
• Built-in DSP
• Bluetooth streaming
• Cinematic 3D surround sound
• Gets loud up to 95dB

5. Sony HT-A7000 Soundbar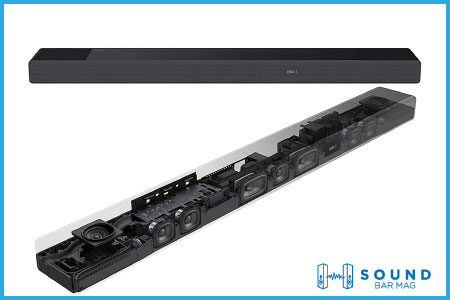 Enjoy loud and crisp sound reproduction with the Sony HT-A7000 soundbar designed for the premium sound system, aiming to elevate your listening experience. It is a slim and attractive soundbar with nearly dual front speakers, a center channel, built-in subwoofer and tweeter, height channels, dual surround speakers, and two rear speakers, so you hear the sound everywhere with 500W power output.
The height channels with Dolby Atmos and DTS: X compatibility expands the soundstage and produces realistic 360 dimensions to feel more immersive and lifelike. The center channel improves the spoken word delivery that helps you understand the whispers and engage you while gaming or listening to podcasts.
Installation, connecting, and navigating the device are seamless as it sounds. This affordable home theater system offers Bluetooth and Alexa compatibility that makes things easier for the user. Also, the sound field optimization technology helps in sound calibration according to the environment, which eliminates the need for sound customization according to specific content.
Besides automatic customization, it gives you a next-level booming gaming experience with rich bass and 4k passthrough, making the fast-action sound more engaging, realistic, and spacious. Therefore, we recommend this top built-in subwoofer soundbar for all your audio-related streaming because it is designed to open the door to unlimited entertainment.
Pros
• 7.1.2channels compromising lots of powerful speakers
• Bluetooth compatibility
• Chromecast and Apple AirPlay2
• Easy and quick setup
• Atmos and DTS: X

6. Wohome S9920 Soundbar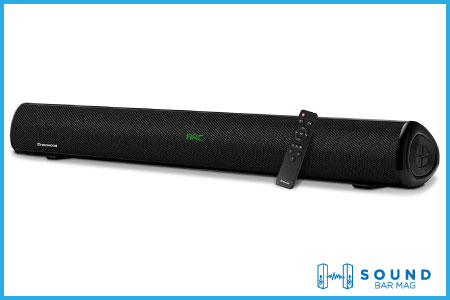 Another 38-inch soundbar with a built-in subwoofer is ready to shake your room with powerful audio quality, thanks to the 6 different speakers inside the attractive body with round edges.
The soundbar appearance is worth appreciating, with a grille at the front and black finishing on the entire device. There are also a couple of buttons at the side, and connectivity inputs, including optica, USB, and AUX, are available at the back. It looks astonishing sitting on the furniture, and tiny feet give it immense support.
The front-facing full-range speakers ensure excellent stereo dynamics, making it loud and delivering room-filling quality audio. The 3D surround sound capability makes it a reasonable alternative to heavy and expensive home theatre systems because it has something you want from your high-end speakers.
Thanks to the built-in woofers, the deep bass production keeps you hooked in the heavy genre you opt for at parties or movie nights. Also, the sound delivery gets more exciting and directional while playing fast-action games, so it will turn the tables for gamers.
Different sound modes are also available for audio customization according to the content, making the overall listening experience more immersive for you. The Bluetooth connectivity support makes it a versatile device and open to use with multiple devices. So, full points for the soundbar with an affordable price tag. Though Wohome remote control and its functionality are a bit turn-off, they should work on that.
Pros
• EQ presets
• Multiple connections
• Frequency ranges between 40Hz to 20KHz
• LED display
• Decent bass quality

Cons
• Annoying remote control

7. Sonos Playbase Soundbar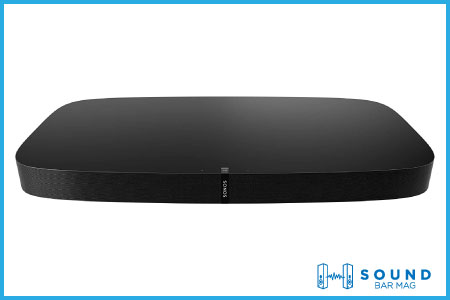 Sonos Playbase is a winner with a super portable body, coming into the market with style and lots of interesting features to surprise rivals. It is a mini smart soundbar with more than 43,000 holes all over its sophisticated body for audio delivery.
This tiny yet powerful soundbar host 10 drivers inside that are pretty well maintained, and you can see a couple of buttons for the manual navigation. It lets you connect to external devices, including gaming consoles, smartphones, HDTVs, laptops, media players, etc., using multiple wired or wireless sources. Though it has only two output ports, Ethernet and optical digital, wireless will be the most-used option.
Calling it a smart soundbar wouldn't be wrong because the built-in voice assistant support and app compatibility provide a premium user experience. In addition, heavy sound with deep bass and some serious rumbles creates a unique soundstage that we have never seen from such a portable device.
Irrespective of the content you watch, it produces clear and transparent sound with understandable dialogue performance for immersive watching and listening. It is a powerful soundbar that produces a shocking yet expansive sound that should be enough to fill small to medium-size rooms.
Pros
• Realistic sound quality
• Portable 10 speakers in one body
• TruePlay calibration

8. Bose Soundbar 500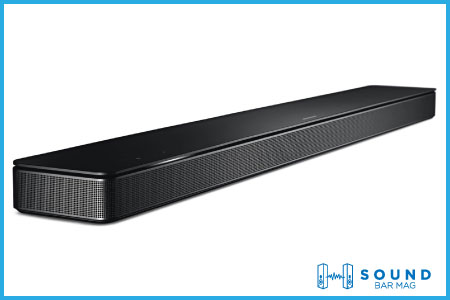 Bose soundbar 500 is the finest soundbar with a built-in subwoofer to enjoy different kinds of content. The flat and balanced sound profile satisfies many, but the built-in subwoofer struggles a little with low frequencies, and hence the bass could be a little low maintenance if you are a fan of the heavy genre.
The overall appearance deserves a full point. The top-quality plastic finishing with the grille at the front looks astonishing, and the touch-sensitive buttons at the side give a fine look to the soundbar.
On the upside, the room correction feature provides noticeable change by adjusting the audio according to the room and optimizing the sound based on the content. However, the stereo dynamics performance is not bad; you may hear the compressions at max volume.
This 3.0 channels setup also has a dedicated center channel with a discrete performance, making the dialogue delivery clear and pure. The dialogue enhancement feature further polishes the spoken word performance, so you can adjust it according to your hearing or understanding level. But another huge disappointment from this incredible soundbar is its lack of Atmos support.
The Dolby Digital decoding relieves you by minimizing the sound delay and making the listening more immersive. Also, access to the internet via Ethernet for more signal stability is not surprising at this price; the optical digital and HDMI ARC is also catching our attention.
Built-in Alexa and Google Assistant help in setting and analyzing the performance. In addition, Chromecast and Apple AirPlay, and WiFi support open the door to some serious entertainment for you.
Pros
• Wireless playback support
• Alexa and Google Assistant
• Mega bass reproduction
• Excellent clarity

9. ZVOX SB400 Soundbar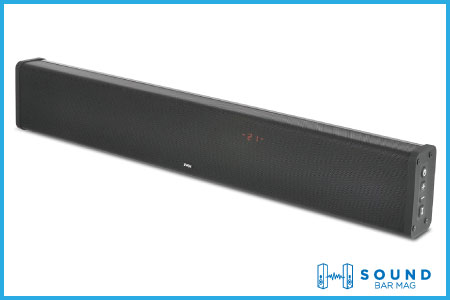 ZVOX SB400 is a 3.1ch soundbar that delivers optimized sound with heavy and thumpy bass reproduction. It has a subtle profile with buttons at the side, and all the drivers inside perfectly fit and produce quality sound to shock everyone.
The soundbar also uses the PhaseCue virtual surround system that ensures rich and three-dimensional sound that fills the room instantly and hit everyone with the clear and crisp sound for movies and music. Also, the AccuVoice technology clarifies the dialogue by using the hearing aid technology that optimizes the sound and never compromises the quality.
The built-in subwoofer reproduces exceptional rich and mega bass that shakes the room. The bass frequency goes downs to 58Hz, creating subtle notes for the ground-shaking bass. Also, the output leveling feature maintains the balance between loud sounds, especially the annoying commercials.
ZVOX SB400 is a simple soundbar to place in rooms and offices. Wireless connectivity with Bluetooth and built-in Chromecast is convenient for accessing different music streaming platforms and pairing smart devices hassle-free. All the functions and inner specs are easily manageable through the remote control.
Pros
• Output leveling to tame loud annoying ads
• Accuvoice vocal enhancement
• Bluetooth compatible
• 118W power output

Best Soundbar with Built-in Subwoofer 2023 Buying Guide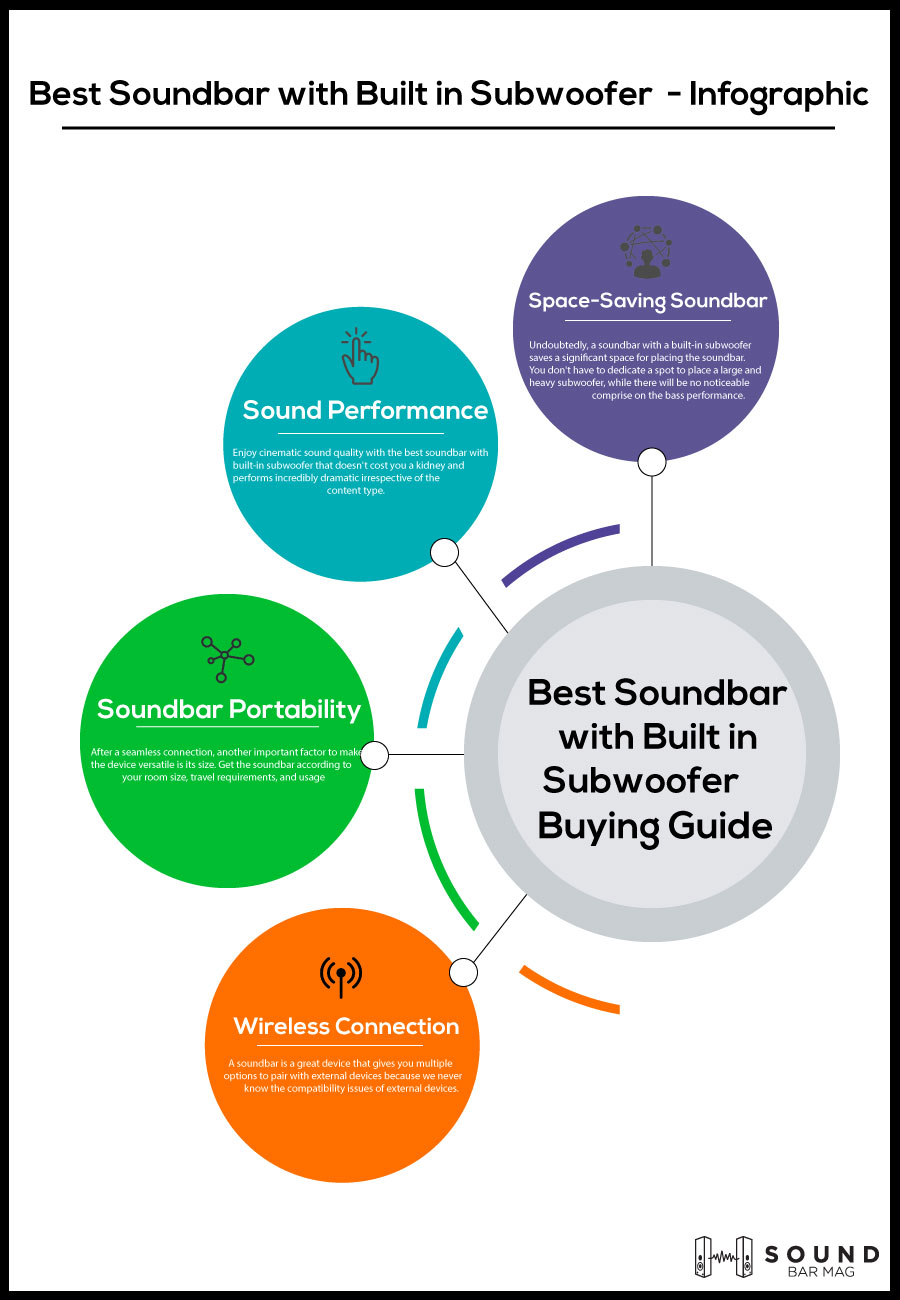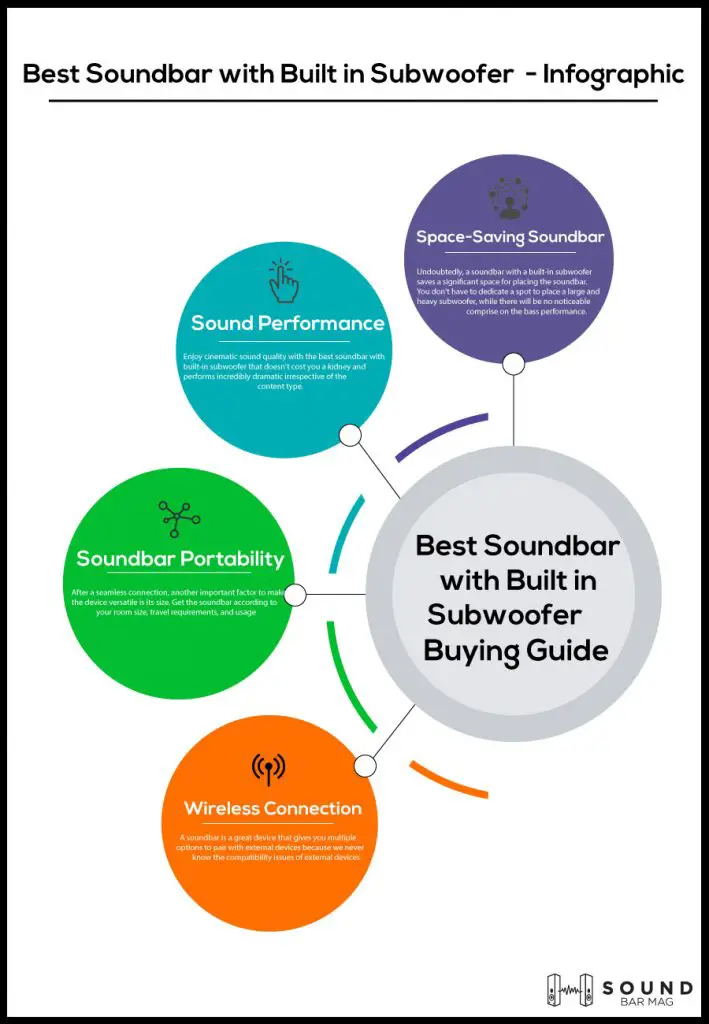 We call a soundbar a complete entertainment package for a reason. It not only houses multiple speakers but also eliminates the need to connect an external speaker or subwoofer to ensure a captivating sound experience.
A soundbar with a built-in subwoofer is like a dream come true. It saves you the hassle of connecting external devices to enjoy low-frequency bass but finding the right device can be a little confusing or time-consuming, mainly for beginners. Therefore, we considered some factors while exploring the top devices in the market; it may give you a fair idea about the device and its properties.
Space-Saving Soundbar
Undoubtedly, a soundbar with a built-in subwoofer saves a significant space for placing the soundbar. You don't have to dedicate a spot to place a large and heavy subwoofer, while there will be no noticeable comprise on the bass performance.
With the soundbar with built-in subwoofer, you can enjoy a crisp, bright, detailed sound experience with the bass and have home-theatre vibes from a compact design. In addition, a device without any external connections becomes flexible enough to use for different purposes and in different places, so whether you want to watch movies in bedrooms or host a family dinner in the backyard, keep a soundbar with a built-in subwoofer for the next-level enjoyment.
Sound Performance
Enjoy cinematic sound quality with the sound bar with built-in subwoofer that doesn't cost you a kidney and performs incredibly dramatic irrespective of the content type. This soundbar is perfect for mixed usage with decent stereo dynamics, excellent vocal clarity, and serious rumble.
Although the external subwoofer gets wilder and performs ten times better than the built-in one, it still never makes you disappoint while listening to music or playing fast-action games.
Wired or Wireless Connections
A soundbar is a great device that gives you multiple options to pair with external devices because we never know the compatibility issues of external devices. So, all the soundbars must contain optical digital output. However, the HDMI, USB, AUX, and RGB cables may vary with the models.
But, we have narrowed down the soundbars with Bluetooth connectivity which makes the device flexible and eliminates the messy wires requirement.
You can also check our detailed review on the Subwoofer with External Soundbar.
Frequently Asked Questions (FAQs)
What is the best soundbar with built-in subwoofer?
Sony HT-A7000 can be the best soundbar with built-in subwoofer with a 7.1.2 channel configuration and 500W of total power output. The bar has incredible features like high-resolution audio, rich connections, and a built-in Chromecast to enjoy online music.
Is a soundbar better with a built-in subwoofer?
If you are looking for a wholesome entertainment package in a compact size, a soundbar with a built-in subwoofer is a great choice to start. It eliminates the need to connect an external sub and delivers some punchy bass with a rumble to ensure great acoustics.
Are built-in subwoofers better?
A slim and sleek soundbar with a built-in subwoofer is better for both worlds. It saves space and produces room-filling sound with great bass reproduction to satisfy your heavy genre music craving.
Bottom Line
Enjoy the lifelike sound with serious and deep bass with the best soundbar with the built-in subwoofer. Leave the hassle of getting wide soundbars with heavy subwoofers and turn to this compact device that can get wild according to the environment and content.
We have mentioned the top 9 soundbars with built-in woofers that can be a perfect home theater system for small houses, apartments, and working studios. A brief buying guide will help you discover more about the soundbar to make a sound decision.
Happy Listening!
Mia Evelyn is a soundbar specialist and she love to test and review different soundbar brands. She shares her neutral and in-depth reviews through the Soundbar Mag.