Sony is a famous and trustworthy brand for any electronic product, and its soundbar production is worth buying.
You can find the best Sony soundbar with different prize options so that anyone can find everything according to their preferences.
Sony soundbars can produce high-resolution audio with super comfortable and clear vocal projection. The integrated technology that may vary with the model and prize can make a difference in delivering sound projection.
However, finding a suitable soundbar can be a real hassle considering the extensive product line. Since it should be a one-time purchase, taking a risk won't be worth it.
Therefore, we have tested and reviewed the best Sony soundbars available to date to help you have an immersive listening experience. Let's discover the striking Sony soundbars available.
List of the Best Sony Soundbar in 2023
1. Sony S100F Soundbar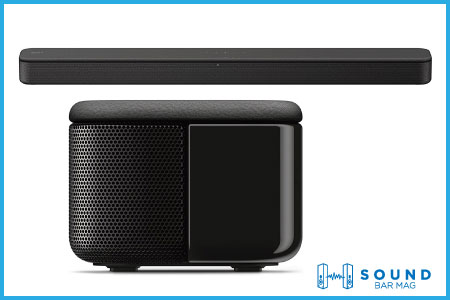 Sony S100F is a decent entry-level soundbar with a 2.0ch configuration and Bluetooth technology for mixed usage.
It is beautifully crafted with a slim profile design and full-range drivers to enhance your TV-watching experience. Also, the bass-reflex speakers make a difference and highlight different audio tunes to make the entertainment sessions more striking to enjoy.
We adored the compact design in black that easily fits under the huge TVs or blends with home decor while mounting on the wall.
The built-in dual full-range drivers integrate at either side of the soundbar to create a decent soundstage. The sound production was also loud enough to fill the room, and the clarity remained intact irrespective of the content type.
Moreover, setting the soundbar was seamless when we were examining it, and connecting through USB, HDMI, and Bluetooth further opened the door to unlimited fun.
Though the soundbar is an affordable and thoughtful upgrade to TV speakers, it lacks sound effect support and Atmos compatibility.
However, the Sony S-Force Pro technology ensures high-resolution virtual surround sound that reflects sound from different directions and makes it appealing to hear.
Therefore, we recommend choosing the soundbar for your regular TV watching, podcast and music listening, and E-Books.
Pros
• Compact soundbar
• S-Force Pro tech
• Bluetooth music streaming
• Bass reflex speaker
• Included remote control
• Pocket-friendly soundbar

2. Sony HT-S350 Soundbar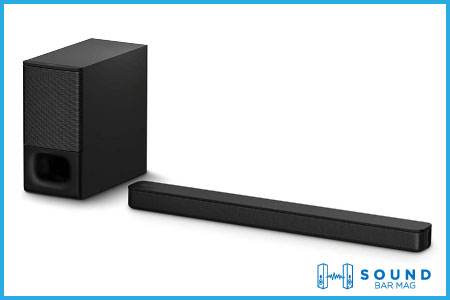 Sony HT-S350 is another powerful yet premium 2.1 ch soundbar with terrific audio performance and many incredible features to enjoy. We were impressed by the loud and rich sound projection that was also multidirectional.
Also, the soundbar has an aesthetic appearance with a faux-leather top panel and the metallic grill concealing all the drivers from the front. It also features multiple touch-sensitive buttons at the top, and the indicators help you monitor the functioning.
The decent-looking soundbar comes with an external subwoofer with a power output of 320W to make them sound more detailed and richer for music streaming. The bass was hard hitting when we turned on some rock or pop music.
Also, the wireless Bluetooth technology is the icing on the cake, making the pairing process seamless. We really loved the fast pairing option with quick recognition and stable connection.
The soundbar also contains an HDMI ARC port and an optical digital input for two-way pairing with TVs. The synchronization and sound optimization level is on point; you wouldn't feel like a third party delivers sound.
Moreover, the Sony HT-S350, being the best Sony soundbar market to introduce external speakers to the house, offers multiple sound modes for audio customization.
It features Cinema, Music, Night, Auto, and Voice that enhance the overall sound delivery while highlighting dialogues, background music, bass, tones, rumble, and high notes where needed.
All the soundbar functions are easily managed via a handy remote control with all the buttons for easy access.
Pros
• Attractive design
• Bluetooth compatibility
• Multiple sound modes
• Rich bass with an external subwoofer

3. Sony HT-G700 Soundbar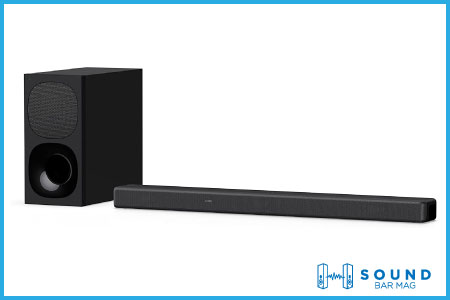 We found the Sony HT-G700 as the best soundbar for TV shows and any dialogue-sensitive content we could test it with. The high-resolution audio with clarity and max volume turn the tables for music, podcasts, and E-Book listening and ensure an immersive experience while watching shows and movies.
It is a compact, stylish, and 3.1 channel soundbar with Atmos and DTS support. You won't find any extra drivers to do the job of DTS and Atmos; Sony played thoughtfully and integrated the technology in the built-in three drivers to keep the profile simple yet powerful.
Also, the wireless connectivity via Bluetooth and HDMI eARC support is a catchy point that excites all TV streaming and music-listening lovers like us. The optical digital port can play an alternative part if your TV lacks ARC, but the functionality may vary with how your TV handles audio.
Furthermore, the built-in full range and dedicated center channel deliver the cinematic and weighty sound you cannot expect from any mid-range soundbar. It worked great with music, TV, and even news.
Nevertheless, Sony did a great job with HT-G700 by housing height channels that ensure high-quality sound with expansive sound projection, which falls back from ceiling to floor for the 3D virtual surround sound experience.
The center channel improves the dialogue delivery by isolating the vocals from background music and making it clearer to understand. The podcasts, news, and even TV shows were easy to understand, and we didn't rewind or play to ruin the charm.
Moreover, the wireless subwoofer is flexible to place anywhere due to its ports firing in one direction. So, it is a great deal to have for mixed usage.
Pros
• Compact DTS soundbar
• Atmos support
• HDMI eARC
• Vertical surround engine
• Clear and detailed sound

Cons
• No dedicated height speakers

4. Sony HTX8500 Soundbar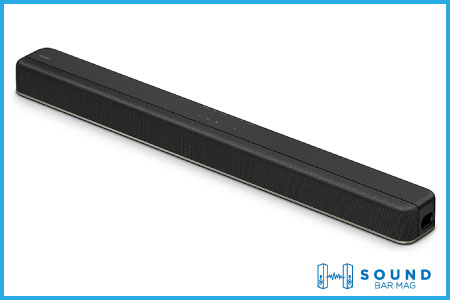 Now we have another model from Sony that we decided to examine after a lot of requests and pressure from our readers. It is a great entertainment package, and it was a breeze from unboxing to setting up.
Sony HTX8500 is a modern yet sophisticated soundbar with a 2.1 channel configuration and Atmos support. The space-saving design integrates a dual subwoofer to bring the taste of bass with fine-tuning and weighty volume.
In addition, the soundbar creates a more immersive soundstage, irrespective of the content type, to enhance the audio listening experience. The delivered audio is fulfilling, rich, and weighty to feel the notes within you.
The best Sony soundbar is a great choice for mixed usage. It can get loud while keeping the vocal clear and crisp, but the dark and muddy sound profile can be shocking for many.
Moreover, the built-in woofer delivers reasonable bass, and the adjustment feature helps you set it according to your preferences. However, it didn't do better with extremely low frequencies.
Dolby Atmos, DTS, and S-Force Pro technologies make a huge difference, delivering virtual surround sound that bounces back from every direction to fill the space with engaging sound.
Besides, the soundbar also has different EQ presets that automatically optimize the sound and deliver it according to the playing content. It was smooth to switch, and everything enabled automatically blew our minds.
Even though it is an entry-level soundbar, the premium add-ons of sound effects, auto volume, and night modes managed via remote control are impressive.
The clean and pure voice performance makes it ideal for E-Books, movies, and dialogue-sensitive content. Sony HTX8500 is worth considering if you want a small piece with high power output capacity.
Pros
• DTS/Dolby Atmos
• Clear sound quality
• Built-in woofer
• Wireless connection
• Night mode

Cons
• There may be some compressions at loud volume

5. Sony HT-Z9F Soundbar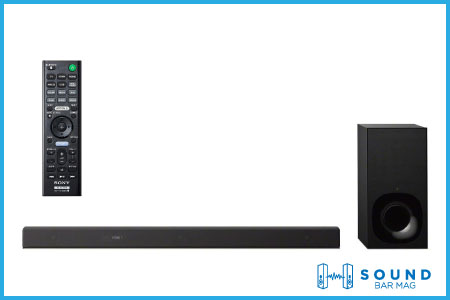 Sony HT-Z9F is slightly different from regular Sony soundbars, with a vertical surround engine and high-profile design. It is a soundbar with a 3.1 channel configuration, and the drivers are compatible with Dolby Atmos and DTS for a theatre-like experience.
The sound coming from all directions felt like 7.1.2 surround sound. The front-firing speakers reproduce vertically, creating a wide soundstage to entertain everyone in the room.
Moreover, the S-Force Pro technology of Sony ensures loud, clear, and crisp audio quality that moves the mountains of thrill. While testing it with music and games, it could produce a fulfilling, rich, and thundering sound.
The included remote control helps you personalize the sound according to your taste, preference, and content by letting you enable certain modes. Besides, the remote was handy enough to hold and navigate the bar.
Different EQ presets are available for seamless sound optimization, and HDR10, Dolby Vision, and Hybrid-Log Gamma compatibility are other premium additions to the device, making the overall usage luxurious at an affordable price.
Besides, the soundbar allows you to enjoy content streaming from different sources while pairing the devices via USB, HDMI ARC, optical digital Analog, Ethernet, and Wi-Fi.
You can stream online music from different platforms via Spotify, Amazon, and Apple Music by enabling WiFi only. Therefore, we recommend this best Sony soundbar for multiple purposes if you are unwilling to compromise your music-listening sessions.
Pros
• Exceptional upscaling to 7.1.2
• Rich and solid connections
• High-resolution audio with DSEE HX sound enhancement engine
• Sony Music center app

Cons
• No advanced sound formats

6. Sony HT-A7000 Soundbar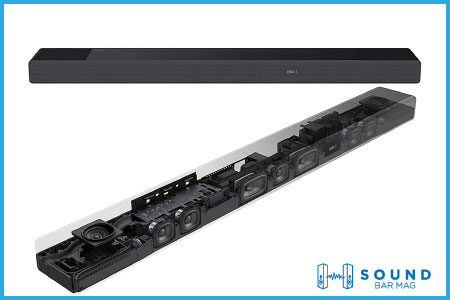 We had to include this product in the list of the Sony HT-A7000 soundbar because it is a high-end 7.1.2 channel soundbar with lots of breathtaking features, 360 audio delivery, and multiple sound effects.
It is a smart soundbar with voice-activated technology for easy setup and control. Multiple drivers' integration creates a wide soundstage to entertain every person in the room and gets loud at its full potential.
Thanks to the DTS and Atmos, the soundbar can reach the sky without any compressions and distortions. It is a device that gives life to boring movies and gaming nights with high-resolution and immersive audio enhancements.
The sound field optimization further calibrates the environment and delivers the sound accordingly. So, you don't have to find a sweet spot for the soundbar to perform perfectly; it will adjust to different surroundings and reproduce accordingly.
Besides, Bluetooth, built-in Chromecast, Spotify Connect, Wi-Fi, and Apple Airplay 2 are other premium addition that will provide easy listening from different sources.
Furthermore, the soundbar also has a dedicated center channel that produces every dialogue with dedication, clarity, and purity to leave no confusion behind.
There is no need to rewind and listen to the same content for better understanding, and the vocal enhancement feature further isolates the sound from background tunes.
Hence, the Sony A7000 soundbar is perfect for mixed usage, considering loud, clear, and bass-reflecting sound with almost 500W power output.
Pros
• Alexa and Google Assistant
• Multi-room audio
• WiFi and other online sources for music streaming
• 3D surround with Atmos and DTS
• Excellent vocal delivery

7. Sony ST5000 Soundbar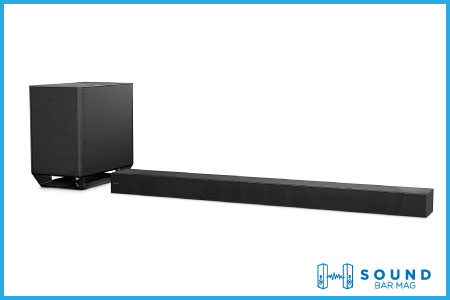 Enjoy a cinematic experience with the incredible Sony ST5000 soundbar, a premium addition to the extensive soundbar product line. It has an unusual appearance that throws some traditional old-school speaker vibes, but the high-dimensional sound gives you goosebumps.
While testing, the sound production was realistic enough to feel like the artist has live concerts, and the S-Force Pro sound engine technology ensures the sound simulates to the floor from the ceiling.
Its 7.1.2 channel configuration goes a long way to ensure the audio, dialogues, high-notes, and bass delivery is top-notch irrespective of the content.
Moreover, the wireless subwoofer makes a difference with weighty bass delivery and transforms the environment with a thrilling surround sound stage. The bass was accurately hitting the sensitive content and there were hardly any compressions.
The high-frequency audio level produces 800W output because the Atmos and DTS support enriches sound reproduction. The power output was enough to fill our lab with rich, transparent sound.
Also, the voice enhancement feature would have your back while watching shows or listening to E-Books because the vocal clarity is amazing.
Besides, connecting an external device with a bar is seamless via Wi-Fi. Also, you can enjoy perfect syncing with the TV through 4K HDR and HDCP 2.2 compatibility.
Pros
• Three-dimensional sound field
• Atmos-enabled speakers
• WiFi music streaming
• Multi-room listening
• No compressions at max volume
• Gets loud with clear dialogues

Best Sony Soundbar – Buying Guide 2023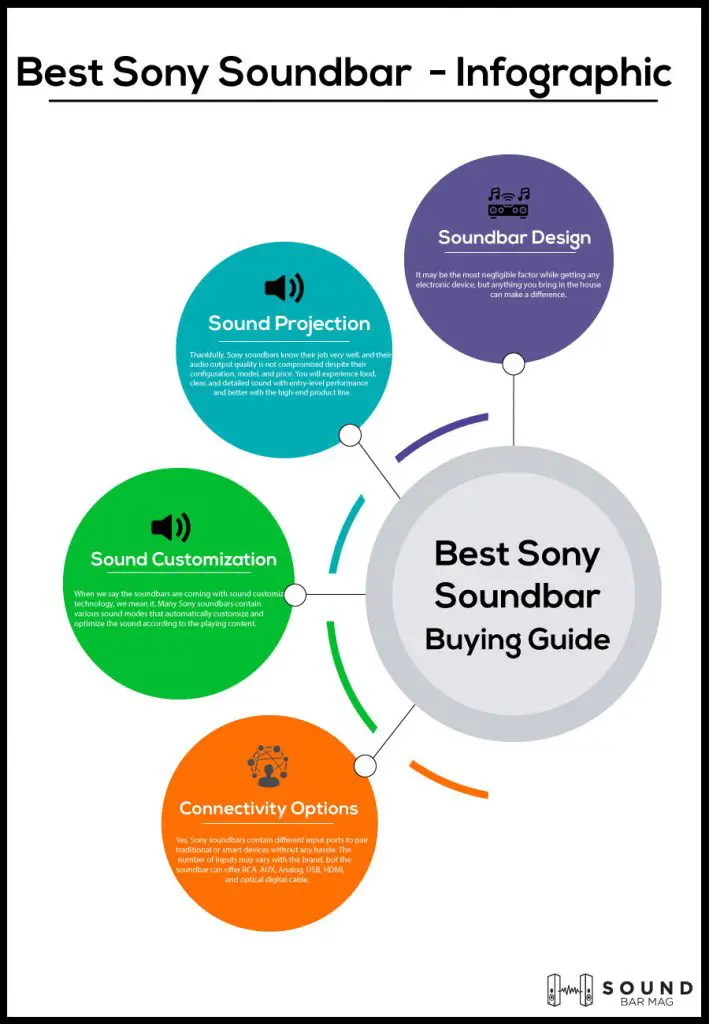 Enjoying a soft and well-balanced sound is no more a dream with the best Sony soundbars. They can keep you entertained with thrilling sound performance and many different connectivity options to pair all your smart devices.
But, reading reviews of the top soundbars with their impressive qualities can confuse you and leave you with no other alternative but to purchase the one that looks stunning and has so many features. However, this is not what you want.
Why spend on a feature that you may never use?
Why spend on getting high channel configuration when you merely want to update your TV speakers?
Why spend on an external subwoofer if you are not getting a soundbar for crowded parties or professional gaming?
Yes, these are some questions you may ask yourself before investing in a soundbar. Having a soundbar can turn the tables of your digital content streaming. Watching the stunning visuals is not enough for having a good experience but listening to the content with perfect syncing can promise a luxurious experience. So, let's see the elements and features of the soundbar and what one should consider before getting a new one.
Soundbar Design
It may be the most negligible factor while getting any electronic device, but anything you bring in the house can make a difference.
A soundbar is a design that can complement your home décor because it catches the interest of everyone in the room, whether it is functional or not. Sony soundbars are also perfect for mounting on the wall because it throws fascinating vibes in the room.
Moreover, Sony soundbars are built with durable material, making them flexible indoors and outdoors. Also, the soundbar design may vary with the models because some of them have RGB lighting that indicates the functions, and many have touch-sensitive buttons at the top that are visible.
Sound Projection
Thankfully, Sony soundbars know their job very well, and their audio output quality is not compromised despite their configuration, model, and price. You will experience loud, clear, and detailed sound with entry-level performance and better with the high-end product line.
The bass and rumble projection in the sound is also on-point, and the soft tone for documentaries, podcasts, and recipe streaming is worth noticing. Moreover, the dialogues are clear enough to understand, with or without a dedicated center channel.
In addition, the external subwoofer can bring life to the music. Though you find a built-in woofer available, the separate one can help the music go loud with the no-compression feel. The front and side-firing speakers create a highly productive soundstage, and the audio format support adds a cherry on the cake.
Precisely, you can trust the best Sony soundbar for mixed usage, including watching movies, shows, documentaries, or listening to music and podcasts. It can also bring life to the boring gaming sessions by customizing the audio according to the actions.
Sound Customization
When we say the soundbars are coming with sound customization technology, we mean it. Many Sony soundbars contain various sound modes that automatically customize and optimize the sound according to the playing content. Unlike other brands and models, you don't have to waste time manually adjusting the sound output when you switch from watching the news to streaming Spotify podcasts.
Your new and smart Sony soundbar automatically adjusts the volume delivery, sound tone, bass, treble adjustment, vocal enhancement, and many other built-in audio elements once you set a particular mode.
It is interesting.
Connectivity Options
Excellent sound production with multiple connectivity alternatives is a deadly combo, isn't it?
Yes, Sony soundbars contain different input ports to pair traditional or smart devices without any hassle. The number of inputs may vary with the brand, but the soundbar can offer RCA, AUX, Analog, USB, HDMI, and optical digital cable.
Optical digital is a one-way sound syncing input that every soundbar should must-have. However, if you want to have two-way communication with your smart TV, watch out for the HDMI ARC.
Furthermore, you can also enjoy wireless music streaming by connecting your smartphones, tabs, and laptops via Bluetooth. Thankfully, entry-level soundbars like the Sony HT-S350 2.1ch soundbar also have wireless technology for expansive surround sound listening.
HDMI ARC – Yes or No?
Do you need HDMI ARC support or not?
The input port support can make a difference to the price tag because it is a premium add-on. So, think through before deciding.
Also, if the soundbar features and advanced qualities like dialogue enhancement and sound customization EQ preset, you may not want an HDMI ARC compatibility. Though if you get it within an affordable price tag, get it.
User Interface
Sony believes the consumer products should be easy to operate so everyone can access and get the most out of them. Keeping the thought, they have kept the interface as user-friendly as possible.
All the Sony soundbars are easy to set and function, whether with voice-activated technology or a handy remote control.
Conclusion
The task of getting a new Sony soundbar shouldn't haunt you anymore because the article highlights the top products available. You can find the entry-level soundbars that are a perfect upgrade to TV speakers and premium products that can deliver a theater-like experience.
So, get the soundbar that best fits your usage, requirements, and budget. Every soundbar is perfect for home, office, studio, and gaming purposes.
Mia Evelyn is a soundbar specialist and she love to test and review different soundbar brands. She shares her neutral and in-depth reviews through the Soundbar Mag.