Samsung takes its TV aesthetics to the next level by offering a wide, thick, and noticeable frame. It looks astonishing and hardly distracts you while streaming vivid visuals on the big screen.
However, the flat panel, which can widen the viewing angles, can't afford to adjust powerful speakers that deliver heavy and deep audio. Thus, we recommend connecting an external sound system, mainly a soundbar that upgrades TV speakers and provides 360 cinematic sound in your home living rooms.
We have carefully examined the market and found powerful soundbars that can go well with the new launch of Samsung Frame TVs.
So, give a read to the top 5 soundbars for Samsung Frame TV we have tested and experience value for money with excellent depth of sound.
List of the Best Soundbar for Samsung Frame TV in 2023
1. Samsung HW-Q800A (Q Series) Soundbar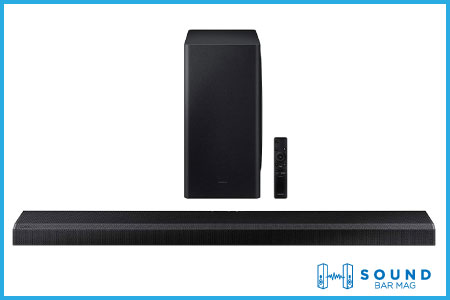 Samsung HW-Q800A is a decent soundbar, designed with a 3.1.2 system configuration and a mixture of different sound effects to increase its demand.
It is a complete audio entertainment system with three channels, two up-firing channels compatible with Atmos and DTS, and one subwoofer. All the speakers are smartly placed inside the rigid body to expand the soundstage, and we heard the compelling sound coming out of it.
A centre channel also enhances the spoken word delivery and makes it understandable despite the heavy tuning or thrilling scenes. We loved the performance in news, and TV shows.
The soundbar's stereo dynamics make it sound big and heavy to reach the sky's limit. The built-in tweeter adds more harmony to the sound, and the audio depth is remarkable while listening. The soundbar handles thrilling gaming, songs, or soft podcasts with such perfection that you wouldn't lose the charm.
While connecting to Samsung TV, it instantly recognizes the signals and enables the specs compatible with the TV to make the sound delivery more accurate or realistic. Q-Symphony helps with accurate synchronization, and the Space fit function automatically calibrates sound for perfection.
Samsung HW-Q800A is also simple enough to manage, and the voice assistant further complements the setup and management. Stay updated with the latest news, recent calls, podcasts, or songs by asking Alexa.
Connectivity with HDMI and optical digital allows flexible device pairing, including old TVs. You can also enjoy wireless device pairing with Bluetooth or WiFi.
However, only one HDMI input makes you go through the hassle of changing cables from different devices and going through the whole setup process.
Pros
• Affordable
• Q-Symphony
• Auto calibrated sound
• Clear dialogues
• Voice assistants

Cons
• Limited wired connection

2. Sony HT-G700 Soundbar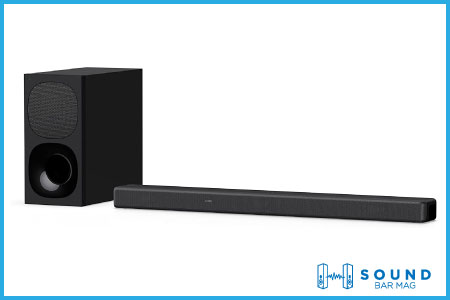 Sony makes attractive and powerful soundbars, and HT-G700 is no exception. From unboxing to setting up the device, it constantly gives us vibes as the valuable product of the Sony brand.
It features a 3.1 system, comprising three channels and one subwoofer, including height or up-firing channels compatible with Atmos and DTS:X technology and dialogue improving channel.
The front speakers are combined with Sony vertical audio technology that creates vertical surround sound, making the sound come from all directions without compromising the quality.
Connectivity with HDMI and Bluetooth makes it a decent choice for old or smart TVs, and the variety of sound modes for quick audio customization is also a catchy point to notice.
The Bluetooth range is long, wide, and strong, so you can manage your playlists from a fair distance. We switched the songs from different rooms, and it worked like a magic.
It saves time and automatically calibrates the audio quality according to the content playing. It also features a vocal enhancement feature that polishes the spoken word until you understand it clearly.
In addition, Sony HT-G700 also comes with a powerful wireless subwoofer that delivers powerful bass sound, adding more depth to the audio performance.
However, many existing soundbar users complain about the lack of voice assistants and a few other smart features that can make it the premium choice to have in homes.
Still, considering the 400W power output, 4K HDR passthrough, and heavy sound output, it is the ideal soundbar for Samsung TV.
Pros
• 3D surround sound
• Dolby Atmos and DTS:X effects
• 400W power output
• Multi-room audio
• Rich and thundering bass

Cons
• Dynamic range is limited

3. Yamaha SR-B20A Soundbar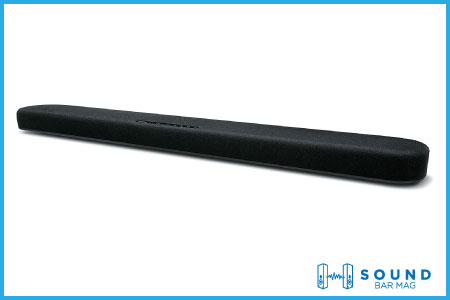 Yamaha SR-B20A may not be a high-end soundbar in the market, but it still performs a decent job while connecting with Samsung frame TV in a reasonable budget range.
It has a decent design, is made with premium material, and contains multiple speakers for quality audio output. It came smartly packed, so we became a big fan of Yamaha products.
It is a reasonable upgrade to TV speakers and a compact choice in bedrooms, kitchens, or cinema rooms. We call it a plug-and-play soundbar with HDMI or optical digital.
You can also enjoy wireless music listening with a Bluetooth connection, making it flexible for different smart devices. Also, the HDMI eARC supports 4K passthrough, so it is a win-win for Netflix streaming or music listening.
The dialogues are also clear enough to use the soundbar for podcast or eBook listening, we checked it with both and we can second the claim for perfect vocal clarity. It also keeps up with the news or TV shows because you will hardly miss a word.
Despite being compact, the soundbar can create heavy sound with well-balanced tuning, upper and mid-notes, which surprised you. It can provide excellent detailing at any frequency range, adding more depth to your listening experience, and making it the best soundbar for Samsung Frame TV.
The slim and sleek design with easy access to the connectivity sources at the rear panel makes it the perfect fit for bedrooms.
However, the power output of 100W doesn't seem enough to enjoy powerful content, and we also notice the sound being distorted at max volume, which is quite surprising. Nevertheless, upgrading the TV's built-in speakers is a great choice while staying on a budget.
Pros
• DTS virtual X effect supportive
• Budget-friendly
• HDMI 4k passthrough
• Compact design

Cons
• Sounds distort a bit at a high volume level

4. Denon Home Sound Bar 550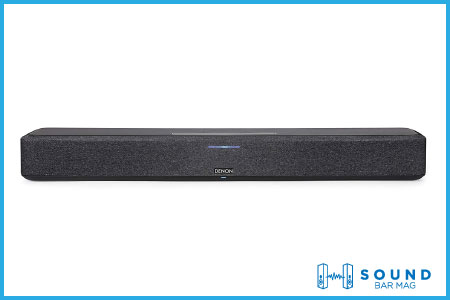 Denon is a well-known brand in the audio industry, and their home soundbars are familiar with their high-quality sound and sleek design. Also, their shipment process is smooth, and the products come right on time.
Moreover, we couldn't resist testing the Denon soundbar 500 at our facility, as the bar features advanced technologies such as Dolby Atmos and DTS for evolving and multidirectional sound output.
This particular unit has a compact design which is easy to carry and set. The seamless integration makes it an ideal choice for indoor and outdoor usage, never leaving you behind to enjoy digital fun.
Additionally, connecting the device with others is a breeze with USB, HDMI, Optical digital, and Aux. You can also enjoy 3D sound via Bluetooth and expand the soundstage to enjoy the content at its full potential.
The six-array drivers create immersive music vibes to make you feel like you are living the action. It is ideal for music streaming, movie-watching, and even sports streaming.
The usage is not limited here because the built-in HEOS provides access to millions of soundtracks, making it a perfect Bluetooth speaker that starts to perform whenever you want.
We also find the navigation exciting with the built-in Alexa that uses your commands to adjust volume, switch connections, manage audio modes, browse soundtracks, etc. The soundbar also has a sensitive control panel at the top that serves the same purpose.
Besides compatibility with the HEOS app, the soundbar upscale the frequency response with HDMI ARC and reproduces sound with great content synchronization. The clarity is also incredible for movies, news, and podcasts.
So, Denon soundbars are a great choice for those looking for a premium audio experience in their home, and we highly recommend checking this unit to enjoy everything hassle-free.
Pros
• Compact profile
• Balanced sound quality
• Rich connectivity
• Passive radiators
• HDR10 and Dolby Vision
• Built-in voice control
• Wide compatible suppor

Cons
Might need to add subwoofer for deep bass

5. Bang & Olufsen Beosound Stage Soundbar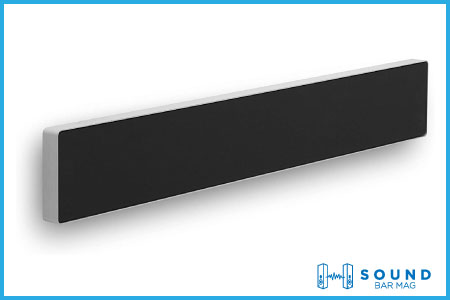 Bang & Olufsen is a luxury audio brand known for its high-end products, and the Beosound stage is one of their premium soundbars, hence the higher price.
The Beosound stage features a sleek, minimalist design that blends seamlessly with any home décor. We love the matte black finish that complements the overall entertainment setup in the room.
The soundbar houses 11 drivers, including full-range, height, tweeters, and radiators, enveloping you in the multidirectional, rich sound output. It surely delivers powerful and engaging audio with Atmos and DTS formats.
Besides bold and rich sound, you won't need an external subwoofer for the thumpy and thrilling bass, as the built-in woofer reproduces deep bass with the outstanding performance of the low notes.
The soundbar also has built-in Alexa for voice control and supports multiple streaming services over WiFi, like Spotify, Tidal, and Amazon Music, making it a plug-and-play for random parties.
Moreover, we can't avoid the built-in Chromecast and Apple AirPlay2 for seamless streaming from smartphones and other smart devices at home. You can also use the dedicated app to customize the audio and manage other settings.
The soundbar can also be integrated with other Bang and Olufsen products for a multi-room audio experience. And for connectivity, you will find HDMI to enjoy accurate passthrough for the immersive watching experience.
Overall, the B&O Beosound stage soundbar is a premium option for those looking for the ultimate audio experience, whether upgrading the TV speakers or setting a home theater experience.
Pros
• Luxurious look
• 11 sophisticated drivers
• Chromecast and AirPlay
• Wireless connections
• Expansive audio
• 3D sound with Atmos

Frequently Asked Questions (FAQs)
What is the best soundbar for Samsung Frame TV?
Samsung HW-Q800A is the best soundbar in the market for Samsung Frame TVs. It features a 3.1.2 system, spacious sound, and an Atmos effect to make the sound multidirectional.
What soundbar works best with Samsung frame TV?
Samsung HW-Q800A (Q Series), Yamaha SR-B20A, and Sony HT-G700 are the top soundbars that show excellent compatibility with Samsung frame TVs. They are affordable, easy to set and come with HDMI 4k passthrough to enjoy the latest high-resolution content with high-definition audio output.
How do we connect a soundbar to a Samsung Frame TV?
Watch out for the similar connectivity sources both devices offer. We recommend choosing HDMI ARC for excellent content synchronization, and connecting with this source is also seamless.
Get a long HDMI cable. Ensure it is not exposed, cut, or damaged.
Insert one end to the ARC input of your TV. Ensure it fits properly
Put another end to the soundbar. Also, ensure it is not loose to avoid any disturbance or lag.
Turn on the TV and adjust the audio setting.
Play the content and enjoy quality audio.
Bottom Line
Choosing the best soundbar for Samsung Frame TV should be simple because you know your TV and listening standards. This detailed guide comprising three top soundbars in the market should help you make a sound decision.
However, you should know what you want, where to put it, and what amp output you expect to get the most out of your investment.
Mia Evelyn is a soundbar specialist and she love to test and review different soundbar brands. She shares her neutral and in-depth reviews through the Soundbar Mag.