Choose the best soundbar pair with a subwoofer and build your very own home cinema setup while connecting it to your Samsung 50-inch TV.
With vivid colors, excellent contrast, and advanced display features, the external soundbar addition will bring charm to your TV-watching experience. The soundbar reproduces high-quality sound with the next-level clarity and crispness that TV built-in speakers can't promise.
Also, to make your finding a little easier, we have added 3 best soundbars for Samsung 50-inch TVs that you won't regret bringing home. The soundbar is a perfect addition to enjoy loud and wide sound while movie-watching, gaming, or music streaming.
So, let's check them out.
List of the Best Soundbar for Samsung 50 Inch TV in 2022
1. VIZIO SB3651-F6 Soundbar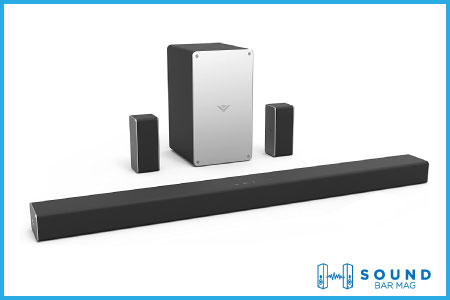 The VIZIO SB3651 is a popular model with a 5.1 channel setup and maximum power output. It is a complete entertainment package because it contains the subwoofer and additional rear speakers, ensuring a good quality loud sound surrounds you.
The bar offers wireless connection technology to pair with external devices, including smart TVs. This model also supports different sound enhancement techniques and formats, making it suitable and the best soundbar for the Samsung TV.
Because of the light grey panels that mimic the letter "V," this model appears modern or futuristic, especially while mounting on the wall. Power on/off, volume up and down, connectivity input, and Bluetooth on/out are all located at the top panel for easy reach.
The added rear speakers also appear to be quite sleek and simple. They're light and portable, so that you can put them anywhere you need them. The input ports on this model are versatile: Wi-Fi, HDMI (ARC), optical digital input, USB, coaxial digital input, and RCA ports are available for stable connections with media devices.
The VIZIO SB3651 specifications demonstrate that it is a high-level device. The 5.1 system and active amplifier provide Powerful sound pressure. Besides, it also offers support to the DTS Virtual:X, DTS TruSurround, and other sound improvement technologies that make the sound delivery more immersive to hear.
The remote controller is comfortable to use and features all the controls you'll need to operate the device and playback. Voice control support with Google Assistant also comes along with the bar. Nevertheless, it comes with remote control with a mini display.
Benifits
• Sleek design
• Built-in Chromecast
• High-definition sound
• Rich and thrilling bass
• Reasonable Price

Drawbacks
• Lacking some high-end features

2. JBL Bar 9.1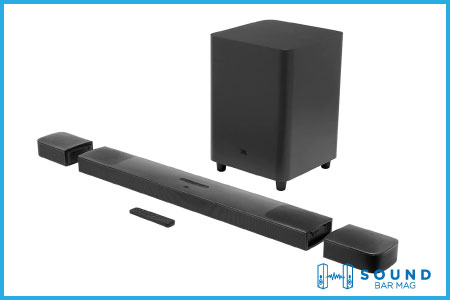 Each and every soundbar that uses wireless speakers – whether connected to the soundbar or just to a power outlet – can provide superior sound, but at the expense of ease and physical space; that's why the soundbar appeals to many people.
Its dark grey plastic container emits only the slightest amount of light, and when fully extended with both satellite drivers installed on either end, that's only 47 inches long. The sound delivery is impeccable, with excellent background audio tuning and the next-level clarity with a dedicated center channel.
The soundbar will play for roughly 10 hours when ultimately charged, and a caution sign will appear on the bar's display when it needs to be charged, so the display is pretty helpful for staying updated. Because the soundbar contains a micro-USB connector, you can technically leave them behind, mount them on the wall, and charge them with a micro-USB cable.
After plugging the soundbar and subwoofer into their respective power outlets and connecting the Bar's HDMI switch to the TV's HDMI-ARC (or eARC) connector, the bar is all set to perform at its full potential and ready to deliver thrilling and deep bass with a distortion-free loud sound.
The two removable, wirelessly rear speakers are powered by batteries, creating an amazing home theatre experience without the typical bother. Dolby Vision, Chromecast, and Airplay 2 are all supported by BAR 9.1, enabling convenient streaming media.
Benifits
• Wireless surround speakers
• Dolby Atmos, DTS:X, and eARC support
• Auto room correction
• Crisp, tight sound

Drawbacks
• Very few audio settings

3. Samsung Q700B Soundbar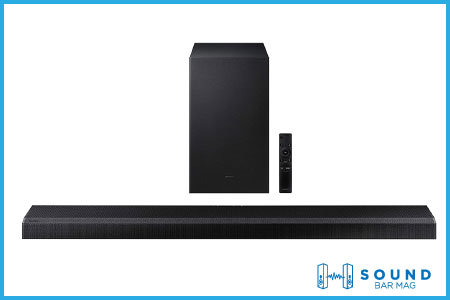 The Samsung Q700B is a versatile device with its powerful yet sleek profile, integrating multiple speakers inside. Its mid-range is well-balanced and capable of reproducing vocals and lead instruments. On the other hand, it struggles to produce a thumpy, powerful bass, which can be frustrating if you enjoy bass-heavy music and action films.
The Samsung Q700A is a slim soundbar that resembles the Samsung in appearance. A metal grille conceals the top and front panels of the bar, and the rest of the bar is composed of durable material. A thin fabric similarly covers the front of the sub. The subwoofer on the Samsung 700 is mostly made of wood and is a perfect fit for the best soundbar for Samsung 50-inch tv.
Because the Q700A soundbar is somewhat large, it will almost certainly not fit between both legs of your 50-inch television. It isn't particularly tall, so it shouldn't obscure your view unless your TV is flush against the table.
The sound delivery is great, creating a wide soundstage while listening to heavy music. It also performs well while streaming to TV, and gaming can be much more fun with its directional sound delivery.
Using an HDMI ARC connector, the Samsung HW-Q700A can support DTS and Dolby Digital audio formats prevalent on streaming platforms and Blu-ray discs. Superior surround formats DTS:X and Dolby Digital Plus are also supported.
Benifits
• Bluetooth, Wi-Fi, AirPlay compatibility
• It can get very loud
• Dialogue enhancement
• Dolby Atmos and DTS:X support.

Frequently Asked Questions (FAQs)
What is the best soundbar for Samsung 50 inch TV?
JBL Bar 9.1 soundbar is the best soundbar, comprising all the qualities like wireless connections, maximum power output, and advanced audio format support. It features a stylish profile and great stereo dynamics that you wouldn't stop admiring its audio production capabilities.
Are soundbars worth it for Samsung TVs?
Yes, soundbars are worth using with TVs. A soundbar can boost the volume level without compromising the audio quality and deliver deep bass, clear vocals, and balanced tuning.
Bottom Line
Soundbars are a stylish choice for home entertainment setup, and we have added the top-rated budget-friendly products to connect with your Samsung 50-inch TV.
All the soundbars mentioned match the standards of the latest Samsung TVs, but the spec set and built quality of the Samsung Q700B surprised us.