A soundbar is a surprising sound system that looks like a wide box but includes multiple powerful speakers to produce excellent sound quality. This best Yamaha soundbar review article discloses the secret of enjoying the high-resolution sound performance, which is the safest alternative to the home-theatre system.
The best Yamaha soundbars support the latest audio technology that elevates the performance, and the virtual 3D surround sound sets the ideal soundstage for audiophiles. In addition, Bluetooth support makes the device versatile enough to use whenever you want without any hassle.
We have gathered the top 6 Yamaha soundbars based on personal experience and a market trend that can bring life to your boring days.
Let's get started exploring the finest Yamaha soundbars without further ado.
List of the Best Yamaha Soundbar in 2022
1. Yamaha Audio YAS-209BL Soundbar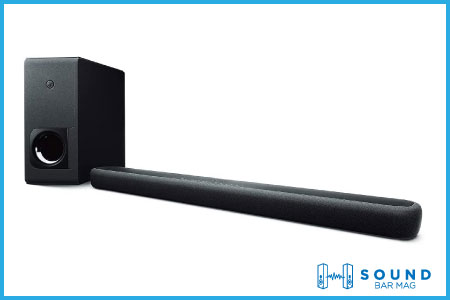 Yamaha Audio YAS-209BL is the brand's best-seller with amazing functions, wireless technology, and powerful speakers that deliver maximum output without compromising audio quality.
The built-in speaker produces a well-balanced sound profile that goes well for different usage. The clear and precise dialogues can keep you immersed while streaming TV or listening to a podcast, but the lack of surround sound or height channels may make you miss the detailing thrill. However, on the upside, no compression on max volume and decent low-frequency extension makes it a suitable choice for everyday use.
Easy controlling via a free app and pairing via Bluetooth support can deliver the best user experience. The subwoofer is also wireless, so it doesn't rely on the sweet spot to perform with full potential. But it can produce heavy and ground-shaking bass that can move you while gaming or listening to rock music.
Yamaha YAS-209BL is the best smart soundbar with Alexa built-in, DTS:X format, and Fire TV compatibility. DTS would ensure the virtual sound production with clarity, and the stereo response is also satisfactory enough to please the music listening fans. Overall, it is a great entry-level soundbar with a sleek and elegant design with appealing features.
Pros
• Dialogue enhancement feature
• Heavy bass
• DTS: X
• Durable build quality
• Alexa support

2. YAMAHA YAS-109 Soundbar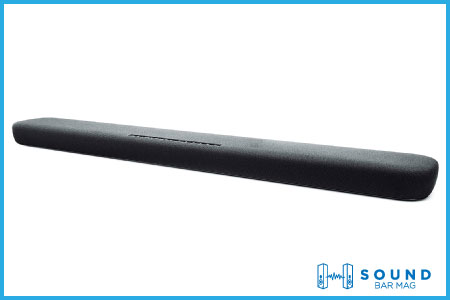 It is a minimalistic, soothing, and attractive soundbar with many exciting features to bring the game on for your music listening. It hosts many functions and built-in drivers that deliver game-changing sound performance at an affordable price range.
It also features DTS Virtual: X format support for a 3D surround sound to immerse an audience in the expansive and rich audio performance. It can turn the home into a cinema by ensuring the thrilling sound comes from all directions.
The sleek and fine body packs a 5.5cm front driver, tweeter, and woofer that produce a maximum power output of 120W, excluding 60W of the woofer. Despite not having Atmos support, the soundbar will surprise you with clear, loud, and customized audio that can optimize the content under different modes.
Yamaha YAS-109, which is now the perfect Yamaha soundbar, offers different sound modes for quick sound customization. Dolby Digital and Dolby Pro Logic II formats also enrich the audio quality while minimizing the sound delays.
Setting and controlling are flawless with Bluetooth, lots of input ports, and Alexa support. Use your voice to switch channels, play your favorite playlist, or enable a certain sound mode. Therefore, it is a decent but interesting soundbar that can deliver seamless music.
Pros
• Pumping bass
• Dialogue clarity
• App control
• Preset modes for surround sound

3. YAMAHA SR-B20A Soundbar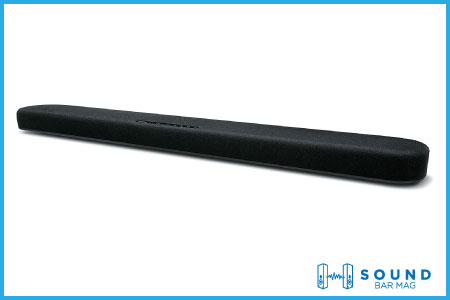 Yamaha SR-B20A can keep up with your music streaming routine with its smooth and effortless sound, which can get wild when needed. Its long but subtle design complements your TV, and the black metallic finishing will instantly catch your attention.
The soundbar will eliminate every possible distraction around you and keep you immersed in your content by throwing sound in every direction. When you press the play button, you will feel the sound coming from the right, left, above, or even from behind with the DTS: X and Virtual 3D surround sound technology that moves you with the content.
The simple or smooth interface makes it an ideal choice for everyone, and the wireless connection helps in pairing all the compatible devices effortlessly. In addition, the control App facilitates you with smooth volume control, enabling connection or switching to the sound modes quickly.
Moreover, the Yamaha soundbar offers clear voice technology that eliminates distortion or crankiness despite the volume and delivers flawless vocal performance. The dual built-in woofers produce full-range ground-shaking bass that adjusts automatically according to the content.
Speaking of automatic adjustments, the four different sound modes optimize the sound performance and make it realistic by ideal syncing as soon you set the right mode. Besides, the HDMI ARC connection supporting audio return quality will also deliver an immersive TV watching experience.
Pros
• Rich bass
• Crystal clear voice
• Sound modes
• HDMI ARC support
• 180W output power
• Wireless connectivity

4. YAMAHA SR-C20A Soundbar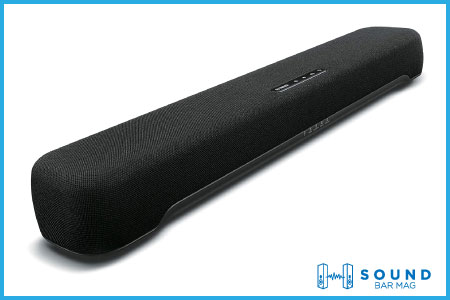 This compact soundbar with the heavy potential for sound production is surprising. It is only 60cm wide, an ideal size for the desktop sound system. Besides flexible fitting, the soundbar is super easy to set up with a remote-control app with all the possible functions to keep up with regular navigation.
This space-saving soundbar lets you discover the True surround sound with built-in technology, rich bass extension, and super clear voice delivery. Dolby Audio support minimizes the sound delay while maximizing the clarity and ensures surround sound delivery for expansive and immersive listening.
The front left and right drivers produce full-range sound with a maximum power output of 100W, and the built-in woofer can deliver punchy bass with 60W output. The voice enhancement feature makes a noticeable difference while listening to podcasts, E-Books, or even music by highlighting dialogues within the background tuning.
Bluetooth support is a big relief for pairing smartphones or TV effortlessly, especially without a wired mess. Moreover, installing, setting, and pairing the device is a walk in the park. The mounting kit will help you fix the bar, and the control app will guide you through the navigation.
Pros
• 160W power output
• App control
• Virtual surround tech
• Alexa compatibility
• Sound modes

5. Yamaha YAS408BL Soundbar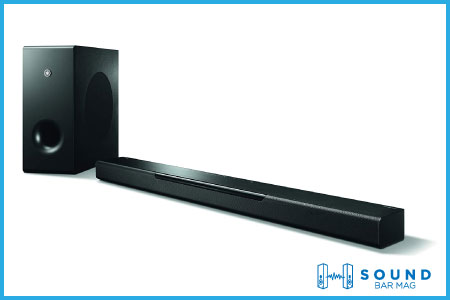 Yamaha YAS-408BL is a 2.1 all-rounder soundbar that performs pretty well for different kinds of content. Its neutral sound profile and thumpy bass make a complete sound system package that you wouldn't find in your TVs or cheap speakers.
The soundbar hosts dual full-range drivers with a powerful audio reproduction, and the built-in woofer keeps up with a wrapping bass. It can get loud without throwing annoying distortions to immerse you in the content. Besides, it is perfect for dialogue-oriented content because the vocal delivery is precise even without a center channel.
Yamaha YAS-408BL has been the trending soundbar and is used to compete with Sonos beam, one of the fantastic soundbars in the industry. Its user-friendly interface and metallic grill at the front to complement the overall design are eye-catching. Moreover, the wireless subwoofer is pretty straightforward, with a wood body and speaker at the side.
With a whole set of physical connections, it allows seamless and fast pairing one way or another. The HDMI ARC is worth appreciating considering the two-way audio traveling for TV streaming. In addition, WiFi, Bluetooth, and MusicCast open doors to unlimited entertainment from the couch comfort.
Pros
• Excellent build quality
• Rich wireless connectivity
• Dolby Digital and DTS
• Dialogue enhancement feature
• 3D surround mode

Cons
• Awful Virtual 3D surround sound mode performance

6. Yamaha ATS-1080 Soundbar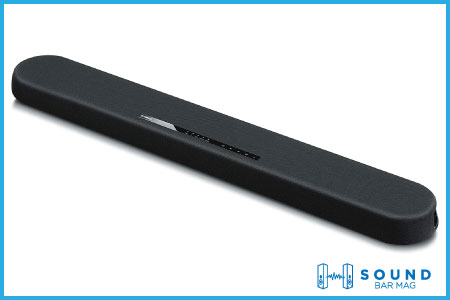 Yamaha ATS-1080 is a decent entry-level soundbar with a 2.1 channel system and Bluetooth support to upgrade your TV speakers. It can be a reasonable add-on to your everyday music or podcast listening sessions with its sleek 35-inches design and great sound performance.
The built-in full-range drivers and woofer deliver a maximum output of 120W, enough to entertain small to average rooms. Thanks to the drivers, tweeters, and dual woofers, it has a stunning, balanced sound profile adjustable for different content.
The soundbar has no advanced audio format supports. Still, on the upside, it offers different surround sound modes and DTS: X compatibility that expands the sound reproduction or maximizes clarity and delivers 3D sound.
Moreover, the lip-syncing technology makes a noticeable difference while watching shows or movies because it moves you with the content. Also, the loud, crisp audio with a punchy bass performance can turn the tables while gaming.
Furthermore, the whole set of connectivity inputs encourages flexible usage. Bluetooth support with a reasonable range and excellent connection stability lets you use the device outdoors, at parties, or while streaming movies.
Pros
• Built-in subwoofers
• Portable design
• Rich connection
• Auto lip-sync technology
• Surround modes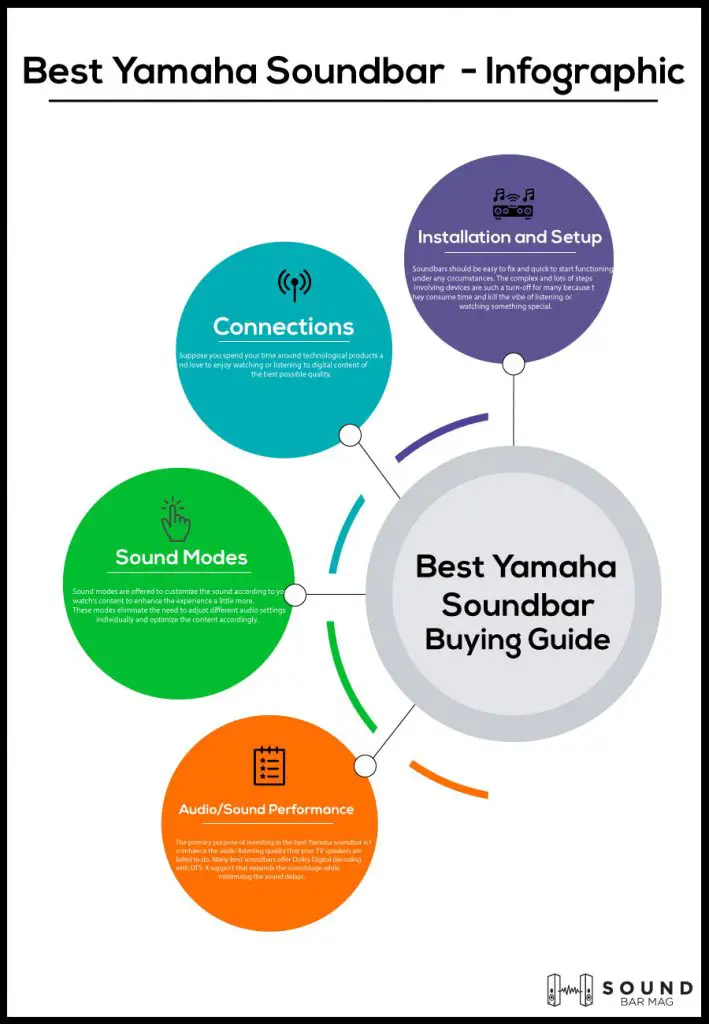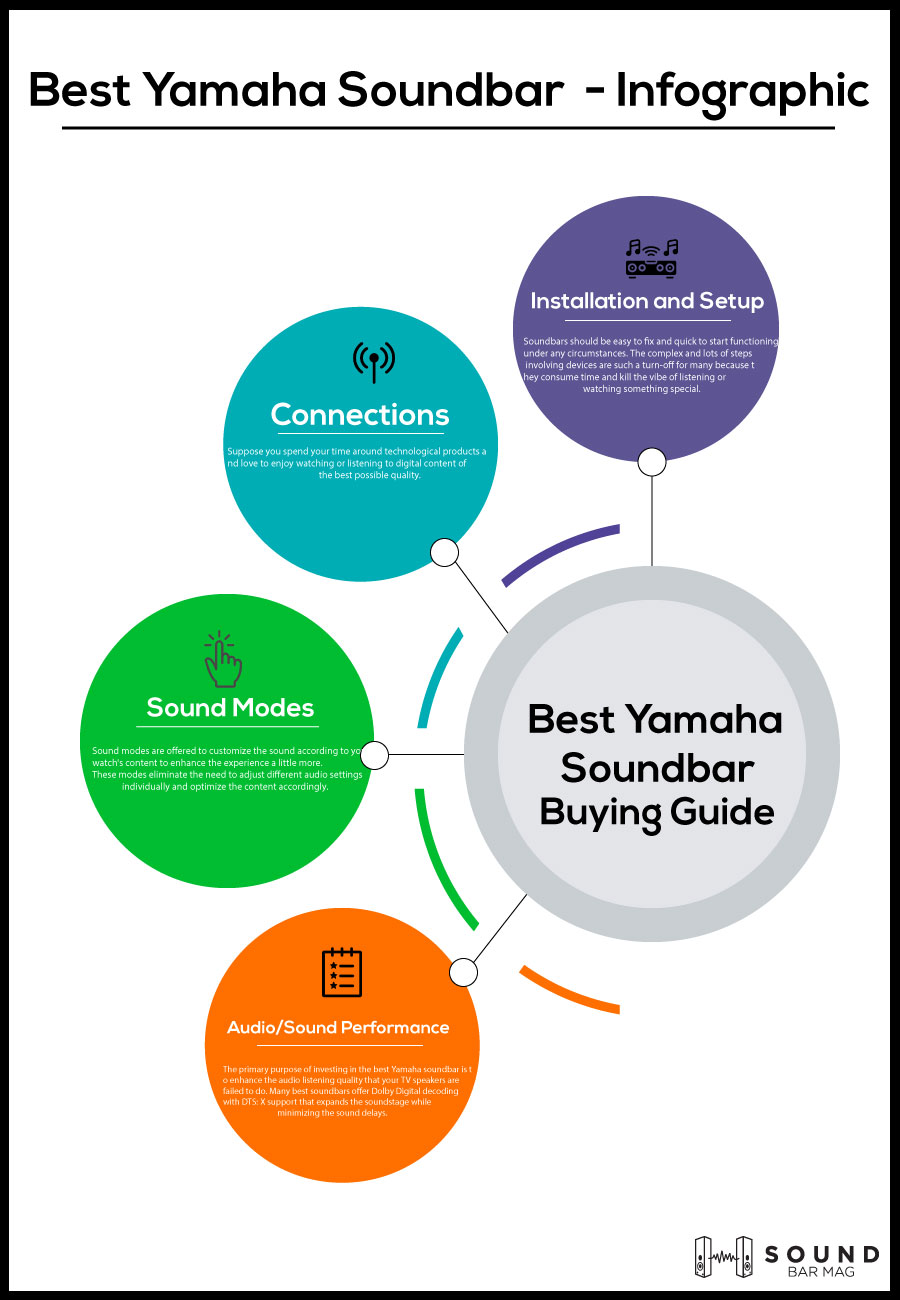 Best Yamaha Soundbar Buying Guide 2022
Shopping is always confusing and time-consuming regardless of the specific brand's soundbar. Since all the soundbars look the same, it is important to pay attention to the inside features and functionality.
Thus, we will discuss what you should consider before getting your hands on the decent Yamaha soundbar for your house. This Yamaha soundbar buying guide will walk you through the main elements if it is your first-time purchase. But if you are switching to the Yamaha soundbars, we will briefly introduce you to its functionality and user interface.
Installation and Setup
Soundbars should be easy to fix and quick to start functioning under any circumstances. The complex and lots of steps involving devices are such a turn-off for many because they consume time and kill the vibe of listening or watching something special.
Thankfully, Yamaha soundbars come with the necessary supplies, including a power cord, remote control digital optical audio wire, and AC adapter for seamless plugging. Besides, a detailed user manual guide will also come along if you get confused. Besides, many soundbar models also deliver HDMI or AUX cable if they offer support, so the supplies also vary like the features. But on the upside, they are plug-and-play devices that are easy to manage via a handy remote control.
Connections
Suppose you spend your time around technological products and love to enjoy watching or listening to digital content of the best possible quality. In that case, you must look for the multiple and different connectivity inputs, so you won't face hassle or disappointment while connecting any device you own.
Luckily, irrespective of their models, Yamaha soundbars offer decent pairing options. You will find multiple optical digital audio inputs, USB, HDMI ARC, HDMI outputs, and wireless connection support. Though the options may vary, you can find rich ones than rival products sharing the same price.
Sound Modes
Sound modes are offered to customize the sound according to your watch's content to enhance the experience a little more. These modes eliminate the need to adjust different audio settings individually and optimize the content accordingly.
We have added the Yamaha soundbars that offer at least four sound modes with certain jobs, like enhancing dialogues, enriching the bass, etc.
Audio/Sound Performance
The primary purpose of investing in the Yamaha soundbar is to enhance the audio listening quality that your TV speakers are failed to do. Many best soundbars offer Dolby Digital decoding with DTS: X support that expands the soundstage while minimizing the sound delays.
Whether external subwoofer or built-in, Yamaha soundbars can produce rich bass that suits many people's listening preferences. The neutral sound profile adjusts to the different content and delivers an immersive listening experience that every soul craves.
Bottom Line
Yamaha soundbars are made to change the game of listening to music or podcasts. Beautiful crafting, metallic design, and powerful speakers can deliver a dreamy yet cinematic sound at your homes or studios.
All soundbars mentioned above are made with full confidence to provide home-theater vibes within a reasonable budget range. Also, more connection options and durable build quality plays a part in enhancing the overall user experience. Thus, the best Yamaha soundbar is worth investing your time and money in.