Driving a UTV is always fun. It is large, powerful, fast, and has enough room for two to four riders.
But heading on the long roads in UTVs with friends can still be boring. Unlike cars, it is prone to surroundings and may lose your interest while driving, so it is best to add some fun via high-quality music- only possible with the best soundbar for UTV.
Such soundbars are not regular sound systems but are designed specially to fit into such heavy vehicles. They will entertain you with premium sound quality and excellent clarity throughout your long road trips.
So, let's explore each one of them in detail and find out what makes them perfect for the UTV vehicle.
Best Soundbar for UTV Comparison Table 2023
1. BOSS Audio Systems BRT26A UTV Sound Bar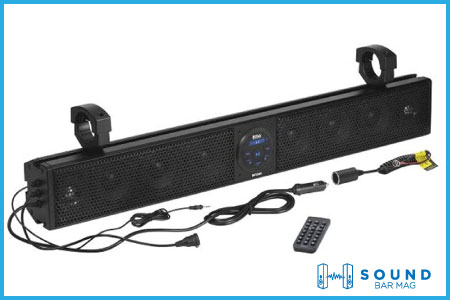 Boss BRT26A is a plug-and-play soundbar that perfectly fits your UTV vehicles for entertaining outdoor times.
It also comes with a perfect installation kit that effortlessly helps you fit the soundbar into a 12V power source. Besides, the wireless Bluetooth connectivity gives enough flexibility to use the bar on your road trips by connecting to your smartphones.
Additionally, it comes in a traditional portable design, containing four-inch full-range drivers with A/B built-in amplifiers and two tweeters. They take care of higher highs and lower notes while ensuring transparent lyrics. 
Thankfully, the audio output is blasting, perfect for travel in an open vehicle. It delivers fine-tuning with shaking vibrations, bass, and loud volume, making the soundbar wild while hitting the road.
Thanks to the built-in amplifier, the soundbar can get loud by fulfilling the power requirements and giving the exact notes without compromising the quality, making it the best UTV soundbar for the money.
This UTV soundbar with bass features an IPX rating that ensures premium protection from water pressure, irrespective of the angle. This feature complements driving and hitting the road despite the weather conditions.
In addition, Boss BRT26A build with weatherproof material that makes the device ready to perform even in extreme conditions. So, no matter whether the sun is annoying you or the rain accidentally hits, your road trips will never be boring or without high-quality music.
Though it is a plug-and-play device, Aux and Bluetooth connectivity make things easier. Also, you can never stay out of touch with your loved ones back home because the USB input allows you to charge your phones and enjoy time without any worry.
Pros
• Simple setup
• Built-in amplifiers for the high-volume output
• Quick installation
• IPS Rating
• Bluetooth streaming
• Weatherproof materials

Cons
• The grill at the front attracts dust and debris

2. MTX MUDSYS41 Soundbar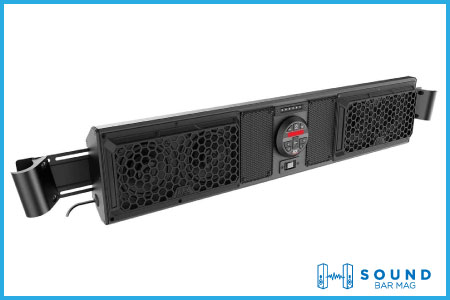 MTX MUDSYS41 is an interesting soundbar that seamlessly installs into your machine and enhances your music listening experience on the road.
With 4.2 x 40.5 x 8.5-inches measurements and around 21.5 pounds, the soundbar is an ideal choice for UTV, ATV, and any area under 43-49.5-inches dimensions.
Also, good music is a must to keep you going on long road trips, and soundbars always come to the rescue. Luckily, the MTX comes with a universal mounting option, making the bar versatile to adjust in any vehicle and bicycle and keeping you entertained with the best quality music.
Moreover, it can add life to your road parties with an alluring design and crisp and loud music volume. The built-in amplifiers ensure you get the loudest volume possible and that the surrounding noises won't irritate you.
Besides, the bass is also thrilling and rich, and you find your heart racing whenever you sit near the soundbar. MTX soundbars wouldn't compromise on the quality and deliver everything with clarity despite the loud volume.
Another important thing to appreciate about this MTX UTV soundbar is its quick and easy installation process. The wirings are not complex to understand and adjust, and thanks to the user manual, you will get the machine ready in no time.
Since it allows rich mounting options, it is safe to say that the build quality is terrific with premium yet durable materials. Its sustainability in different weather conditions is not in question.
Also, the Bluetooth connectivity option eliminates the need to create a wired mess while giving you full driving control. The Bluetooth beautifully syncs smartphones and soundbars and starts playing your playlist without interruption. However, you can get the AUX option if anyone in the group wants to add a fun playlist.
Pros
• Portable Soundbar
• Easy mounting with universal brackets
• Built-in Bluetooth control
• Rich and deep bass production
• Built-in amplifiers for heavy sound output

Cons
• The Bluetooth range could be better

3. BOSS BRT27A Soundbar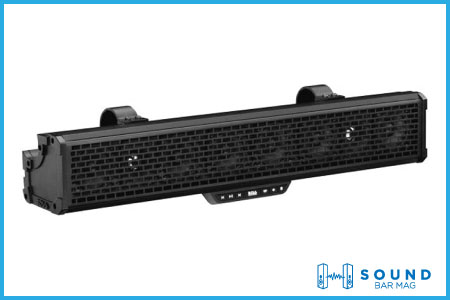 Boss is undoubtedly the leading brand for car speakers, with an extensive product line that offers terrific sound performance, durable designs, and impressive features.
If you ever plan a road trip on your UTV and want to integrate a reliable sound system, Boss UTV soundbar can be your go-to purchase.
Quick installation, easy control, and wireless connectivity can offer a seamless music listening experience throughout your trip.
The high-quality weatherproof equipment saves you the trouble of saving the device from harsh weather. So, whether the sun rays are trying to interrupt your plan to go out or unexpected drizzling extends the journey, Boss BRT27A is designed to keep you engaged.
Boss BRTS7A is only a 27-inches soundbar designed to fit in Jeeps, UTVs, ATVs, and utility vehicles. With the flexible mounting brackets, fixing the soundbar has never been easy.
Besides, the built-in Bluetooth and AUX support lets you enjoy unlimited wireless music streaming, voice calling, and more by only connecting your smart devices.
Like its sibling, Boss BRT26A, it also features an IPX rating that keeps the soundbar safe from dirt, debris, or water, which usually can threaten its durability and performance. We checked its performance in the backyard in heavy wind, and the sound quality was impeccable.
Also, many users call it a marine soundbar, meaning it can go very well with slow-pressure water spills and provide excellent sound performance without distortion. However, it would help if you didn't expose it to the heavy pouring rain.
Boss UTV soundbar also features built-in Class D amplifiers that receive the signals and infuse them with more power to deliver loud, crisp, and rich music performance.
The DSP-Processor integration ensures distortion-free sound that keeps you entertained throughout the journey. While testing the soundbar, we put the volume at a max level while hitting the road in heavy traffic; we were amazed by its clear, loud, and accurate sound quality.
Therefore, considering the terrific sound, easy control, multi-color LED panel lights at the front, and compelling build quality, it is safe to say that it is the best UTV soundbar.
Pros
• The Control panel is located at the front for easy navigation
• Class D amplifiers produce a rich and powerful sound of max 500W
• Multiple EQ settings
• Adjustable mounting brackets
• Weatherproof Soundbar
• USB charging

Cons
• Installation can be tricky for beginners

4. Bazooka BPB24-DS-G2 Soundbar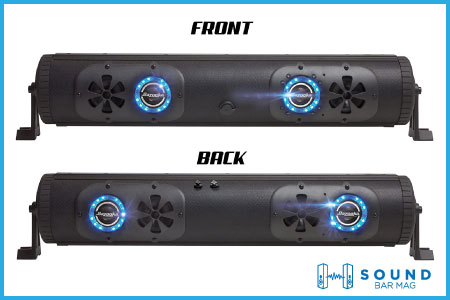 Bazooka 24-inches soundbar is a perfect portable sound system for utility vehicles that are designed to give a boost to entertainment while off-roading.
It can deliver a heavy bass punch with loud and quality sound without consuming much space,making it an ideal soundbar for vehicles, yards, or outdoor parties.
The installation is quite seamless with a kit that includes 11/12-inches clamps. It may have a regular boring design, but the front and back-facing drivers can make a difference and deliver adequate sound to the front and back of the seats.
The audio output level may not be as high as others, but it should be enough to entertain you on smooth tracks with less traffic around. Also, the compressions could be noticeable at high volumes but wouldn't distract you while driving.
Bazooka bars aim to take your entertainment level to the next level, hence integrating all-new Class D amplifiers that produce powerful sound with excellent clarity and no distortion.
Apart from front-firing tweeters, the soundbar also contains end-loaded woofers that produce rich and detailed bass of max 450W. So, the bass-heavy content can also be played and enjoyed.
Besides good sound quality, Bazooka contains exciting LED lights to entertain you. It integrates an RGB LED illumination system that flashes interesting patterns in many colors that can easily be controlled with a handy remote.
Moreover, Bazooka BPB24-DS-G2 features a USB input port that ensures the party never stops and the mobiles are always charged. We got to charge our phones while music was playing, creating a whole vibe for the party.
It also supports a thumb drive and decodes the playlist to play. Also, Bluetooth connectivity takes care of online music streaming and ensures you never go out of playlist options.
Controlling the device is also seamless, with a customizable remote and a user-friendly app compatible with Android and iOS.
But the Audio Sync technology integration that allows two G2 party bars to connect with mobile devices wirelessly and double the fun caught our attention. It can be a great add-on to try something new and enjoy crisp music streaming.
Pros
• G2 party bars audio Sync technology
• Waterproof USB connection
• Bluetooth streaming
• Seamless control via dashboard and app

5. MTX MUDSYS31 Soundbar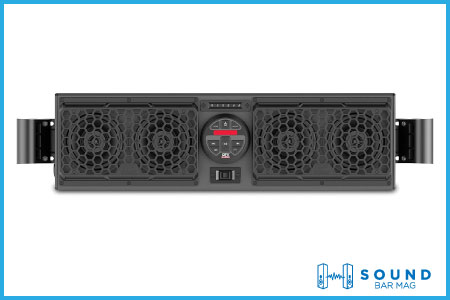 MTX MUDSYS31 is no exception for its stunning sound performance while hitting the road. As we all know, long road trips can get boring, even with friends, but high-quality music with heavy volume can change the whole perspective of road parties. MTX knows your concerns and designed this powerful soundbar for your next off-roading.
Its design is also quite captivating, featuring a digital clock at the front and all the control buttons for easy navigation. Besides, it easily fits into the dimensions area between 1-3/4-inches and 2-inches, making it a very versatile device for different outdoor use.
It features Bluetooth, USB, and AUX options for connectivity. Bluetooth gives the freedom of wireless music streaming, whereas the USB lets you keep your phones charged all the time or insert the thumb drive to enjoy your old yet customized playlist.
Moreover, the soundbar also comes with an LED dome light and cargo nets to make your trips at night interesting with a combination of powerful sound and sparkling lights.
The audio output is terrific as it contains four 6-1/2-inches speakers that are waterproof and produce around 35-W performance. The front-facing drivers produce an excellent sound performance that can go loud and never break the rhythm of tunes.
However, it may lack some bass, and the grilled texture design can cause moisture in the speakers, compromising audio output. But once you remove the grill and clean the entire house of the soundbar, it should be good to go.
Surprisingly, like other UTV soundbars, this waterproof Bluetooth soundbar for UTV is weatherproof and can survive low-pressure water spills. You can take your vehicle while enjoying your favorite music anywhere or anytime without worrying about soundbar sustainability.
Pros
• Weatherproof build material
• Powerful water-resistant speakers
• USB and Bluetooth connections
• Easy installation
• Two-years warranty
• AM/FM with foreign brands

Cons
• The moisture or dust may compromise sound, hence needs frequent cleaning

6. ECOXGEAR SoundExtreme SE26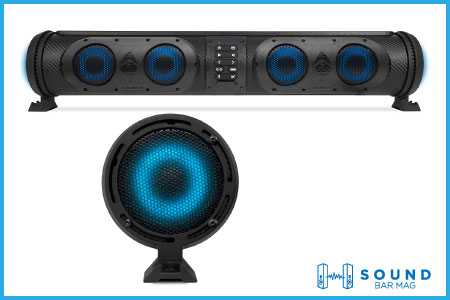 ECOXGEAR SoundExtreme SE26 is a complete entertainment system for your outdoor parties, especially when you hit the road with friends.
But, driving or moving ahead can be boring because the talks alone wouldn't keep you entertained, so the SE26 can come to your rescue. It can be a thoughtful purchase for your vehicle if you are a frequent traveler, alone or with colleagues or friends.
Its built-in speakers can produce 500W peak output and can get wild beyond your expectations. The 8 marine-grade speakers include two tweeters, four mid-range speakers, and two woofers that produce detailed, clear, and optimized sound performance. Whether you listen to pop or classical, it adjusts the audio output and detailing to improve the immersive experience.
Moreover, by investing in the ECOXGEAR SoundExtreme SE26, the best soundbar for UTV, you don't have to worry about the weather, sand, dust, or water exposure.
The music performance wouldn't bother with rain or sunny weather because the bar meets all the international standards to maintain its durability.
Irrespective of its boring and traditional design, it comes with rear-facing LED with party lights that throw vibrant colors to keep you engaged. So, the lights and incredibly loud sound never make you bored on long road trips. However, you can control the lighting with a push button if it irritates you.
Connecting and music streaming is also exciting and convenient with Bluetooth 5.0 support. It instantly reads your smart device and starts playing your content. Above all, the Bluetooth connectivity range is up to 100 feet, which is unexpected with UTV soundbars.
Pros
• 500 Watts audio output
• Bluetooth 5.0 support
• RGB party lights at the front with easy control
• Waterproof, dustproof, and weatherproof
• UTV Soundbar with bass
• Remote control with long-range

7. JBL UB4100BLK Soundbar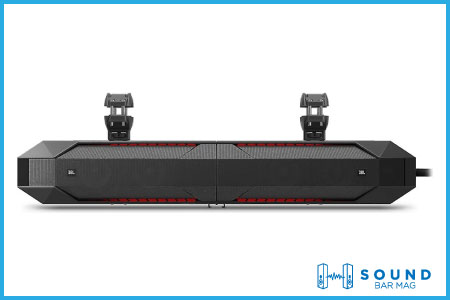 JBL UB4100BLK can be another best soundbar for UTV, considering its modern and attractive design, solid build, and wireless connectivity.
It is the most portable soundbar, measuring 10 x 20 x 20 inches only with a peak amplifier output of 120W powers the two built-in powerful speakers.
Its compact design and easy adjustability let you fit the soundbar in boats, UTVs, ATVs, and other utility vehicles. Also, Bluetooth connectivity gives instant connection with smartphones and lets you catch up on your favorite songs.
Also, the 3.5mm and RCA inputs are reasonable alternates to the wireless and deliver excellent sound performance without any distortion. We tested the soundbar with AUX, and the connection seemed pretty stable throughout the music playing.
The soundbar houses two full-range speakers optimized with class-D amplifiers that produce an audio output of 80Wrms per driver. The dual drivers have a satisfactory sound for the road and make the entire journey worth experiencing.
The loud sound throws party vibes, especially when switching Bluetooth devices with your friends over one click. While testing this soundbar, we changed multiple playlists in one click, and the sound quality was rarely compromised.
Apart from the unusual design, the JBL UTV Soundbar features an IPX rating, keeping the device safe from any potential outdoor threat. Besides, the weatherproof build quality makes the soundbar versatile for every weather and open vehicle.
At the front, you can find a red LED display that flashes when the music plays. Besides, the down-moving LED lights are another fascinating built-in tool for reading, eating, or getting the important stuff done in the dark.
Pros
• Elegant design for outdoor Soundbar
• Waterproof Bluetooth Soundbar for UTV
• Full-range dual drivers
• Bluetooth, micro-USB, Aux, and RCA inputs
• IPX rating
• Weatherproof

Best UTV Soundbars – Buying Guide 2023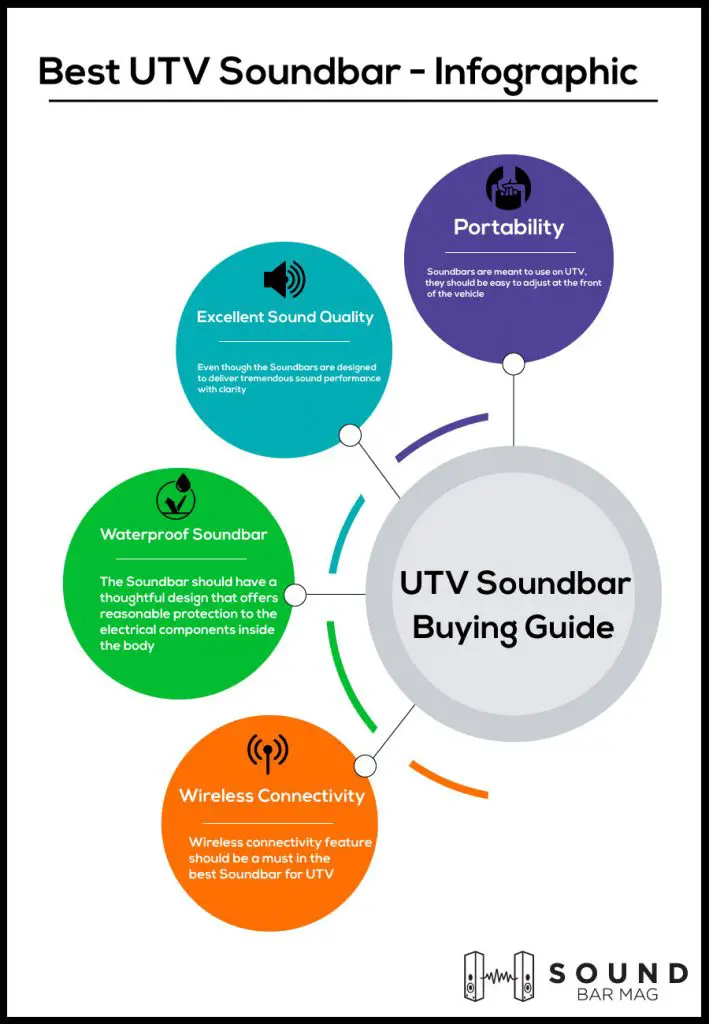 Taking a trip in your UTV can be enjoyable, but a powerful sound system can add life to your journeys. Besides, off-roading can be loud considering the busy surroundings, so the speakers should be powerful to keep up the sound performance and entertaining throughout the trip.
So, you need to get the Soundbar that meets all your music requirements when you hit the road. The bass and treble should be balanced, and the audio quality should be thrilling. Therefore, we mention some common factors that every trip enthusiast should consider before investing in the best UTV Sound bar.
Portability
Since the Soundbars are meant to use on UTV, they should be easy to adjust at the front of the vehicle. Also, they should be strong enough to face any turbulence or withstand dust, debris, and annoying surrounding noises.
Also, considering the rough usage, it's better to ensure the speakers are made of premium quality to survive for the long term.
Excellent Sound Quality
Even though the Soundbars are designed to deliver tremendous sound performance with clarity, the Soundbars for UTV need extra polish in the audio output to deliver uninterrupted sound outdoors.
The best Soundbars for UTV must include stereo components that will eliminate all the background noise and let you emphasize your favorite music without distortion or distraction. Also, the front-facing placement of the Soundbar can help the driver enjoy every tune of the music and boost the trip excitement.
Waterproof Soundbar
Check the Soundbar specs and ensure your chosen Soundbar is weather and waterproof. Since it is a device used in open vehicles, it should be functional under extreme weather conditions.
The Soundbar should have a thoughtful design that offers reasonable protection to the electrical components inside the body and save them from any potential damage.
Wireless Connectivity
Wireless connectivity feature should be a must in the best Soundbar for UTV. You don't want to involve in the wired mess of connecting the device with your smartphones. So, your Soundbar for UTV should be a plug-and-play device with multiple options of wireless pairing.
Frequently Asked Question (FAQ)
What is the best UTV soundbar?
Boss BRT27A is the Best Soundbar for UTV, featuring Class D amplifiers that produce loud, detailed, and heavy sound irrespective of the circumstances. It is perfect for outdoor use, especially in boats and vehicles, with easy EQ settings, wireless connectivity, and a USB charging facility.
Conclusion
Bring fun to your road trips by integrating the best Soundbars for UTV that are easily adjustable and deliver a 3D surround sound experience. They are water and surrounding proof to take your music listening adventure to the next level without worrying about their durability.
In addition, thanks to the detailed buying guide, getting a suitable soundbar for your vehicle becomes super easy and saves you research trouble.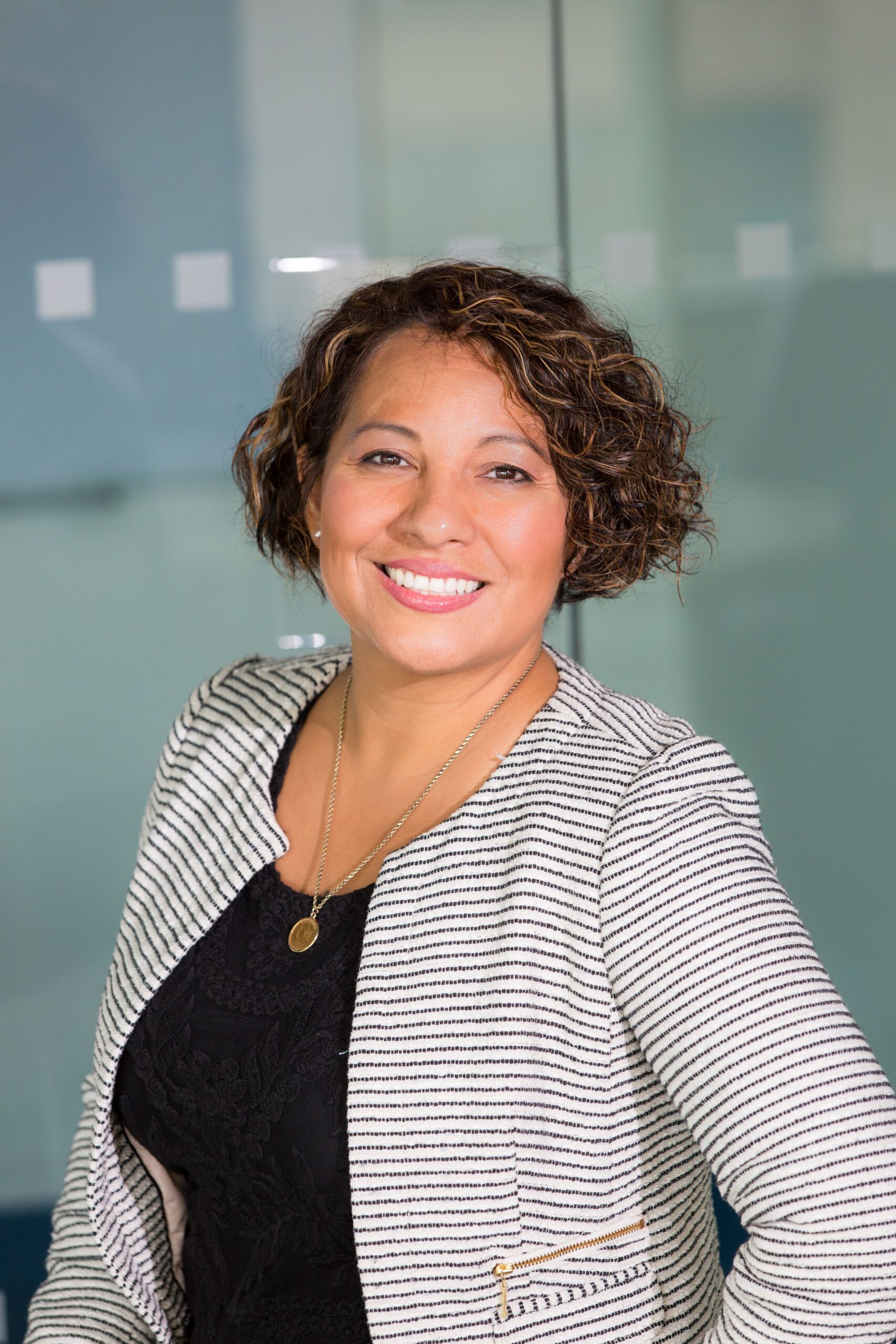 Mia Evelyn is a soundbar specialist and she love to test and review different soundbar brands. She shares her neutral and in-depth reviews through the Soundbar Mag.