Soundbars are decent special speakers that keep you entertained while working on typical desktops.
The best desktop soundbar in 2023 is a device that can amplify sound from a PC. It is designed to be placed on the desk and has a small form factor.
Such soundbars can produce rich, deep bass and crisp highs that are well-defined. So, who says you can't play some music to keep yourself active and fresh while working?
It certainly is possible if you invest in the best desktop soundbar that easily fits beneath the desktop and offers satisfactory connection options to pair with desktops instantly.
But, finding one could be a real hassle for you.
Therefore, we have tested the top 3 desktop soundbars that are easy to set up and intend to upgrade your listening experience even with the compact profile. So, let's check them out.
List of the Best Desktop Soundbar in 2023
1. GOgroove Mini Soundbar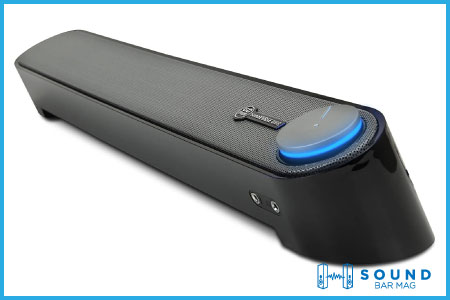 GOgroove has an incredible soundbar product line, and this mini unit that easily fits under the desktop is not an exception. It delivers premium audio quality with dual drivers and a built-in woofer that performs optimally and fills the room with stunning sound.
This compact soundbar is designed specifically to pair with desktops. Hence the volume knob gives you more touchy vibes like the typical speakers but provides easy control access.
Also, it does not require any additional software, so consider it a plug-and-play device with a USB power cable, AUX cable, and 3.5mm microphone passthrough.
Whether you want to enjoy private listening or entertain the rest of the staff with some quality background music while working on important tasks, this mini soundbar got your back.
This space-saving soundbar may not have much to offer as others, but a clear and loud sound projection with reasonable bass delivery should be enough to convince you.
At the lab, after setting up the bar and being hooked to our PC, we realized it saves the desk from wire cutters, and easy access to mic and headphone ports saves the trouble of moving the device.
They perform extraordinarily well and deliver rich stereo with balanced mid and highs for immersive listening. It is worth considering connecting with your desktop and making the workstations a little bearable.
Pros
• Easy setup
• No software required
• High-resolution audio
• 12W peak audio output
• Volume knob for instant controlling

2. ASIYUN Soundbar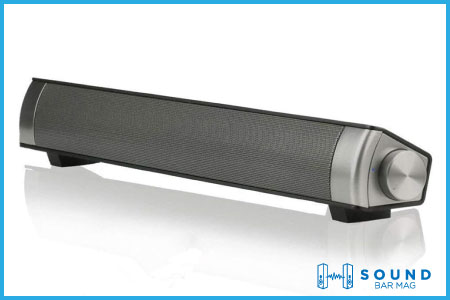 It may have an unusual design, but its powerful audio output steals the show and sets standards for immersive audio listening.
It is the most underrated computer soundbar with dual 5W drivers, responsible for producing high-definition captivating sound.
The built-in woofer keeps the show running with rich and deep bass, and the easy setup of the portable profile makes it a complete entertainment package.
The soundbar has an aesthetic vintage design, featuring a volume knob at the side and a grille at the front. During the testing, we noticed the volume knob gives great control to the device with a smooth configuration.
Its space-saving design looks spectacular sitting on your desk, and it was our second favorite thing about the bar, but the wireless connectivity via Bluetooth is the highlighting factor which makes the device flexible.
On the other hand, this USB-powered soundbar offers a 3.5mm audio jack and mic input for video calling or private listening.
Besides, its instant signal catching via USB eliminates the expense of batteries or the struggle to find the right place for a power connection, giving you more flexibility to use it as a wireless speaker. 
In addition, it won't ask you to install any special software and instantly starts performing as soon as you connect it to the device. This way, we could easily test it with multiple devices- hassle-free.
Despite its compact size and dual-driver integration, the soundbar sounds big, with a frequency response of up to 100Hz to 18kHz. Also, while enjoying gaming or listening to heavy music while editing or working, there are hardly any harmonic distortions.
So, it is safe to recommend this as the desktop soundbar for your next office purchase.
Pros
• Portable design
• Wireless connection
• High-frequency range
• Hands-free call with built-in mic
• USB-powered
• Compatible with desktops, laptops, phones, MP4, etc.

Cons
• Battery life could be better

3. Dell AC511 Soundbar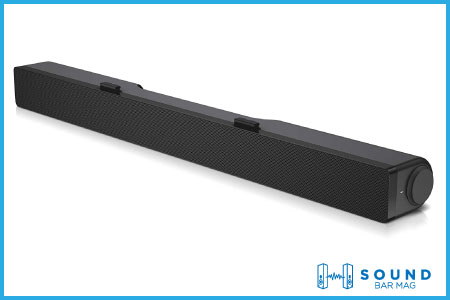 Dell is famous for computer and sound system accessories, and we are over the moon with the AC511 soundbar production.
It provides the heavy and quality audio you need from the typical speakers, and the USB connector handles the power requirement and digital audio transmission.
The quick and easy setup and the portable profile attract users. It also has a headphone jack for private listening or calling, so privacy remains intact while sitting in offices/workstations.
Dell AC511 is compatible with all desktop models, including Mac devices, as the USB power makes it flexible to use. First, we tested it with our PC and then with the Mac and didn't notice any difference in the audio output quality. Pairing up was also a breeze.
Also, despite the low profile, it reproduces big and clear audio that suits well for gaming, movie streaming, or video editing with background music.
Besides, the volume knob control at the side gives you instant access to manage the device. It has been the life-saver that eliminates the need to rely on the remote control or app access to manage the volume under different circumstances.
This makes the device incredibly beautiful because it is a complete entertainment source considering the hardly noticeable device, rich sound quality, clear dialogues, and headphone jack.
Pros
• Plug-and-play device
• Headphone jack integration
• No software required
• Volume control knob

Frequently Asked Questions (FAQs)
What is the best desktop soundbar?
ASIYUN is the best desktop soundbar we come across, featuring dual 5W drivers and a built-in woofer with a frequency response of 100Hz to 18kHz. It has a couple of wired input ports, but Bluetooth compatibility steals the show. This USB-powered space-saving soundbar lets you enjoy high-quality clear audio.
Are soundbars good for desktops?
Soundbars are a great choice for desktops and PCs as they produce audio of much better quality than their built-in speakers. The crystal-clear tones and adjustable audio tuning suit well for gaming, music listening, and gaming.
Conclusion
Getting a soundbar to upgrade the desktop speakers is a smart choice. The desktop soundbars are relatively compact, easy to use and deliver more captivating sound than you can imagine.
We have reviewed the 3 the perfect desktop soundbars that you can't afford to ignore while soundbar shopping. They are aesthetically pleasing and sound big than desktop speakers.
Happy listening!
Mia Evelyn is a soundbar specialist and she love to test and review different soundbar brands. She shares her neutral and in-depth reviews through the Soundbar Mag.