When setting up a home theater, many people focus on the big screen and forget about the audio.
But you need great sound if you want to truly experience movies and TV shows the way they are meant to be experienced and enjoyed. And that's where the best 5.1 soundbar comes in.
A soundbar is a long, thin speaker that sits in front of your TV (or can be mounted). It typically has multiple built-in speakers, creating a more immersive soundscape than your TV's built-in speakers. A 5.1 soundbar takes things one step further by adding two additional surround speakers and a subwoofer.
So, let's discover the best 5.1 soundbars and how they can deliver you a 3D surround sound experience.
List of the Best 5.1 Soundbar in 2023
1. JBL Bar 5.1 Soundbar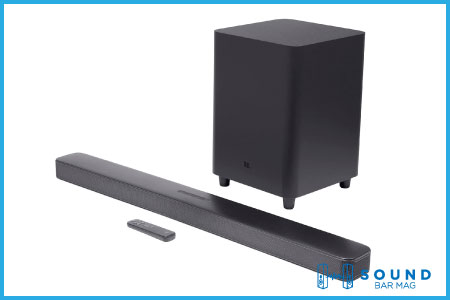 JBL Bar 5.1 is a decent virtual soundbar that offers easy installation and wireless connectivity.
Before going deep into its appealing features, its aesthetic design will instantly grab your attention since it seems modern with a sleek body and matte finish.
Despite being a relatively old model from the brand, it produces powerful audio output to keep you entertained throughout your movie and documentary-watching sessions.
It is a simple 5.1ch system that allows you to attach two separate removable speakers at either end. Yes, you can remove them and put them somewhere in the room for the 3D surround sound experience, but when it pairs with the bar and other drivers, it can create dramatic vibes with solid, rich, and detailed sound.
Apart from an impressive sound system with a 550W power output, the soundbar has other features to convince you. Built-in Chromecast and AirPlay 2 with Bluetooth and WiFi connectivity is a bomb combination for audiophiles.
Now you can stream, skip, rewind, pause, and enjoy the whole playlist with one click on your phone. Besides, you can also connect other devices like gaming consoles or TVs with USB and optical digital input. HDMI input with a 4K HDR pass-through can significantly improve sound quality while streaming movies.
In addition, JBL 5.1 soundbar delivers excellent dialogue quality and bass production that can transform your music listening experience. Besides, the Alexa multi-room audio quality is thrilling, refines the tune in multiple environments, and creates a cinematic experience in the home.
Pros
• 5.1 channel configuration
• Rich connectivity with Bluetooth and HDMI
• 550W total power output
• Impressive clarity
• Removable surround sound speakers
• 4K HDR pass-through

Cons
• The subwoofer lacks the power to control

2. Sony HT-A5000 Soundbar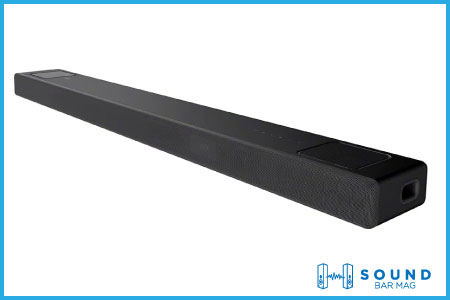 One of the best 5.1 channel soundbars is none other than Sony. The brand is famous for launching powerful soundbars with the premium build quality and fascinating features, and HT-A5000 is no exception.
The combination of many drivers creates stunning surround sound and home-theatre sound quality, ensuring 360-reality audio. The dedicated center channel enhances vocal clarity and makes every whisper clear to understand.
Also, the sound performance is amazing and shaking, which can get loud without compromising the quality. The bass performance is also hard-hitting with great accuracy and no distortion.
In addition, you can experience the next-level immersive with Sony 5.1 soundbar since its sound field optimization calibrates the speakers according to the ambiance and deliver excellent sound quality.
So, no matter where you place the soundbar, it will adapt to the environment and elevate the sound performance accordingly. It is safe to say that the sound can get warm when watching movies, thrilling while listening to music, and wild while playing games.
The combination of up-firing speakers, side beam tweeters, X-balanced speakers, and subwoofer produces an overhead, clear, and striking sound that no other soundbar could offer.
It isolates the spoken word from background tunes and clarifies every dialogue, keeping you engaged throughout the streaming session. Besides, you can enhance the movie/TV watching more thrillingly with the 8K HDR, 4K/120 Dolby vision video pass-through.
The setup, installation, and connectivity of the Sony HT-A5000 5.1 soundbar are smooth. The on-screen user interface gets you through the entire setup process and helps you with pairing.
Additionally, the bar offers quick pairing Bluetooth, WiFi, USB, and optical digital input. In addition, built-in Chromecast and AirPlay 2 also give you wide online music access that will entertain you in your spare time.
Google Assistant and Amazon Alexa help you search for your favorite music and play it right away to have a plug-and-play music-listening experience at home.
Pros
• High-resolution audio
• 8,4K pass-through for gaming and movie streaming
• Built-in voice assistants
• Dolby Atmos and DTS:X virtual surround sound
• High-resolution audio
• 450W power consumption
• Sound filed optimization with S-Force Pro technology

Cons
• The remote control could be better

3. VIZIO Elevate Soundbar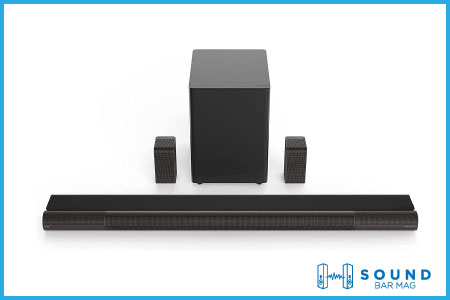 Vizio Elevate soundbar features a 5.1.4 channel configuration containing multiple high-performance speakers for stunning home theatre performance.
The simple yet elegant soundbar houses four up-firing speakers that envelop overhead sound that bounces back from the ceiling and delivers 360 sound quality.
Besides, the height speakers certified with Dolby Atmos and DTS:X technology automatically rotate to optimize the sound according to the environment and content.
With a smooth pairing with HDMI, WiFi, and Analog, you can experience dramatic sound with next-level vocal enhancement. It lets you easily pair smart devices, gaming consoles, and media players.
The Vizio 5.1.4 soundbar is ideal for mixed usage, considering the high audio frequency, rich bass, and detailed dialogue performance. Speaking of which, the soundbar claims an audio output frequency of 30Hz to 20 kHz that can add life to your music listening and gaming sessions.
Furthermore, the soundbar is extremely easy to operate. Apart from a handy remote control that features dedicated buttons and EQ modes to set, you will have voice assistant support with a Bluetooth connection.
The Soundbar is also ideal for streaming podcasts or Chromecast with built-in support. The subwoofer houses compelling speakers that produce rich and shaking bass down to 30Hz.
In short, the Vizio soundbar is designed to create a fantastic home theater setup without consuming much space and give you enough room to explore the digital world.
Pros
• Compact design
• High-frequency audio output
• HDR 10 and Dolby Vision pass-through
• Affordable
• Rich wireless connection
• Multiple online streaming platforms support
• Deep bass

Cons
• Lack of AppleAirPlay compatibility

4. Sonos Arc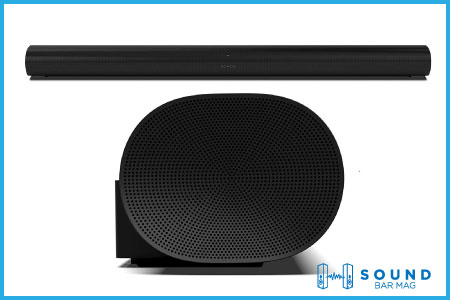 If you are looking for a trendy, smart, and elegant soundbar, your journey may end here with Sonos Arc with a multiroom facility and powerful sound.
A one-unit soundbar houses all the compelling speakers inside to deliver excellent surround sound output with or without Dolby Atmos sources.
It comes in a long traditional Sonos design, but it can be quite wider at 45-inches (114 cm), though it can go well with large-sized TVs like 50 to 65-inch TV.
The Soundbar is designed beautifully with a thoughtful speakers placement, ready to perform while sitting on furniture or mounting on a wall.
Also, another exciting thing about the soundbar is its automatically adjusting frequency level that delivers the required volume, bass, and clarity in the room.
Thanks to the Dolby Atmos and DTS:X support, you can experience rich overhead sound that fills the room with beams, tunes, and trebles. The mid-range drivers and up-firing speakers produce a deadly sound combination perfect for mixed usage.
Moreover, the dedicated center channel solely takes care of the dialogue enhancement. You will surely get precise and rich vocal delivery even at the high volume.
The soundbar also features rich wired and wireless connectivity with seamless installation, apart from high-resolution audio.
Unlike other soundbars, Sonos ARC contains Ethernet, HDMI, Optical digital, and USB port input with pass-through functionality. Above all, the voice control assistant support is also a noticeable feature in the 5.1 soundbar.
Check: Best 3.1 Channel Soundbar
Pros
• User-friendly navigation with touch-sensitive buttons
• Voice assistants
• Dolby Atmos and DTS:X support
• Weighty bass
• Multi-room music
• It offers excellent music streaming compatibility with online platforms, including Chromecast, Spotify, etc.

5. Bose Smart Soundbar 900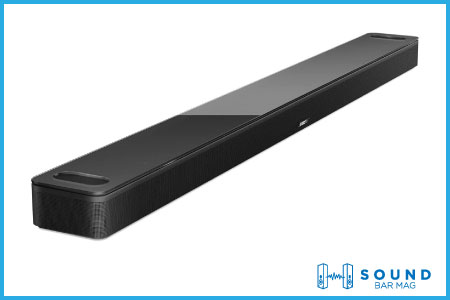 Bose Smart Soundbar 900 can be your thoughtful purchase for all your entertainment needs. Its two-shade design may seem unusual with a soundbar, but the matte finish throws luxurious vibes, especially mounting on a wall.
Bose is obsessed with designing its products, and Bose smart 900 soundbar is no exception, with high-quality construction and a sleek body.
The built-in speakers are also powerful,and you can analyze their performance. Besides, the wireless connectivity with WiFi and Bluetooth doubles the fun and opens the door to online music streaming.
Moreover, using the soundbar is as fun as experiencing its powerful performance. You can perform more than you think with your voice with the voice assistants.
From turning the power on to managing volume, setting EQ modes, switching connectivity, or pushing bass, you can enjoy all features from the comfort of your couch.
It is quite a high-end soundbar that can go well with large-size TVs, your home theatre setup, and random movie nights. With compelling up-firing speakers along with a dedicated center, it has the potential to deliver stereo sound with great clarity.
Check: Best 7.1 Channels Soundbars
Pros
• Bose Voice4Video technology expands your voice for convenient controlling
• Weighty and overhead sound performance
• up-firing speakers ensure 360 sound delivery
• Rich and Clear audio output
• Wireless music streaming
• Multiroom Sound

6. Vizio M512a-H6 Soundbar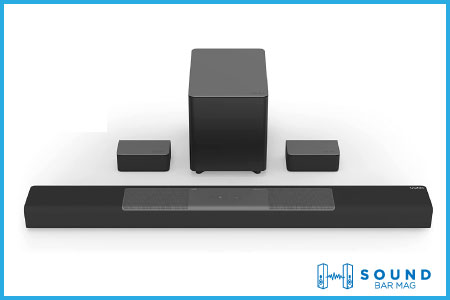 Bring a theatre-like experience to the home with Vizio M-Series 5.1.2 soundbar without breaking the bank.
The Vizio M512a-H6 Soundbar is a reasonable upgrade to the previous model with two up-firing speakers with Dolby Atmos support, giving great value for money with engaging sound performance.
The soundbar design is traditional, but it houses five channels and one subwoofer that work together to create cinematic vibes in your room.
An unusual addition of the up-firing speakers adds life to the parties with loud, room-filling, and detailed sound. Besides, the clarity is also not compromising with the loud volume, and you get to hear everything with stunning clarity.
Vizio M-Series 5.1 soundbar also comes with a wireless 6-inches woofer, which is portable enough to fit anywhere in the room. However, the two satellite speakers don't have wireless technology, so you need to handle the wired mess.
On the upside, they set a heavy and wide soundstage that forces you to make them a part of every sound-sensitive content like streaming, gaming and listening to classical or pop music.
However, it is an entry-level soundbar with a tight budget, so you might have to compromise on a few features. You will not get voice assistants or WiFi support with the soundbar.
On the other hand, it does have a Bluetooth connectivity option for wireless streaming with phones and smart TVs. Moreover, the eARC support enhances TV watching with optimized sound and HDR pass-through.
Luckily, you will get a smart remote control with a tiny display screen at the front that helps you adjust EQ settings, enable Bluetooth, switch wired connections, manage volume, and play with other settings.
Check: Best 4.1 Channels Soundbars
Pros
• Budget-friendly 5.1 Soundbar
• eARC compatibility
• wireless subwoofer
• smart remote control

7. Vizio VOV51H6 Soundbar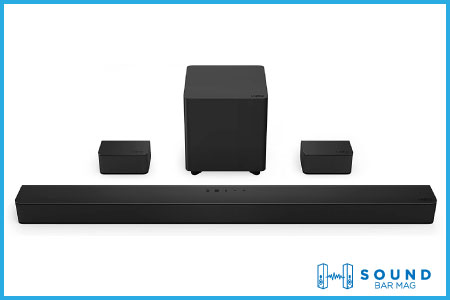 Vizio V-Series is another mid-range soundbar with average features but strong sound and power output.
An affordable soundbar rings the bell for compromising a few features. But, as long as you get the wide soundstage with heavy volume and next-level clarity, what else do you want?
The soundbar has a subtle design with elegant textures, matte finishing, and a reasonable size that blends in any environment and enhances its charm.
It is also a plug-and-play soundbar that requires turning on the power, connecting the device, and starting playing, as it needs no complex settings to adjust and other properties to manage.
Also, an elegant remote with the necessary buttons at the front is a great help for quick navigation, giving you the flexibility to operate the device even without voice assistants.
The soundbar features a 5.1-channel configuration, which means it houses up-firing speakers, a dedicated center channel, and tweeters to boost your audio listening experience.
The built-in drivers are Dolby Atmos-certified ensuring powerful audio output with overhead virtual surround and vocal clarity. Moreover, DTS:X technology brings room-filling sound that delivers 360 audio from every direction, including overhead, to create a 3D soundstage.
Above all, Vizio V-Series won't come alone, but the wireless 4.5-inches subwoofer brings its energy to fill the room with richer bass down to 50Hz. You can place the portable subwoofer anywhere in the room and enjoy stereo content with high-resolution output.
Pros
• Expansive sound for gaming
• Wireless music streaming with Bluetooth
• Compact wireless subwoofer
• Versatile 3D sound experience
• Dialogue adjustments
• Low-profile design
• Dolby Atmos and DTS:X for room-filling 3D surround sound

Cons
• Lack of 4K HDR pass-through

Best 5.1 Soundbars – Buying Guide 2023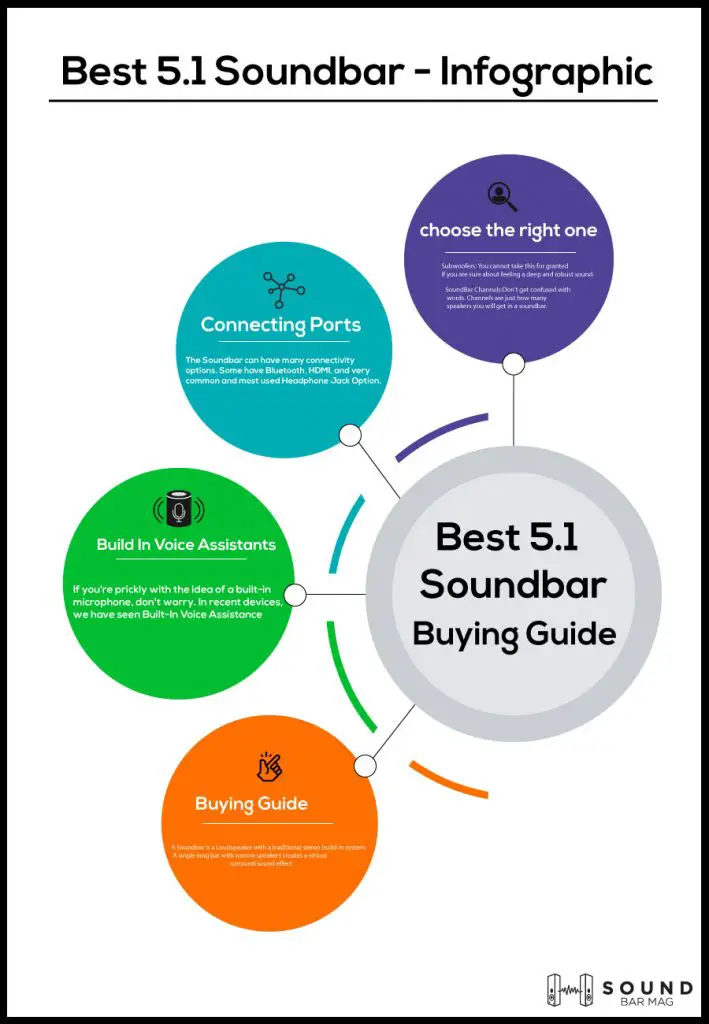 A Soundbar is a Loudspeaker with a traditional stereo build-in system. A single long bar with narrow speakers creates a virtual surround sound effect, no matter what TV size you have. Its built-in speakers are hidden somewhere inside them, leading to indistinct audio.
Thanks to an entertainment add-on like a soundbar, you can easily connect with your smart devices and expand your music listening. However, you may need to consider different factors before deciding. Here are a few elements that need your attention pre-shopping.
How to Choose the Right One?
You are now aware of the multiple benefits attached to a soundbar. But does that mean that every Soundbar is worth your money?
No, Every Soundbar requires a bit of examining. Which features should you consider before purchasing the best Soundbar for your TV? Hers's a brief discussion on them.
Subwoofers: You cannot take this for granted if you are sure about feeling a deep and robust sound. Don't worry; the device won't get unattractive or heavy. The modern design of subwoofers is sleek and gives a premium look while producing rich bass.
SoundBar Channels: Don't get confused with words. Channels are just how many speakers you will get in a soundbar. Soundbar channels have plenty of options to choose from – 2.1, 3.1, 5.1, 7.1, and so on. But the real thing is how many speakers you want.
Night Mode: Late Night Movies Means a cozy atmosphere, which helps you make memories. Did you even think through getting yourself a soundbar with a night mode? This feature is capable of limiting the audio range to a great experience.
Front display Panel: A display panel at the front of the Soundbar is very convenient for listening to music deprived of turning on the TV. Look for a Soundbar that allows you to dim the display screen or turn it off when you don't need it, as it can be disturbing if too bright.
Connecting Ports
The Soundbar can have many connectivity options. Some have Bluetooth, HDMI, and very common and most used Headphone Jack Option. However, you should get the device with multiple options for flexibility.
Build In Voice Assistants
If you're prickly with the idea of a built-in microphone, don't worry. In recent devices, we have seen Built-In Voice Assistance which can help control the Soundbar with voice command. The assistant sits ahead of you to say the "wake" word, and only then assistant responds. Plus, you can turn that off from the setting.
Frequently Asked Questions (FAQs)
What is the best 5.1 soundbar?
Bose smart Soundbar is one of the best products we have ever come across that delivers weighty and rich sound with balanced treble and bass performance. WiFi and Bluetooth options offer smooth and seamless pairing, and the detailed dialogue delivery boosts the movie, documentary, and music streaming super exciting.
Are 5.1 soundbars worth it?
Yes, 5.1 Soundbars are the industry's star, considering up-firing speakers, a dedicated center channel for vocal enhancements, woofers, and treble under one roof.
Conclusion
The list of 7 best 5.1 Sound bars uncovers how you can get the most out of any portable audio device. Integrating multiple speakers with advanced technology support can transform the whole music listening experience in no time.
 Besides, all the Soundbars ensure exceptional construction with high-quality materials, so their durability shouldn't be questioned. The wireless network protocol and effortless control keep your overall experience smooth and worth every penny. So, which one did you choose?
Mia Evelyn is a soundbar specialist and she love to test and review different soundbar brands. She shares her neutral and in-depth reviews through the Soundbar Mag.