Are you also not satisfied with the built-in speakers of your 55-inch TV and want to connect an external sound system to enjoy watching sports, movies, and shows?
Well, you are at the right place. A soundbar can be a wise choice in houses, gyms, conference rooms, or even offices. It reproduces accurate sound with perfect tuning, and the option to customize audio according to your preference makes it the best sound system to invest in.
Therefore, we have tested and reviewed the best Soundbar for 55 inch TV that is flexible to place, easy to use, and stunning to listen to.
So, let's check out the top 7 soundbars to pair with your TV.
List of the Best Soundbar for 55 Inch in 2023
1. YAMAHA YAS-207BL Soundbar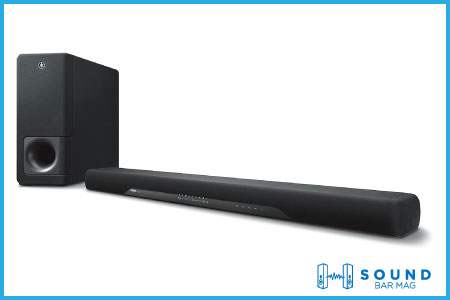 Yamaha YAS-207BL is an affordable, slimmer, and loud soundbar we have ever tested to enjoy mixed content on your TV. It has only a 2.1-channel configuration that delivers a neutral yet lifelike sound that goes well for regular show-watching or music-listening.
All the bonus points are for a well-made profile; it got us the first impression. Though it is made of plastic, the mesh-like fabric all over it gives durable protection and increases its lifespan even in rough usage.
It may not look premium and stand out while mounting on the wall, but its robust profile gives you more than you could imagine. Also, the 7.1-inches subwoofer doesn't consume much space as the rivals and doesn't need a sweet spot to perform at its best.
We liked how the excellent stereo frequency response delivers an accurate sound. The low-frequency extension struggles a bit, resulting in some serious rumble, but it cannot satisfy you with highly deep bass.
However, on the upside, the accurate sound in the upper and mid-range creates a decent soundstage for movie streaming or dialogue-sensitive content. We also tested it for sports and news, and the performance was incredible.
We also tried to connect our smartphone via wireless connectivity options for hands-free music streaming or podcast listening. It can get pretty loud without compromising the vocal clarity, but it doesn't have height channels that can make a difference.
Overall, it is a reasonable choice to have in houses for mixed usage. It can produce immersive sound while giving you room to connect multiple devices with the easy connection and setup process.
Pros
• Great stereo performance
• Clear vocals
• Dialogue enhancement function
• Wireless music streaming

2. LG SL5Y Soundbar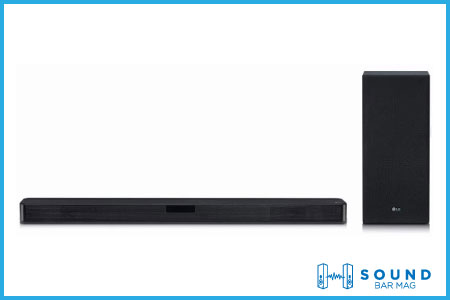 LG SL5Y is a 2.1 system decent soundbar with a smart TV system to connect. It is super slim and flexible to place under the 55-inch TV, and the wireless subwoofer also seems portable to place anywhere in the room.
The bar measures 35 by 3.3 by 2.2inches, giving enough room between bar placement and the TV to never disturb its IR functionality. It also made manual navigation and connectivity easy with its low-key profile.
Also, the high-definition and loud audio reproduction are enough to convince you, and the 400W power output can turn the place into an entertainment hub. It was loud enough to bang the doors and keep us hooked.
Surprisingly, integrated speakers are compatible with Dolby Digital and DTS: X format support, making the audio delivery wide and humpy while minimizing delays.
The support also enhances the dialogue clarity to stream news or shows without interruption. Besides, the frequency response of 96 kHz with 24-but depth makes every sound realistic and lifelike.
The show is not over yet; the LG AI Pro automatically detects the sound content and customizes the audio, keeping the enjoyment running. The wireless subwoofer also delivers the best acoustics with deep and punchy bass, perfect for heavy music streaming.
Connectivity with Bluetooth, HDMI, and optical digital output lets you pair smart and other devices with the bar effortlessly. The easy-to-use remote control gives you instant access to all the built-in functions and connectivity options for convenient usage.
Thus, this Soundbar for 55-inch TV is worth investing in to enjoy precise, clear, and detailed sound while complementing your décor.
Pros
• Built-in DSP
• DTS and Dolby Digital decoding
• Great stereo
• High power output
• LG sound technology

3. Samsung HW-R450 Soundbar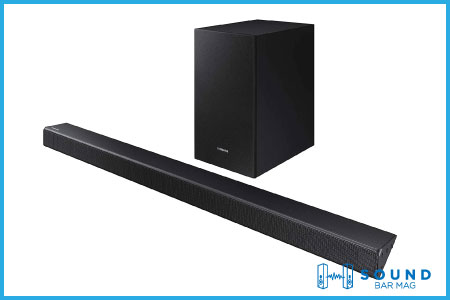 We always love Samsung bars for their rich features and solid profile. This Samsung HW-R450 is a decent 2.1-ch system soundbar with a wireless subwoofer.
It provides a smooth setup, high-frequency amplification, and stable wireless connectivity. We didn't face much hassle setting this device and understanding its functionality, so we recommend it if you want something easy peasy.
Undoubtedly, Samsung soundbars attract you at first glance with attractive design and pleasing performance. This unit has a grille at the front, concealing all the drivers inside with excellent placement to create a wide soundstage, even with limited drivers.
Besides, the Adaptive sound mode delivers smooth, distortion-free, loud sound that every audiophile or TV-obsessed person would die for. It got loud with no distortions, so we liked the heavy power output.
You can count on the Samsung HW-R450 soundbar for loud and clear music. It can provide a cinematic experience with a frequency response of 43 Hz to 20 kHz. There is no dedicated center channel for dialogues, but still, the performance is outclassing to count for dialogue-sensitive content.
The automatic content optimization technology customizes the sound according to the content, making it more immersive for the listener. Moreover, the wireless subwoofer delivers thundering and ground-shaking bass, which makes the device ideal for music listening and gaming.
The rear panel has real magic, including all the input ports. It contains AUX, micro-USB, optical digital, and flash drive ports. However, many people prefer Bluetooth compatibility because it transfers digital signals accurately.
Hence, considering the bar's terrific functions and sound performance, we call it the sound bar for 55-inch TV because it is flexible enough to place under the TV without compromising its functionality.
Pros
• Excellent tuning
• Multiple connection sources
• High-frequency range
• Built-in DSP
• Thundering and rich bass

Cons
• No Audio format support

4. Yamaha Audio YAS-209BL Soundbar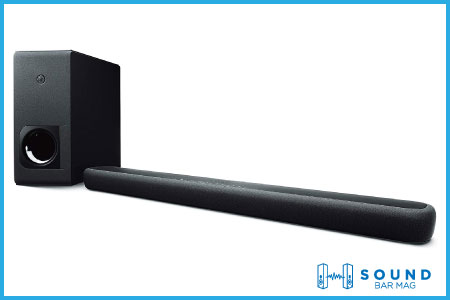 Yamaha YAS-209BL is a decent product for mixed sound use, and we liked how the brand put so much effort into constructing it, making it the best-selling product of the latest production.
It is a two-unit entertainment package, a soundbar with a wireless subwoofer with flexible placement options. Sitting under the 55-inch TV is good, measuring the 36-inches centerpiece.
Also, the wireless subwoofer, made of incredible and durable built quality, doesn't need any dedicated spot to deliver thundering bass. It took time to break in and perform at its full potential.
The sound quality is also worth appreciating. The built-in speakers produce well-balanced sound with clarity and crispness. All the background tunes hit right and keep you immersed while watching your favorite content on TV.
In addition, the dialogue enhancement function further improves the vocal performance to make every dialogue crystal clear. We watched the news and some sports channels and the performance was worth noticing.
Setting and installation are a piece of cake for us. Yamaha Audio YAS-209BL supports DTS: X format, making the sound richer and more multidirectional for the home theatre experience.
It gives quick and easy control via a free app, and Bluetooth support offers flexible pairing. The soundbar also has Alexa compatibility, creating a stable connection between the bar and other smart devices at home for luxurious pairing, usage, and immersive listening.
Pros
• Deep bass
• Dialogue enhancement function
• Alexa support
• DTS:X compatibility
• Flexible placement

Cons
• No Wi-Fi
• No value for the price

5. BYL 40 Inch Wired Soundbar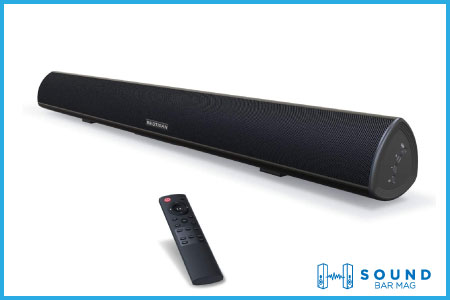 At last, the Bestisan Soundbar made it to our list of the best Soundbar for a 55-inch TV for its slim and portable profile and incredibly beautiful sound quality.
A one-unit entertainment source delivers around 100W power output, enough for day-to-day TV watching. And it is recommended to fit under 40-inch to 65-inch TVs, depending on your placement preferences.
Moreover, it has a subtle design with a thin grille at the front. All six drivers, including four full-range speakers and dual tweeters, sit inside the rigid body and perform at their full potential, producing up to 105dB of sound.
Also, the bar has two built-in bass reflex tubes for the necessary bass you would need during gaming, music listening, or sports watching. It also balanced the fine tunes and made the audio delivery engaging.
Bestisan Soundbar also has DSP technology, giving you three different sound effects. The news, movie, and music modes automatically adjust the sound level, clarity, background tunings, and other audio components to enhance the listening experience without messing with built-in functions.
Bluetooth technology gives you stable, anti-interference digital audio transmitting 360 degrees of luxurious sound. It has wired and wireless connectivity options, including Bluetooth, RCA, AUX, optical, and USB inputs.
The installation and setting of the soundbar was a walk in the park, followed by smooth and rapid unboxing. We enjoyed testing the bar as it was super handy and easy to manage with basic features.
Pros
• DSP technology
• Wired and wireless connection
• Powerful bass
• Clear and detailed sound
• Balanced tuning and treble performance

Cons
• Bluetooth range could be better

6. SAMSUNG HW-Q910B 9.1.2ch Soundbar
Samsung HW-Q910B soundbar is a top-of-the-line device that boasts an array of impressive features apart from the terrific and attractive structure in black. It looks stunning under the TV, and the setup is a breeze.
Also, the 9.1.2 channel system delivers a rich and immersive audio experience with this soundbar, and you'll be able to enjoy a truly dynamic and cinematic audio setup in your home.
One of the standout features of this soundbar is its support for Dolby Atmos and DTS. These advanced technologies ensure a three-dimensional sound output that is unparalleled in the world of soundbars.
We can't avoid the bass quality this soundbar reproduces, creating a virtual surround sound and home theater experience. Rear speakers expand the soundstage, and the subwoofer produces lower frequencies.
With Atmos and DTS, you'll feel like you are in the middle of the action, with sounds that come from all around you. It boosts enthusiasm while gaming and heavy music streaming.
Another noteworthy feature of the bar we could notice was the built-in voice assistant compatibility. With support for Amazon Alexa and Google, you can easily control the bar with your voice and enjoy hands-free navigation.
The adaptive sound feature is another highlight and our favorite addition to this premium soundbar. It analyzes the audio in real time and adjusts it based on the content type. It results in more natural audio, despite the playing content.
For gamers, Samsung added something valuable to save time and bring on the gaming vibes in no time. The Game Pro Mode optimizes the audio for gaming and enhances the sound effects and dialogues, making it easier to immerse everyone in the game.
Additionally, it also supports wireless connections, including Bluetooth and WiFi, for seamless pairing and digital streaming. You will also find input ports for wired connections, including HDMI, Optical, etc.
In short, the Samsung HW-Q910B, a high-quality soundbar, offers a range of features that cater to different audio needs. We highly recommend this soundbar to audiophiles who wouldn't compromise on their sound.
Pros
• Wireless Dolby Atmos
• True surround sound
• Powerful and balanced sound
• Perfect sync and sound optimization
• Alexa and AirPlay support
• Game Pro Mode
• 3D audio output

Cons
• A little expensive
• Trebles don't hit right

7. Sony HT-G700 Soundbar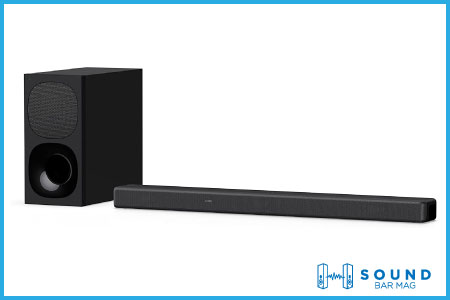 Sony is another industry-leading brand that manufactures high-end soundbars and subwoofer combinations at great prices. The structure and overall profile build to last, and the built-in qualities make it stand out.
This unit, HT-G700, is a premium device from the vast product line, offering a 3.1-channel system that delivers rich, bold, and accurate sound output with a center channel for an engaging listening experience.
The support for Atmos and DTS provides a multidirectional audio output that delivers dramatic performance to upscale your overall watching experience. The sound coming from all directions envelopes you in the vibe.
Moreover, the soundbar also comes with a wireless subwoofer, which delivers deep and powerful bass. This sub adds an extra layer of depth and dimension to the sound, making your movies, music, and games even more immersive.
In addition to the impressive audio capabilities, the soundbar offers various sound modes to choose from. These modes, including cinema, music, and game, are optimized for different content types, allowing you to get the most out of it.
The bar also has a 400W power output, ensuring ample volume and clarity to entertain a wide audience in large spaces. So, whether you're watching a movie or listening to music, the HT-G700 delivers a powerful and detailed sound.
We couldn't avoid the vast range of connectivity options, including Bluetooth, HDMI, USB, optical, and NFC, allowing you to connect external devices hassle-free. Bluetooth saves the cable clutter, though.
Even though it has a center channel for dialogue clarity, Sony has added a function of vocal enhancement that further polishes the lyrics and makes them understandable despite the loud noises in the background.
Therefore, in light of all the qualities, Sony HT-G700 is a top-quality device that offers a range of features that satisfy different audio needs of the listener. The advanced format technologies and appealing design take entertainment to the next level.
Pros
• Vertical surround engine
• Loud volume with 400W
• Clear lyrics with vocal enhancement
• Atmos support
• Bluetooth streaming

Cons
• No voice control
• Lack of Multiroom function

Frequently Asked Questions (FAQs)
What is the best soundbar for 55 inch TV?
Bestisan is the best soundbar for 55 inch TV with 6 built-in drivers and two bass-reflex tubes. The DSP technology enables the sound modes for audio customization, and multiple connectivity options give you a chance to connect your smart devices with a bar for extended usage.
What size soundbar for 55 inch TV?
A soundbar size ranging from 35 to 45 inches would be perfect for placing under the 55-inch TV. However, if you prefer to mount a wall on the bar, you can select any size according to your room size and design preference.
Should a soundbar be the same size as the TV?
No, it does not have to be an exact size. Rather a soundbar should always be smaller than the TV to reduce the placement trouble and TV functionality problems.
Conclusion
Once you know, you need to connect a soundbar with your 55-inch TV; never step into the market without doing the homework. A market with lots of terrific options can confuse you and force you to make the wrong purchase.
Thus, this article helps you realize your needs and choose the soundbar that best fits them.
Related Posts:
Mia Evelyn is a soundbar specialist and she love to test and review different soundbar brands. She shares her neutral and in-depth reviews through the Soundbar Mag.