Our leading picks for the best soundbar for 82-inch TV are chosen carefully after exploring the huge soundbar market and personal recommendations of the audiophiles.
Investing in the large 82-inches screen is not enough to experience a cinematic experience; a soundbar capable of reproducing high volume with plenty of bass and clarity is much needed to match the vibes. The best three soundbars can turn the TV watching experience to a new level with a pleasing profile, amusing audio quality, and incredible spec set.
Rich connection, variety of channel configurations, and easy control give you enough reasons to get your hands on the device. Read more to explore what else the top-notch soundbars have to offer.
List of the Best Soundbar for 82 inch TV in 2023
1. Sony HT-A7000 Soundbar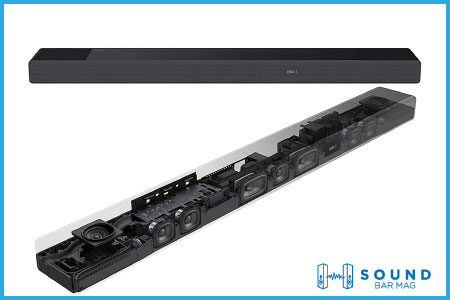 Sony has become a huge name in the soundbar industry with an extensive product line of soundbars of different categories. You can find entry-level soundbars to the premium ones, and HT-A7000 is one of them with the 7.1.2 channel system and an elegant design profile.
The soundbar offers multiple incredible features like automatic audio adjustment technology, 360 sound delivery, and Dolby Atmos compatibility. The soundbar has lots of speakers sitting at the front, rear, and side, creating a rich and wide soundstage for the premium acoustics.
The soundbar can get extra loud with the perfect audio calibration, and the center channel keeps the dialogue delivery intact. The quality of upper and mid notes surprises you while streaming the fast-action scenes, and the deep bass performance of the built-in subwoofer is enough to convince you.
WiFi, Bluetooth, Apple AirPlay 2, and Chromecast give you a smooth pairing, and the Google Assistant keeps up with the setup and device control. Measuring 53.5 by 7.7 by 8.81-inches soundbar can sit easily under the 82-inches TV, or if you plan to mount it on the wall, it won't compromise the IR functionality.
The wired connectivity via HDMI ARC can give you the pleasure of streaming a 4K HDR connection in high quality with detailed sound performance so that you won't miss a word. So, spacious sound, wireless connection, and attractive profile definitely make it the best soundbar for an 82-inch TV, especially if you want to have a cinema-like experience at home.
Pros
• Sound field optimization
• 4K, 8K, 120 passthrough
• Wireless pairing
• Voice control

2. Samsung HW-Q900A Soundbar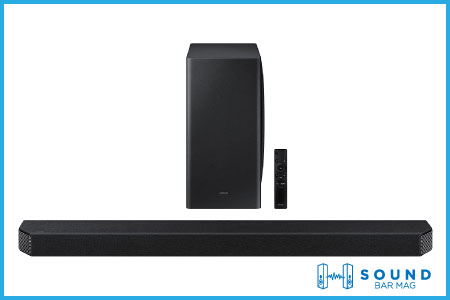 Samsung HW-Q900A is a smart 7.1.2 channel system soundbar with a wireless subwoofer and rigid construction profile featuring a metallic grille at the front. You can find a vent opening at either side of the bar to surround speakers and create a wide soundstage to attract audiophiles.
The soundbar may look slim, but it is wide enough to take considerable space. However, it will fit perfectly within the 82-inches TV. It can surely keep you engaged during TV watching by elevating every sound nicely with HDR10 passthrough. Connectivity via Bluetooth and WiFi also saves you from cable clutter, but it contains HDMI and optical digital for a stable connection with the TV.
Sound enhancement features and automatic audio calibration function make it a great entertainment device that delivers what you want to hear. Multiple EQ presets to customize the sound according to the content and save you the hassle of messing with settings. The Auto EQ correction function communicates with the subwoofer and adjusts the bass performance according to the tuning and soundbar noises for immersive listening.
The soundbar can get loud without harmonic distortions so that you can utilize the 82-inch TV for gaming. According to your preferences, the detailed sound moves you with every beat, but you adjust the audio components, including bass, treble, and height levels.
Voice control support with Alexa will hear your commands and browse, play, and manage the bar's volume. Stakes are always high with Samsung soundbars, and HW-Q900A is an example. Hence, we consider it the soundbar for 82-inch TV that gives value for money while being a premium upgrade to typical speakers.
Pros
• Sound enhancement
• Wireless music streaming
• EQ presets
• Dolby Digital and DTS decoding

3. LG SP7Y Soundbar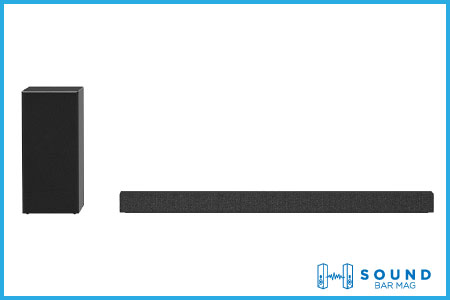 LG SP7Y is a premium 5.1.2 system soundbar with 440W power, a wireless subwoofer, and high-resolution audio output. The soundbar looks appealing with the fabric-like covering and grilles at both sides, covering the side-firing speakers to create a wide soundstage.
It is the smart centerpiece for home theatre with a frequency response of up to 96kHz with an audio depth of 24 bits. It gives the 3D surround quality while connecting to the 4K smart TVs with the HDCP 2.3 compatibility and 4K passthrough via a wired input port.
Measuring 40-inches wide, the soundbar will look decent with the large TV screens, let alone 82-inches. The wireless connectivity helps with the pairing thing, and remote control or smartphone compatibility help keeps up with control.
Different sound customization modes, including cinema, music, games, sports, and movies, bring out the best audio quality, well-balanced background tuning, and adjustable treble.
Despite the content, the wireless subwoofer is pretty decent with the low-frequency extension and gets loud with deep and ground-shaking bass. In addition, the dedicated center channel takes care of the vocal clarity, and Night mode will give you quality time streaming TV at night.
Pros
• Thundering sound performance
• Wireless connections
• DTS and Digital AI
• Sound modes

Frequently Asked Questions (FAQs)
What is the best soundbar for 82 inch TV?
For the price and aesthetic appearance, Samsung HW-8900A remains the best soundbar for 82-inch TV. Despite the heavy size, it reproduces subtle sound with multiple EQ presets and HDR 10 passthrough for the incredible TV watching experience.
Do I need a 4K soundbar with my 4K smart TV?
You don't necessarily have to invest in the 4k soundbar until your 4K TV does not offer any other connection type. It will provide similar audio quality to the regular soundbar with no 4K compatibility.
How do I improve the sound of my 82-inch TV?
If you want to improve the TV sound, connect an external speaker or a soundbar as it will reproduce the better sound compared to the built-in TVs. A soundbar contains multiple speakers powered by amplifiers for the high-definition sound output.
Bottom Line
Enjoy a theatre-like experience with an 82-inch TV and a rigid soundbar that can reproduce high-resolution audio with heart-pounding bass. We have reviewed the three best soundbars for 82-inch TV that can give a high level of entertainment without costing extra.
If your life revolves around gaming, music listening, and Netflix chilling, they are worth investing in.
Related Posts: