Ever experienced a great display with awful sound performance?
Yes, keep reading as we discuss the best soundbar for a 48-inch TV to deliver you an astonishing TV-watching experience.
The newly launched 48-inches flat TV screens provide stunning visuals and make everything look lifelike on the big screen. However, such TVs do not deliver cinematic audio.
The flat screens don't have enough space to integrate speakers. Thus, they struggle to match the display quality with audio. Therefore, soundbars come in action with excellent audio quality and perfectly fit with the display content over HDMI, optical digital, or Bluetooth connection.
We have added top-notch soundbars for large screens, say 48 or 49 inches. They are easy to install, connect, and operate using remote or voice control. So, let's get checking each of them in detail.
List of the Best 48 Inch TV Soundbar in 2023
1. Sonos ARC Soundbar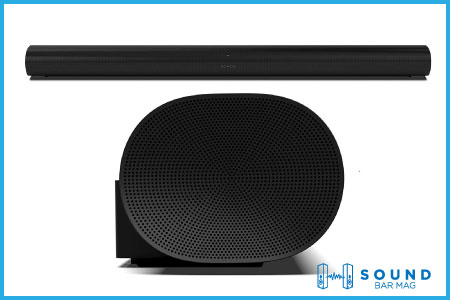 Sonos ARC is a famous, most preferable, and durable soundbar in the market with an attractive design, impressive features, and superior audio quality.
We found it a premium upgrade to the TV's built-in speakers, as it delivers 3D surround sound to immerse you in the content. While testing with the music and gaming, it moved us with the amazing heavy music notes.
It undoubtedly delivers decent audio quality for mixed usage. The room-filling sound goes a long way for podcast listening, TV watching, and music listening.
This 5.0.2 channel soundbar contains three tweeters, 8 woofers, and multiple speakers powered by 11 Class D amplifiers to maximize the power output. The bass quality was also captivating, with a heavy punch and thundering at max volume.
Moreover, the dialogue enhancement feature isolates the vocal and delivers it precisely to understand every word. In addition, Dolby Atmos audio format bounces the audio off the walls that feel like it is coming from every direction, making it a perfect Soundbar to get the cinematic vibes.
The soundbar only measures 45 by 3.4 by 4.5 inches, giving you enough flexibility to place it under the 48 or 49-inches TV. You can mount the bar on the wall using the VESA brackets and enjoy wireless connectivity for hands-free music streaming.
It also has built-in Wi-Fi that eliminates the mess of wires that goes through the soundbar to the TV or smartphone and occupy the devices. Using this feature, you can access online music services like Spotify or Amazon Music and get your playlist played in the high-definition, loud, and clear volume.
Pros
• Loud and crisp sound
• No harmonic distortions
• Drivers powered by Class D amp
• WiFi connectivity
• Over-head sound and rich bass

2. Yamaha YAS-209BL Soundbar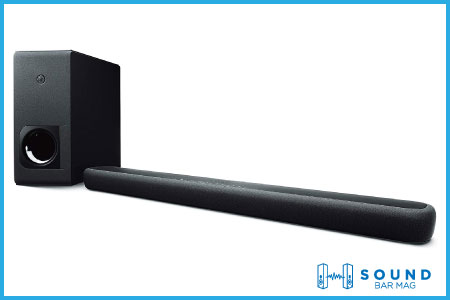 The very famous Yamaha YAS-209BL is a decent choice to set with your 48-inch TV as the bar measures only 36.6 inches, giving you enough room for easy and breeze placement.
It is a complete entertainment set with a wireless subwoofer measuring 7 by 16 by 16 inches that produces ground-shaking bass and doubles the fun of music listening, gaming, or regular TV watching.
We liked how the subwoofer didn't need a sweet spot to produce engaging yet heart-pounding bass, and the heavy shaking didn't moved the bar a bit.
We found the Yamaha YAS-209BL as the best 82-inch TV soundbar for its smart features, including Wi-Fi and voice control support. Alexa will help with content browsing and built-in function enabling, and Bluetooth or Wi-Fi gives you easy times while pairing the device.
The built-in speakers deliver a well-balanced sound profile, precisely hitting upper and mid notes. Dolby Atmos further enriches the sound, and DTS bounces it to deliver a 3D listening experience.
Many listeners call it the entry-level soundbar, but the enhanced vocal performance and excellent stereo dynamics make it a premium choice for smart TVs.
However, the lack of a height channel is a shame; no noticeable compressions at max volume with an affordable price tag justify the down point.
Pros
• Solid construction
• DTS and Atmos support
• Heavy bass
• Voice control

3. Vizio Elevate VOP514AH6 Soundbar for TV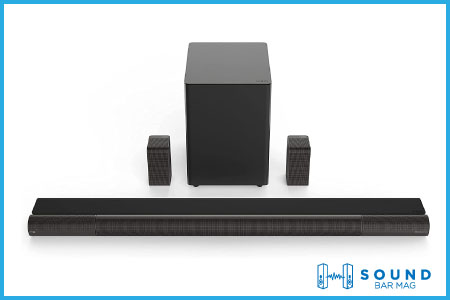 Vizio makes such stunning soundbars, and this unit is no exception with a wide dark body, wireless subwoofer, and 5.1.4 channel system configuration.
It houses 18 high-performance front, rear, and side speakers to deliver high-definition audio. The up-firing speakers compatible with Atmos and DTS reproduce rich sound with next-level clarity for immersive listening.
The height channels reflect the sound overhead ceiling, ensuring the heart-pounding audio beats hit everyone in the room while keeping the quality intact. However, we noticed some sound delays with certain kinds of music.
It undoubtedly delivers loud sound that reaches up to 107dB sound pressure level. Also, there are hardly any harmonic distortions at the max volume, so you can rely on it for TV watching, podcasting, music listening, or even gaming.
We think the sleek body looks decent under the 48 or 49-inches TV, and if you connect the voice control devices through Aux or Bluetooth, you will have flawless control of the device.
Wi-Fi provides a smooth connection with smart devices while giving you access to online audio services. We could easily access online streaming services and save the playlists for quick access and play.
Also, multiple EQ modes for sound customization are game changers; they automatically adjust the sound when watching TV or listening to music casually. We just pressed the button and personalized the sound from music to watching the news.
Therefore, we call it the best soundbar for a 48 or 49-inches TV as it is a complete entertainment package that gives value for your money and lets you enjoy premium audio.
Pros
• Adaptive height rotating speakers
• 107dB sound pressure
• Loud and accurate sound
• WiFi and Bluetooth
• Affordable

Cons
• No built-in voice control

Frequently Asked Questions (FAQs)
What is the best soundbar for a 48 inch TV?
We consider Yamaha YAS-209BL the best soundbar for a 48 inch TV for its 3D surround sound delivery. Measuring 36.6-inches soundbar, it reproduces clear and loud sound with rich bass.
Does the size of the TV matter for a soundbar?
Technically speaking, your soundbar shouldn't be wide than the TV. Even though you can pair any size soundbar with your TV, the exact same width or a little smaller would give an aesthetic look.
How do I choose a soundbar for my 48 inches TV?
You should consider so many factors, starting with the channel system. A 3.1 soundbar with an external subwoofer would be enough, but if you want a home theater set up, you can go higher by up to 7.1 channels. Moving forward, ensure to have a wireless connection and easy control.
Bottom Line
That's a wrap with the best soundbar for a 48 or 49-inches TV. It was pretty hard to explore the powerful soundbars that can handle such big TVs, but all three perform pretty well to deliver high-quality sound with a mixture of audio components.
You can choose one according to size preference and, of course, features. But you will experience top-notch audio quality with balanced bass without distortion.
So, happy TV watching!
Related Posts:
Mia Evelyn is a soundbar specialist and she love to test and review different soundbar brands. She shares her neutral and in-depth reviews through the Soundbar Mag.