TV screens are getting bigger, and their built-in speakers are getting smaller and poor.
Yes, since the TVs are getting bigger and slimmer, they hardly make enough space for the speakers, resulting in struggling audio delivery that hardly matches the display's performance.
Therefore, people obsessed with watching TV or listening to music can't help but turn to the speakers or sound systems that can satisfy their lost souls. But soundbars are the most reasonable and legit sound system one can get for their 75-inch TV.
So, after noticing the rising demand, we have selected the top 7 products and tested them for you. So, let's check them out and help you find the best soundbar for 75 inch TV.
List of the Best Soundbar for 75 Inch TV in 2023
1. Bose Smart Soundbar 900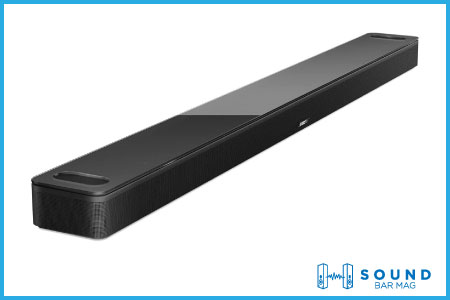 Bose Smart soundbar 900 is an incredible and compelling addition to the extensive product line of Bose soundbars with Dolby Digital decoding, wireless connectivity, and appealing design.
We call it a smart soundbar with an amazing feature set and an attractive profile. It blends with different environments and is compact enough to adjust in small spaces, especially under your 75-inch TV.
However, this compact soundbar sounds big and heavy enough to shake the space. We tested it in a medium room, and it was already banging the windows when played at full volume.
Installation, navigation, and setting up are a piece of cake with wires and voice control support. The smart device is always ready to perform over your voice commands, and the Bluetooth or Wi-Fi support makes it run to play music or catch TV audio.
Moreover, Bose 900 houses up-firing speakers that deliver room-filling sound, maintaining high-level vocal delivery for immersive listening. The custom-engineered drivers and Dolby Digital maximize the audio quality while reducing sound delays, making every tune and sound beat worth hearing.
We certainly call it the best soundbar for 75-inch TV because it also has a built-in microphone that gives the pleasure of hands-free calling or even video-calling while connecting to the TV.
The bar easily connects to the home smart devices and makes the usage more interesting and captivating with a loud, clear, and pleasing sound.
However, it does not come with an external subwoofer, so it might struggle with low frequencies or deep bass. Still, the built-in woofer gives a good humpy bass to boost overall enjoyment, and it can be noticeable while gaming or listening to heavy pop music.
Pros
• Quick and easy setup
• Built-in microphone
• Alexa compatibility
• Multidirectional sound

2. Yamaha Audio YAS-209BL Soundbar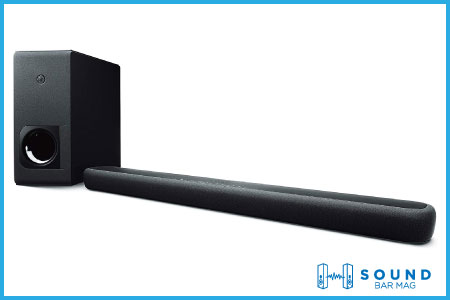 The very famous and loved audiophile soundbar in the entire industry is Yamaha YAS-209BL. It is Yamaha's best-selling product that produces well-balanced sound, delivers quality bass, and offers stunning specs to enhance the overall experience.
The maximum power output, high volume, and precise and crystal-clear dialogues are some of the highlighting points of the soundbar for us and the precise reason to test it for you.
The appearance is also the cherry on top of the sleek design, and the wireless subwoofer has nothing much to offer except extremely rich and shaking bass. We liked it didn't require a sweet spot or angle to perform fully.
Drivers' compatibility with DTS: X format expands the sound quality, making it more lifelike and realistic in listening. The dialogue delivery is also clear enough to understand the whispers, but the lack of surround sound and height channel support is a shame.
However, on the upside, maximum volume with no harmonic distortion keeps the hopes high to get this soundbar for your 75-inch TV. The directional sound is heaven for gamers and podcast lovers.
Easy setting and controlling via a dedicated app or voice control and pairing via Bluetooth can deliver the best user experience, and we adore the bar for all these functions at this price.
The subwoofer is also wireless, so it doesn't rely on the sweet spot to perform toits full potential. But it can produce heavy and ground-shaking bass that can move you while gaming or listening to rock music
Thus, it is a great soundbar with reasonable features and specs to please your ears with quality audio. It has smart features to turn the tables for music or audio listening by connecting to potential external devices.
Also, affordability is the biggest reason people prefer it and assume it is the sound bar for a 75-inch TV or any other entertainment device.
Pros
• Dialogue enhancement function
• Voice control
• Pondering bass
• DTS: X format
• Highly durable built material

3. VIZIO SB3821-C6 Soundbar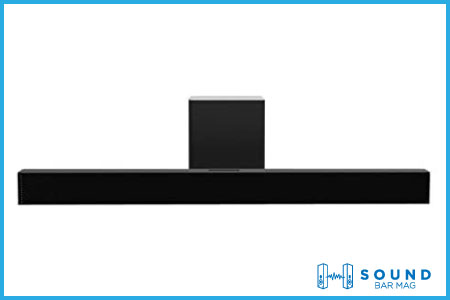 Vizio SB3821-C6 is willing to deliver great acoustics with the complete package, comprising a compelling 2.1-ch soundbar and wireless subwoofer, so we had to test it for its performance.
We can vouch that the soundbar can get loud enough to reproduce the audio of 100dB, and the subwoofer takes care of the ground-shaking bass.
It ensures a premium listening experience with clear, loud, and high-definition sound. Also, there are no noticeable harmonic distortions we could notice even at the max volume, so we can say that the stereo dynamics are stealing the show.
Moreover, the built-in drivers are fully charged by Dolby Digital decoding, DTS TruSurround, and DTS TruVolume, which enriches the audio quality, maximizes clarity and enhances background tuning. The sound is rich, well suited for regular TV watching or listening to heavy music.
Setting up the Vizio soundbar was a walk in the park for us, as we have seen the complex bars with some challenging setups to achieve the right performance.
The rear panel features physical connectivity sources, including coaxial RCA, USB, optical digital, and a mini stereo jack. It also gives you the pleasure of wireless music streaming with Bluetooth, offering next-level signal stability with a suitable range.
Hence it has everything you need to pass your quality time with crisp sound and deep bass. The wireless subwoofer keeps the listener hooked by adding low-frequency levels at the sides of the upper and mid notes.
Pros
• Dolby Digital decoding
• High-definition audio
• Bluetooth support
• Max power output

4. VIZIO SB2920-C6 Soundbar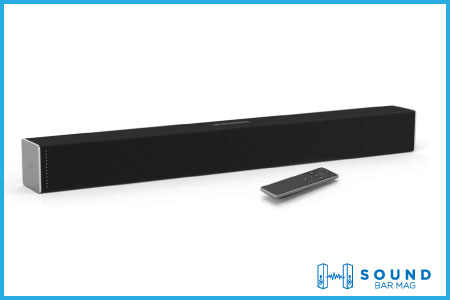 Vizio SB2920-C6 is a decent soundbar for TV watching or music listening, as it delivers high-resolution audio with two front-facing channels. Its powered audio punch hits you from the front and keeps you hooked throughout playing.
The soundbar has an attractive profile, and the easily adjustable design gives value to the money. Measuring around 29-inches and weighing 29 pounds soundbar produces compelling sound to fill the room with great acoustics.
The clear and crisp sound goes well with the mixed content, and its capability to go loud with only 1% harmonic distortion makes it an ideal choice to entertain large audiences at parties.
The stereo dynamics of the soundbar are what caught our attention. It can get loud and produce up to 95dB of expansive sound with a frequency range of 70Hz to 19 kHz. It is undoubtedly the soundbar for a 75-inch TV, considering the perfect size, attractive profile, and loud and thrilling sound reproduction.
The phantom center channel ensures satisfactory dialogue delivery, but its struggle with the low frequencies seems noticeable to us. It somehow failed to deliver rich or deep bass, which is understanding its basic-level channel configuration and lack of an external subwoofer.
Despite being an entry-level profile, Vizio SB2920-C6 stays at the top of our recommendation for the best affordable soundbar for its affordable price, excellent sound customization, and DTS compatibility.
On the upside, it features Bluetooth connectivity to instantly pair with your 75-inch TV and maintain a stable connection. It also has a couple of physical ports, including AUX and optical digital.
Pros
• DTS support
• High-resolution audio
• Included remote
• Multiple connections
• Gets loud with rare distortion

Cons
• Low-frequency struggles

5. Bose Smart Soundbar 300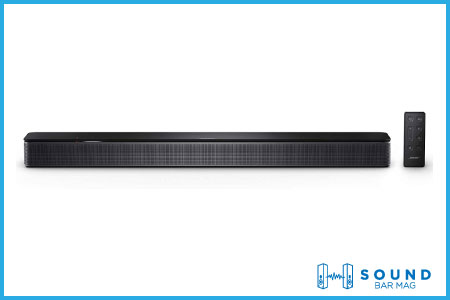 Bose smart soundbar 300 is a sibling to Bose 900, but it features a more attractive design with a metal body and grille at the front. It also comes with a remote with a comfortable grip, and the wireless connection technology makes it a plug-and-play device for lazy people like us.
We liked the ultra-slim and elegant soundbar that host 5 full-range drivers to reproduce a spacious, detailed sound with extraordinary clarity for podcast or eBook listening.
We also noticed the metallic grille above the drivers makes the sound punchier and harder, bouncing back the floor and creating a wide soundstage. Also, it gives the bar a premium and expensive look.
Besides, it is more reasonable in price and easy to adjust under the huge TVs, saving the trouble of deciding a sweet spot. In addition, Alexa and Google Assistant compatibility helps with setting up, troubleshooting, connections, and regular navigation.
Also, Bose smart soundbar 300, one of the best soundbars for a 75-inch TV, gives you multiple options to pair the device with external entertainment sources.
Bluetooth and Wi-Fi were not enough to boost the entertainment; it supports Apple Airplay 2 and Spotify connect to catch up on your favorite playlist or podcast over a single tap.
It also has a built-in multiroom function that customizes the audio delivery according to the content and room environment. Also, the built-in woofer and center tweeter enhance the listening experience with punchy and detailed bass.
The voice-rejecting mic system saves you from annoying background tunings or ads while streaming your favorite content.
Hence, it is a family soundbar that suits well for mixed usage. This sleek and productive soundbar is made for you, whether you are an audiophile obsessed with listening to high-definition music or a TV stalker that finds shows more interesting.
Pros
• Elegant design
• Bose sync technology for flawless TV streaming
• Setup via remote or Bose app
• Voice-rejecting mic
• Voice control

6. PHEANOO D5 Soundbar
Pheanoo D5 is not such famous, but a premium soundbar with an appealing spec set and stylish design. It is perfect for a 75-inch smart TV because the elegant and unusual design with black matte finishing and metallic grille at the front gives some modern vibes and definitely compliments the interior decor.
It may be an entry-level 2.1ch soundbar, but an external subwoofer and multiple connectivity sources make it a perfect companion to your TV. It sounds so much better than the TV's built-in speakers, and the crystal-clear dialogues got us.
Besides, the dialogue/speech enhancement mode further polishes the vocal delivery for podcast listening or TV watching and provides a more enjoyable listening experience.
Moreover, the wireless subwoofer delivers rich and deep bass with the downward-facing driver that throws frequencies to the ground that bounce back and creates richer sound, which is especially perfect for gaming.
The sound, dialogue, and bass are detailed enough that you will feel every tune and beat, making it the best soundbar for a 75-inchTV.
The entire setup and connecting with an external device process was a breeze. The rear panel of the bar has a couple of ports, including AUX, optical, and HDMI ARC, to pair a TV, gaming console, Blu-ray player, and projectors to enjoy high-definition audio.
Though the soundbar is a Roku-TV-ready bar and works with all the Roku remote control, the included one also gives you easy control and access to the soundbar settings with one button tap.
Pros
• Detachable bar design
• Multiple connections
• 3D audio listening
• Dialogue enhancement mode
• Roku TV ready

Cons
• Limited audio format support

7. TaoTronics TT-SK15 Soundbar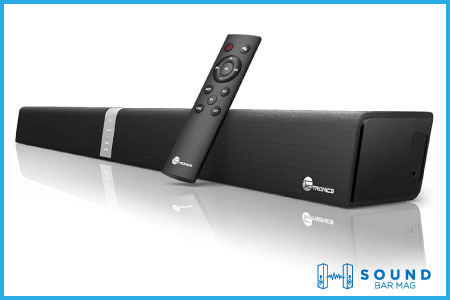 TaoTronics TT-SK15 is commonly known as the wireless Bluetooth speakers designed for TVs that don't sound powerful enough to match the quality of their display performance.
It is only a 34-inch soundbar featuring a 2.0 channel system, a slim and sleek design that is preferred to mount on the wall for an excellent 3D audio listening experience.
Its built-in four full-range drivers create stunning sound, and the dual passive radiators bring out the detailed bass. Despite not having a center channel, we loved the wide soundstage and clear vocals. But it struggles at max volume.
Its loud and crisp audio reproduction with intact dialogue quality turns the home into an entertainment hub. The full-range drivers deliver high-resolution audio that gets loud enough to entertain large audiences while pairing with different devices.
The soundbar is flexible enough to pair wired or wirelessly via Bluetooth, optical digital, coaxial digital input, and AUX. So, no matter what device you wish to expand the sound with, it will support all of them and bring a highly enjoyable environment to your house.
Also, you would see an unusual pad at the front of the soundbar, which is touch-sensitive and help with navigation. It also comes with a remote having a comfortable grip that keeps you occupied with the usage, day-to-day navigation, and seamless device control.
Overall, it is a great entry-level soundbar with multiple connecting mediums, spectacular design, and high-volume capacity.
However, it lacks audio format compatibility, which enriches the sound performance and makes it virtually expansive.
Pros
• Home theatre audio performance
• Multiple placement options
• Wired or wireless connections
• Attractive profile
• Loud sound with heavy bass

Cons
• No Atmos
• Average dialogue quality

Frequently Asked Questions (FAQs)
What is the best soundbar for 75-inch TV?
Bose smart soundbar 300 is one of the best soundbars for a 75-inch TV with five full-range drivers, maximum power output, and wireless connectivity. It intends to provide a modern user experience with built-in voice control, noise-rejecting mic, and Spotify connect compatibility.
What size soundbar do I need for a 75-inch TV?
Usually, the size doesn't matter, but the audio quality is what you need to enjoy while watching TV. So, get a soundbar that hosts a compelling speaker inside, have a durable built quality, and easily fits under your 75-inch TV.
How long should a soundbar be for a 75-inch TV?
Any soundbar would fit perfectly under the 75-inch TV. Since 75 inches is huge screen size and you would rarely find soundbars wider than the 60-inches, whatever you choose, especially from our best soundbar for the 75-inch TV, would go well.
Does the size of the TV matter for the soundbar?
Remember that the soundbar and TV shouldn't have to be an exact size. You can get a soundbar that would be smaller or bigger than the TV, and it should depend on your room preferences. However, it shouldn't be too small because it can impact the experience with a 75-inch TV.
How do I connect my soundbar to the TV?
Check the connectivity options your TV and soundbar offer. If both devices are smart and feature Bluetooth, it will be easy for you to pair both within minutes. But you can go for wired connections, like optical digital, HDMI, or AUX, for more stable connectivity.
Conclusion
It is always the best idea to connect separate speakers with your sound-sensitive devices to enjoy flawless audio listening. Soundbars are the new innovation that is winning hearts lately.
Try connecting this best soundbar for a 75-inch TV and upgrade its built-in speakers with a premium user experience for more fun, entertainment, and high-quality audio listening.
Related Posts:
Mia Evelyn is a soundbar specialist and she love to test and review different soundbar brands. She shares her neutral and in-depth reviews through the Soundbar Mag.