On the outside, these two soundbars may appear similar, but their specs reveal they are very different devices. In choosing between the two, we've done the legwork so that you don't need to waste time researching to return a product.
Vizio SB3621 VS SB3821 Soundbar Comparison Chart
| | | |
| --- | --- | --- |
| Model | SB3621 | SB3821 |
| Dimensions | 2.1 x 36 x 3.2 inches | 3 x 38 x 3 inches |
| Weight | 4.6 lbs. | 5.8 lbs. |
| Power Output | 100 Watt | 60 Watt |
| Minimum Frequency Response | 50 Hz | 50Hz |
| Maximum Frequency Response | 20 kHz | 19 kHz |
| Type | Tabletop | Tabletop |
| Soundbar buttons | power, input, Bluetooth, volume down, volume up | power, input, Bluetooth, volume down, volume up |
| Number of Channels | 2.1 | 2.1 |
| Built-in subwoofer | No | No |
| Separate subwoofer (in package) | 1 | 1 |
| Wireless subwoofer | Yes | Yes |
| Interfaces | Analog audio, USB (for .WAV Audio Playback), RCA (Coaxial), Optical (Toslink) | Stereo RCA, 3.5mm stereo mini jack, RCA (Coaxial), Optical (Toslink), USB (for .WAV Audio Playback) |
| Equalizer Settings | Movie, Music | Bass/Tremble control |
| Sound Enhancing System | Dolby Digital, DTS Studio Sound, DTS TruSurround, DTS TruVolume | Dolby Digital, DTS Studio Sound, DTS TruSurround, DTS TruVolume |
| Separate speaker (in package) | No | No |
| Separate speaker connections | No | No |
| App-Controlled | Yes | No |
| Remote control | Yes | Yes |
| Microphone | No | No |
| Voice control | No | No |
| Apple Music (AirPlay) | No | No |
| Apple Music (AirPlay), Amazon Music, Spotify | No | No |
| Connection to source | wiractiveed, wireless | wired, wireless |
| Amplification type | active | active |
| WI-FI | No | No |
| Extras | Simple setup, 3 months of TIDAL HiFi Music Service – FREE, America's #1 sound bar company | America's #1 sound bar company, A great fit for 42"+ Class TVs, Minimalist body style |
| Optical digital input/output | 1 | 1 |
| HDMI input/output, HDMI ARC, HDMI eARC | No | No |
| Wireless Connectivity | Bluetooth | Bluetooth |
| Manufacturer Warranty | 1 year(s) | 1 year(s) |
| Installation Type | Stand-alone, Wall-mount | Stand-alone, Wall-mount |
| Color | Black | Black |
VIZIO SB3621 and SB3821 Descriptive Comparison
Without wasting our time lets start all the technical analysis of both the products in detail.
Design
If you prefer a more compact soundbar, the SB3621 is a good choice. A slimmer design and profile make it suitable for smaller TVs. It can also be ideal for small and medium-sized rooms since it can utilize acoustics to fill the space with high-quality sound.
In terms of sizes, the SB3621 is 2.1 x 36 x 3.2 inches, while the B3821 is 3 x 38 x 3 inches. Compared to its competitor, the last model is a bit bigger and heavier (4.4 pounds versus 5.8 pounds).
Due to its larger footprint, the Vizio SB3821 is less suitable for smaller spaces but is perfect for TVs with larger screens. It is also heavier because of its size.
The SB3821 would require stronger brackets to mount to a wall, but both soundbars are wall-mountable. Both soundbars are stylish and polished with silver accents, a classic Vizio feature.
I was able to compare the SB3621 and SB3821 appearance, and I can note that both bars are neutral in design and have the same colour gamut that combines black and silver. Indeed they were designed to blend in with the other components of any audio system.
These devices look great in any interior with their brushed black and silver finishes. Comparing VIZIO SB3821 vs SB3621 onboard controls reveals that both devices include an input selection button, power on/off button, Bluetooth on/off button, and volume up/down button. SB362 has touch-sensitive buttons, while SB3821 has physical buttons.
Users can input basic settings through a control panel when the remote control is unavailable.
Sound Settings
You can't get the most out of a soundbar if you can't adjust specific settings. You can use SB3621's equalizer settings for music and movies to enhance speech and sound effects while enjoying the content.
SB3821 offers only bass and treble controls, so it is less high-tech. With no preset sound modes, you have to determine the soundbar's settings by trial and error approach. A remote control is available to access the sound bar's equalizer settings. So, the winner is the Vizio SB3621.
Setup
All components are included in the package for the Vizio soundbars, so setting them up is a breeze. You'll find a user manual, necessary cables, a wall mounting kit, and remote control within the box. Plug-and-play functionality allows users to go from unboxing to enjoying their new soundbars within minutes, thanks to the simple connection options.
Subwoofer
Each soundbar has an external wireless subwoofer. The wireless subwoofer setup allows the subwoofers to be placed with more flexibility and maximize the available space.
The SB3621 subwoofer measures 6.70 x 11.80 x 7.90 inches, while the SB3821 subwoofer is 8.3 x 9.1 x 8.3 inches.
The Vizio SB3621 VS 3821 are neck and neck in the subwoofer department, so choosing a winner there is difficult.
Despite their compact size, both subwoofers deliver impressive audio quality. Both subwoofers touch every frequency gracefully and offer minimal distortion regardless of the volume at which you watch your content.
Channels
Vizio SB3621 and SB3821 are both 2.1 channel soundbars. It means they both have a left and right channel and a subwoofer.
These soundbars are professionally tuned to deliver high-quality sound for any content, even with just two channels. Similar to previously reviewed soundbars that are highly recommended, we found the Vizio SB3621 to be able to match any highs and lows with minimal distortion.
Meanwhile, the SB3821 is most notable for providing expansive audio in large rooms.
Power Output
Although the Vizio SB3621 is a smaller soundbar, it still provides a higher power output of 100 watts than the SB3821, which has a power output of 60 watts. SB3621 has a clear advantage over the competition in terms of powerful sound. 
Despite its lesser power, the SB3821 soundbar is still powerful enough to handle any screen content.
Due to the subwoofers, the difference in wattage is barely noticeable when both soundbar subwoofer systems operate at maximum capacity. So, the winner is the Vizio SB3621.
Sound Technology
As far as sound quality and technology go, both soundbars offer the same Dolby Digital decoding capabilities, and they enhance the clarity of the audio with DTS Studio Sound, DTS TruSurround, and DTS TruVolume.
These state-of-the-art technologies allow users to experience multi-dimensional sound with just two channels, resulting in a complete theatre experience.
Bluetooth
A soundbar with Bluetooth capabilities is one of the most valuable features to look for. Wireless Bluetooth allows these Vizio soundbars to stream content straight from your mobile devices.
Audio Features
Both models under consideration have active amplification. The devices have the same number of channels. None of these models has a built-in subwoofer. Any units in this comparison can be connected to an external subwoofer.
Streaming services
Both soundbars do not support AirPlay. Soundbars do not support Spotify.
Control on the Vizio SB3621 and SB3821
Both soundbars include a remote control within their boxes. It's not the only option for adjusting the soundbar's settings.
Aside from the built-in control panel, the SB3621 has a compatible app that allows the soundbar to be configured as desired. The SB3821 soundbar does not have this feature, so You can only control it with its included remote control and embedded control panel.
Connections
Vizio SB3821 wins the wired connection category. With several connection methods, including stereo RCA, stereo 3.5mm mini-jack, and USB port, it has a higher level of connectivity than the SB3621.
There is no wireless Wi-Fi interface on either model. They do support Bluetooth.
The lack of HDMI inputs is a drawback of both soundbars. The audio and video signals can be transmitted via this connection, making it the best choice.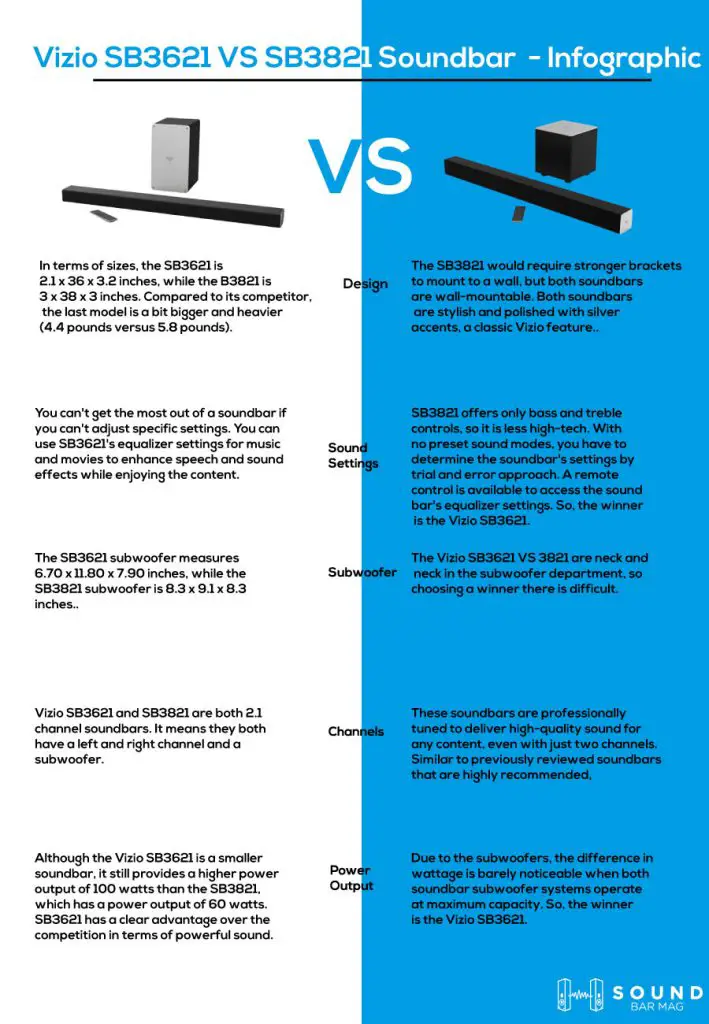 Frequently Asked Question (FAQs)
Is the Vizio soundbar reliable?
The Vizio brand is well-known for offering advanced technology at affordable prices, and its soundbars are no exception. We tested several of the brand's 5.1 soundbars, and they are among the best for the price point. It delivers a balanced sound signature. We've tried many Vizio soundbars, and all sound well-balanced.
How do I update the Vizio sound bar?
After your Sound Bar has been connected to the Internet, select the "Settings" option (which looks like a gear), then select "System" and "Check for Updates". If you want to check for updates, press "Yes" to confirm.
Is there an app for the Vizio sound bar?
Using a compatible Android or iOS device, download the VIZIO SmartCast Mobile™ app.
Conclusion
With the Vizio SB3621, our experts proved that smaller and more affordable don't necessarily mean lesser quality. Despite the system's compact size, ideal for smaller spaces, it can provide excellent quality sound regardless of the content, together with the external subwoofer.
The Vizio SB3621 has a plus for movie lovers: it's capable of DTS and Dolby decoding, making it comparable to more expensive options. This budget option is also distortion-free. Not only does Bluetooth make this pick compatible with mobile devices, but it also gives you flexibility regarding the placement of the soundbar and subwoofer.
Mia Evelyn is a soundbar specialist and she love to test and review different soundbar brands. She shares her neutral and in-depth reviews through the Soundbar Mag.