Having a small TV, a tiny house, and limited space for entertainment setup is so dreamy. But, the worse audio quality of your TV or current sound system is indeed a disgrace to the entertainment experience.
Therefore, small soundbars for TVs are designed to fit easily in compact or congested spaces and produce exceptional audio output to create a mini home theater setup.
Such soundbars are compact, easy to use, and have various placement opportunities for flexibility. You can also keep them at outdoor parties, movie nights, and other occasions, as they are the go-to device for music streaming.
Besides, they come with aesthetically pleasing designs and rich features to deliver dreamy sounds according to the content.
So, let's explore the Best small Soundbars in detail and transform your music listening experience from compact devices into a huge success.
List of the Best Small Soundbar for TVs in 2023
1. Bose TV Soundbar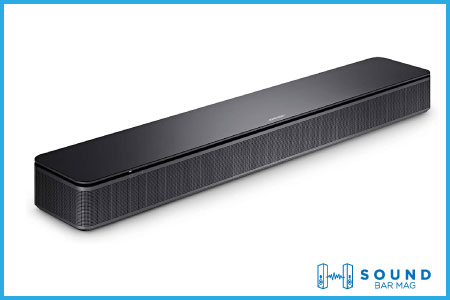 The Bose TV Speaker is a 2.0 ch setup designed to connect with TVs via optical and HDMI cables. Its low-profile design is easy to adjust in small spaces, making it an ideal device for outdoor entertainment sessions and movie nights.
It's an elegant small soundbar that translates speech and enhances the overall TV sound via voice enhancement. It houses two types of curved full-range drivers to deliver comprehensive and better sound.
However, it lacks a dedicated center channel meant to boost the dialogue delivery, but the right and left drivers create sound in the center for satisfactory performance. We tested it for news and TV shows, and the performance wasn't disappointing.
Built-in Dolby decoding favors more enhancement of this portable TV speaker's audio powers to deliver a more natural and relieving listening adventure.
Built with clarity in mind, this small soundbar uses a single connection to the TV via an optical digital cable or HDMI and starts in a minute. With over 2 inches tall, the Bose TV Speaker is a lightweight soundbar that can be positioned just almost anywhere.
The Tiny LED lights on the cover of this small soundbar turn on and/or change color for visible assurance when specific features are enabled. They also flicker in acknowledgment of the volume changes.
The Bose TV Speaker has HDMI ARC, enabling the TV and this soundbar to broadcast when linked with an HDMI cable. When you turn the TV on, the speaker will automatically turn on too.
With this technology, you can keep using your existing TV remote control to control the volume of this device.
Moreover, you can use the remote control for quick navigation, like adjusting treble and bass delivery, managing volume, and enhancing dialogue delivery. We like how easy it is to operate and hold in hand.
Pros
• Rich dialogue delivery with vocal enhancement mode
• The shape and height make it portable
• Not require complex modifications for setup.
• The speakers go along with it a variety of TV sizes
• It comes with a Built-in Bluetooth connection

Cons
• The sound starts getting deformed on high volume

2. RIOWOIS R-6405SaiYin Soundbar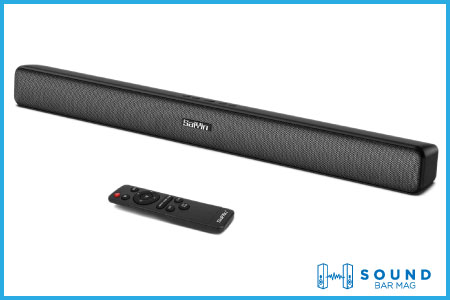 RIOWOIS R-6405SaiYin is a decent soundbar with powerful full-range speakers that fills the room with 3D surround sound.
It creates a stunning yet wide soundstage for streaming movies, playing games, or listening to heavy and bass-sensitive music.
Besides realistic and expansive sound quality, the soundbar offers three different equalizer modes easily enabled via remote control.
The modes include Music, movies, and News, which optimizes the sound accordingly and delivers a wide stereo effect throughout the room, irrespective of the size.
Moreover, the soundbar has a slim yet decent design which measures around 29 inches long and 2.7inches tall, saving you a lot of space while fitting underneath the TV or mounting it on the wall.
All the built-in drivers provide high-resolution, crisp, and loud music that the room walls will shake while boosting your enthusiasm.
Also, the sound goes well for the diversity of the media, as we tested it with music and TV shows, and it performed incredibly well with upper and mid notes with dialogue clarity.
However, the soundbar design and texture are relatively simple and traditional. You may find a few LED indicators at the top with several basic control buttons.
You can also adjust the volume, set the equalizer mode, or switch between connections using a handy remote control. Ensure the remote stays in range within 5M for smooth running.
Above all, the connectivity of the small yet terrific soundbar is impressive. It allows quick pairing capability with smart devices via Bluetooth 5.0.
In contrast, the optical digital output, AUX, Coaxial, and RCA cable inputs are available to connect TVs, Monitors, Gaming consoles, or Blu-ray payers.
Hence, it is an ideal soundbar with amplified speakers that creates 3D surround sound vibes with seamless connections and easy setup.
Pros
• Compact soundbar
• Dramatic sound quality
• Built-in powerful woofer
• 3 equalizer modes
• Included remote control

Cons
• Lacks Dolby Atmos or DTS support

3. Hisense HS214 Soundbar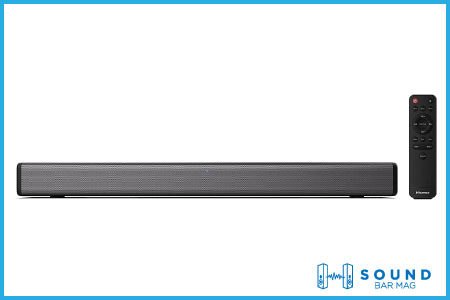 Hisense soundbars are famous for compelling build quality, impressive features, and affordability. Hisense HS214 2.0ch soundbar is another terrific product with a compact body, well-styled design, and capability to produce stunning audio performance.
Hisense keeps things simple from the design perspective so that you won't mind anything distracting on the device. But we liked its low-key profile, perfect for bedrooms and living rooms under the TV.
Likewise, the built-in up-firing drivers and a subwoofer create a wide soundstage to throw cinematic vibes even in a small room. The subwoofer has a traditional design but is heavy enough to bear the tight bass punches.
The soundbar also features three sound modes that optimize sound performance according to the content. Thankfully, it automatically adjusts the dialogue delivery, treble, bass adjustments, and frequency output range with the diversification of the content.
Moreover, the competitive pairing options at this price make it a noticeably affordable soundbar.It includes HDMI ARC, optical digital, USB, AUX, COAXIAL, and Bluetooth pairing options for your convenience.
You can find all the physical input ports at the side, and they are easy to reach, whereas the LED indicators are for quick monitoring at the front.
In addition, the mesh grilled build makes the soundbar durable while ensuring rich speaker performance. The woofer placed at the bottom takes care of all the bars and catches the speakers' sound placed on both sides to deliver a more thrilling audio output.
Since it is designed as a plug-and-play design, it saves the last connected devices and starts performing whenever they are in range. However, you can use the remote control for further management.
Pros
• Attractive design with grilled coating
• Compact and lightweight, weighing only 2.17kgs
• Remote control included
•
HDMI ARC
and Bluetooth connections
• Small soundbar with subwoofer
• Each speaker applies 27W amplifiers
4. VIZIO V20-J8 Soundbar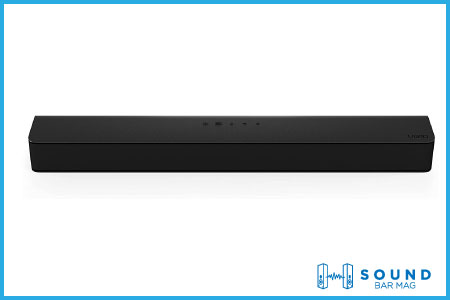 Vizio V-Series is a 2.0 ch setup that is a perfect small soundbar for TV, considering the stylish build design and multiple audio format support.
The sleek yet stylish compact body houses two full-range drivers certified with Dolby Atmos and DTS:X technology to create a wide and expansive soundstage.
The built-in drivers produce a powerful and clear sound that optimizes with Music, Movies, News, Sports, and games to deliver thrilling and exciting sound performance.
Besides, the realistic sound that fills the room with vibrations, rumbles, and powerful audio output will transform your listening experience in no time and keep you hooked on the content.
While we were testing, we turned the volume to an extreme level and felt ourselves literally shaking or having a back massage as the notes were hitting rightly.
In addition, despite not having a subwoofer, its room-filling 360 surround effect is enough to transform your audio and traditional speakers' sound quality.
Furthermore, it's easy to set up, designed specifically as a plug-and-play device that can accompany you to outdoor activities and traveling.
Luckily, the connectivity options are multiple, making it a versatile soundbar. The soundbar throws luxurious vibes while using a Bluetooth connection with a long signal range and Alexa voice control support for navigation.
Pros
• Low-profile design
• Multiple voice control compatibility
• Easy and quick setup
• Striking sound performance

Cons
• Lack of USB port
• No subwoofer included

5. Sonos Arc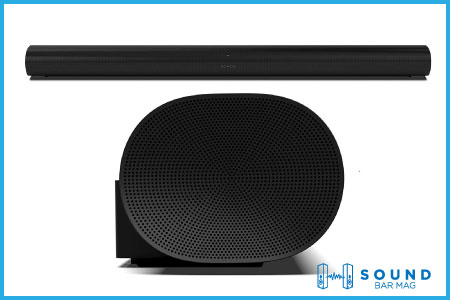 Sonos Arc is the famous, smart, and premium soundbar from the wide collection of the brand. It delivers dynamic sound quality that every audiophile would dream of from their entertainment setup.
Moreover, it is a perfect device with multiple equalizer modes to create a mini home theater setup and get an immersive listening experience without breaking the bank.
Its clear, loud, and realistic audio quality brings life to any kind of entertainment. With Dolby Atmos support, the sound was super loud and produced powerful audio that bounced off the ceiling and reached back to us, making us feel the sound coming from different directions.
Installation and setup of the Sonos Arc are pretty easy with the Sonos App, remote control, and voice control assistance. We used the Sonos App and navigated through the device from the couch comfort.
All the sources helped set the presets, manage the volume, customize connections, and play with the device per the preferences.
Luckily, the low-profile soundbar design with matt finishing blends with every environment and elevates the audio production for a dramatic listening experience.
However, it does not come with a subwoofer but can be purchased separately if you want to hop onto the powerful bass.
The device comes with optical digital output, HDMI ARC, AUX, and WiFi support for rich pairing with smart and traditional devices. Yet, the lack of Bluetooth connectivity is a shame.
Pros
• Sound enhancement features
• Dedicated Sonos app and voice control support
• Excellent height performance with up-firing speakers
• Dolby Atmos support
• Pure, crisp, loud, and clear audio

Cons
• No Bluetooth connectivity

6. TOPVISION 36 Inch Sound Bar
TOPVISION 2.0ch is an incredibly small TV soundbar with an appealing design concealed with grilles at the top. It is ideal for producing dynamic, realistic, and powerful audio that can produce up to 50W of sound for cinematic listening.
The soundbar features three equalizer modes that ensure the content's audio output is accurate and optimized. You will feel the rumble detailing in the movie mode, whereas the dialogues are pure and clean while listening to the news.
Besides, the music mode adds clarity and a mixture of fine-tuning and bass to give an energetic performance. Despite the handy profile, we were shocked to see the heavy and transparent sound coming out of this.
The soundbar may be small, but the heavy output from the compact package will certainly surprise you. Above all, it doesn't consume much time to set up, and with the Bluetooth connection.
After enabling the function, it quickly recognizes the device in range and starts performing. It will also come with HDMI, RCA, AUX, and USB ports to connect TVs, gaming consoles, and other speakers.
Furthermore, the included remote control makes adjusting the volume, switching the equalizer mode, enabling voice enhancement, or pairing devices pretty easy.
It is a thoughtful investment for small to medium-sized rooms because the full-range drivers ensure HiFi audio that fills the room with stereo sound effects and ensure 360 sound performance to keep you entertained
7. Bose Solo 5 Soundbar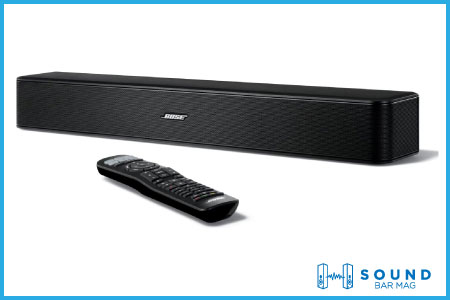 The Bose Solo 5 Soundbar is a 2.0 soundbar, which means it's struggling to accomplish surround sound as no subwoofers are introduced. However, Solo 5 has only two channels responsible for delivering satisfactory audio performance.
It is 55cm long and 7cm tall and is one of the handiest soundbars ever seen. This gives rise to being perfect for those who need a low profile enough to slip under their main TV or mount the device on a small space wall.
The Solo 5 keeps stuff pretty simple from an art aspect, intending to blend with your room environment without making a huge difference.
There are no buttons to confuse things, just an ordinary black grille to the front and plastic to the top and sides, which keeps it lightweight, while the overall feel is well-built.
Two LED status pointers fill with light and change color to let you realize when specific features are enabled; additionally, they'll also flicker in acknowledgment as you change the audio volume.
Voices are launched nicely and with decent clarity, so much so that we didn't feel the requirement to use the included in dialogue mode, and the across-the-board expression has more body and soundness to it, preventing the thin, heavy sound that many slim TVs don't have.
It also gives a few features to stand out, such as its auto-wake feature, which will see the soundbar bounce to life whenever it catches an audio signal. Also, it will power off automatically after 60 minutes of being inactive, which saves you power consumption.
Bose resists keeping things somewhat to the point. There aren't bundles of volume modes, EQ alternatives, or settings to select from – it's constructed to be plug-and-play, and in that respect, it remarkably achieves.
Pros
• Lightweight design
• Easy to use
• Exceptional Voice clarity

Best Small & Compact Soundbar – (2023 Buying Guide)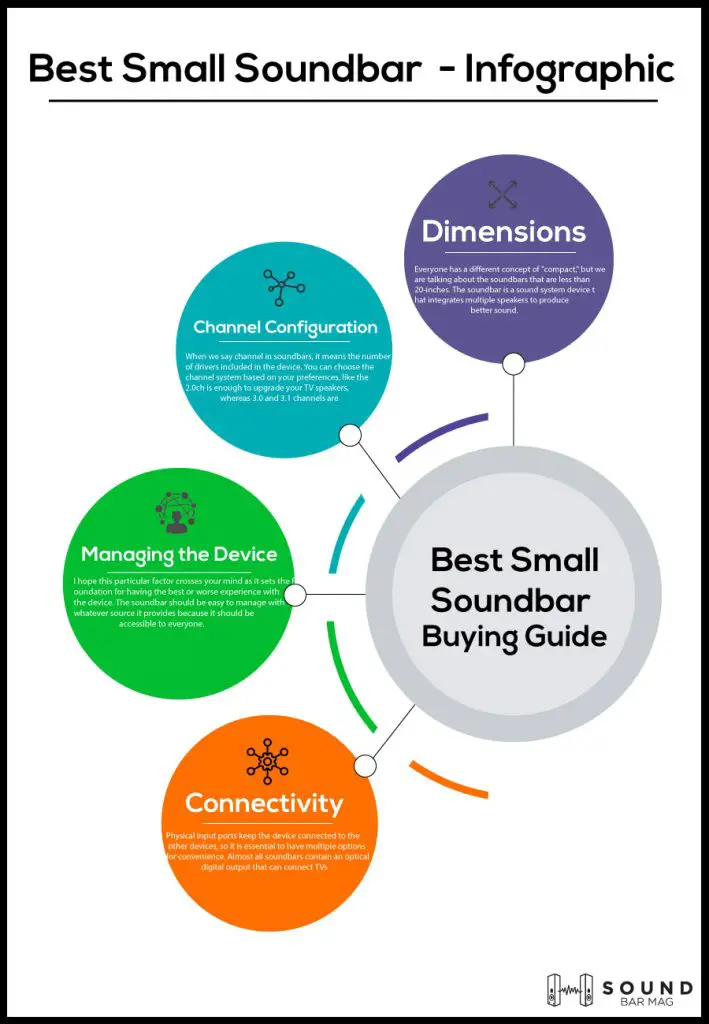 Small Soundbars are a tremendous device that keeps you entertained with powerful yet clear sound no matter wherever you want.
They are equipped with multiple drivers with advanced technology in the compact body, which is relatively easy to travel wherever you go. Also, their easily adjustable build wouldn't give you a hard time deciding where to place and which angle can deliver the crisp audio performance.
However, the small soundbar purchase shouldn't be restricted To its size concerns. Undoubtedly, small soundbars can give you more flexibility than the large and wide ones; still, many other factors play a huge role in decision-making.
Since you already have multiple product options to consider, everyone should know some essential elements beforehand for smooth Soundbar shopping.
Dimensions
Everyone has a different concept of "compact" but we are talking about the soundbars that are less than 20-inches. The soundbar is a sound system device that integrates multiple speakers to produce better sound.
The more speakers it has, the higher the probability of producing better and clear sound. So, they need a space to fit speakers accordingly.
So, if you decide to get the best small TV soundbar, you should be clear about its dimensions and your space concerns; hence make the decision accordingly.
Channel Configuration
When we say channel in soundbars, it means the number of drivers included in the device. You can choose the channel system based on your preferences, like the 2.0ch is enough to upgrade your TV speakers, whereas 3.0 and 3.1 channels are
high-end updates with a few additional drivers to make the sound delivery more detailed.
However, an increase in speakers can expand the soundbar size, so choose accordingly.
Managing the Device
I hope this particular factor crosses your mind as it sets the foundation for having the best or worse experience with the device. The soundbar should be easy to manage with whatever source it provides because it should be accessible to everyone.
Many soundbar brands include a dedicated yet handy remote control with buttons at the front for easy and understandable access. Many brands offer a phone-compatible app that lets you dig deep into the soundbar settings and customize them according to your preferences.
Surprisingly, we have also seen multiple models coming along with voice control assistance that controls the device over your voice command. It is exciting, easy, and super convenient for parties, movie nights, and similar occasions.
Connectivity
Physical input ports keep the device connected to the other devices, so it is essential to have multiple options for convenience. Almost all soundbars contain an optical digital output that can connect TVs, Monitors, Blu-ray players, gaming consoles, and other media devices.
Besides, HDMI and USB ports are also included as the safe alternative and considering the different compatibility of devices.
Besides, the brands should offer WiFi or Bluetooth option that is very useful for online music streaming via various platforms. So, don't forget to check your TV and other device connection compatibility before getting a new soundbar.
Frequently Asked Questions (FAQs)
What is the Best Compact soundbar?
Sonos ARC is the best small soundbar for mixed usage, considering different equalizer modes for sound optimization. It features voice enhancement features for better clarity and Dolby Atmos support for rich sound production without compromising the clarity. Besides, the high-frequency range makes it perfect for parties, movie nights, etc., while the voice control complements the user convenience.
What is the Best Small soundbar for tv?
Bose Solo 5 is the best small soundbar for TV that is easy to move around the space and the stylish design blends in the different environments. It produces a clear, loud, and detailed sound that can transform the TV sound for immersive listening.
Are small soundbars worth it?
Yes, small soundbars do not consume much space yet provide room-filling, powerful audio clarity. They can easily move around the space and can be easily adjusted underneath the TV to transform its audio capabilities. Besides, with the affordable price tag and terrific features, the small soundbars are worth having.
Bottom Line
Small soundbars can be a decent addition to your entertainment setup as they can transform into portable speakers for your outdoor parties and movie nights in the backyard. They are easy to carry and set up under different circumstances, so many prefer small soundbars for travel purposes.
We have tested some incredible products that will give you room to breathe for all your music streaming needs. They are diversified with features, budget, and size dimensions to let you choose from a wide variety.
Mia Evelyn is a soundbar specialist and she love to test and review different soundbar brands. She shares her neutral and in-depth reviews through the Soundbar Mag.