If you are done with struggling with your current sound systems and can't hear anything properly, invest in the best Soundbar for hearing impaired. Their built-in drivers are certified with advanced technology that delivers fantastic sound performance with terrific clarity.
Here are the 7 best Soundbar for hard hearing that can go loud that people with hearing loss can listen to and understand every detail of the music. Also, the article will reveal some basic elements that everyone should consider before getting the Soundbar for the hearing impaired.
So, let me walk you through the thorough analyses of Soundbars with their qualities and competitive advantage.
List of the Best Soundbar for Hard Hearing in 2022
1. TV Ears Soundbar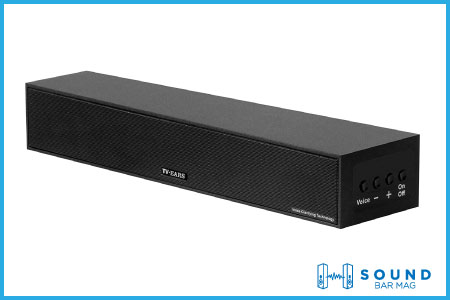 TV Ears Soundbar is a sleek and subtle sound system device that can entertain people with mild to profound hearing loss with thrilling sound performance. A simple, plug-and-play soundbar offers quick pairing with other devices via a single cord compatible with all TVs.
Surprisingly, the Soundbar does not include WiFi or comes with a dedicated app for navigation and control. Still, the power and a few volume management buttons will be enough to make the Soundbar run.
Moreover, the TV Ears Soundbar is perfect for people struggling with hearing or understanding the conversations because the device integrates special technology that enhances the dialogue delivery and delivers 3D surround sound. The Soundbar also features three voice settings that automatically adjust according to your hearing needs.
Moreover, the Soundbar does not come with an external wireless subwoofer, but all the built-in drivers work together to produce a premium, loud, and deep voice that is easy to understand and rich to dance on every beat. Despite the low-profile design, the Soundbar elevates the sound even during the commercials to avoid annoying audio bursts while adjusting the spikes in volume, so people with hearing disabilities wouldn't get frustrated with unnecessary voices.
It is a special TV Soundbar for hard hearing or people who listen in high volume for any reason. To make the Soundbar accessible to everyone, it comes with a dedicated remote control that features all the necessary buttons at the front. Hence, it is an affordable, compact, and user-friendly Soundbar that can go loud or stay warm considering the users.
Pros
• Compatible with All TVs
• It comes with a handy remote control
• Three voice clarifying modes
• Pure and clear sound
• Compact and sleek design
• Excellent Surround sound

2. ZVOX Dialogue Clarifying Sound Bar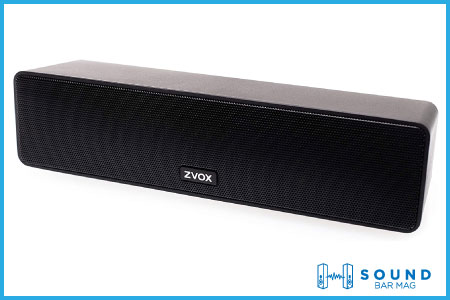 Now you can experience listening to your favorite music or watching movies or shows by connecting your TVs to the ZVOX Soundbar. Consider it a hearing aid device that knows the job of clarifying sound, isolating the spoken word, and making them understandable despite any hearing issues.
ZVOX voice clarifying Soundbar is an ideal choice for everyone who has trouble hearing dialogues and demands a high, room-filling voice for better understanding. It is a compact yet portable Soundbar measuring 10-inches wide and 2.5-inches high that you can place anywhere near your TV.
Yes, connecting the device is also super smooth with one wire. However, the lack of wireless connection options may force you to place the nearby TV device. Still, its integrated Phase Guide virtual surround sound system creates a thorough, detailed, deep, and rich soundstage that throws cinematic vibes in a room. 
In addition, the Soundbar features around six-voice boosting levels that give you the freedom to adjust the sound volume, its performance, and dialogue delivery according to your requirements. It also features AccuVoice hearing aid technology that lifts the voices from the background soundtrack and clarifies every spoken word, so it gets easy to understand and lets you enjoy your favorite digital content without any inconvenience.
Since the Soundbar is pretty compact, the installation and setting up of the device wouldn't consume much time. It also saves you the problem of finding certain input ports to pair different devices due to the one-cable policy. Besides, the Soundbar stresses delivering next-level clarity irrespective of the volume, so no matter how loud you can go with your music, you will still experience stunning detailing and clarity in your content. Therefore, ZVOX Soundbar is worth investing in despite its limited features.
Pros
• Easy and quick to install
• One-cable policy for device pairing
• PhaseGuide virtual surround technology
• Special voice clarifying algorithms
• Output Leveling feature to avoid commercial bursts
• Six AccuVoice modes to purify sound

3. Q Acoustics M4 Soundbar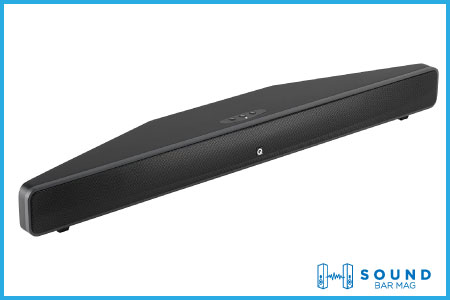 Q Acoustics M4 is a powerful one-unit Soundbar with a built-in subwoofer designed to turn the tables of your music listening. It has a subtle appearance and a compact body but judging the Soundbar and its performance over a glance would be a mistake. It can produce compelling sound with clarity and bass that other high-end Soundbars with heavy price tags offer.
The Soundbar may have down points that force you to move to another, like the basic design, limited connectivity, and no advanced audio format decoding. But, once you try the M4 Soundbar playing, you will never go back. It is a 2.1 channel configuration that offers Bluetooth, optical digital, and analog connectivity. Installing and setting the device using a remote control is a walk in the park.
For the sound quality, the Soundbar contains dual 65mm by 65mm drivers that offer the design of a balanced radiator and produce a shaking, wide, and room-filling sound. It means you can hear the sound from every direction instead of dedicating a sweet spot to enjoy your favorite music.
The built-in subwoofer produces detailed deep bass that can offer an immersive listening experience despite the playing content. The built-in technology in the Q Acoustics M4 handles every music or digital content professionally and provides sound performance accordingly. The dialogue delivery will be accurate and thorough, helping you understand the dialogues without subtitles. Also, the music can get wild without getting cold or harsh, so the sense of warmth in the sound will be there for people with hearing impairment.
Moreover, the treble and bass production is balanced whether you listen to classical or pop. All the sounds will be refined, and the fine dynamic audio output will let you experience the music world from a different perspective.
Pros
• Compact design
• Bluetooth streaming
• Fine, rhythmic, and deep sound quality
• Built-in subwoofer
• Powerful and rich bass
• Realistic and pure dialogue delivery

4. Sonos Playbar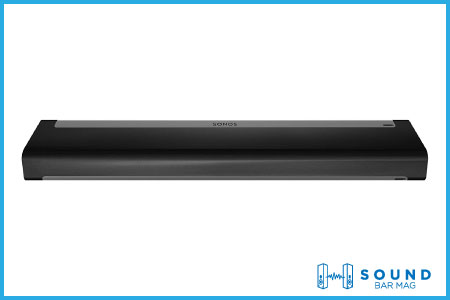 If you are experiencing any age-related hearing loss, watching TV or listening to music can be very frustrating. Luckily, the Sonos Playbar understands the struggle of hearing TV with such difficulty, and hence introduced this compact, powerful Soundbar that caters to all your music streaming needs.
It delivers loud and crisp audio quality with amazing dialogue performance by creating a powerful soundstage with built-in drivers. Sonos always finds a way to stand out among rivals despite basic yet boring design and limited features. Its solid sound performance fills the room with shaky vibrations and rumble that you have never experienced before.
Even though you can't find the built-in speakers of TV for hearing impaired, this Soundbar will optimize the sound beautifully. It creates a wide soundstage, which is impressive, and the detailing of bass, treble, and fine-tuning will definitely make a difference.
Luckily, the Sonos Playbar is not only designed to improve your TV listening, but it can play everything via wireless connectivity. Now, people with hearing damage can enjoy Spotify, Tidal, and Deezer music streaming in striking sound and accurate dialogues.
This Soundbar with minimalistic design but outstanding sound performance comes with only one option to connect the TV, optical digital cable. Fortunately, all the TVs come with this particular input, so there will be no hassle or worry about pairing. In addition, setting the device by an app compatible with Android and iOS is super smooth and convenient.
Pros
• Firing sound performance
• Simple installing and setup via app
• Wide and deep sound stage
• Automatic tuning and sound optimization
• Pure and crisp dialogues

Cons
• Limited connectivity options

5. Sonos Beam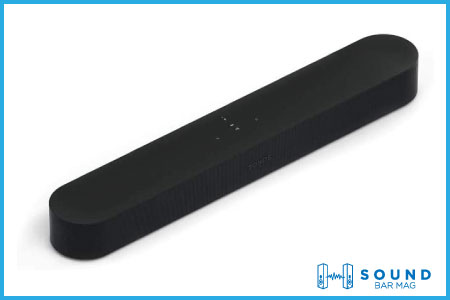 Sonos Beam is an affordable, compact, smart soundbar with surprising specs and features to improve the TV streaming experience. Now, you can not only enjoy a stunning display of your TV but also enjoy soundtracks and dialogues with the Sonos Beam Soundbar.
The Soundbar has a high-profile design with white matte finishing. You wouldn't find anything on the bar except the Sonos logo at the front and some touch-sensitive indicators at the top. Also, it weighs only 2.8kg, so placing it underneath the TV wouldn't create any trouble with TV functions. Besides, you can find all the connectivity inputs at the back, including the pairing button, HDMI, Ethernet, and power button.
The minimalistic design of the bar houses four full-range drivers that are mostly front-facing, one tweeter, and three passive radiators that come with amplifiers to produce loud, thrilling, and striking sound. Also, when connecting with TV, the Soundbar drives the sound according to the content and optimizes every tune beautifully.
The dialogue delivery is also accurate and lets you engage in the content. Its built-in technology clarifies every sound and separates the spoken word for better understanding, making it the best TV Soundbar for hard hearing. Also, you can enjoy the high-definition audio by playing content through online sources like Spotify, Google Play, Amazon, Apple Music, etc.
The Soundbar also features built-in voice assistant support that helps with setting the device, enabling connectivity, manage other audio settings without leaving your comfort zone.
Pros
• Stylish design
• High-definition audio quality
• Bluetooth and HDMI ARC compatible
• Alexa and Siri compatibility
• Multiple online streaming platforms support
• Excellent sound with weighty bass and upscale treble

6. Samsung HW-Q60R Soundbar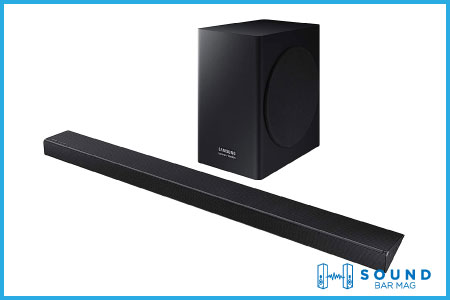 Samsung HW-Q60 is a solid entry-level soundbar with an attractive design and compact body. Though it lacks many necessary features like Dolby Atmos support or WiFi pairing, it is still the best Sound bar for hearing impaired, considering pure and loud sound performance.
The sound features a 5.1 channel system. A metallic grill conceals all the drivers at the top, the front gives a stylish view, and the metal finishes at the sides and edges ensure the product's durability.
It is undoubtedly the best TV Soundbar for hard hearing, considering 42 Hz to 20kHz frequency level. The sound can go loud without compromising the quality while consuming only 360W power. The Soundbar yields a room-filling sound that any person with hearing loss problems can catch up and understand.
Moreover, there is a dedicated center channel included in the bar apart from forwarding-firing speakers. The center channel enhances the voice clarity and detailing by isolating every spoken word from the background music for better clarity.
The wireless subwoofer that should connect automatically with a Soundbar develops a dramatic environment with a deep, thorough, and rich bass. However, you can increase or slow down the tunings, bass, or treble performance using your remote control.
Despite the lack of some essential features, the Samsung Soundbar does come with several sound modes for automatic sound optimization. Every preset has distinct qualities that emerge the volume, clarify the sound, and create a different vibe according to the content.
Setting up the Soundbar is a piece of cake. It is a plug-and-play device with a tiny display screen and some push buttons to manage volume or turn on/off the power. Also, it may feature limited connectivity with HDMI, Optical, and USB port input. Though there's no WiFi connection, Bluetooth is still coming for wireless pairing and unlimited music streaming.
Pros
• Compact and discreet design
• Sound modes
• Easy navigation
• High audio output level
• Pure and clean sound performance
• Wireless subwoofer

Cons
• Lack of WiFi support
• No advanced audio format compatibility

7. Polk Audio Command Sound Bar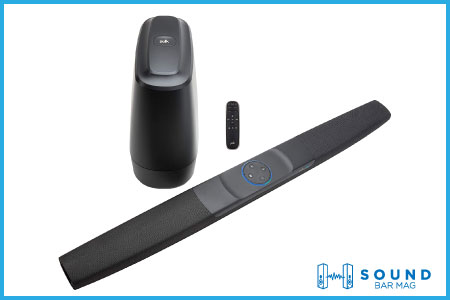 Enjoy the weighty sound and smart features capabilities with Polk Audio and give your TV streaming a new perspective. There will be no constant rewinding to understand the content and attaching external speakers for the high-definition volume because the Polk Audio Soundbar can get wild without compromising the output quality.
It is only a 2.1ch Soundbar with Amazon Alexa compatibility and wireless connectivity to give you the premium comfort of using a smart device. The Soundbar may not give attractive aesthetics, but being only 43-inches wide and weighing around 5 pounds only, it can be a great compact sound system for your TV. Besides, the built-in drivers are concealed with a black metallic grill, but the middle and down panel is built with average quality plastic.
The Soundbar also contains USB, HDMI, optical digital, and Analog input, apart from WiFi and Bluetooth. The HDMI ARC can make a real difference when connecting to the TV and deliver an amazing HDR streaming experience. Also, the USB port may not handle the data but can provide access to the different media streaming sticks like Fire TV, Chromecast, or Roku TV stick.
Polk Audio can be trusted for punchy audio with high-frequency output and powerful bass from the wireless subwoofer. The kicking sound performance instantly grabs your attention, and the balanced treble that utilizes the mid-range drivers to produce a dramatic sound stage is something no high-end Soundbars could offer yet.
The heavy and punchy bass gives life to action movies and games because it fills the room with crisp and loud music. Luckily, the high volume does not invite distortion, so the clarity in dialogues keeps you hooked with streaming. Moreover, compatibility with online music platforms allows you unlimited streaming of your favorite music with high-end rumbling.
Pros
• Multi-room sound stage
• Wireless music streaming
• External subwoofer for heavy bass
• Built-in Alexa
• Compatibility with Roku, Fire TV, Chromecast, etc
• Pocket-friendly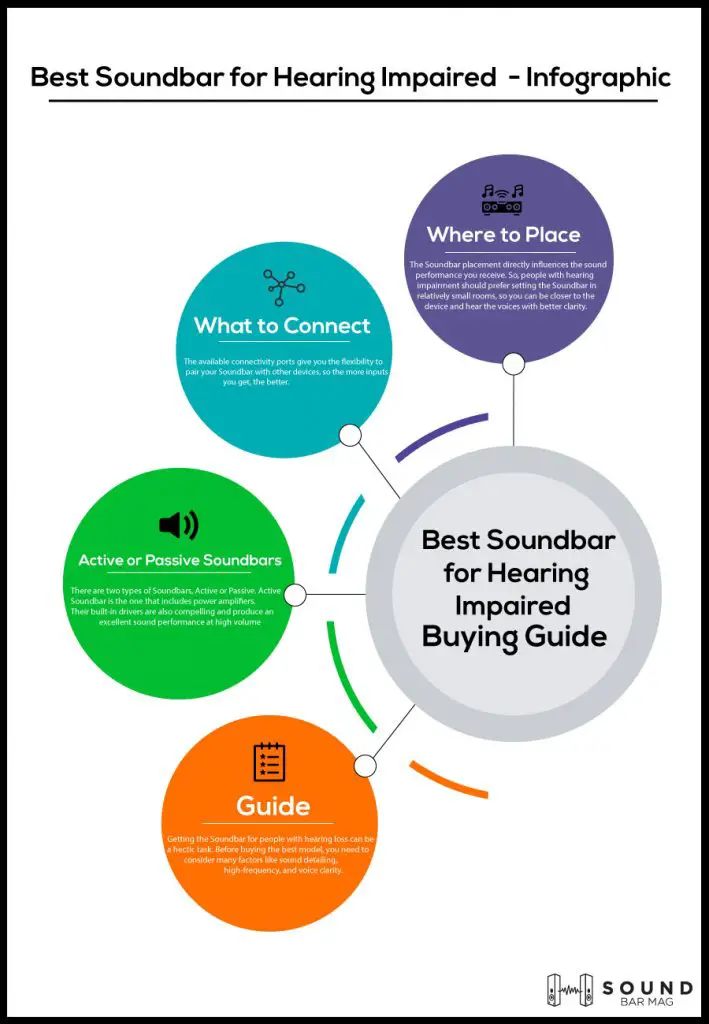 Best Soundbar for the Hearing Impaired – Buying Guide
Getting the Soundbar for people with hearing loss can be a hectic task. Before buying the best model, you need to consider many factors like sound detailing, high-frequency, and voice clarity.
Though this article has introduced you to the best Soundbars for the hearing impaired, here are some common elements that you should take care of to get the most out of your device.
Where to Place?
The Soundbar placement directly influences the sound performance you receive. So, people with hearing impairment should prefer setting the Soundbar in relatively small rooms, so you can be closer to the device and hear the voices with better clarity.
What to Connect?
The available connectivity ports give you the flexibility to pair your Soundbar with other devices, so the more inputs you get, the better.
Besides, if you are only upgrading your TV speakers, Optical digital, HDMI, or Bluetooth connectivity should suffice. WiFi can be a bonus point for online music streaming, but it should depend on your requirements and usage.
Active or Passive Soundbars
There are two types of Soundbars, Active or Passive. Active Soundbar is the one that includes power amplifiers. Their built-in drivers are also compelling and produce an excellent sound performance at high volume without compromising the dialogue clarity. However, Passive Soundbars do not have built-in amplifiers and involve lots of customization. Still, their speakers are relatively better, which eventually produces better sound.
Still, if you are only upgrading your TV speakers and your concern is loud and clear audio output, you can invest in the Active Soundbars.
Frequently Asked Questions (FAQs)
Which Soundbar is best for hard of hearing?
Q Acoustics M4 is a 2.1ch Soundbar with a Bluetooth connection and excellent sound performance, making it an ideal choice for hard hearing. Its built-in technology purifies the sound and can go pretty wild without any distortion.
Do soundbars help the hearing impaired?
Yes, Soundbars contains multiple compelling speakers that work together to produce a rich and heavy sound that wouldn't cause hearing trouble for people with hearing impairment. Soundbars also come with multiple sound adjustment features that give you the freedom to customize the sound according to your comfort.
How can I improve my TV sound for hearing impaired?
You can improve your TV sound by connecting it with the best Soundbar for hearing impaired. All the above bars set the standard of excellent sound performance with next-level dialogue clarity.
Conclusion
We hope you enjoyed reading detailed reviews of the best Soundbar for the hearing impaired. All the products are carefully explored to satisfy the music streaming needs of people with hearing issues.
Now, the days are over of not being able to enjoy your favorite music or games due to the awful sound quality of your TV speakers because these Soundbars will provide detailed sound output with tremendous clarity.