Samsung soundbars are famous for providing great, well-balanced, and realistic sound performance right out of the box.
The built quality of the Samsung soundbar is compelling enough to last a lifetime, and the impressive yet advanced features don't need any appreciation.
Also, the Samsung soundbars can be a thoughtful alternative to an enormous and expensive home theater setup because they produce high-resolution audio at max volume without compromising the quality.
Watch out for yourself for the reviews of top Samsung Soundbars winning the market with their features, price, and availability.
List of the Best Samsung Soundbar in 2023
1. Samsung HW-A450/ZA Soundbar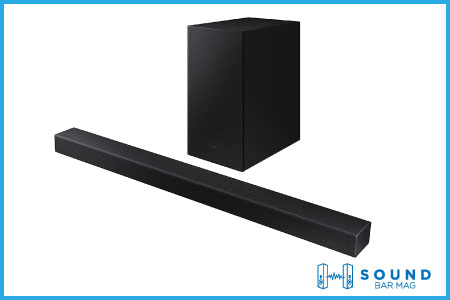 Samsung never disappoints with its extensive product line of TVs and soundbars, but the latest slim-profile TVs are not delivering a top-notch sound performance backed by soundbars.
This particular unit, Samsung HW-A450, is a decent soundbar with a 2.1-channel configuration and Dolby Audio support to turn your boring places into an entertainment hub.
While testing, it produced loud and high-resolution audio with clear vocals and fine-tuning for the immersive surround sound. We tested it with different content, and were impressed by the performance.
The wireless subwoofer integrates a powerful driver for rich and weighty bass delivery, apart from full-range speakers in the bar. Also, we liked a Bluetooth connection for wireless streaming with smart devices, including phones and TVs.
Additionally, the gaming mode optimizes the on-screen actions and produces directional audio to keep you entertained with the content.
Samsung HW-A450 also features an Adaptive Sound Lite feature that enhances the audio tracking of real-time content that equalizes volume control and background music.
The included remote control provides seamless usage with a comfortable grip and all the necessary buttons at the front for blind access. Besides, the soundbar is easily managed via Samsung TV and helps you with flexible usage.
In addition, connecting was smooth with multiple sources, including optical digital, HDMI, and Bluetooth. Hence, an entry-level soundbar can get loud and provide sensational performance without breaking the bank is worth considering.
Pros
• Powerful bass
• Excellent sound optimization technology
• Solid and wireless connection
• Gets loud
• Affordable

2. SAMSUNG HW-S40T Soundbar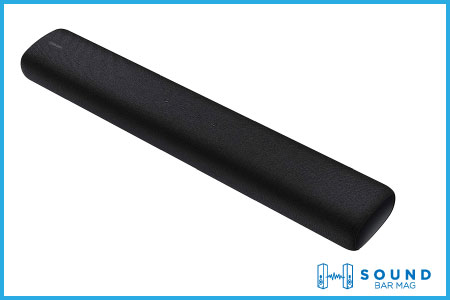 Samsung S40T is the latest soundbar product, considered a reasonable upgrade to TV speakers and an excellent choice for podcast and E-Book listening.
With a decent and low-key profile, the soundbar houses dual full-range speakers on either side, delivering a cinematic experience with Dolby Audio compatibility. We liked the overall appearance and handy profile of the bar for flexibility.
The audio quality was impeccable in max volume, especially with the music. The 2.0ch soundbar produces natural and realistic sound with 100W power and a dual woofer and tweeter that enriches the sound production and makes it multidimensional to fill the room.
Also, we tested the presets that allow for quick customization of the sound by enabling game and sound modes to enjoy perfect syncing with the content.
Thanks to the built-in technology, the soundbar automatically detects what you are playing and optimizes the sound for a better acoustic experience.
The setup and control were seamless via a remote control that helps you with enabling modes, switching connections, and other basic adjustments.
Dialogue delivery is also decent, even with the basic channel configuration. Since there is no dedicated center channel, left and side channels simulate the center configuration and produce dialogues.
Nevertheless, you can count on this best Samsung soundbar for all dialogue-sensitive content streaming, especially TV shows.
Pros
• Multidimensional sound
• Bluetooth connection
• Multiple sound modes
• Built-in woofer for decent bass
• DTS support

3. SAMSUNG HW-A550 Soundbar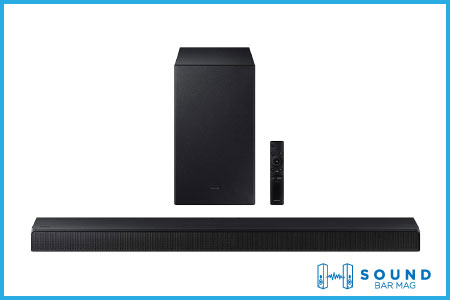 Samsung HW-A550 is another premium soundbar with a 2.1 channel configuration, wireless subwoofer, and DTS compatibility. We have tested the bar for its capability to get loud and become an elegant upgrade to the TV speakers.
It is a perfect soundbar to invest in for a virtual 3D surround sound experience, irrespective of the content playing. It caught our attention with its rich sound output, decent vocals, and fine-tuning for playback music.
We also liked how it is beautifully crafted in a matte black body with a thin grill covering the drivers from the front. It houses five speakers, including full-range drivers, woofer, and tweeter, producing rich and detailed sound with thrilling audio production.
Moreover, the clarity is outstanding in watching movies, shows, and documentaries without struggling to understand the word. Though it doesn't have a center channel or voice enhancement modes, it still does better with dialogues.
Moreover, a wireless subwoofer comes with a heavy bass to add more thrill to the sound. Multiple AV Decoding format makes a difference while streaming music, and the sound customization mode optimizes the sound according to the content.
DTS: X support enriches sound production and ensures top-notch clarity to understand whispers. The spoken word isolation from the background improves the performance, and the voice enhancement feature also keeps the soundbar high-profile for mixed usage.
Pros
• Dolby Digital 5.1
• Adaptive Sound Lite for exceptional optimization
• Multiple connectivity options
• Connects and control via Samsung smart TV

4. Samsung HW-Q600A Soundbar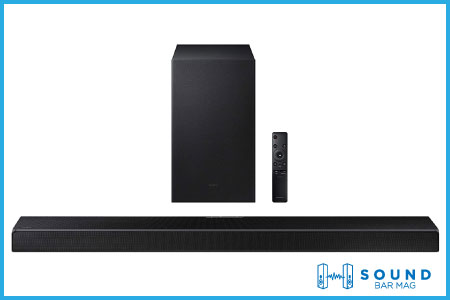 After some entry-level profiles, we tested Samsung HW-Q600A, the upgraded version with multiple built-in speakers. From unboxing to getting it ready for testing, it couldn't be more fun and smooth experience.
It is an uplifting soundbar with a 3.1.2 channel setup and a dedicated subwoofer for natural, realistic, and rich audio quality. We loved its stunning design profile, but the well-balanced tuning and note production is unbelievable from an affordable Samsung soundbar.
The soundbar features different EQ presets to treat the listeners with quality sound that matches the content. The dedicated center channel improves the dialogue delivery by making everything crystal clear and accurate.
Moreover, the Atmos and surround sound compatibility makes the audio rich and detailed to hear from all directions, creating cinematic vibes in the room.
Like we did, you can enjoy perfect content syncing with Q-Symphony by connecting to compatible Samsung TVs.
Besides, the wireless subwoofer may not be intriguing, but it can entertain everyone in the room, irrespective of its placement. It smartly caught the low-end frequencies and delivered them with more power and energy.
Other highlighting factors of the best Samsung soundbar are excellent stereo dynamic soundstage and performance with max volume at 1.79 dB and an accurate sound delivery focus.
The up-firing speakers may give you the decent impression of bouncing sound off the ceiling, but they really struggle with clarity and getting loud at this channel.
However, the height-level adjustment may help you set the stage according to your preference and adjust it for frequent streaming. At last, connecting via optical digital, HDMI, USB, HDMI ARC, and Bluetooth can give you enough room to enjoy the loud, crisp, and clear sound projection of different contents.
Pros
• Q-Symphony and Acoustic beam technology
• Night mode and Multiroom sound performance
• Terrific dialogue clarity and performance
• Multiple EQ presets
• Atmos and DTS

Cons
• Lack of WiFi
• Lacks low bass

5. SAMSUNG HW-R450 Soundbar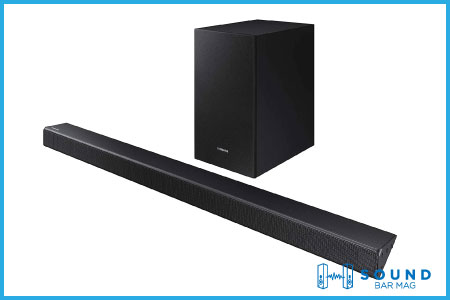 Samsung HW-R450 has attractive aesthetics with a grilled texture at the front, and textured plastic covers the rest of the bar. While testing, we scanned the whole bar and were impressed by the solid construction with good-quality plastic.
Thanks to the smooth rubber feet at the bottom surface, there will be no scratching or rough sleeping on the furniture, so you can count on the soundbar for durability in great condition.
You can find all the connectivity input ports at the back, including optical digital, 3.5mm AUX, and a micro-USB for the flash drive support. It also allows streaming music wirelessly by connecting to smartphones via Bluetooth to be very helpful with podcasts, music, and E-Book listening.
Bluetooth also helps connect via subwoofer wirelessly, so it doesn't have to be placed near the bar. We loved Bluetooth's quick ability to recognize devices and maintain strong connections throughout.
Audiophiles can count on the wireless subwoofer for distant thunder and subtle rumble with thrilling and earth-shattering sound because it can get wild with the volume at a max frequency response of 43Hz to 20 kHz.
Besides, automatic content optimization technology can go a long way and make the device ideal for different purposes. The smart sound technology elevates the sound by matching it with the content; especially the game mode adds life to the fast-action scenes and victories with striking sound.
However, we miss the other key features like DTS, Atmos, and Adaptive sound mode, but the affordable price tag and stunning audio performance justify the absence.
Pros
• Fine-tuning with Samsung TV
• High-frequency response
• Bluetooth and HDMI ARC
• Different sound modes for customization
• Wireless subwoofer with exceptional bass performance

Cons
• Lack of advanced features
• No next-level audio format decoding

6. SAMSUNG HW-Q900A Soundbar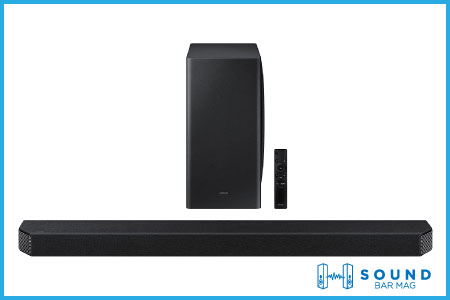 Another high-end soundbar we tested was Samsung HW-Q900A, a premium soundbar for TV with many impressive qualities to appreciate, let alone the cinematic sound performance.
While testing, we smell how beautifully it creates a wide soundstage with its 7.1.2 channel system, many connectivity options, and room calibration feature when connecting to Samsung QLEDs.
The stylish soundbar packs 16 drivers, including a center channel, side-firing, up-firing, woofer, and tweeters. The device is compatible with Dolby Atmos and DTS: X technology to expand the sound performance.
Besides, there are multiple sound modes to customize the sound production, but the HDR10+ and 4K video pass through are some highlighting factors. We tested the sound modes and were shocked at how the performance was optimized with diverse content.
In addition, the connectivity protocols are excellent with HDMI ARC, two HDMI inputs, one HDMI output, USB, optical digital, Wi-Fi, and Bluetooth. You will also get multiple audio protocols to expand your music-listening experience.
The wireless subwoofer houses a compelling amplifier with an output power of 16W. It produces high-quality bass with a low profile and high notes to match the content type.
Controlling and device management was also smooth with built-in Alexa, but the remote control can help you with the basic functionality.
Pros
• Rich AV decoding
• Dolby Atmos and DTS
• Smart features
• Room calibration
• Voice assistant

Cons
• A little expensive but worth it

7. SAMSUNG HW-Q70T Soundbar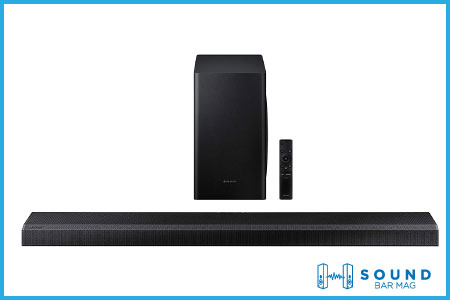 At last, we invited this compelling soundbar that takes time to break in but produces a high-resolution sound that no TV speaker can offer. Samsung HW-Q70T has a pleasing appearance and beautiful sound production capability with its 3.1.2 channel system.
The bar knows its job pretty well and reproduces sound that best matches the playing content on different devices. The bar houses multiple speakers, including dual up-firing Atmos-compatible drivers, which throw an impression of height channels and simulate the sound from different directions.
The well-balanced sound profile makes it suitable for different content, and sound customization modes can make further adjustments. You will get 7-band graphics EQ presets that optimize the sound with the content for immersive listening.
Also, the virtual surround sound and dialogue enhancement feature can make a difference while streaming vocal-sensitive content, like news, sports, and E-Books.
The soundbar is definitely a premium add-on with a 3.1.2 channel configuration. It shows compatibility with different audio formats, including DTS, eARC, Dolby Digital, Digital Plus, Atmos, Dolby TrueHD, and 5.1 CPM. All the formats can produce soft, natural, and balanced sound projection with different devices pass through.
Moreover, it has an exceptional center channel performance that crystalizes everything in movies, podcasts, and other heavy background music content.
Besides, there are no noticeable distortions or compressions at the max volume, so we can assume that the sound is pure and clean no matter how wild it gets with the bass. Hence, Samsung HW-Q70T is ready to take the challenge of delivering loud, realistic, and thrilling sound with all types of content.
Pros
• Stylish and modern appearance with metal grill
• Decent soundstage
• 7-band EQ presets
• Clear and pure dialogue delivery
• WiFi and Bluetooth streaming

Cons
• Awful surround performance
• Lack of night mode

Best Samsung Soundbar – 2023 Buying Guide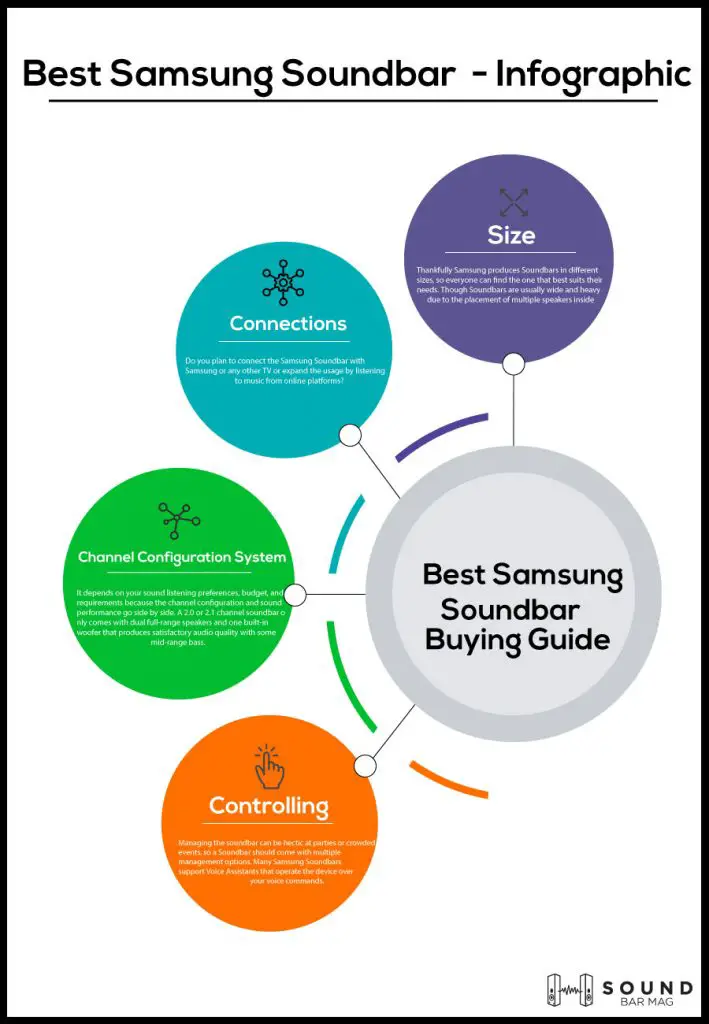 Getting a Samsung Soundbar can be challenging and time-consuming because the market is filled with many choices from different famous brands.
Experiencing a great sound with next-level clarity and no distortion may give goosebumps, but having the right product that fulfills all these requirements is like a dream come true. So, let's discover some factors that make a good soundbar and help you experience a smooth yet intuitive listening experience.
Before investing in a reliable yet best Samsung Soundbar, you may consider some elements.
What Size to Get?
Thankfully Samsung produces Soundbars in different sizes, so everyone can find the one that best suits their needs. Though Soundbars are usually wide and heavy due to the placement of multiple speakers inside, you can find compact soundbars with less channel integration to satisfy your music listening craving.
Yes, design is another important factor that many people usually avoid, but it plays a vital role in the overall home décor. A Soundbar is a device you place near your TV or mount on the wall, so it must be modern or decent to blend with different environments. Also, you can find many sizes and design variations in our list of the best Samsung Soundbar.
According to the size and design, you can decide where to put your soundbar, so it fills the entire room, whether empty or crowded, with a true surround sound.
What Connections should be Must-Have?
Do you plan to connect the Samsung Soundbar with Samsung or any other TV or expand the usage by listening to music from online platforms?
Yes, asking such questions before getting a Samsung Soundbar can significantly impact your purchase decision. For example, if you are only upgrading your TV speakers by getting a Samsung Soundbar, you may need an optical digital or HDMI cable input to pair both devices. HDMI ARC is a great addition as it is a two-way communication cable that perfectly syncs the TV content and delivers with integrity.
However, you may need RCA or AUX cable for smooth pairing to connect a Blu-ray media player, gaming consoles, and other similar devices. Above all, Bluetooth, WiFi, Chromecast, and Apple AirPlay open doors to unlimited entertainment. It allows accessing online platforms like Amazon Music, Spotify, Apple Music, and others for hands-free music streaming.
Fortunately, the best Samsung Soundbars offer solid and stable connectivity options to make the device flexible for different purposes.
Channel Configuration System
It depends on your sound listening preferences, budget, and requirements because the channel configuration and sound performance go side by side. A 2.0 or 2.1 channel soundbar only comes with dual full-range speakers and one built-in woofer that produces satisfactory audio quality with some mid-range bass.
However, a 3.1 channel soundbar includes side-firing speakers that expand the soundstage, and a dedicated center channel that enhances the dialogue performance can offer a somewhat luxurious listening experience. Similarly, the higher you go with the channel configuration, the better and more immersive listening experience awaits you.
Controlling Should be Easy
Managing the soundbar can be hectic at parties or crowded events, so a Soundbar should come with multiple management options. Many Samsung Soundbars support Voice Assistants that operate the device over your voice commands. It helps with preset mode switching, enabling connection, managing volume, and adjusting treble and bass levels.
Also, the Soundbars that do not offer this feature must come with a handy remote control with maximum range so anyone can manage the device even from a significant distance. In addition, Samsung Soundbars contains multiple buttons at the top panel that helps you adjust basic settings if you misplace or lose the remote.
Conclusion
Getting the best Samsung Soundbar is no more a challenging and time-consuming task because this detailed review will introduce you to the best products available.
By categorizing them into different budget ranges and features, you can choose what best suits your needs and preferences.
Read also: Samsung Soundbar Equalizer Settings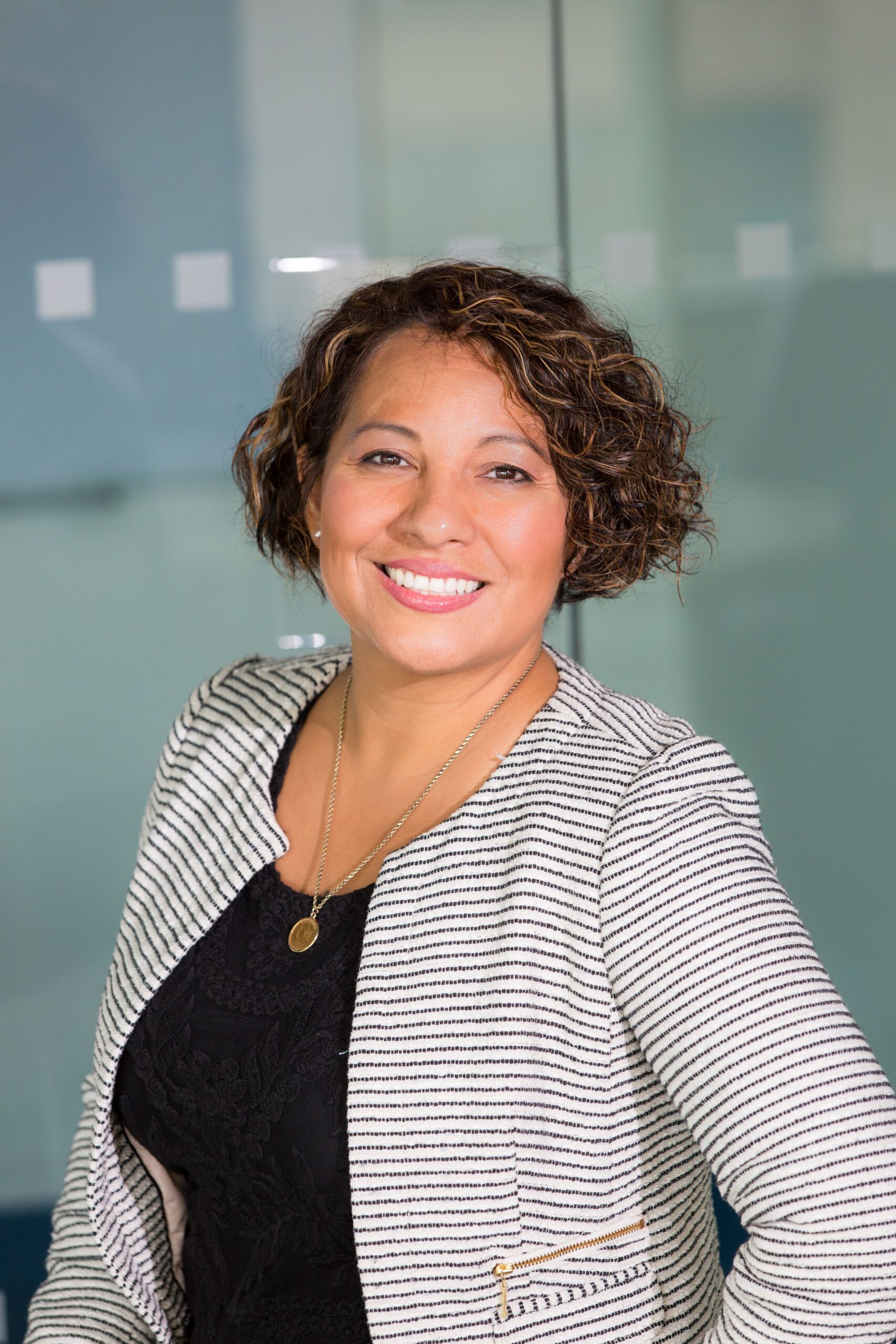 Mia Evelyn is a soundbar specialist and she love to test and review different soundbar brands. She shares her neutral and in-depth reviews through the Soundbar Mag.