Considering the upgoing interest in music listening and gaming, music enthusiasts can't feel themselves enjoying their favorite beats coming out of awful TV speakers.
Spotify, Amazon Music, and other latest music streaming channels have high sound effect standards that the old school speakers in TVs and other speakers won't match, ultimately ruining the whole vibe.
Thus, investing in Samsung soundbars makes sense. Not the high-end ones for your daily routine, but the one with only two high-range drivers that can deliver a powerful sound with balanced bass and tunings.
So, here comes the Samsung HW-R450 2.1ch soundbar designed to upgrade your TV speakers and upscale your music-listening habits no matter what channel you choose to hit your playlists.
Let's check out the features, potential, and highlighting characteristics and see if it fits everyday media use.
Soundbar HW-R450 Soundbar with Wireless Subwoofer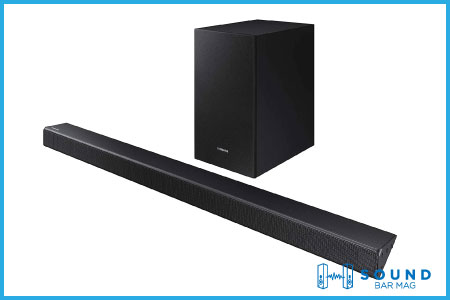 Unboxing the Samsung HW-R450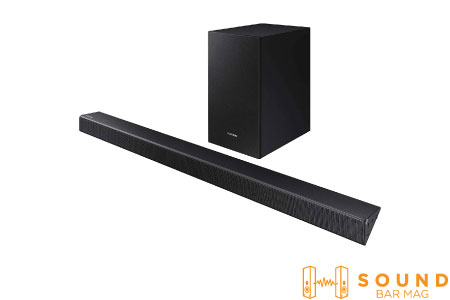 That's the thing about Samsung products. They don't compromise on quality-whether the product or the thing the product comes in.
Whether TV, Subwoofers, soundbar, or any other, Samsung products always come in great packaging protocol. All the foaming and plastic cover smartly protect the products and make them safely reach the end user despite long shipping hours.
The soundbar comes with a mounting kit, remote control with batteries, an optical cable, and a power adapter for a bar. All these things help you set up the device and save time running to the hardware shop for accessories.
Size and Design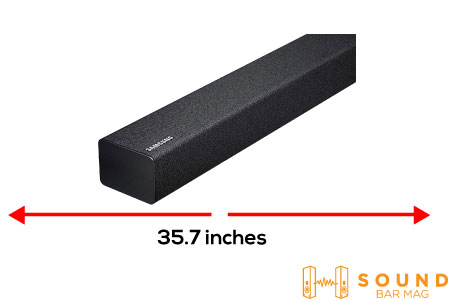 The Samsung HW-R450 Soundbar with Wireless Subwoofer is the perfect audio solution for digital media streaming. This sleek and stylish soundbar is designed to deliver an immersive audio-listening experience that ultimately complements your TV viewing experience.
The Samsung R450 features a compact design that fits seamlessly into any home theater setup or even in space-conscious situations with your TV.
With a width of just 35.7 inches, it is perfect for smaller spaces or those who prefer a minimalist design. The wireless subwoofer is also easy to set up and can be placed anywhere in the room, providing a flexible and clutter-free solution for bass sound.
Channel System
Despite the small size, the soundbar delivers big sound thanks to its powerful 2.1-channel configuration system. It indicates the soundbar is equipped with two speakers that provide crystal-clear dialogue and detailed sound with one built-in woofer that adds a touch of low-frequency sound for the bass.
On the other hand, the wireless subwoofer adds depth and richness to the sound with heavy bass reproduction, turning the tables for music listening.
This limited channel system with no support of advanced audio formats like Atmos may sound questionable, but the dual full-range speakers placed at the front deliver far better sound quality than TVs.
Connectivity Options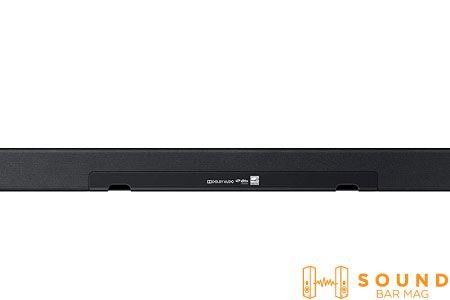 When we talk about the connectivity options, the entry-level soundbar doesn't come with the hub of input ports but the necessary one that won't limit your use.
Similarly, with the Samsung HW-R450, we get the Bluetooth connection that makes it ideal to use with smart devices without any cables. You can enjoy endless entertainment from your favorite playlists with a single tap.
However, it comes with an optical port input to make it versatile for non-smart devices, even if Bluetooth is not working properly on either device.
Moreover, you don't need any cables to connect the soundbar to the subwoofer; whenever the device catches audio signals, the subwoofer will automatically connect and start performing, giving you the freedom to place it anywhere with no strings attached.
Control and Navigation
Like other budget-friendly soundbars, it comes with a basic navigation option: a remote control. It offers a quick and convenient way to control your audio experience without compromising comfort.
With just a few clicks on the handy remote, you can easily access different settings, adjust the volume, and even customize the bass quality to your liking.
The Samsung HW-R450 soundbar with remote navigation is perfect for those who prefer a hassle-free audio experience without getting up from their seat. So sit back, relax, and enjoy your audio the way you want with just the button.
Sound Performance
The sound output quality of the Samsung HW-R450 is surprisingly great. The front-facing high-range speakers with separate tweeters deliver terrific audio quality with no noticeable harmonic distortions at any volume level.
The dialogue clarity can be compromised since it doesn't feature a dedicated center channel, but it won't compromise your overall audio-listening experience and enable the phantom channel to polish the vocals.
Moreover, Dolby digital further maximizes the clarity and makes the sound more immersive and balanced. It also features a Game mode that optimizes the sound and makes it more detailed to let you enjoy explosive shots, noises and enemies running behind you.
 Not to mention the wireless subwoofer, which is a valuable addition, and makes it worth investing in the soundbar. It delivers powerful, rich, bold bass notes that give you cinematic vibes at home.
Pros
· Quick and easy setup
· Bluetooth connection
· Rich bass quality
· Game mode
· Fully optimized for Samsung TVs

Cons
· Limited inputs
· No advanced sound effects

Bottom Line
At last, the Samsung HW-R450 is made for those who don't want to spend much on high-end sound systems but can't compromise on their daily TV-watching or music-listening experience.
It performs well with a diversity of entertainment devices and makes the digital streaming experience worth enjoying with its 200W power output and Bluetooth connection.
However, check out the other latest models if you need advanced sound effects.
Mia Evelyn is a soundbar specialist and she love to test and review different soundbar brands. She shares her neutral and in-depth reviews through the Soundbar Mag.