Our best pick of the LG soundbars is chosen carefully, examining the expansive product line, from entry-level to premium Dolby Atmos soundbars.
LG soundbars integrate AI Sound Pro technology that detects the content type and customizes the sound production accordingly for perfect optimization.
Moreover, the connectivity options are wide enough to pair TV, smartphones, gaming consoles, and other smart devices at home. And operating the soundbar is a piece of cake, making the overall usage a worth-having experience.
Let's explore the 7 best soundbars from LG that deliver the best multichannel surround sound experience at the best prices. Also, don't forget to catch a mini buying for a brief discussion about the soundbar and its specs.
List of the Best LG Soundbar in 2023
1. LG SN6Y Soundbar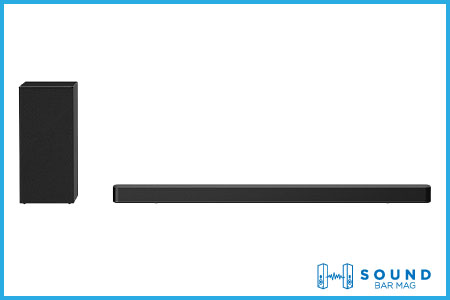 LG SN6Y is a universal soundbar for mixed usage with a 3.1 channel configuration and wireless subwoofer. The mid-range soundbar gets loud without giving the feel of compressions.
Also, we liked the center channel performance that produces clear spoken words, making every dialogue delivery clear enough to understand.
The soundbar has a sophisticated profile with a metallic grill at the front, covering all the drivers in style. Besides, the subwoofer is traditionally in a wooden box, comprising a compelling driver for rich bass performance.
The soundbar is 41.7 inches wide, so think again if you ever plan to adjust it between the legs of a 50-55-inch TV. We would recommend mounting it on the wall to widen the soundstage and save space.
Irrespective of the basic features of no Atmos support, it is still the best LG soundbar to date for its high-resolution and clear voice. It features a voice enhancement function that isolates the spoken word until you hear it clearly.
It also delivers a decent stereo frequency response with a high extension of 19.6 KHz. Hence, the sound output was loud to bring the next level of excitement into the room.
The connectivity is limited to Bluetooth, HDMI ARC, USB, and HDMI-In ports. Multiple EQ presets for sound customization are key points attracting audiophiles who want a reasonable upgrade to their TV speakers for an immersive watching experience.
Pros
• EQ presets
• Clear dialogue delivery
• Gets loud without distortion
• Blue tooth music streaming
• Treble and bass adjustments

2. LG SN5Y Soundbar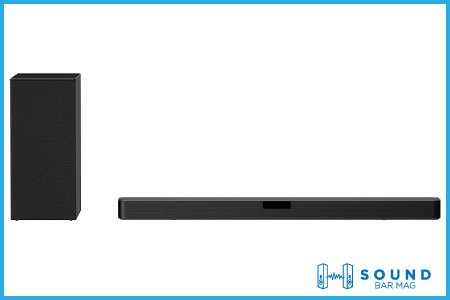 LG SN5Y is an entry-level 2.1-channel soundbar that produces loud and detailed sound with a maximum power output of 400W.
It houses full-range drivers that keep you entertained with high notes and clear vocal responses for a top-notch media consuming experience. Besides, the wireless subwoofer delivers big and heavy bass to keep you engaged throughout pop and classical music.
We can surely count on the soundbar for smooth pairing with TV and smartphones via Bluetooth, HDMI, optical digital, and USB 2.0 input ports. We liked the Bluetooth feature for its strong signal and quick pairing ability.
It is one of the affordable smart soundbars of LG that offers voice-control support with a handy remote control to make it functional. The remote makes navigation easy, and the voice control eliminates the need for a remote.
The lack of Atmos was a shame, but Dolby Digital and DTS decoding enriches the sound delivery and make it high definition for the different type of content.
It also comes with multiple EQ presets for sound customization that mixes with earth-shattering audio delivery to make the soundbar the best among rivals.
Besides presets, LG AI Pro technology automatically adapts the content and optimizes the sound accordingly for a better experience. Hence, it is a great soundbar whether you want to catch up on Netflix shows or listen to podcasts or E-Books.
Pros
• LG Sound AI Pro
• EQ Presets
• DTS and Dolby Digital decoding
• Rich bass with wireless subwoofer
• Voice control and app support for controlling
• Powerful speakers produce 400W audio

3. LG SJ2 Soundbar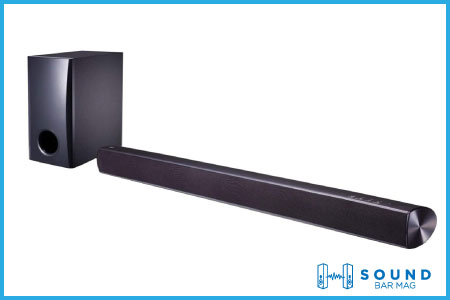 LG SJ2 is an entry-level basic soundbar to upgrade your TV speakers and enjoy quality sound to stream various content. With a channel configuration of 2.1 and a wireless subwoofer, the soundbar can go beyond its capabilities to produce rich, high-resolution audio.
It may not offer any advanced audio-sensitive functions, but the clear vocal projection and Dolby Digital technology to expand the sound are enough at this price.
Besides, we liked its aesthetic yet sophisticated appearance with a plastic body in black. Also, anyone rarely notices the subwoofer until it punches booming bass to enhance the music streaming experience.
It comes with basic sound customization functions and Bluetooth connectivity to experience quality time with rich music. The presets were easy to switch, and the rapid Bluetooth connectivity wouldn't make you wait longer.
Also, the bar produces every spoken word clearly, even without a dedicated center channel. And the treble and bass adjustment options are also noticeable.
Moreover, controlling the soundbar with remote control has never been easy. The remote has all the buttons at the front and an easy grip for comfortable usage.
Hence, the LG SJ2 is a great soundbar for mixed usage, except for the lack of advanced features and audio decoding that could expand the soundstage for a cinematic experience.
Pros
• Loud and clear sound
• Bluetooth connectivity
• Built-in subwoofer
• Booming and detailed bass
• Included remote control

Cons
• No audio decoding formats

4. LG SP8YA Soundbar
The LG SP8YA is a mid-range soundbar with a 3.1.2 channel system, external subwoofer, and wireless connectivity.
It is the updated version of the last premium soundbar of LG with more EQ presets and impressive functions to improve your listening experience. The integrated technology in the bar sync with the LG TV speakers perfectly to match the content with sound and deliver perfect audio.
That's not it; its AI room calibration function adjusts the sound production according to the room characteristic to engage the listener more in the content.
Besides, we loved how the wireless subwoofer adds an extra bump with an earth-shattering and thundering sound that keeps everyone in the room awake.
It also supports Dolby Atmos to make the sound multidimensional for crowded get-togethers and gaming sessions. We could feel the sound coming from different directions, filling the room instantly.
Moreover, the dedicated center channel improves the dialogue performance by making everything sound clear and on-point.
It also has a decent stereo soundstage performance and a great stereo dynamic performance that makes the sound loud without any compressions. We didn't encounter any harmonic distortions or muddy noise at different volume levels.
In addition, setting up the best LG soundbar is seamless, with lots of connectivity inputs and Bluetooth. It is a smart soundbar without voice control support, but the rest of the functions and adjustment options are mind-blowing for the mid-range soundbar.
Pros
• Dolby Atmos and DTS
• Great stereo dynamic response
• Wired and wireless connectivity
• Clear and rich dialogue delivery
• Thundering bass

Cons
• Sound output is relatively narrow e

5. LG SPD75A Soundbar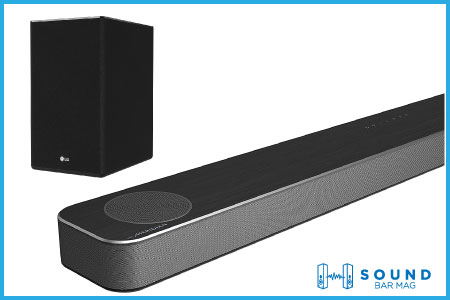 LG never disappoints listeners, irrespective of their chosen soundbar model from the vast category. You can count on the LG soundbar for high-definition audio with clarity and booming pitch tones irrespective of the content you play. It makes every content worth watching by optimizing the sound with built-in AI pro-technology.
LG SPD75A is another flower to the huge soundbar garden of the brand with a 3.1.2 channel system that comprises full-range drivers with height channels, a dedicated center channel, a tweeter, and a woofer.
The maximum power output of this channel configuration is around 400W, which should be enough to entertain a room full of people. After breaking in, the soundbar performed at its full potential without any distortions.
Luckily, we were shocked as the height speakers are Dolby Atmos and DTS:X certified, adding a little more crispness to the sound delivery.
Atmos promises to give a punch to sound and make it bounce off the ceiling so the audio reaches every corner of the room and creates a stunning virtual surround sound stage. Moreover, the sleek design of the soundbar is designed to blend with every room environment while complementing the décor.
We also enjoyed different sound modes that automatically adjust the audio production and quality according to the content. It saves the hassle of adjusting every audio component separately.
You can pair the soundbar with external devices via HDMI, USB, optical digital, and Bluetooth. Also, managing the device is not challenging with a Magic Remote.
Hence, we can assume that this best LG soundbar can be your go-to device for music, podcast, or E-Book listening, but the must-have for TV watching.
Pros
• Clear and consistent sound with LG AI Processor
• Stylish design
• Powerful and moving audio with DTS and Atmos
• 4K and HDR passthrough
• Wireless music streaming capability

Cons
• No Wi-Fi support
• A bit tall to place under the TV

6. LG SP7Y Soundbar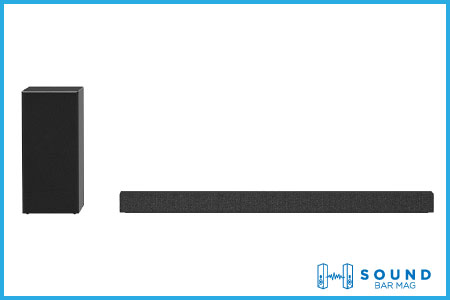 Last but not least, LG SP7Y is a premium add-on in our best LG soundbar list for its high channel configuration, smart features, and exceptionally pleasing appearance.
We liked its overall appearance right after unboxing the unit. It comes with a plain texture in a black finish that gives stunning vibes while mounting on the wall.
Also, the subwoofer stands confidently and delivers thunder yet weighty bass, irrespective of setting it at any sweet spot. The subwoofer seemed of great construction quality and was solid to bear the tight bass punches.
It is definitely a feature-rich soundbar with Bluetooth 4.0 and USB playback support. It delivers high-resolution audio of up to 24 bit/96kHz frequency response which goes multidimensional and delivers virtual surround sound with DTS: X.
In addition, we were impressed by the different sound modes, including cinema, music, game, sports, and bass blast, which customize the sound quality and can be easily manageable via a smartphone-compatible app and remote control.
It is a 5.1.2 channel system with a power output of 400W and a dedicated center channel for dialogue enhancement. Nighttime Mode and Auto Volume leveler are the Godsend functions that soften the sound, especially the commercials and annoying background sound, making it bearable to hear.
Pros
• Wireless active subwoofer
• Wired and wireless stable connections
• Wide soundstage with thundering sound performance
• Multiple sound modes
• DTS, Digital and AI Sound Pro

Cons
• Lack of Dolby Atmos support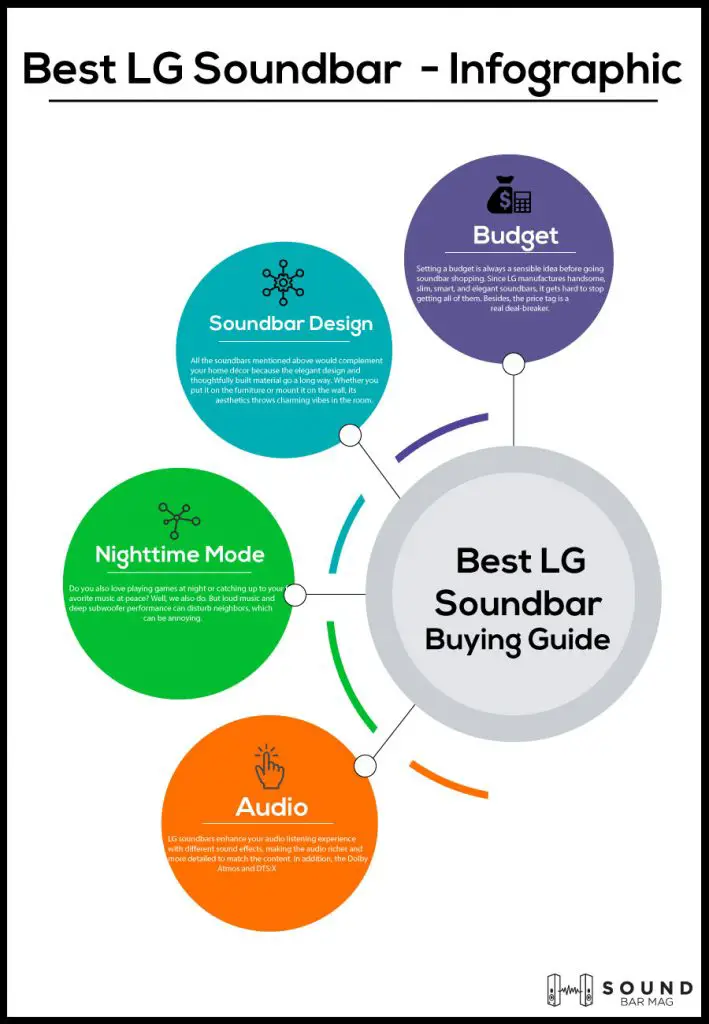 Best LG Soundbar Buying Guide 2023
Undoubtedly, LG soundbars are great, but your experience depends on the model you choose and the specs you prefer to have. One can only have a great experience with a product once it matches their needs and requirements, so the first rule of buying any soundbar is knowing why you want it. Later, you can bother about the factors, specs, design, budget, and other relative elements.
Let's see what one should think before stepping into the market for LG soundbar shopping.
Budget
Setting a budget is always a sensible idea before going soundbar shopping. Since LG manufactures handsome, slim, smart, and elegant soundbars, it gets hard to stop getting all of them. Besides, the price tag is a real deal-breaker. You can find premium soundbars within an excellent budget range but having a certain idea in mind can give you a direction.
You won't find yourself spending blindly on the specs that you'd rarely use. So, start with setting a budget.
Soundbar Design
All the soundbars mentioned above would complement your home décor because the elegant design and thoughtfully built material go a long way. Whether you put it on the furniture or mount it on the wall, its aesthetics throws charming vibes in the room.
However, it is better to take a rough estimate of your TV's leg distance and height, so if you place it under the TV, it won't disturb its functionality.
Nighttime Mode
Do you also love playing games at night or catching up to your favorite music at peace? Well, we also do. But loud music and deep subwoofer performance can disturb neighbors, which can be annoying.
Thanks to the LG TV's night mode feature, you can never compromise on your sound listening sessions with loud music and weighty bass. The mode softens the sound profile, elevates the volume according to the environment, and customizes tunes not to feel like you are listening with limitations.
Also, the mode is manageable via a button on the remote control for quick and easy access.
Audio Formats/Sound Effects
LG soundbars enhance your audio listening experience with different sound effects, making the audio richer and more detailed to match the content. In addition, the Dolby Atmos and DTS:X are premium add-ons that maximize the power output, ensure the 3D sound effect, make it more virtual to feel from every direction, and minimize the distortions.
We have added soundbars with Atmos and DTS compatibility so that you can get and enjoy more realistic, high-resolution, and powerful sound for your next gaming and music streaming sessions.
Easy Controlling
LG soundbars feature a user-friendly interface to make the device house-oriented and flexible. The soundbar comes with a handy, magic remote control with a comfortable grip and multiple dedicated buttons at the top.
You can also get voice-activated technology in the high-end bars that work with your voice command. They make the usage easier and more comfortable and make the device perfect for crowded parties, movie nights, and gaming protocols.
Bottom Line
All the LG soundbars are designed to bring entertainment to the house, whether you play games, watch shows, or listen to casual music. The soundbar elevates the sound performance and makes it according to the content, environment, and taste preference with the different sound effects.
LG soundbar is smart choice for houses because it has an attractive design, reasonable audio quality, and affordable prices. The integrated technology makes a huge difference and enhances the power output for a thrilling acoustic experience.
Hence, LG soundbars are worth making a deal for your next parties, movie nights, and gaming sessions.
Mia Evelyn is a soundbar specialist and she love to test and review different soundbar brands. She shares her neutral and in-depth reviews through the Soundbar Mag.