If you want to upgrade your TV-watching and home entertainment experience, LG is a trustworthy brand. All entry-level to premium models have something in common- powerful sound output.
And today, we will talk about the model that caught much attention right after its launch, the SJ2. It is a 2.1-channel system which is an ideal and affordable upgrade to TV speakers, but the 160W sounds promising for music listening.
Let's get into its details and allow us to share our experience, so you would know if that's the one for you.
LG Electronics SJ2 Soundbar Home Speaker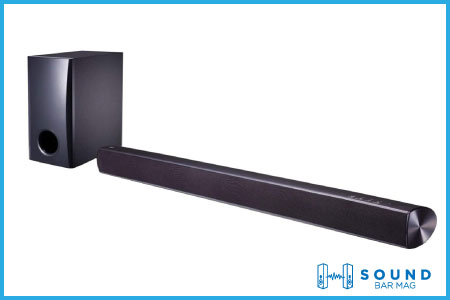 Unboxing the LG SJ2 Soundbar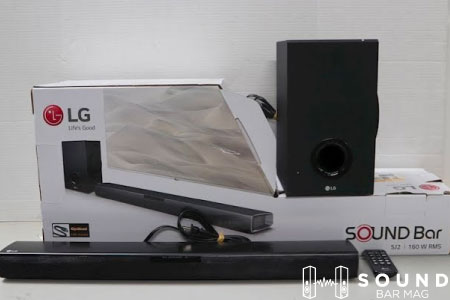 LG soundbars surprise you with rapid delivery no matter if you order the old or new models. We received our SJ2 far before we expected it, which was a good sign.
Also, the packaging quality was incredible, and everything was well-settled inside the box with serious supervision of packaging material to avoid any inconvenience.
After we opened the box, we got the soundbar itself, a manual guide, and a power cord, and that's it. It didn't come with a remote since it is compatible with TV remotes.
Besides, the subwoofer came in separate packaging, which is also a sturdy box to keep it safe throughout the shipping.
Size and Design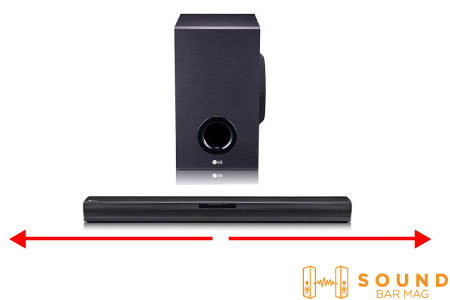 LG soundbars are designed with both form and function in mind, and the minimalist design of the SJ2 has got us covered. It looks stunning sitting on a shelf and allows wall mounting for a better look.
The compact design also helps save space and reduce clutter to free up valuable space in your entertainment area. And the wireless subwoofer may be a noticeable addition, but it also doesn't consume much space and doesn't require to be placed near the bar.
Channel System
Assuming it is an entry-level profile, it features a 2.1 channel configuration, which means the bar hosts dual full-range drivers and a built-in woofer inside the compelling body.
All the drivers with built-in woofers create a dynamic and immersive audio experience, regardless of your stream. Also, the left and right channels combine to create a phantom channel for clear dialogue delivery.
Moreover, the wireless subwoofer has a driver that solely focuses on reproducing low-frequency notes, punching deep and rich bass to add real depth to the sound. And with a total output of 160W, the soundbar can deliver phenomenal sound better than the TVs.
Connectivity Options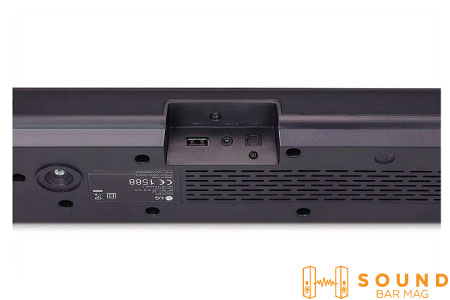 The connectivity options of the LG SJ2 soundbar were surprising and a little bit disappointing. The lack of HDMI input was shocking, but the Bluetooth addition at this price was acceptable over HDMI.
Bluetooth offers quick and secure wireless connection with smart devices, including smart TV and smartphones. It also helps connect with gaming consoles, TV boxes, etc.
On the other hand, the limited connectivity hub contains only an optical cable that works with traditional or non-smart devices and keeps the bar functional.
Control and Navigation
The soundbar doesn't have to offer much for navigation and control. Despite having a simple profile, and with Bluetooth, it is almost a plug-and-play, it is still compatible with TV remotes.
We think it is better than having different remotes for devices that only confuse users. You only have to open settings using manual buttons and enable the remote control option.
Then you can operate, manage volume, and enable Bluetooth with any LG, Vizio, Sony, Samsung, Philips, Panasonic, Toshiba, and Sharp TV remotes.
Sound Performance
The wireless subwoofer and adaptive sound control technology of the SJ2 work together to deliver exceptional audio performance that surprised us.
The subwoofer provides deep, rich bass tones, while the adaptive sound control automatically adjusts the sound settings to provide optimal sound quality for different types of content.
This means that whether you're watching a movie, playing a game, or streaming music, the soundbar will adjust to provide the best possible sound quality.
The wireless subwoofer also offers greater flexibility regarding placement, allowing you to position it anywhere in the room without worrying about unsightly cables.
Pros
· Compact design
· Bluetooth support
· Wireless subwoofer
· TV remote compatible
· Affordable

Cons
· Lack of HDMI input
· Limited features

Frequently Asked Questions (FAQs)
How many watts is LG SJ2?
The LG SJ2 is 160 watts. The 80 watts coming from the soundbar and 80 watts coming from the subwoofer.
What ports are on the LG SJ2?
The LG SJ2 comes with HDMI, Optical, USB and 3.5 mm AUX input port.
How do I connect my LG SJ2 to my TV?
You can connect the LG SJ2 with your TV with several methods including HDMI, Optical, USB and 3.5 mm AUX input.
Bottom Line
In conclusion, the LG SJ2 is a terrific choice for anyone looking to elevate their home entertainment experience.
With its sleek 2.1 system and wireless subwoofer, the SJ2 delivers an exceptional audio performance that will bring your movies, music, and games to life.
Mia Evelyn is a soundbar specialist and she love to test and review different soundbar brands. She shares her neutral and in-depth reviews through the Soundbar Mag.