Are you looking to advance your gaming setup with the best soundbar for gaming that can boost your enthusiasm with powerful audio and some serious bass?
Well, you came to the right place. We have done the legwork for you, filtered some top-notch soundbars from the huge market, and tested them for their specs, features, and highlighting qualities.
From easy setup to multiple connectivity options, you can find the best gaming soundbar that can bring life to your boring gaming sessions.
So, let's see what each of the mentioned soundbars offers without further ado.
Sonos ARC
Panasonic SoundSlayer Soundbar
Samsung HW-Q950T Soundbar
Razer Leviathan Soundbar
Creative Sound BlasterX Katana
Sony HT-A5000 Soundbar
Creative Stage Air Soundbar
List of the Best Soundbar for Gaming in 2023
1. Sonos ARC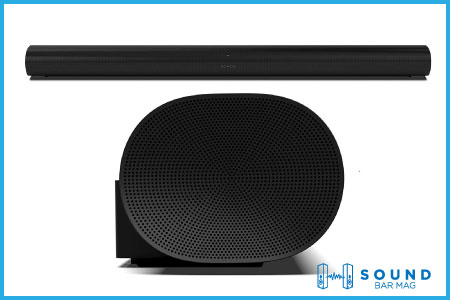 Sonos ARC is the most famous and reliable soundbar with a slim profile and seamless setup. We tested it for its outstanding quality, like being extremely loud and clear for intense gaming setups.
While keeping the minimalist design, eleven built-in drivers reproduce extraordinary sound with crispy highs and perfect lows.
We noticed the dynamic midrange delivers an exciting tuning, and the next-level vocal clarity surprised us to the core.
This particular soundbar does not come with an external subwoofer, but the built-in subwoofer covers you for deep bass. Also, the vertical channels produce a high-resolution sound that fits rightly for the gaming, moves you with every action, and keep you immersed throughout.
Dolby Atmos also steals the show for making the sound virtually rich, making you feel like the sound notes are hitting you from different directions and creating a vibe at your place.
Additionally, excellent detailing and high-pitch sharpness never let you miss the shot while firing on PUBG. All the explosions and gunshots were clear and highly powerful to enjoy in the game.
The adjustable background sound with Trueplay tuning technology wouldn't force you to waste time customizing sound for different games; optimize it according to the room acoustics. Hence, it is an ideal soundbar to pair with your gaming consoles or even smartphones for casual or serious gaming.
Considering its slim and sleek design, the soundbar for gaming will easily blend in gaming studios or bedrooms. The setup is also pretty seamless through the Sonos mobile-friendly app.
However, the built-in Alexa support can make a noticeable difference while setting, navigating, and controlling the device. We tested the feature and were amazed at how smoothly we switched the modes and navigated the volume.
Moreover, connecting Sonos ARC with external devices, including gaming consoles, is no big deal. Whether advanced or old consoles, the soundbar has wired or wireless options to cater to any.
Besides Bluetooth and WiFi, it contains HDMI ARC, optical digital audio, IR Receiver, and an Ethernet port. It also features Apple AirPlay 2 to enjoy some heavy music after the intense game. We highly recommend this soundbar for regular gaming sessions with friends at home.
Pros
• 3D virtual sound
• Trueplay tuning
• Dolby Atmos
• Multiple connectivity sources
• Built-in Alexa

Cons
• No remote control included

2. Panasonic SoundSlayer Soundbar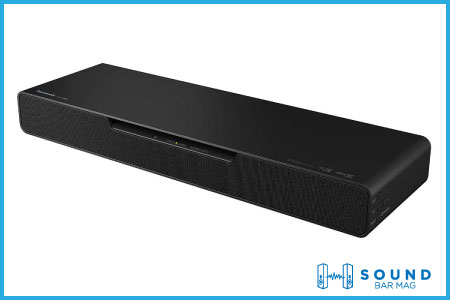 It's another wholesome soundbar with a pretty metallic grille at the front and fine finishing at the top and bottom. It is portable as it seems but produces a powerful sound that can fill the room with thumpy beats and fine-tuning.
This space-saving Panasonic soundbar sets the bar high for other sound systems with its Dolby Atmos speakers lying inside its body. The speaker sounded powerful and energetic as we tested them with different music genres and then with the game.
The Built-in subwoofer also surprised us with deep and heavy bass that transformed the entire experience into cinematic vibes. It was throwing low notes smartly while not missing any tune.
Surprisingly, there are no such harmonic compressions at max volume. Also, since this particular unit is designed specifically for gamers, it features a game mode that maintains the perfect harmony of audio, treble, and bass while hitting the roads or firing gunshots. Besides, some modes customize the sound based on gaming genres, making the soundbar worth buying.
Besides wireless technology, which is a must nowadays, the Panasonic Sounds layer offers 4K HDR passthrough, so there will be no loss in image quality while connecting to TV or gaming consoles.
The soundbar knows how to hit the floor and move you with the actions with its 2.1 channel system, containing 3-way speakers that deliver directional sound without compromising clarity.
The built-in tweeter also plays a vital role in enriching sound detailing with a frequency response of up to 50kHz. Thus, this soundbar does justice while listening to music, watching TV, or even gaming, so calling it the best gaming soundbar wouldn't harm its rivals.
Pros
• Highly immersive sound
• Built-in subwoofer for bass
• Multiple gaming modes
• Bluetooth streaming
• Included remote control

3. Samsung HW-Q950T Soundbar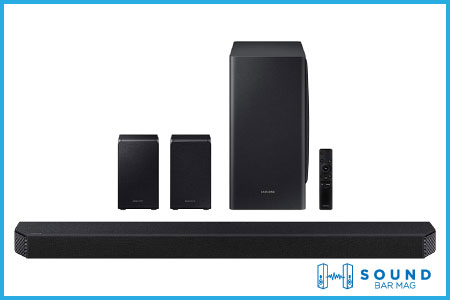 Samsung HW-Q950T is a heavy sound setup for gaming, but it's worth every bit of it for professional gaming or music listening. The soundbar can entertain a large audience with extraordinary sound reproduction capability to turn the tables for other sound systems.
It is a complete theatre package with a 9.1.4ch soundbar, wireless subwoofer, and a pair of up-firing rear speakers. It gives you a stunning depth of sound with Dolby Atmos and DTS: X formats and lets you capture every moment with lifelike audio quality.
Ready for the ultimate theatre-like experience with up-firing speakers that wraps the sound while reflecting overhead and punch off with more power and detail.
Also, the wide speakers on both sides set the wide soundstage with spacious sound performance. While testing, the soundbar filled the entire testing lab with thumbing and punching sound beats, banging the windows while not compromising the clarity. We loved every bit.
The wireless subwoofer also works beyond expectation and goes down with low frequencies for deep and detailed bass. It will be thundering with excellent voice clarity and balanced treble to enhance the gaming experience.
Other features, including Q-Symphony to synchronize TV, wireless connections, game pro mode, and built-in voice control, weigh more to its buying power and make it the gaming soundbar.
Pros
• 20 built-in speakers
• Game pro and Adaptive sound mode
• Dolby Atmos and DTS:X
• Voice control enable
• Q-Symphony tech

4. Razer Leviathan Soundbar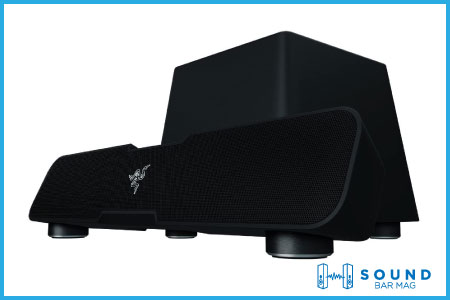 Razer Leviathan is a decent 5.1 system soundbar known as the gaming speaker for its compelling sound performance and supportive gaming tech.
Razer also features a space-saving profile and fits perfectly under the smart TV like other soundbars on the list. However, the wireless subwoofer needs a dedicated sweet spot to show its talent with low-frequencies touch-ups.
To our surprise, it is a 5.1ch setup that contains Dolby-enabled drivers that project rich sound profiles to recreate dramatic scenes. It was throeing high-definition, transparent sound that gives us joy to listen to.
No to mention the dedicated center channel polishes the vocal delivery and makes it clearer to understand, even with the heavy background noises. We tested it with podcasts, movies, and shows, and amazed of its performance.
Undoubtedly, the included full-range drivers keep you hooked with gaming or music listening with directional sound delivery, creating a surround sound experience to enjoy every beat.
The wireless subwoofer is not an exception when it comes to bass. It houses a 5.25-inches downward-facing driver that shakes the ground with a serious rumble and thumpy frequency.
In addition, Razer believes in sound customization supremacy according to the content and hence offers multiple modes that adjust every audio component automatically.
Movie, Gaming, and Music mode set the stage to enjoy dramatic TV viewing, immersive gaming, and a perfect music listening experience.
For connectivity, Bluetooth stability is worth appreciating; we loved the long-range and signal stability. It tends to seamlessly connect with compatible devices with Bluetooth 4.0 version and never compromises or loses the quality while connecting.
Many people prefer WiFi to expand usage, but on the upside, its versatile design and frequency range between 180Hz to 20kHz make it worth considering for gaming.
Pros
• EQ presets
• Versatile design
• Dolby Atmos
• Thundering bass
• Wireless connection

5. Creative Sound BlasterX Katana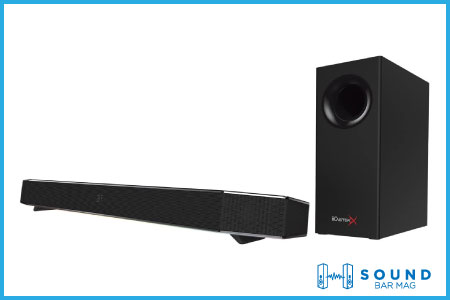 BlasterX Katana is a decent gaming soundbar with wireless connectivity and Dolby Digital 5.1 decoding that maximizes clarity while minimizing sound delays.
The soundbar is sleek enough to fit under the desktop or smart TV, and the wireless subwoofer is also versatile enough to place anywhere in the room.
While unboxing, it was super handy to hold, and we quickly ran a scan over its build quality while holding it in our hands. We also explored the input ports, which are easy to reach, saving the hassle in busy times.
And, with the multiple connectivity options, including Bluetooth, USB, and optical digital, getting stable signals from gaming consoles and other compatible devices becomes super easy.
The soundbar delivers an immersive sound performance with its 7.1 system with a five-driver design, including dual up-firing midbass drivers and two tweeters sitting comfortably inside. Also, a compelling driver inside a subwoofer has a long throw to hit the ground shakingly.
There is also a built-in DSP technology that works along with the mid-drivers and the dedicated ones that deliver high frequencies to set a decent soundstage for gaming. The precise delivery of dialogues makes the soundbar more interesting during podcast or ebook listening.
Katana is powerful, and we mean it because there is no soundbar at this price, and a compact body would deliver a total output of 75RMS/150W.
In addition, the Aurora Reacting Lighting system with 49 LED lights takes you to the gaming vibes and creates a funky environment to boost your enthusiasm.
Pros
• Dolby Audio 5.1 decoding
• Rich connection
• DSP technology
• High-resolution audio
• Aurora Reacting Lighting system

6. Sony HT-A5000 Soundbar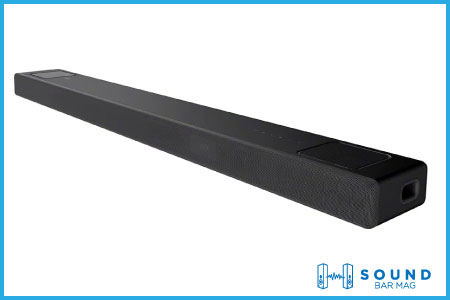 Another soundbar on our list is from none other than the market leader, Sony. It has been reaching sky success with an incredible product range, and this unit is no exception with the 5.1.2 channel system.
We have been using Sony HT-A5000 soundbar for a while now and are completely impressed by the performance. It sounds amazing, with terrific clarity and precision of upper, mid, and low notes to give you a theater-like experience at home.
Apart from the crisp and clear sound that totally immerses us in movies and games, we loved the performance of the built-in subwoofer. We can totally count on deep and thrilling bass without an external subwoofer.
Moreover, the virtual surround sound feature makes you feel like you are in the mid of the action, so for gaming, the heavy explosives and catchy sounds of the car running give us goosebumps and boost our gaming potential.
On the other side, the soundbar is elegant and modern-looking and fits seamlessly in the living room or bedroom. The size is perfect, not too big or too small, and blends In perfectly with the TVs.
For navigation, the soundbar comes with a remote control that allows you to manage the volume without compromising comfort. It also works with Alexa and Google Assistant for seamless and hands-free navigation.
Additionally, the Bluetooth feature is a great addition, allowing you to connect the phone and play music through the bar in no time. It is really convenient, and the sound quality is just as good as the wired connections.
Therefore, with 450W peak power output, a vocal enhancement feature for a crystal clear understanding of the content, and other impressive features that make it a star product, we highly recommend this soundbar as a valuable addition to your gaming setup.
Pros
• Clear dialogues
• Music from all directions
• Hands-free navigation
• Sound calibration with environment
• Hands-free internet streaming

Cons
• Bass can be more thrilling
• Dispute between HDMI and Bluetooth

7. Creative Stage Air Soundbar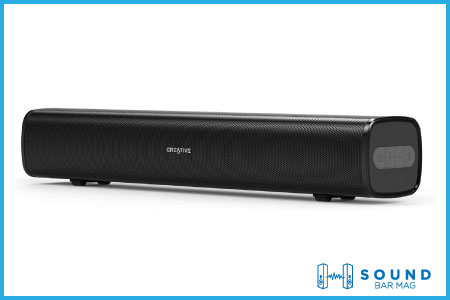 We believe soundbars enhance the gaming experience by providing clear and immersive audio output and boosting the player's enthusiasm. Thus, we recommend getting hands with Creative's powerful yet compact bar to add life to your gaming sessions.
Creative stage Air portable saves space and can be more convenient than traditional surround sound systems. We had a great time unboxing, setting up, and using this soundbar with our PC and TV.
It has a compact design with nothing but a grill at the front. The connectivity ports, including Aux or USB, are at the rear side panel. Also, we loved the Bluetooth addition in this entry-level, portable, and versatile soundbar for easy pairing without cable clutter.
Moreover, this soundbar is a great choice for gaming for various reasons, including a built-in subwoofer for a reasonable amount of bass production, which ultimately adds value to the overall audio listening experience.
Another highlighting feature of the Creative compact soundbar is big and loud volume that is unusual for this size. It throws heavy punches with a wide frequency response range of 80 Hz to 20 kHz and a total power output of 20W, enough to entertain gamers.
Despite being an entry-level system with a 2.0 speaker system and no advanced audio format support, it will surprise you with its sound reproduction capabilities. We had great fun with music streaming, podcast listening, or gaming.
The soundbar also comes with a built-in battery that allows you to use the system without worrying about a power outlet. It will be your entertainment on the go with Bluetooth and battery combination, giving you over 6 hours of music playback facility.
Hence, we recommend getting this soundbar to anyone who doesn't want to break the bank while craving the bold, loud, and crisp sound for different purposes, especially for gaming with friends.
Pros
• Bold sound output
• Bluetooth streaming
• 6 hours of music playback
• Travel-friendly design
• 80Hz to 20kHz frequency
• 72 dB sensitivity

Cons
• No Atmos
• Limited channel

Best Gaming Soundbar 2023 Buying Guide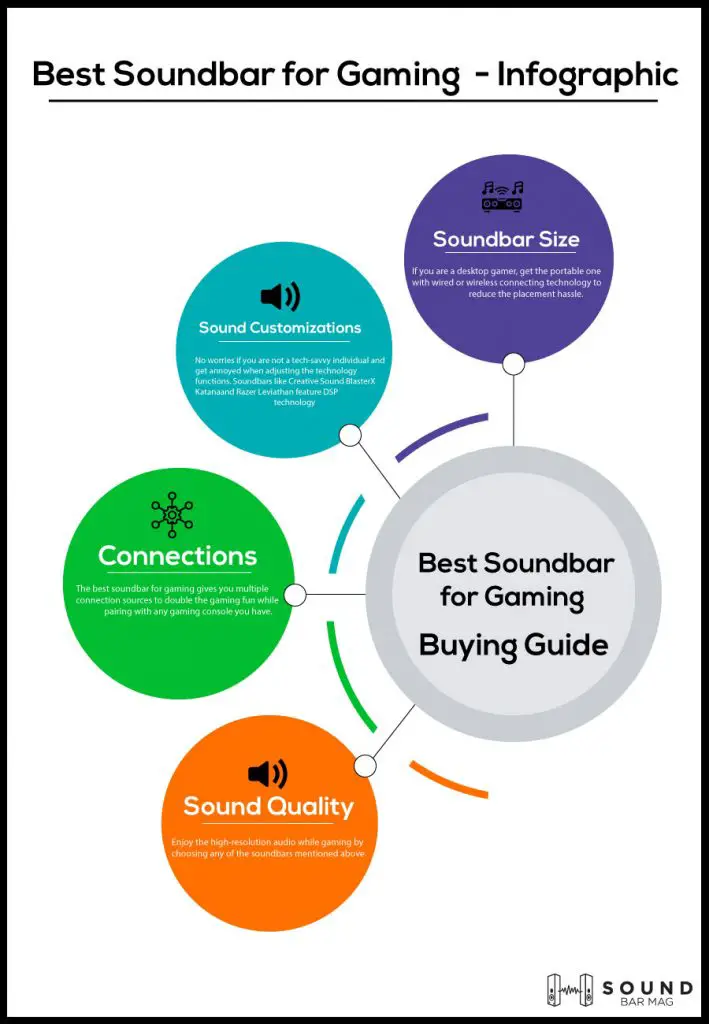 If you are setting up the soundbar for the first time, it may get hard to determine the right product that matches your requirements.
But, assuming the gamer's needs, we believe high-pitch audio with clarity and reasonable bass would be enough to set in the gaming studio.
We all need to listen to loud, crisp, and clear audio for music, podcasts, and ebook. But a shaking bass, perfectly balanced tuning, and precise audio detailing are needed to double the fun of gaming. But it's not enough to consider while getting the soundbar. One should consider different aspects because they can impact the buying decision.
Don't worry. You don't have to dig up on the internet because after reviewing top products, we will discuss critical elements of a soundbar that every novice should know. So, let's discuss.
Soundbar Size
Where do you plan to set the soundbar? Under the desktop or on the wall?
If you are a desktop gamer, get the portable one with wired or wireless connecting technology to reduce the placement hassle. It wouldn't be much heavy, thus sitting perfectly on the desktop table. Thinking about these things can help get the right soundbar for the room.
However, if you want something big and turn the gaming into a profession, get a large and heavy soundbar with more channel system to enjoy every bit of the action. However, you need a dedicated sweet spot to set the soundbar and a subwoofer if you get a complete package.
Sound Customizations
No worries if you are not a tech-savvy individual and get annoyed when adjusting the technology functions. Soundbars like Creative Sound BlasterX Katanaand Razer Leviathan feature DSP technology that gives you multiple sound modes for adjusting the sound automatically.
Samsung HW-Q950T also has a game pro mode that brings the reasonable bass and rumble and produces a directional sound that makes every action more exciting to play.
Connections
The sound bar for gaming gives you multiple connection sources to double the gaming fun while pairing with any gaming console you have. We have discussed the soundbars with wired and wireless pairing options, giving you enough flexibility to expand the usage.
Sound Quality
Enjoy the high-resolution audio while gaming by choosing any of the soundbars mentioned above. We have been careful while selecting the sound systems, and high-frequency response, vocal clarity, and rich bass were our utmost priority to check.
In addition, many soundbars also come with Dolby Atmos, DTS: X, and Dolby Digital decoding to improve the sound quality and make it rich while playing. These audio format technologies power up the channels to produce directional sounds that hit you from every possible side and create a wide soundstage.
Read also: Samsung Soundbar Equalizer Settings
Frequently Asked Questions (FAQs)
What is the Best Soundbar for Gaming?
Samsung HW-Q950T is the best soundbar for gaming with an excellent feature set, powerful speaker collection, and game pro mode. Its driver's compatibility with Dolby Atmos and Q-Symphony technology makes a noticeable difference in the listening experience.
Are soundbars worth it for gaming?
Gamers prefer high-definition audio with a reasonable mixture of treble and bass that the built-in speakers of the PCs fail to deliver. Thus, investing in the gaming soundbar and enjoying the multidirectional sound is worth it.
Can you connect a soundbar to a gaming monitor?
Yes, it depends on the connectivity options your monitor and soundbar share. Usually, a gaming monitor offers Bluetooth and optical digital audio output that every soundbar on our list comes with.
Do soundbars work with PCs?
Yes, soundbars are compatible with PCs and laptops and intend to enhance the sound quality of built-in speakers. Always double-check the connectivity preference of your PCs or laptops and make the soundbar purchase accordingly.
Also read: Best Settings for VIZIO 5-1 Soundbar
Bottom Line
Since soundbars are the perfect alternative to speakers and create a whole different vibe while listening to music or gaming, every gamer should get their hands on the best gaming soundbar.
This article has highlighted top-quality products that best match the gaming sound requirements and deliver highly immersive sound with decent connectivity and pleasing design.
Read also: Best Settings for Samsung Sound bar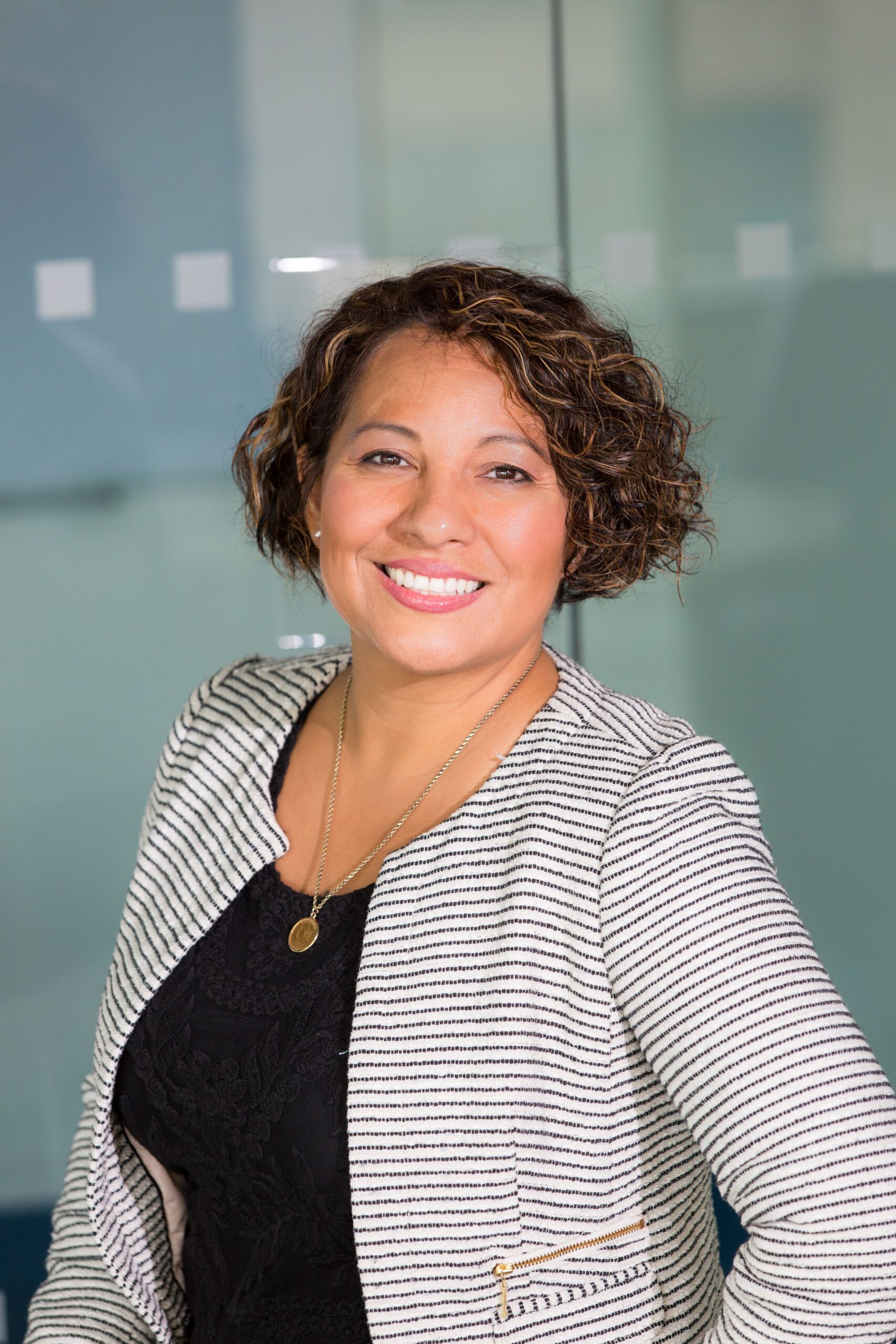 Mia Evelyn is a soundbar specialist and she love to test and review different soundbar brands. She shares her neutral and in-depth reviews through the Soundbar Mag.