Catching up to your favorite playlist at the max volume won't hurt anybody. Right?
Nothing in the world has a right to disturb your music-listening cravings at the room-shaking volume, especially your existing sound system. So, it's time to invest in the best soundbar with a subwoofer that will be a game-changer and deliver terrific, pure, and clear sound with punchy bass.
Though the market is jam-packed with many options, we shall never let you take the risk and will take a deep dive to discuss some of the best soundbars with subwoofers individually.
Let's get started.
List of the Best Soundbar with Subwoofer in 2023
1. Polk Audio Signa S2 Soundbar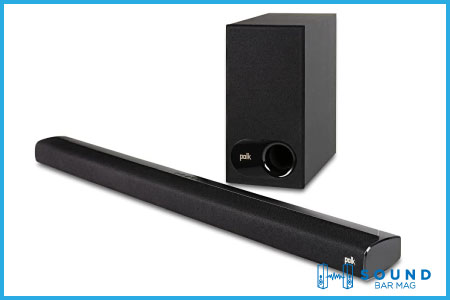 We found the Polk Audio Signa S2, which is an entry-level soundbar with a wireless subwoofer and Bluetooth compatibility for mixed usage.
It packs full-range drivers and a built-in woofer inside the decent design, producing powerful audio output ranges between 45Hz and 20 kHz. We were impressed by the heavy bass punch from an attractive profile.
Also, this ultra-slim soundbar complements the TV while sitting under it and perfectly functions without blocking the IR. Installation and setup is a walk-in-the-park with Bluetooth and HDMI outputs.
4K HDR Pass through makes it a substantial choice for 4K content watching in the best possible quality. We used the HDMI input to try the Netflix and Hulu content streaming, and the sound performance was captivating while perfectly aligned with the content.
It may not have advanced format compatibility or tech-savvy features to create a wide soundstage with magically shaky vibrating sound. Still, it can deliver loud, clear, and high-resolution audio, which would definitely be a reasonable upgrade to traditional or cheap speakers.
Moreover, it comes with a wireless subwoofer responsible for producing rich and heavy bass to complement the sound delivery. It creates a whole vibe of cinematic performance with Polk's voice adjust technology.
Besides, Dolby Digital decoding also contributes to reducing voice delays while maximizing vocal clarity. The dialogue representation was mind-blowing despite the noisy backgrounds.
Pros
• Room-filling sound
• Heavy beats and bass
• Easy installation
• Polk Adjust technology

2. Nakamichi Shockwafe Pro Soundbar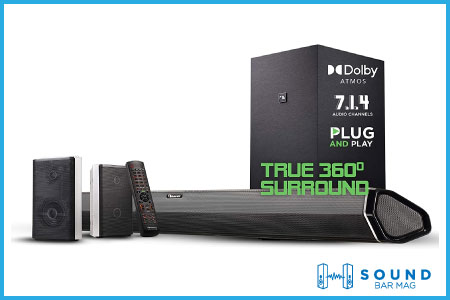 Nakamichi Shockwafe Pro is another valuable addition that we tested for its built-in qualities and rigid build quality designed to last despite the rough usage.
It is a heavy sound system with a 7.1.4 channel configuration and a total power output of 600W. The audio output was heavy and spacious while testing it with different content, including rap music. It was enough to bang our windows and shake us from within.
It is an ideal plug-and-play soundbar with wireless subwoofers that is powerful enough to transform your music listening habits with loud, ground-shaking, and clear bass performance.
The modern structure makes the soundbar wide and spacious enough to house 13 speaker drivers that produce sound as loud as 105 db. This heavy sound with next-level clarity can entertain crowded rooms and can be a preferable choice for parties.
It also can deliver cinematic vibes with True 3600 Atmos sound wrapping you around with realistic feels and moving audio. Besides, the soundbar is optimized to work with HDTV, QLED, and OLED without a certain sound mode.
To enjoy more detailing sound, push the start button on the wireless subwoofer, which starts firing the heavy bass with the potential to shake you from the inside. This bass richness can provide maximum intensity while gaming or listening to rock and ensure the home-theatre vibes.
With flawless connection compatibility and seamless setup, this soundbar with subwoofer is ready to be a part of your podcast, music, or eBooks listening sessions and keeps you occupied with movie streaming with vibrant clarity.
Pros
• Virtual surround sound
• Multiple advanced audio format support
• Wireless streaming
• Wide soundstage
• Pure and clear dialogues

3. Sony HT-S350 Soundbar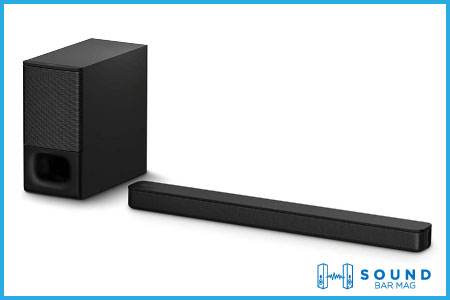 This simple-looking soundbar speaks for itself when you hit the play button. Sony HT-S350 is no exception when we talk about the decent soundbar with subwoofer because it gives the needed kick to the parties or movie nights that would be missing otherwise.
Beautifully crafted with metal material, the soundbar and subwoofer combo throws killing vibes while complementing the home décor and TV. We tested it after various positive word of mouth and didn't regret a minute it was with us.
Also, with multiple connectivity inputs, including optical digital, HDMI, and Bluetooth, you can push start to feel the thrilling rhythmic vibes all around you. The Bluetooth range was long and wide, and the signal strength was excellent.
Though it only contains full-range speakers, it is still the best alternative to home-theater systems, considering the entry-level channel configuration. It could be a reasonable upgrade to TV speakers for its clear, detailed, and high-definition audio performance with rich bass of around 6.16-gallon volume.
In addition, it features other interesting functions that make the device worth investing like voice enhancement, bass and treble adjustment, and different EQ modes options.
You can enable the preset for premium sound customization and enjoy high-definition audio with 320W output power. The loud and engaging sound was enough to keep us hooked throughout the testing phase.
Pros
• S-Force Pro tech
• Rich and deep bass
• 7 sound modes
• Bluetooth compatible

Cons
• No audio format support

4. VIZIO V51x-J6 Soundbar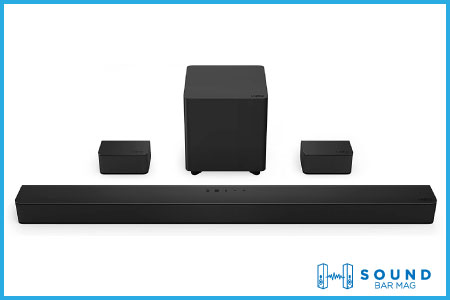 Vizio V51x-J6 is a budget-friendly soundbar designed to give you more details in the sound that wraps around you for an immersive listening experience. It came in funky packaging, but the excellent condition and timely delivery got us.
This 5.1 soundbar with a subwoofer can deliver a fuller range of sound with deeper bass notes that give you the feel of a live music concert, not the recorded tunes. The sound quality was incredible, with thundering bass notes.
The built-in drivers produce balanced and neutral-profile sound for mixed usage. However, it is a shame that it does not support Dolby Atmos or DTS: X. It could be better to gain power over other soundbars with similar specs.
Still, the dialogue-enhancement feature and multiple audio modes for sound optimization make it suitable for hearing different sounds. It also supports Bluetooth and has discrete surround speakers that deliver clear and rich sound-creates, what audiophiles say soundstage.
Reliance on up-to-date technology makes a noticeable difference in the design and performance, and we adore it for this. It gives sophisticated vibes while sitting, but the good quality material and speakers that go into a well-designed and spacious speaker enhance the enjoyment level.
Moreover, the rigid subwoofer with a box-shape structure holds the important speaker that surprisingly enriches the acoustic experience by producing thrilling bass.
We loved how it delivers every note with such detailing that the listener can catch, vibrate, and tend to vibrate with certain frequencies. In addition, DTS: X support further expands the content delivery with a virtualized 3D floor-to-ceiling sound performance.
Pros
• 4K HDR content elevation with HDMI
• Bluetooth streaming
• Stunning and room-filling sound
• Low-bass notes

5. Yamaha Audio YAS-209BL Soundbar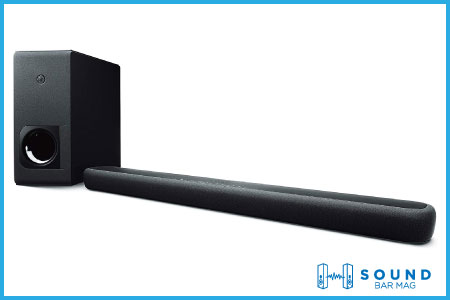 Yamaha YAS-209BL is a popular fish in the sea that may seem similar to other fishes but dive beautifully in the deep river. It is the smartest fish in the Soundbar River with impressive features, an attractive design with grills, and a wireless subwoofer.
It is famous as the best soundbar under 400 for its wireless compatibility, voice control assistants, and compelling drivers. It can take you to the digital world of music and shows via Wi-Fi with Spotify Connect, Amazon Music, and others.
We were hooked and didn't get a chance to test with TV or external entertainment systems, as Spotify or Amazon music was enough to try the performance with a variety of music.
Moreover, we were in awe hearing how the DTS: X format support further expands the sound by making it wider and more spacious for the immersive experience.
Additionally, the subwoofer doesn't need a sweet spot to entertain every individual in the room. It delivers precise yet ground-shaking bass that hits everyone and takes them into the dramatic environment.
The soundbar also features a clear voice mode, built-in active amplification, and a thoughtful structure to give you something to wonder about. Despite having Atmos support, it will be a wise addition to your sound system collection.
Pros
• Alexa support
• Bluetooth and WiFi
• Detailed and shaking bass
• DTS:X for overhead channels

Cons
• No Apple Airplay compatibility

6. TCL Alto 6+ Soundbar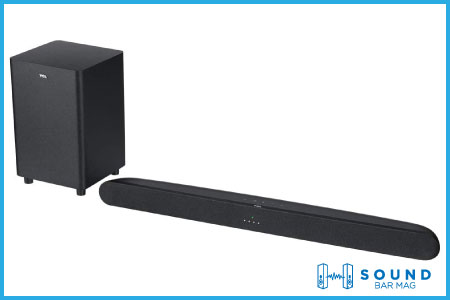 TCL has a huge variety of impressive sound equipment, and TCL Alto 6+ is no exception. With a 2.1ch spec, wireless subwoofer, and Bluetooth connection, it has proved to be the best soundbar for mixed usage.
Unusual but attractive design thrives on being a part of your everyday life with confident, pure, and room-filling sound performance. Irrespective of the limited channels, it performed pretty well when we tested it for watching dialogue-sensitive content or jazz or rock music.
Even though it lacks features to improve the dialogue, Dolby Digital decoding maximizes the clarity while setting the soundstage for surround sound. Besides, multiple sound modes can bring life to the content with special audio optimization techniques.
The premium listening experience with the entry-level soundbar is like a dream come true for us. In addition, experiencing the rich, powerful, and ground-shaking bass from a wireless subwoofer that aims to fully transform your music listening or gaming experience was another surprise.
We also liked the built-in smart platform addition at this price. It is a Roku-ready TV that significantly helps in setup and control. Bluetooth connection makes it a versatile device, and HDMI lets you enjoy the TV content's captivating sound. Hence, it is a complete entertainment setup for frequent digital streamers.
Pros
• Best soundbar with powerful subwoofer
• Quick setup
• Elegant design
• 3D surround sound
• Roku TV ready
• Bluetooth streaming

7. SAMSUNG Q800A Soundbar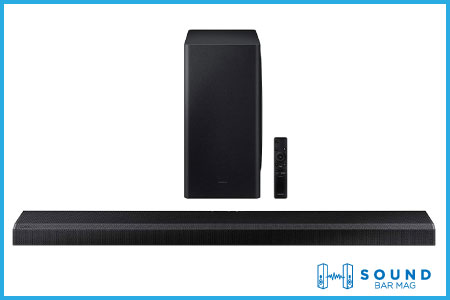 Soundbars are designed to provide a sonic experience, and Samsung 3.1.2ch Q800A knows its job very well. It is a powerful, modern, futuristic soundbar with grilles at the front and top to throw some heavy sound.
It is only a 3.1.2 channel soundbar that houses full range, side-firing, center channel, and a built-in woofer to deliver high-resolution audio. Besides, it comes with a dedicated wireless subwoofer that accompanies us with rich and pure bass.
Since it is the latest model from the brand, it thrives on providing a complete entertainment experience without giving you a hard time setting up. We didn't need to make settings or require anything except a power cord to make it run.
The Godsend features are multiple connectivity options, including Bluetooth, HDMI eARC, optical digital, Airplay 2, and Wi-Fi. We tried all the options onboard, and nothing in there was disappointing. We loved the Apple Airplay and Bluetooth more for convenient usage.
We liked how the subwoofer enriches the experience by delivering punchy bass that adds life to the music and lets you feel the moving sound's depth. The soundbar would be ready to function within seconds with remote control and wireless subwoofer support.
Luckily, the built-in drivers are compatible with Dolby Atmos and DTS, which deliver a captivating 3D sound you can precisely feel from every direction. In addition, the center channel improves the vocal delivery and makes everything crystal clear to enhance the TV-watching experience.
The built-in Q-Symphony audio technology optimizes every scene or lyric you play to provide a cinematic and harmonious experience. Alexa would help you operate the device hassle-free with your voice commands, so this soundbar would be a game-changer for every type of content.
Pros
• Excellent sound optimization
• Clear dialogue performance
• Dolby Atmos and DTS
• Voice assistant compatibility
• Solid connections

8. SAMSUNG HW-Q60T Soundbar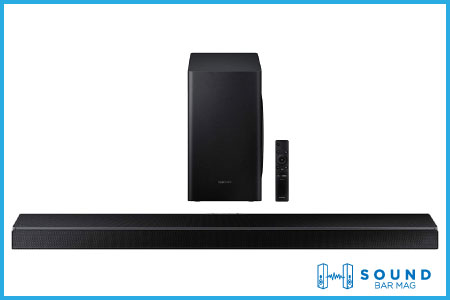 If you are also a music fan and couldn't find the right equipment to enjoy to the fullest, get yourself a Samsung HW-Q60T soundbar, the most compelling soundbar we have tested with a powerful subwoofer in town.
It won't ask you to break the bank but provide thrilling acoustic through its slim and subtle profile. We were in love with the aesthetics as soon as we opened the packaging, and the handy body didn't give us hard time setting up.
The attractive design has nothing much to offer, but it can look amazing mounting on the wall. You can find connectivity inputs at the rear end, including optical digital and HDMI, but many prefer Bluetooth for seamless pairing.
The remote control plays a huge part in navigating the device since it lacks voice-control assistant support. We must say the remote control addition is valuable with some dedicated buttons at the front.
The soundbar lets you elevate your music listening experience with Dolby 5.1 and DTS:X support, which claims to deliver a theatre-like experience in your home. It optimizes the sound, makes it more expansive, and creates a 3D surround sound stage to immerse you in the vibe.
This plug-and-play soundbar never disturbs your entertainment by automatically connecting to the saved device via Bluetooth. The 5.1 channel system comprises nine speakers that produce quality sound for various content types. Audiophiles can rely on the device for a perfectly balanced, room-filling sound that can get heavy without any distortion.
Moreover, the wireless subwoofer that doesn't need a sweet spot to entertain a huge crowd can turn the tables for listening to rock or classical. It delivers balanced bass with the perfect environment and content optimization capability.
 Therefore, this soundbar with a subwoofer is designed to provide value for money while channeling pure sound.
Pros
• 9 built-in speakers
• DTS:X
• Wireless connection
• Q-Symphony for perfect sound optimization

9. Sony HT-G700 Soundbar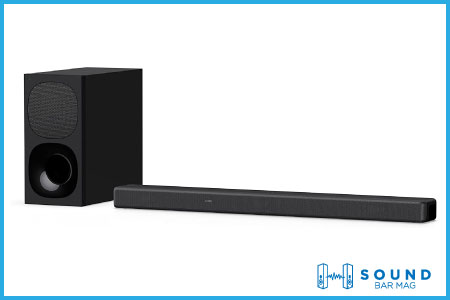 Sony HT-G700 is a user's choice for mixed usage due to its excellent performance and fine structure. It is an ideal and compact soundbar we tested that houses multiple drivers, inside to produce powerful sound.
This 3.1ch system houses full-range drivers, upper channels that are Atmos and DTS: X certified, and a center channel. This dedicated channel isolates the spoken words from the heavy sound to make them clear and more understandable.
In addition, a wireless subwoofer that makes the famous killing duo known as the soundbar with a good subwoofer delivers rich and ground-shaking bass. The stunning and thrilling woofer performance is a game-changer for audiophiles with perfect and clear bass. 
Setting and operating the soundbar was hassle-free with a Bluetooth connection. But it also contains HDMI and optical digital outputs for a stable connection with TV or gaming consoles. We admired the stable connection and strong signal valuation.
Moreover, the 4K HDR pass through lets you enjoy high-quality movies or shows because the sound with richness and clarity doubles the fun of digital streaming.
The soundbar also envelopes different features to enhance the user experience. It offers multiple sound modes for sound customization according to the content that elevates the performance and immerses you in listening.
Therefore, it is valuable to your sound system if you want something crisp within a certain budget.
Pros
• Slim and study profile
• Wireless connection
• Heavy bass
• Sound modes
• Atmos and DTS: X

Cons
• Limited navigation sources

Best Soundbar with Subwoofer – 2023 Buying Guide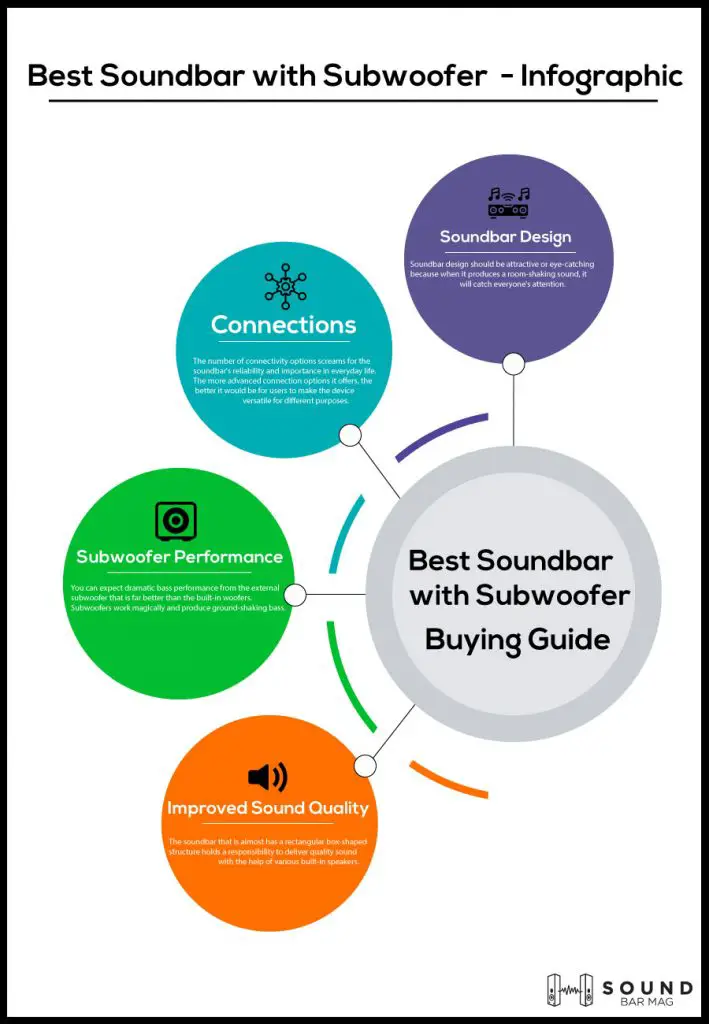 A soundbar is a great improvement to your TV watching or music listening habits and can be the best and most affordable alternative to a surround-sound system.
The soundbar with subwoofer can kick your podcast, music, or gaming up a notch with a simple setup and wireless pairing. You can find a reliable soundbar system under a reasonable budget compared to a huge investment in the home-theatre setups. They are designed to work as multipurpose but aim to deliver better, expansive, and pure audio quality.
But, getting the right sound system for your everyday use can be a challenging task. Modernistic design and different specs and features may catch your attention and let you overspend on the device you may not need.
So, clear your mind beforehand for the safe and right soundbar purchase to enjoy. Here are some of the necessary factors to consider while getting the soundbar with subwoofer.
Soundbar Design
Soundbar design should be attractive or eye-catching because when it produces a room-shaking sound, it will catch everyone's attention. Also, if the soundbar has grills at the front or top, it would look good because it provides an unusual texture than the plastic coating ones.
Moreover, many people are concerned about the soundbar measurements to give it a sweet spot to perform at its full potential. The measurement preferences can vary because some like to mount it on the wall, or others prefer to set it under the TV. Hence, all the best soundbars with subwoofers mentioned above are universal, meaning you can easily place them anywhere you want. They are ideal for homes, studios, and offices with their subtle, modern, and calm structure.
Connections
The number of connectivity options screams for the soundbar's reliability and importance in everyday life. The more advanced connection options it offers, the better it would be for users to make the device versatile for different purposes.
The soundbars mentioned above come with Bluetooth with a significant range to help you conveniently pair with Bluetooth-enabled devices. Many devices offer Bluetooth multiconnection, which lets you quickly switch between multiple devices to enjoy different playlists. Also, HDMI, optical digital, AUX, and USB inputs vary with models or brands.
Subwoofer Performance
You can expect dramatic bass performance from the external subwoofer that is far better than the built-in woofers. Subwoofers work magically and produce ground-shaking bass. The amplifier sends audio signals that force electric current flow through the voice coil, creating a magnetic field that pushes and pulls to produce sound.
When the subwoofer transfer vibrations, it creates an expansive soundstage by delivering ground-shaking bass. And all the soundbars mentioned in the article scream bass clarity with perfect synchronization of tunes and upper notes.
Also read: Best Settings for VIZIO 5-1 Soundbar
Improved Sound Quality
The soundbar that is almost has a rectangular box-shaped structure holds a responsibility to deliver quality sound with the help of various built-in speakers. The soundbar's channel configuration tells you about the number of channels/speakers sitting inside the soundbar.
These active soundbars feature built-in amplification to enhance the overall sound performance. Luckily, we have tested and gathered the top-notch soundbars that can give you the pleasure of listening to high-resolution and high-definition audio with less to no distortion.
The speaker's structure is sturdy enough not to give you the feel of annoying vibrations while functioning. The drivers produce pure and clear sound with decent mid-range frequencies and upper notes performance. You can rely on the soundbars mentioned above for the improved sound quality that any inexpensive or unprofessional soundbars can't provide.
Read also: How to Control Soundbar with Roku Remote
Frequently Asked Questions (FAQs)
What is the Best Soundbar with Subwoofer?
TCL Alto 6+ is the best entry-level soundbar with excellent features and heavy sound output. It can produce 3D surround sound while offering seamless pairing via Bluetooth. It houses multiple full-range drivers compatible with Dolby Digital to minimize sound delays while maximizing clarity.
Is a soundbar better with a subwoofer?
Though a soundbar doesn't need a soundbar to perform well because it comprises multiple speakers and woofers to perform pretty well on their own, an external device wouldn't hurt anybody. An external subwoofer can contribute with low frequencies that soundbars may lack produce. Therefore, a soundbar with a subwoofer can be a great combination.
Are subwoofers worth it?
Yes, subwoofers make a significant difference in the audio performance by adding a rich bass, ultimately expanding the sound. Subwoofers are worth investing in if you want a reasonable alternative to home theater setups.
Read also: Samsung Soundbar Equalizer Settings
Bottom Line
Sound systems are always exciting because they never disappoint you, whether you listen to soft music or pop. They will also keep up while watching recipes, listening to E-Books and Podcasts, and watching sports. Hence, investing in the best soundbar with powerful subwoofer is wise as it can be your long-last asset for your digital streaming requirements.
Choose the one that best suits your listening habits, budget, and other concerns, and indulge yourself in your long-due playlists.
Happy Music Streaming!
Read also: Best Settings for Samsung Sound bar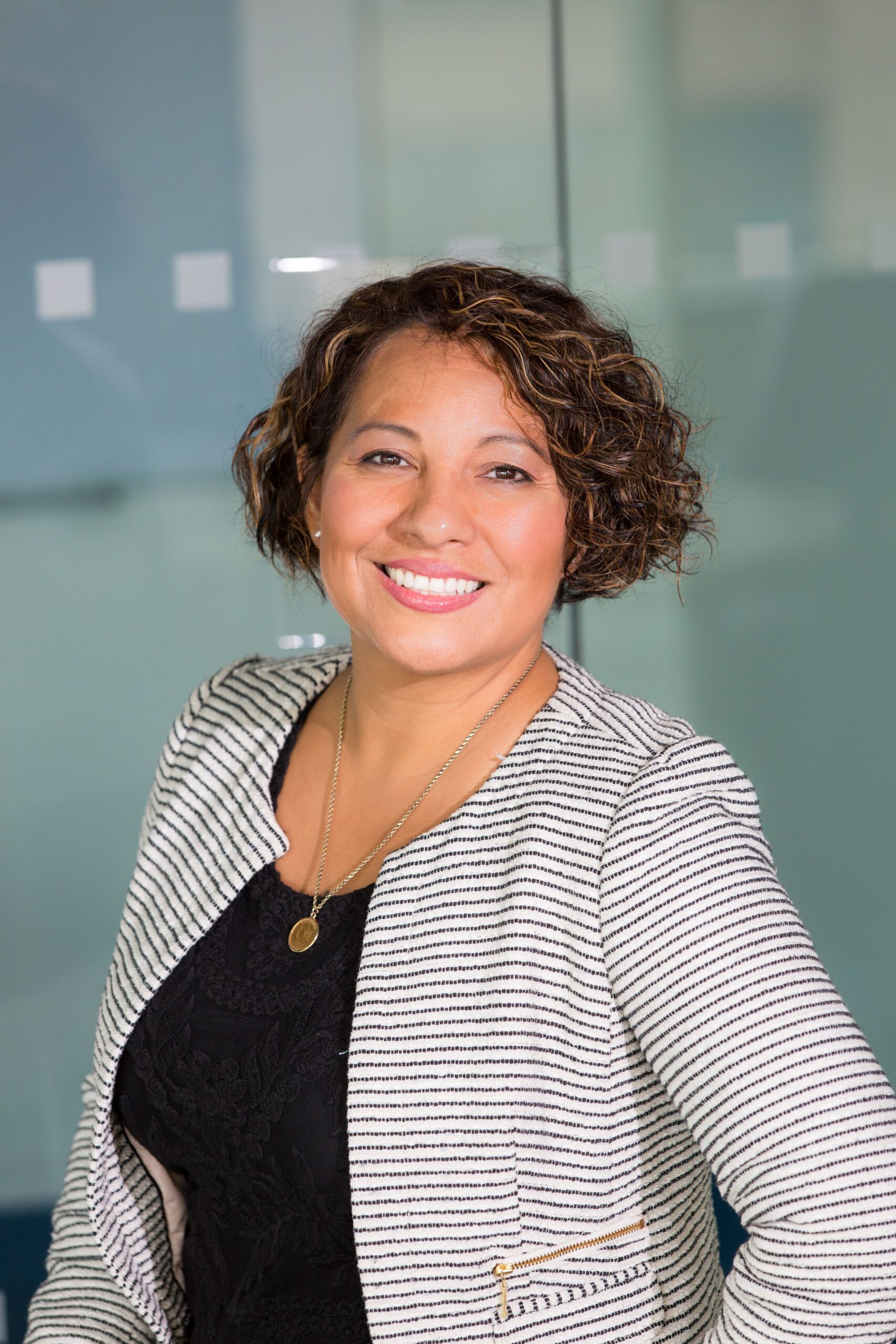 Mia Evelyn is a soundbar specialist and she love to test and review different soundbar brands. She shares her neutral and in-depth reviews through the Soundbar Mag.