Sony is a go-to brand for soundbars to upgrade TV speakers or when requiring a premium piece for the home theater setup.
This particular unit from Sony is exclusively designed for high-quality sound performance with a sleek design, wireless subwoofer, and Bluetooth support.
So, if you want a versatile and entry-level soundbar for the TV, read the in-depth review of the Sony HT-S350 soundbar.
Sony HT-S350 Soundbar with Wireless Subwoofer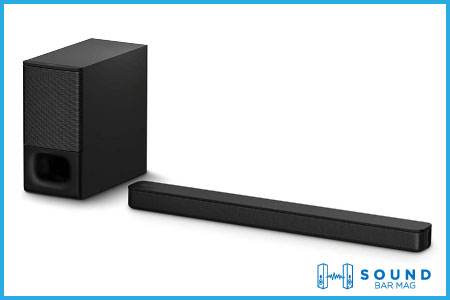 | | |
| --- | --- |
| Brand | Sony |
| Model Name | HT-S350 |
| Connectivity Options | Bluetooth, Optical, HDMI |
| Special Features | S-Force PRO Front Surround, Bass Boost |
| Speaker Type | Soundbar with Subwoofer |
| Dimensions | 35.5 x 3.5 x 2.63 inches |
| Weight | 22.5 Pounds (lbs) |
Unboxing the Sony HT-S350 Soundbar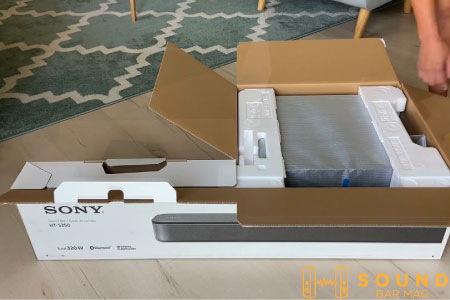 The Sony HT-S350 soundbar comes in a well-designed box that includes the soundbar, a subwoofer, a remote control, and cables for connectivity. The shipment box had a huge logo of the brand and some pictures of the device with its highlighting features.
The unboxing experience is straightforward, and all components are well protected, ensuring they arrive in excellent condition.
Size and Design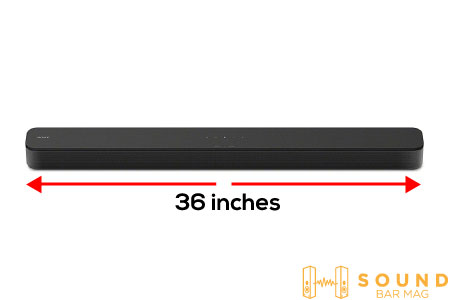 The Sony HT-S350 soundbar measures approximately 36 inches in length, making it an ideal size for most living rooms. The soundbar's design is sleek and modern, with a black finish that blends well with most home theater setups.
On the other hand, the subwoofer is compact and unobtrusive, making it easy to place in a room without consuming too much space.
Channel Configuration
The Sony HT-S350 soundbar features a 2.1 channel configuration consisting of a soundbar and a subwoofer. This configuration delivers a balanced, powerful sound that is perfect for movies and music.
This channel configuration suggests dual full-range drivers with a separate tweeter and a built-in woofer for a thumpy bass.
Connectivity Sources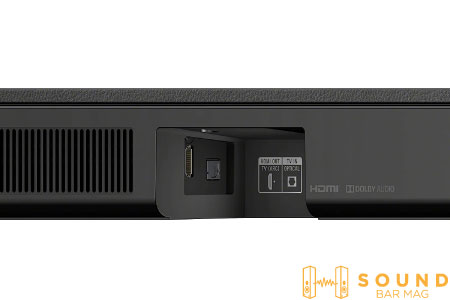 The Sony HT-S350 soundbar supports multiple connectivity options, including Bluetooth, HDMI ARC, and optical audio. That allows for easy and convenient integration with a range of devices, including televisions, laptops, smartphones, and tablets.
We find the Bluetooth range more expansive, and it gives the freedom to place the receiver device anywhere to enjoy wireless digital streaming on smart devices.
Controlling and Navigation
The Sony HT-S350 soundbar comes with a handy remote control that makes controlling the soundbar a breeze. The remote features simple and intuitive controls, allowing for quick and easy navigation of the soundbar's various functions.
Performance
The Sony HT-S350 soundbar delivers rich and powerful sound thanks to its 2.1 channel configuration. The soundbar and subwoofer work in harmony to produce clear and dynamic audio, making movies and music come alive.
The soundbar also supports virtual surround sound, creating an immersive audio experience with 320W of total power that feels like you are in the middle of the action.
Highlighting Features
Sony HT-S350, unlike the S100F model, comes with some exciting built-in functions that set it apart in the soundbar market. Despite being an affordable choice, the soundbar comes with 7 sound modes for sound optimization.
The sound modes, including cinema, music, game, news, sports, and standard audio mode, automatically optimize the sound to deliver customized audio according to the content playing. It analyzes the content and harmonizes all the speakers for immersive listening.
Additionally, because it doesn't come with a center channel for dialogue clarity, Sony added the voice enhancement function to isolate the vocals and make them clearer to hear.
Benefits
• Surround sound with S-Force
• Bluetooth streaming
• Wireless subwoofer
• 320W power output
• Voice enhancement
• HDMI ARC for perfect sync

Bottom Line
In conclusion, the Sony HT-S350 soundbar is an excellent choice for a powerful, immersive audio experience. Its sleek design, multiple connectivity options, intuitive controls, and high-quality sound make it a perfect choice for a home theater setup.
Whether you're streaming a movie or listening to music, the Sony HT-S350 soundbar delivers a fantastic audio experience.
Mia Evelyn is a soundbar specialist and she love to test and review different soundbar brands. She shares her neutral and in-depth reviews through the Soundbar Mag.